Review if we dare: The Mythos Elix 3D-printed stem prepares us for what's to come
A reluctant review becomes a voyage of discovery.
Heading out the door? Read this article on the new Outside+ app available now on iOS devices for members! Download the app.
Generally speaking, new stem launches rarely get much attention. Even less so of late as bike and component manufacturers turn their attention to one-piece integrated handlebar and stem setups. That changed when Metron Additive Engineering announced its Mythos Elix stem earlier this year. 3D printed and full of holes, the Elix is no ordinary stem. 
Stems are a safety-critical component on any bike. Failure is not an option when the consequences are potentially fatal. As such, the idea of a stem manufactured using a material and a technique unfamiliar to most, with more holes than surface area, understandably might not be all that confidence-inspiring.
Unnervingly, one of these holy stems awaited review on my return from the Tour de France. Every review is different, and what followed with the 3D-printed holy stem was more of a mental journey than a product trial. I questioned why and how one might 3D print a stem, whether it's safe, and ultimately whether I could be convinced to ride a swiss cheese-look-a-like stem.
Spoiler alert: After much convincing, I did ride with a 3D-printed holy stem. It didn't break, and none of that is the point.
I recently took a trip to England to visit Metron Additive Engineering to meet with Dimitris Katsanis to answer these questions and see if he could convince me to actually ride with the holy stem.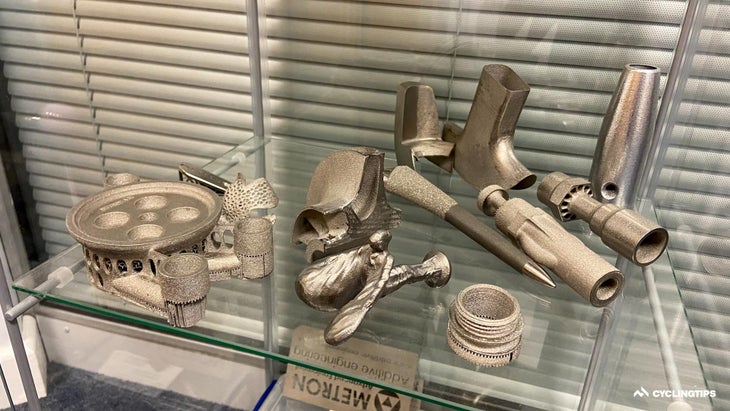 An extremely likeable character, Katsanis is also one of the brightest minds in the industry. His work at the cutting-edge of high-performance cycling goes back three decades. He has produced bikes for every Olympics since Barcelona in 1992 and designed the UKSI bike used by Great Britain to great success in the first decade and a half of the 21st century. 
Littered throughout the facility are photos of champions riding bikes and components custom-made by Katsanis. From pictures of Chris Hoy on a "beam bike" in the 90s, to Bradley Wiggins' Hour Record, and beyond.
Katsanis was also involved in countless tech advancements over the past two decades. While instrumental in designing the F range of Pinarello Dogmas, he also owns the patent, which he licenses to Zipp, for the sawtooth NSW rim profile. He worked on the Hope-Lotus GB track bike. F1 components, medical grade 3D-printed "parts" used in hip replacements, wheels, frames, the stiffest looking bars I'd ever seen designed for the British track sprinters, and, of course, 3D-printed custom time trial handlebars for Filippo Ganna, Froome, Thomas et al. at Ineos and Paralympic champion Sarah Storey.
It's a treasure trove of cycling kit, and together with Katsanis' knowledge and willingness to share, it was chipping away at my hesitation in trusting a 3D-printed stem. Here was a designer and brand name many cyclists will never have heard of, and while I knew of Dimitris and Metron, I thought cycling was just a tiny part of their business. I couldn't have been more wrong.
Cycling is almost all of Metron's business, and that realisation got me thinking. Here is a manufacturer we hear very little of, who doesn't sponsor a single rider, never mind an entire World Tour team, and never advertises its products. Yet, in a world where these champions get everything they need free of charge, often even paid to ride with a specific brand's equipment, they are queuing up to pay Metron for kit.
British Cycling had an exclusive contract with Katsanis until its funding was cut post-London 2012. That was a national team not only paying Katsanis for his kit and expertise, but paying to ensure no other team had access to that game-changing expertise. Team Sky and Pinarello quickly snapped up Katsanis when GB cut him loose, and most of his work since then has been with that hugely successful squad. He even worked with the UCI as it sought to make the first major changes to its rulebook since the Lugano Charter in 1997.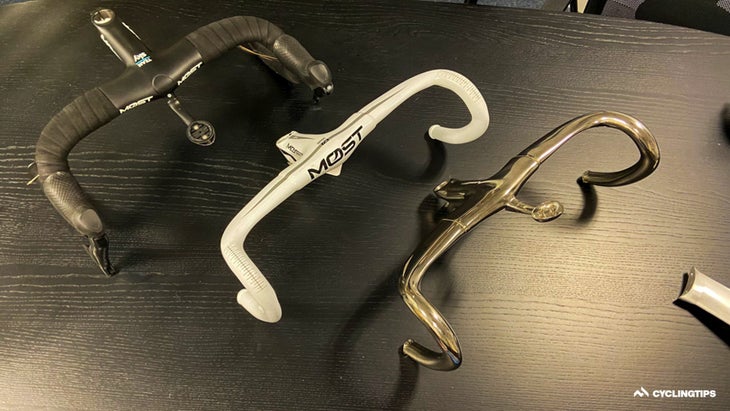 The Metron experience was slowly eroding away my mental barrier, but one piece of kit proved the key to breaking it down. A set of carbon Most handlebars from a Pinarello F10 lay on a side table. Next to them, another two seemingly identical handlebars, but the carbon bars are the odd one out in this trio. The shiny finish on one handlebar gives a clue as to why Metron has kept these mementoes, but it isn't until Katsanis explains that the black bars, complete with Most logos, Di2 levers and bar tape are not what they appear, that it clicks. The bars are, in fact, a 3D-printed titanium integrated bar and stem designed for and used by Chris Froome in the 2018 Tour de France.
It struck me that I had travelled all the way to England because I didn't trust what I thought was a new way to manufacture a road-going stem, only to find out a 3D-printed stem had already carried a rider to the Tour de France podium almost half a decade earlier. 
Beyond just a 3D-printed handlebar for Chris Froome, Katsanis gave plenty of other good reasons to have confidence in Metron's 3D-printed components.
Metron is aerospace qualified to AS9100 standard. AS9100 is a widely adopted and standardised quality management system for the aerospace industry. It ensures a quality standard, controls manufacturing processes, and mandates specific record-keeping, ensuring full traceability of every component. We often talk about ISO standards and quality controls, meanwhile, this cycling brand voluntarily adheres to an aerospace-level management standard, and that's even before we even get into its component testing standards.
Katsanis admits that the idea of a 3D-printed stem with holes throughout is a shock to the system. The high-profile failure in last year's Olympic Games team pursuit planted countless more seeds of 3D-printed doubt in many people's minds. But Katsanis is clear in his opinion: "3D printing is just like any other manufacturing process, it has its own pros and cons. The key is to understand these attributes and design the parts with the specific use in mind. A poorly designed component will fail regardless of the manufacturing technique or material."
Bringing that back to Elix stem production, Metron is using Scalmalloy for its 3D-printed stems. This high-performance alloy is made from scandium, aluminium, and magnesium alloy. Developed for aerospace use, its consistency across a range of temperatures and resistance to fatigue or corrosion is already well understood. Furthermore, Katsanis explains it offers approximately double the yield strength of the medium-grade alloy typically used for 3D-printing non-safety-critical metal parts. It's the same stuff Ganna's whole hour record frame was made of.
A poorly designed component will fail regardless of the manufacturing technique or material

Dimitris Katsanis
With the material decided, Metron set about finalising the exact stem design, printer parameters, and finally making prototype test stems for every stem size and variant. In total, Metron tested 94 stems to ensure every size is safe for road use.
I have simplified a complex topic for this review, but Katsanis explains the process in much more detail during a recent episode of the Nerd Alert podcast. Clearly, Metron is putting in the hard yards, and the attention to detail is evident, but I was curious how confident we can be the ISO standard and testing processes are relevant to outdoor road riding. 
ISO4210 specifies the loading conditions, test cycles, impact, and maximum load tests, but is the standard strenuous enough for high performance, high-stress, critical components? Katsanis suggests, at least for handlebars, it is not. 
The standard individually covers road, MTB, track, city bike etc., but there are no standards specifically designed to meet the demands of elite-level competition and the extreme forces a track sprinter can exert on bars or the stresses of a time trial rider hitting a speed bump at 60 kph. 
As such, Metron developed its own test which Katsanis claims are much more relevant. He gives the example of Metron's time trial extensions. The ISO standard requires an aero extension to pass a single 15kg load test. Metron's test applies the same 15kg load with 100,000 repetitions. The 15kg load might still seem rather low, but Katsanis explained that a component capable of sustaining 100,000 repetitions of a single load could withstand a much higher load in a once-off incident. The real proof is in the pudding, though, and Metron claims it hasn't had a single failure in the seven years it has been producing 3D-printed handlebars. 
Furthermore, every stem print run produces 54 Elix stems. Of those 54, 50 are production units for sale, while the other four are used for ongoing testing and further development. The print also includes a test bar which goes into storage should Metron require testing or sampling of any prior print runs in the future.
My mind is already at ease. I now understand that 3D printing is no shortcut for Metron, but rather an innovative approach with genuine benefits in specific use cases. But Katsanis hasn't finished yet.
He challenges my nervousness about the hole-strewn structure, suggesting this design actually makes the stem even more resistant to failure. He describes how Metron discovered an element of design redundancy inherent within its stem not intentionally incorporated into the design. 
If a crack occurs somewhere in a traditional tubular stem, it can travel uninterrupted and quite fast through the structure, causing complete failure. In the case of the Elix stem, the main body of the stem is made up of several individual arms or bridge-like structures. 
The team testing the Elix stem discovered the bridge-like arms inherent to the Elix design can fail independently, but as the crack or failure reaches an opening it is stopped in its tracks. Likewise, because a material can better resist a crack starting than a crack travelling, the open holes restrict any single crack to the single arm or bridge in which it began. The team found a stem could retain its structure despite multiple individual failure points in stress testing designed to intentionally induce such failures.
But why?
So Metron has convinced me that the Mythos Elix is safe. I have since put the stem on a bike, did some actual outdoor riding, and it did a perfectly fine job of keeping my handlebars attached to my fork steerer. I did find the Elix noticeably stiffer than the stem it replaced, this makes sense as Metron does claim the Elix is 15% stiffer than an equivalent standard alloy stem. Furthermore, and perhaps unintentionally, it provides one of the simplest internal cable routing options for bikes that route brakes hoses etc, through or under the stem. But still, why 3D print a stem?
At £500 it is far from cheap, and at 169 grams for our 120 mm review stem, it's not exactly lightweight. Aesthetically, even Dimitris admits it is very much a "marmite design." So what is the point? 
To answer that we need to go back to why Katsanis invested in 3D-printing technology and production to begin with. He explains to us the ultimate goal is to explore the future.
"We could go back and ask why use carbon, why use alloy before that, why use steel, eventually we go back and ask why have a bicycle, I can go by foot."

Katsanis on why 3D printing when carbon is already so good.
It is partly progression and evolution, but as Katsanis explains, "blue sky ideas are great, but there needs to be an application." 3D printing something in itself will not make an inherently better product, and like any production method, it offers both benefits and limitations.
Katsanis has been 3D-printing components since 2004, first for rapid prototyping, before later investing in the machinery to produce structural and safety-critical components. He suggests that 3D printing "makes sense for complex shapes, non-fixed geometry shapes, for manufacturing on short timelines, custom fitting components, and so on. For example, 3D printing a simple round tube doesn't make sense and would offer little to no benefit, perhaps even a worse option." 
On the other hand, if someone needs a highly complex and custom design targetting a specific aerodynamic or fit intervention, 3D printing comes into its own. It seems to me Metron has decided the Elix stem is the best way to get that message out. Mythos (Metron) do not currently offer custom stem lengths or angles, but the Scalmalloy stem with all its holes clearly screams anything is possible.
The stem itself might fly in the face of many of the reasons Dimitris gave for deciding on 3D-printing a specific component. It very much feels like something they did because they could. But that also seems to me to be the very point of the Elix. The stem shows the world what Metron has been doing for years and opens the door, or you could say, conditions our minds, for what's to come.
In the short time since unveiling the stem, Metron has already partnered with Pinarello to develop the 3D printed Hour Record bike Dan Bigham, and Ganna used it so successfully. What's next? We are not sure, but a few years from now, we may well look back at the Elix stem as the forebearer to an entire family of consumer-ready 3D-printed products from Metron. For that, I am excited.