Review: Mavic's Allroad Pro UST Disc wheels and Yksion Allroad XL tires
Mavic's gravel wheel and tire combination offers durability and performance at a reasonable price despite being a tad heavy.
---
Heading out the door? Read this article on the new Outside+ app available now on iOS devices for members! Download the app.
We first tested Mavic's Allroad Pro UST Disc wheels and Yksion Allroad XL tires at the Allroad launch in the Pyrenees-Orientales region of France. Throughout 2018, we spent lots of time on them, riding numerous major gravel events, as well as our local roads and trails.
While this is not the most lightweight or fast-rolling setup, Mavic's wheel-tire combination proved to be a great, durable combination for a wide variety of terrain, from pavement to singletrack trails.
The French company's top-of-the-line Allroad Pro UST Disc wheel offers a 22-millimeter wide rim profile (inner width), providing more volume for tires ranging from 28 to 45 millimeters. The rim features ISM4D machining, Mavic's way of reducing the material between the spokes and providing a lighter rim while maintaining durability. The $1,100 wheelset weighs in at just over 1,600 grams.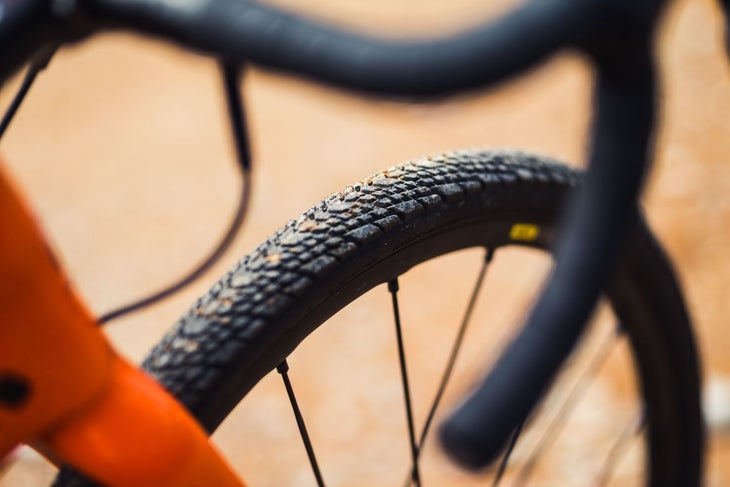 The wheel is built with aluminum Zicral alloy spokes, fore drilled into the rim itself for a solid connection and easier tubeless compatibility — it creates a hollow chamber and negates the use of rim strips on these UST wheels. In the rear, the ID360 freewheel provides fast engagement, low friction, and all the needed axle compatibility, as does the front hub, which is convertible from 12-millimeter thru-axle to QR or 15-millimeter thru-axle.
This alloy rim may not be as lively and lightweight as one made of carbon fiber, but it helps keep the price more affordable. Plus, although we hit our fair share of big rocks on gravel roads and trails, the rims proved quite durable.
The Yksion Allroad XL 40-millimeter tire expands the Allroad range, which already comprised 30 and 35-millimeter widths. The XL tire is more robust, and the tread pattern is substantially more grooved than on the other models. While the 30- and 35-millimeter versions look like oversized road tires with siping on their shoulders, the XL is a fully-fledged off-road tire, designed for rougher, rockier terrain. It has a smooth-center, V-shaped pattern for ample rolling efficiency on hard-pack and pavement, and deep grooves on the edges for better water evacuation and extra grip, particularly in wet conditions. The pair is designed to be directionally mounted.
Through an entire season of riding, we didn't experience a single flat tire with the Allroad XLs. However, on some fast-paced climbs, they did feel a bit slower than the more minimalist gravel tire options we have tested.
During our test rides and races, we ripped on a variety of terrain: descents where on other days you might be tempted to ride your mountain bike, sustained paved climbs, greasy and rocky singletrack. The wheels proved durable and capable after many months of hard riding — no tweaks necessary. Hub engagement was immediate. Acceleration, even with the weight of the big tires, was surprisingly good. The 40-millimeter tire was more than capable across all the variable conditions and surfaces. Diving into water-saturated, muddy hairpins, the bike's front end never wandered. (The same could be said of high-speed tarmac sweepers.) While spray wasn't eliminated completely, the water was channeled over and down the front tire's crown, which helped avoid drinking spray and muck.
This wheel/tire combination felt confident, robust, and capable across the entire range of terrains and conditions. It may not please a pure racer who rides smoother dirt, but versatility almost always wins the day when it comes to gravel riding.