Review: Orucase B2 bike travel case
A wheeled bike travel case that is still small enough to let you dodge airline fees. Just be prepared to break down your bike extensively.
---
Heading out the door? Read this article on the new Outside+ app available now on iOS devices for members! Download the app.
The B2 bike travel case offers a wheeled version of Orucase's venerable Airport Ninja, albeit in a slightly larger and heavier package. But the B2 still beats airline fees handily and protects your bike with collapsible hard side panels.
Basics: A bike travel case with four swiveling casters; breaks down small for storage; collapsible hard sides
Pros: Beats airport fees; easily transports without having to carry it
Cons: Hard to control when wheeling it along
The B2 from Orucase builds off a solid lineage. The company took the bike travel world by storm with its Airport Ninja, a soft-sided case that allows cycling travelers to avoid airline fees by keeping the total package within oversize baggage limits.
The Airport Ninja only has a few shortcomings: For starters, users carry the pack on their backs, which makes the case look like there's something other than a bike inside, but it still feels like you're carrying a bike on your back. The B2 solves this problem by adding caster wheels to the equation.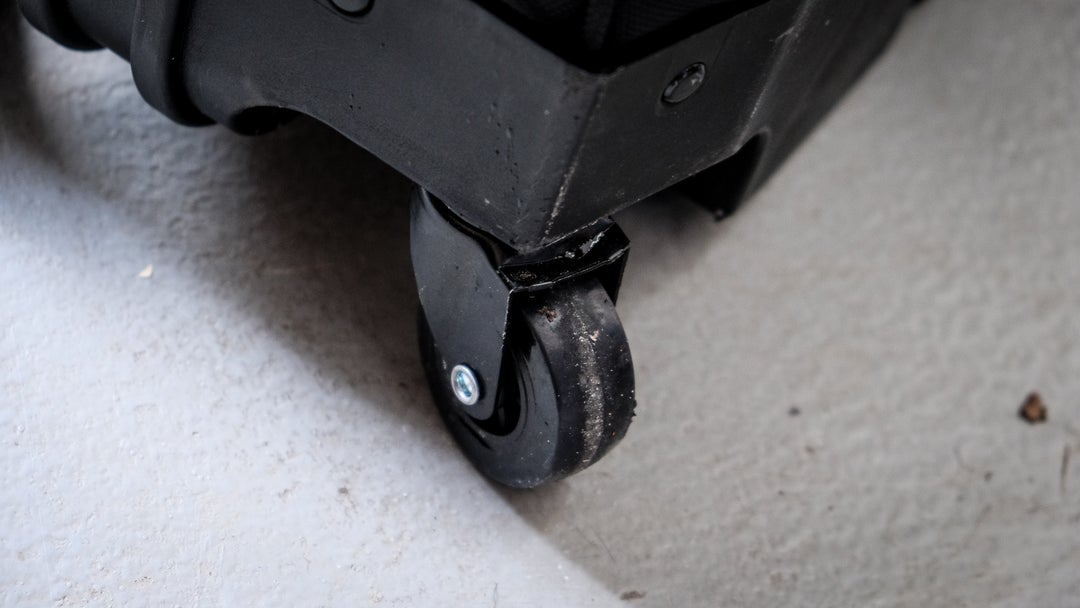 Second, the Airport Ninja is small enough that it only works with certain bikes. For example, many 56cm and larger bikes won't fit. While the B2 also only works with bikes within a specific size range, that range is now expanded. The B2's unique shape accommodates such frames and also makes it more difficult for airline attendants to measure the bag itself. That's to your benefit.
And third, the Airport Ninja is a soft-sided case with hard plastic inserts, but those inserts don't break down for easy storage. You'll still have to sacrifice a fair bit of storage space to the Airport Ninja when it's not in use. The B2 features foldable polycarbonate armor paneled sides that zip into place within the pack. They accordion down and stow within the bottom of the bag when not in use, which means you can stow the bag easily in small spaces in between trips.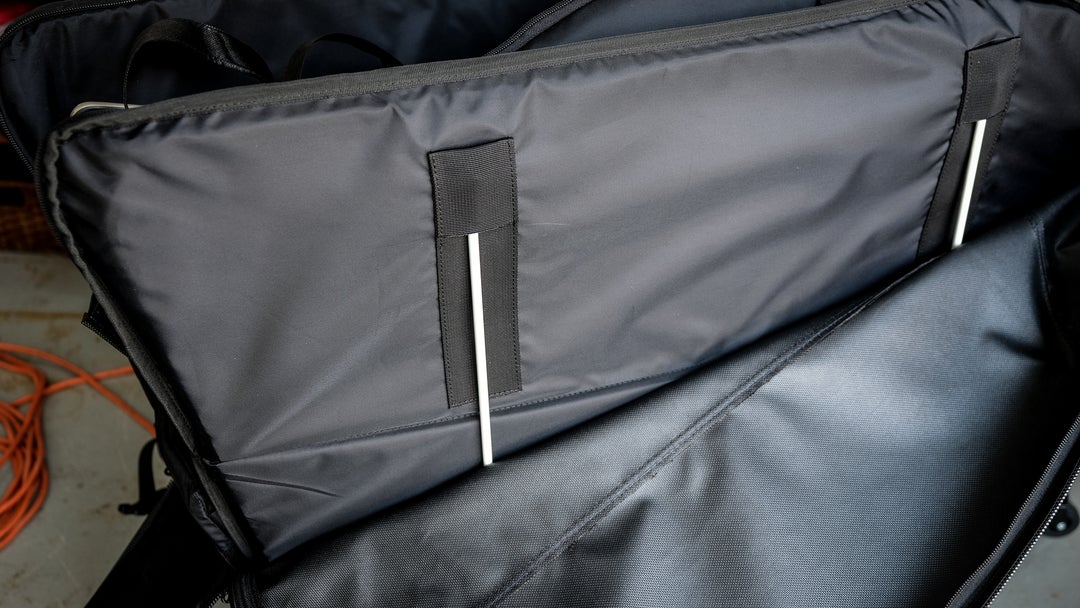 So to summarize, the B2 gets the bike off your back, rolls along easily during transport, and folds down small for storage when not in use. Oh, and on top of that, it's still small enough to avoid airline baggage fees. Seems like the perfect solution to your travel problems, right? Well, it's very close to that, but it does have a few flaws that keep it from perfection.
I received my sample B2 bike case the day before I left on a trip to recon the Big Sugar — NWA Gravel course in Bentonville, Arkansas. The night before the trip, I spent about 20 minutes getting the bike into the bag. You have to take the bike apart quite extensively: The seatpost, fork, rear derailleur, even your derailleur hanger has to come off. And with a gravel bike — I was traveling with a 56cm Pivot Vault Team Force — everything fits just barely. You have to let the air out of your tires and really squish everything in there. I used some pipe insulation to make sure my fork and seatpost stayed protected.
But once the bike itself was in, there was plenty of space left over for clothes, tools, shoes, and other things I was taking on my trip. In fact, there was enough leftover space in the bag that I ended up overpacking it, leading to a 54-pound piece of luggage. United Airlines considers anything over 50 pounds to be overweight. Fees can be associated, so be careful.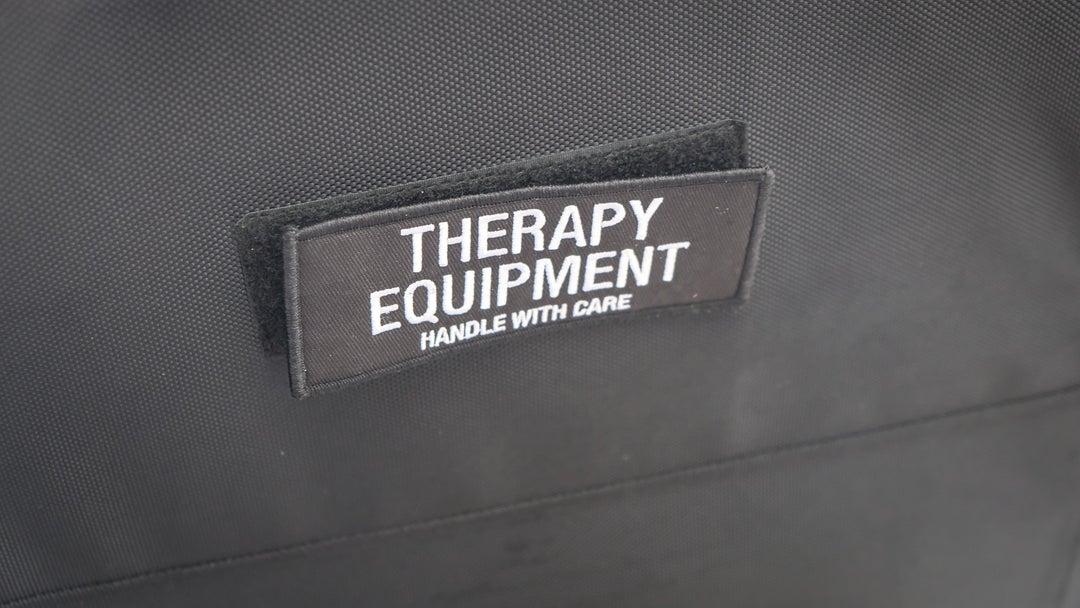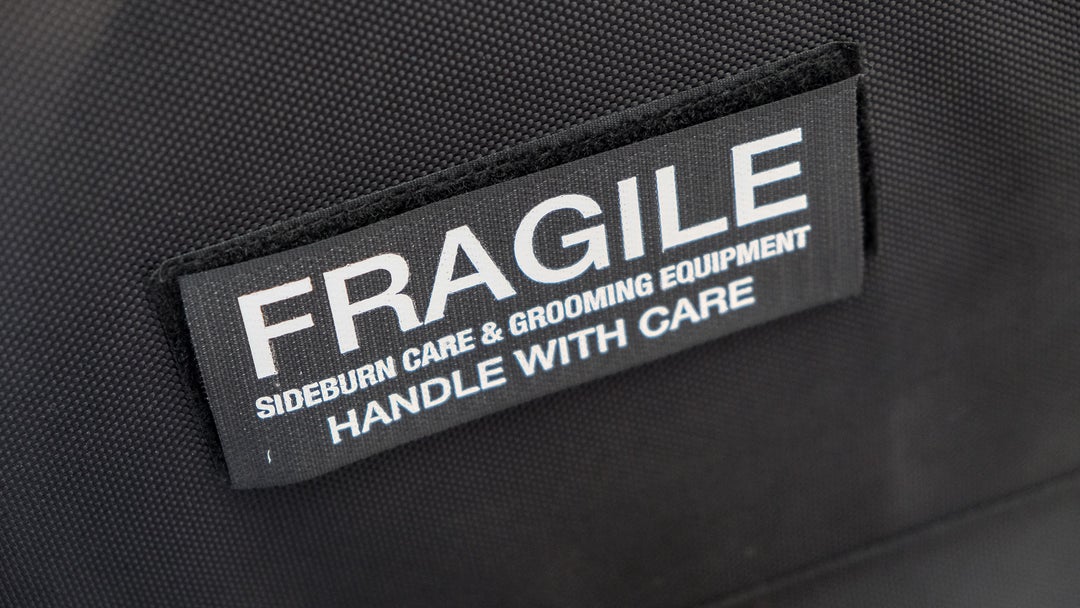 And since I overpacked the bag, the sides bulged enough that I didn't use the external pockets. Had I restrained myself, the external pockets would have been useful for tools, tubes, or even a few small garments like arm warmers.
I had some anxiety heading to the airport as I thought about how I would answer the check-in agent's question should he/she ask me if there was a bike inside. That happened last time I flew with an Orucase bag, and being the terrible liar that I am, I avoided the subject altogether and simply blurted, "It's under 62 inches!" That seemed to be enough to placate that particular agent, but you never know what you'll get when you walk up to that counter.
As it turned out, my anxiety was for naught. The check-in agent checked out the B2 and said it measured "just barely" under the oversize baggage size. I overpacked it, so it was 4 pounds overweight, but they let that slide, probably because I have Gold status. So I got my bike on the plane with no extra fees. The check-in agent never asked me what was inside. Trip one: success.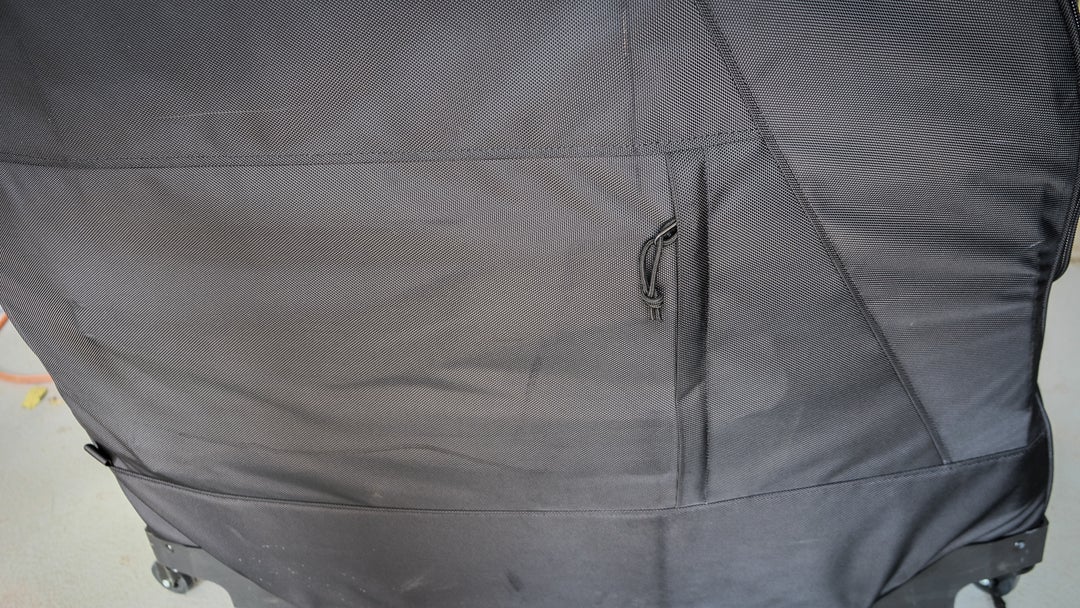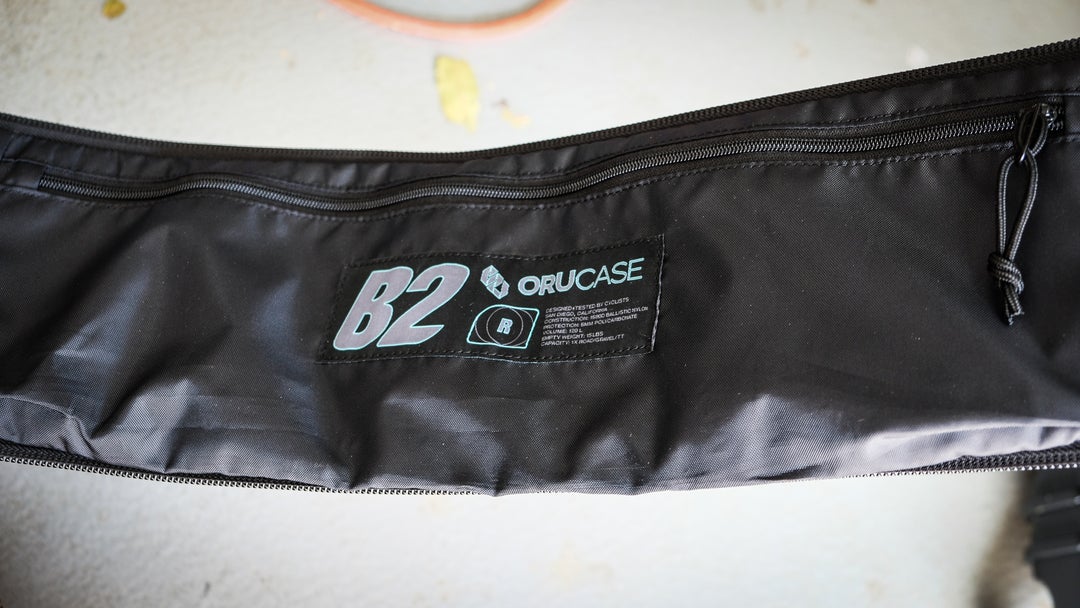 The B2 has pairs of swiveling casters on each end of the bag. You can lock the caster wheels too so the bag remains in place while you're packing or unpacking. The B2's caster system makes it easy to roll the bag along, and unlike the Airport Ninja, you don't have to carry the load on your back. It's a logical step, and Orucase was wise to add such a feature.
But it doesn't work flawlessly. Since all four casters swivel, it's difficult to pick one end of the bag up and pull it along (like many other bike bags do). When you pick up one end of the bag, the casters on the other end swivel, and the bag becomes unstable. The most stable way to move the bag along is to keep all four wheels on the ground and pull the bag along at your side.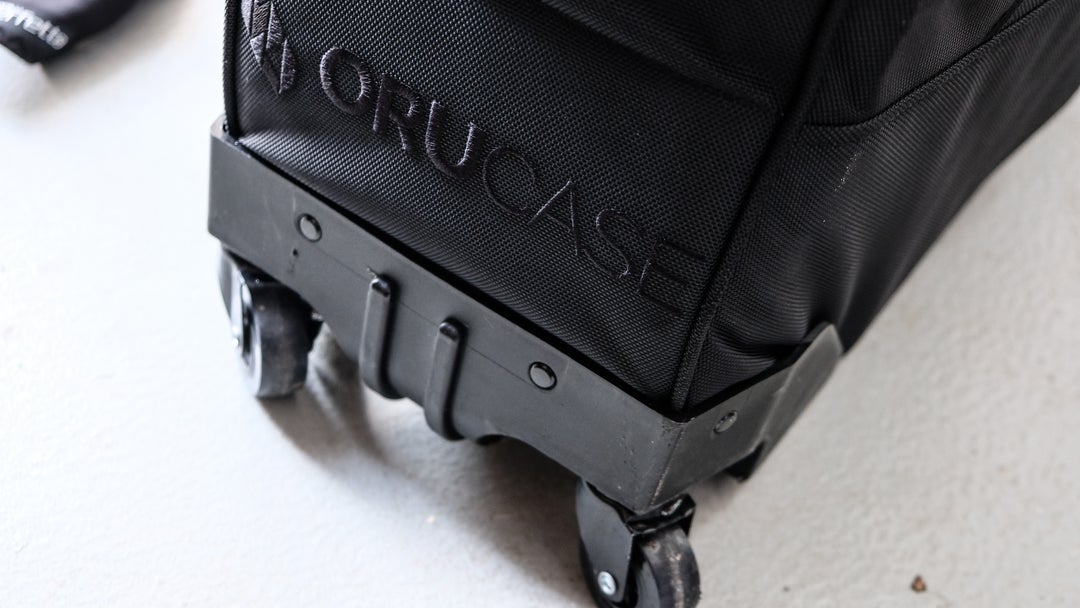 This works fine most of the time, but there are two situations in which this becomes problematic: First, if you're tall, you'll find the handle on the top of the bag to be quite low. So you'll be hunched over as you pull the bag along. I'm 5'11" and it was workable for me, though it would have been nice if it was an inch or two higher — or if I could simply lift the front end and pull along, as I would with other bike bags with casters.
Second, if you're pulling the bag over uneven surfaces, you may run into issues with the bottom of the bag scuffing against the pavement. Since all four wheels must stay on the ground, the center of the bag can highside when you pull it over surfaces that are uneven enough. I ran into this numerous times between my parked truck and the train station to the airport, and again from the train to check-in. All of this can be solved by making one pair of the casters non-swiveling.
Once I arrived in Bentonville, I tossed the B2 in the back of a pickup truck, and drove in the pouring rain to an AirBnB. The tough nylon outer material kept everything inside dry and protected. When I unpacked the bike, everything was exactly as I'd packed it; no shifting, no damage. I'd say that's a success.
On the return trip home, I once again breezed through check-in with no questions asked. The B2 had done its job once again. When I got home and opened the bag, I found a slip of paper notifying me that TSA had inspected my bag, which didn't surprise me. Aside from a poor packing job, the TSA's inspection didn't make much of any impact on my trip.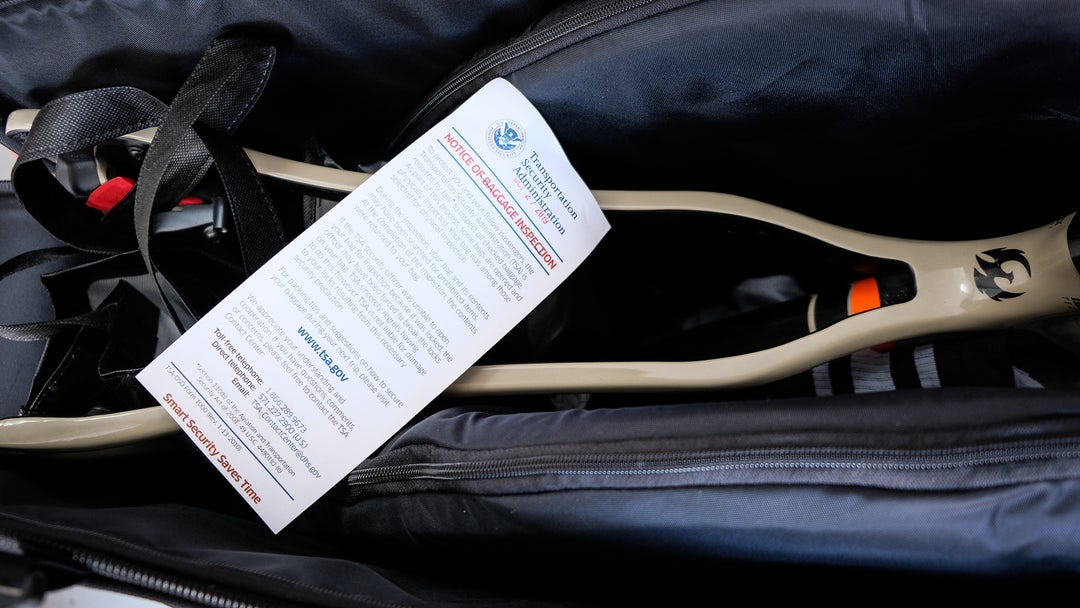 Generally, I like the fact that this bag packs up small when not in use and still lets you get an entire bike in there without having to pay extra bag fees. But with more and more airlines nixing their bag fees anyway, it's unclear how long a bag like this will remain relevant. And it's definitely more of a pain to pack up your bike and rebuild it on the other end. For the time being, Orucase still has an excellent product line for avoiding bike fees on the airlines that still charge them.
But you better know how to work on a bike before investing in this bag, because it takes some work to pack and unpack your bike within. If you're not handy with a wrench, consider going with a full-size bag and either flying with an airline that doesn't charge bike fees, or sucking it up and paying your way. If you don't mind a bit of extra time to get the bag packed up, you're poised to save yourself a ton of cash with the B2. It's an excellent choice for frequent travelers.