Review: Pearl Izumi X-Alp Gravel Shoes
Pearl Izumi's X-Alp Gravel Shoes attempt to take the best characteristics of mountain bike shoes and tailor them to the needs of gravel riders.
---
Basics
Synthetic leather upper; TPU lugs; single Boa dial retention system
---
Pros
Comfortable and attractive shoes; great for hike-a-bike sections
Cons
Soles flex too much while pedaling; single Boa system does not snug up over the toe box
---
Our Thoughts
Pearl Izumi's X-Alp Gravel Shoes attempt to take the best characteristics of mountain bike shoes and tailor them to the needs of gravel riders. The end result is a comfortable shoe with enough flex and grip for hike-a-bikes, but too much flex for serious gravel racers and a Boa system that needs improvement.
---
Size Reviewed
44
Price
$150
Brand
Pearl Izumi
---
Heading out the door? Read this article on the new Outside+ app available now on iOS devices for members! Download the app.
In the Arizona desert outside of Scottsdale, where I spent over 100 miles thrashing on Pearl Izumi's X-Alp Gravel Shoes, everything on and off the trail wants to bite, stab, scrape, and otherwise destroy both you and your gear.
It's perfect for gear testing, and I managed to keep myself out of the cacti. (And I saw a bobcat, which didn't eat me. So, great success.) Over the course of three days of riding, I plunged the X-Alp shoes deep into pea gravel pits, brushed them against angular crystalline rocks, and even walked up a few rugged climbs for that true hike-a-bike experience. The X-Alps remained rugged and nearly impervious to the abuse.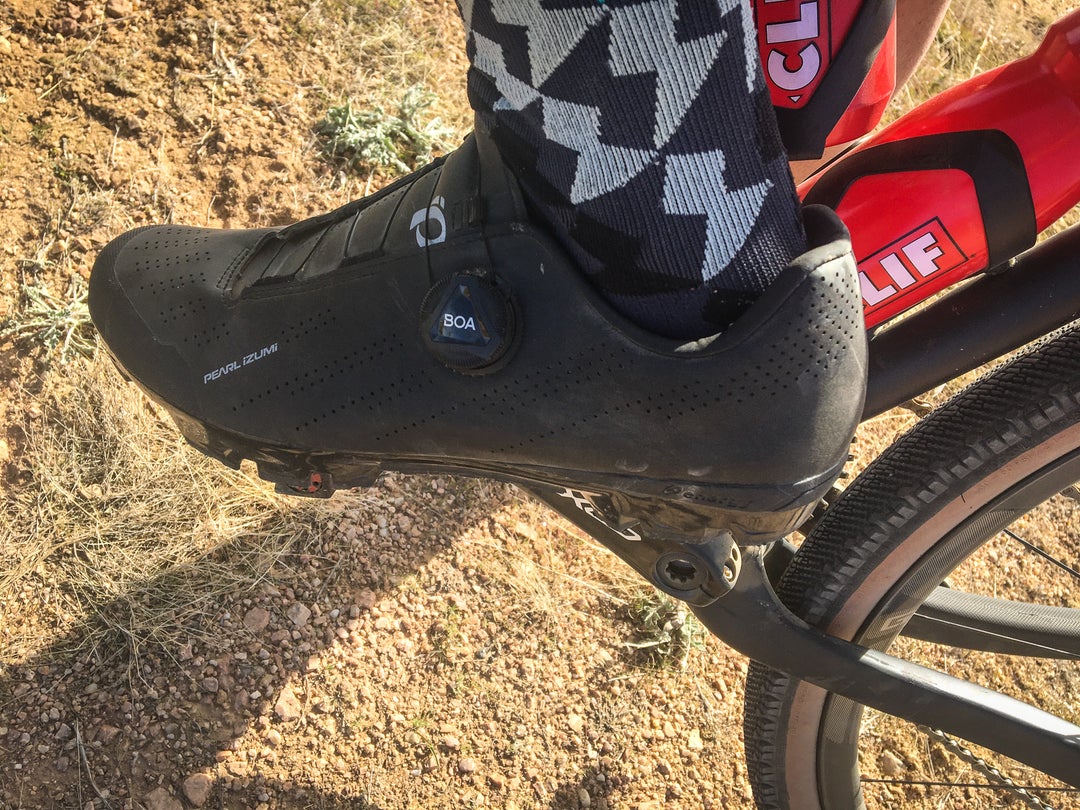 X-Alp construction
The X-Alp shoes feature a seamless synthetic leather upper that's perforated to keep air moving over your foot. That all gets snugged up with an L6 Boa system that allows micro-adjustment, and according to Pearl Izumi, an even and secure fit over the entire foot. A reinforced toe bumper adds to the durability story at the front of the shoe, where you're likely to catch rocks and roots.
The Next Step Nylon composite sole is designed to flex more than a typical mountain bike shoe, largely to accommodate comfortable walking should you need to hop off the bike for an extended period of time. But it's also supposed to maintain stiffness where you need it to ensure efficient power transfer. The sole itself is adorned with TPU lugs for grip.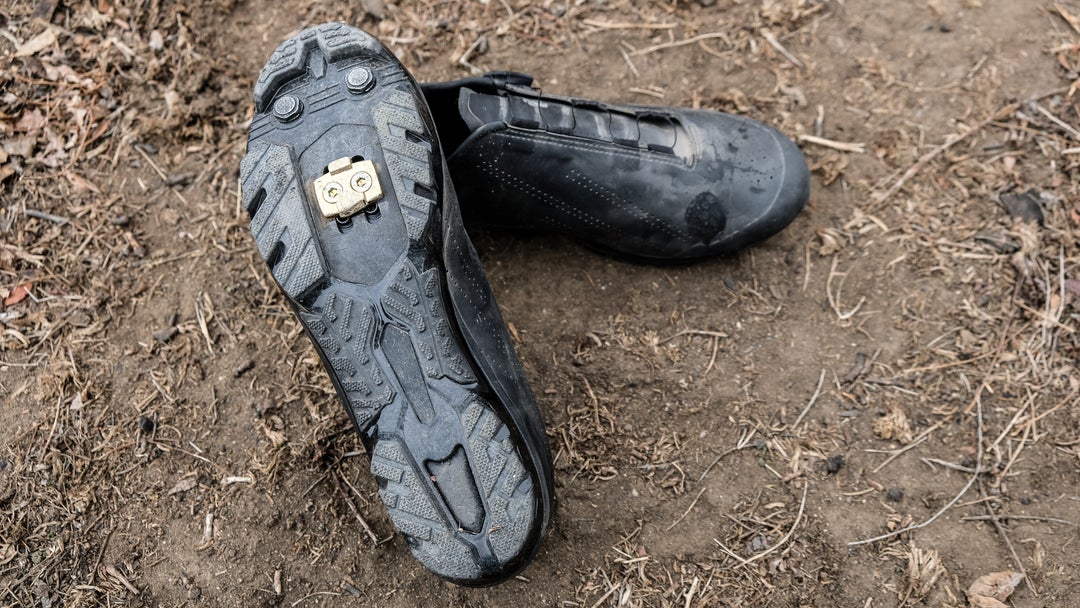 So from a design standpoint, Pearl Izumi appears to be making the argument that gravel riders need less stiffness in the sole than mountain bikers, and more flex for off-the-bike walkability and comfort. But the design also indicates that gravel riders also need just as much grip, hence the TPU lugs. And logically enough, Pearl has come to the conclusion that we all appreciate a comfortable show. Funny, that, eh?
X-Alp shoes on the trail
Two things became apparent the second I slipped these shoes on for the first time. First, Pearl Izumi has done an admirable job creating a comfortable shoe. And second, the X-Alp Boa cable routing was insufficient to capitalize on that comfort.
The synthetic leather upper feels immediately soft and conforms to your foot shape well. I did get one bit of pinching just forward of my left ankle, but as the shoe broke in, that pressure point disappeared and I had no more discomfort there. That was the only break-in necessary; otherwise, the X-Alp shoes were comfortable and ready to hit the trails for a long ride right out of the box.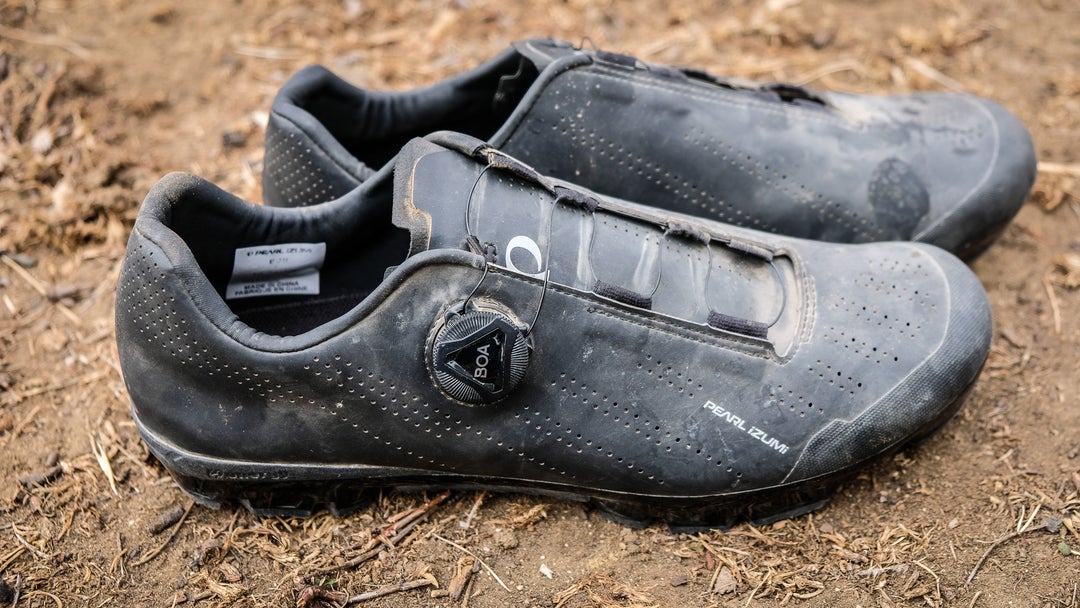 I had two issues with the Boa system, however. First, the dial only micro-adjusts in one direction, which means if you overtighten, you have to completely release the dial to loosen the cable and then re-tighten. I imagine Pearl Izumi made the decision not to include a higher-end Boa system like the LP1 that allows micro-adjustment in both directions largely to keep the cost of the shoes down, but it's certainly something I would have gladly paid a few more dollars for. I tend to micro-adjust on the fly as my foot swells during the ride, so that loosening micro-adjustment is critical for me.
But more importantly, the Boa cable routing on the X-Alp shoes is overly complex and actually prevents the cable from effectively tightening the front of the shoe over the toe. This is the first Boa-equipped shoe I've used that required me to actually pull the cable with my fingers to get it to slide through the guides and snug up evenly.
This is what ultimately sunk the X-Alp shoes for me. I found myself having to stop riding to adjust the shoe over the course of my rides, and that meant repeatedly pulling the cable by hand to get it to snug up properly over the toe.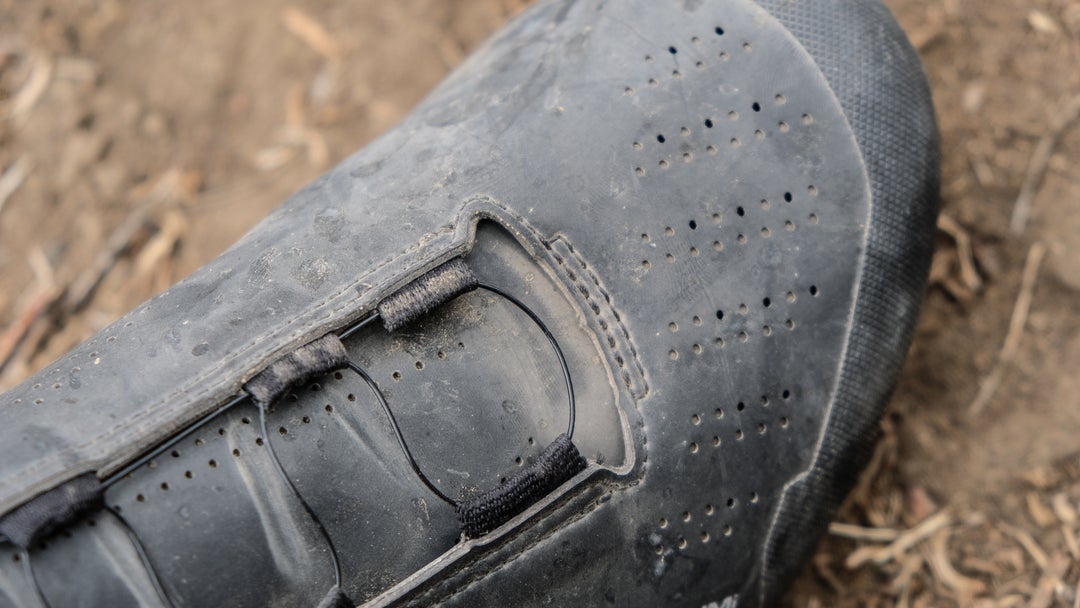 Regarding the Next Step Nylon sole, it works as intended, but it's not for everyone. It flexes quite a lot, and I could actually feel the shoe curving around my pedal platform. As someone who spends a lot of time in ultra-stiff road shoes, the X-Alp soles felt far too flexy to me, and my foot was working overtime over the course of my ride. Foot fatigue isn't generally something I struggle with, but by the end of almost 60 miles of riding one day, my feet were cramping and quite tired.
But if you're not after the stiffest shoe — and in fact are actively looking for something more forgiving that will allow you to walk easily — this probably won't feel like too much of a problem to you. The X-Alp shoes do offer plenty of flex and comfort for those looking for a forgiving, roomy shoe more suited to adventure riding than to racing.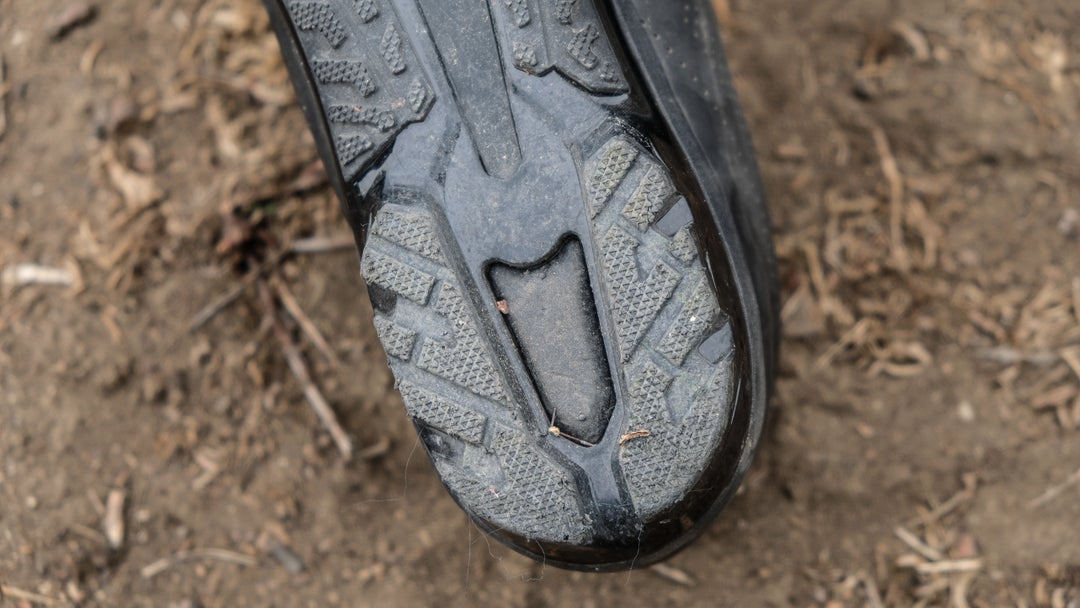 Competition
Giro's Privateer Lace shoes are the closest competition Pearl Izumi has with its X-Alp shoes. Of course, it's not a direct comparison, as the Privateers use laces while the X-Alps use a Boa system. Still, both pairs of shoes are designed to be more forgiving and comfortable than ultra-stiff race shoes. The Privateers win out here, with better fit consistency over the entire foot. If Pearl Izumi can tweak the Boa routing on the X-Alps, these shoes will be a force to be reckoned with for sure.
Shimano provides a solid example of perfect Boa execution with its RX8 gravel shoes. To combat the problem of snugness over the toe box, Shimano uses a velcro strap in addition to the Boa dial. That means the Boa itself has to do less work, creating a more consistent fit and feel throughout the lacing.
Verdict
Pearl Izumi has a solid blueprint for a gravel shoe with the X-Alp shoes. The synthetic leather upper feels fantastic and the TPU lugs are grippy and easy to walk on. Just keep in mind that these shoes are very flexy and won't scratch the racer's itch when it comes to power transfer. The Boa cable routing needs improvement, which is the biggest concern with these shoes. Consider these shoes if you have a wide forefoot that doesn't require much snugging in that area, and if you want something walkable and comfortable rather than something uber-stiff.