Review: PowerDot electro-stimulus
If you're looking for an easy way to manage minor aches and pains or to speed recovery after big races or travel, PowerDot offers an easy-to-use and travel-friendly tool for recovery and therapy.
Price
$349
Brand
PowerDot
---
Heading out the door? Read this article on the new Outside+ app available now on iOS devices for members! Download the app.
Back in March, I raced — okay, I rode — the Land Run 100 gravel race. I was unprepared, on a new bike, and I probably went out a little too hard. I ended up with a sore knee and only two months to prepare for the Dirty Kanza 200 gravel race.
So I turned to a product I'd discovered back in January at the "Gravel Camp" event in Southern California, the PowerDot. It is a device that sends electrical currents through your muscles and joints to speed recovery — kind like how Frankenstein animates his monster in the classic Mary Shelley novel but less scary and painful.
Outside of Transylvania, electro-stimulus units have been around for years. Physical therapists and sports trainers have used them to stimulate blood flow to help accelerate recovery in aching muscles and to encourage recovery in joints that have moderate overuse injuries.
The basic idea is that you send an electrical charge through the area where you are in pain, and it will help kickstart the body's natural regenerative process.
In the past, when I've suffered knee pain or other overuse injuries, I've seen physical therapists who have applied similar techniques to help me heal. It's not an instantaneous fix, and it isn't done in a vacuum, but it helped. I still had to rest more, stretch more, and ease back into riding.
With a PowerDot in hand, I figured I'd try to do this on my own.
Compared to most other electro-stimulus units, PowerDot is sleek and very user-friendly. It packs into a neat zippered case the size of a brownie (a big brownie, mind you). There are two pods with simple on/off buttons, two lengths of cable with magnetic contact points, and adhesive pads that hook up to the pods via those cables.
Everything is controlled by your smartphone app via Bluetooth. The app is intuitive and reliable. It guides you to the treatment you need, based on either the body part you'd like to work or the type of therapy you're seeking — recovery, massage, or wellness, for instance.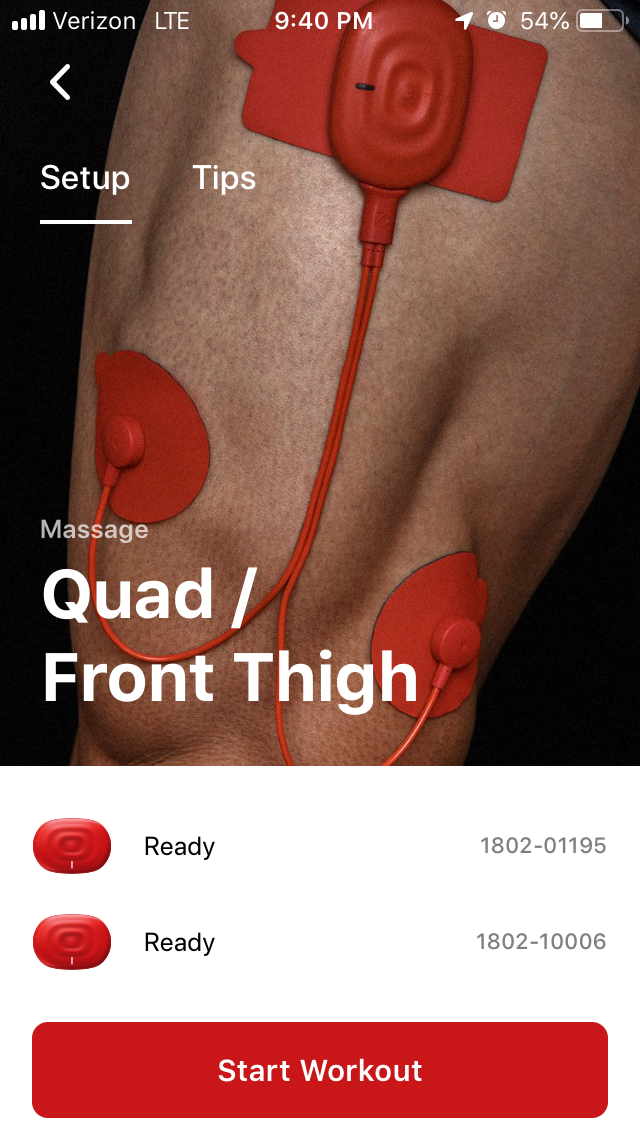 Once you select your program, the on-screen images show you how to position the adhesive pads. Start up the PowerDot and then use the simple +/- control on-screen to adjust intensity. After the program is finished, the app recaps your session. It also tracks your sessions in your profile page, although I wasn't too sure what I might use that information for.
After a session, it also tells you how much life your pads have remaining. Unfortunately, those adhesive pads are disposable. Use them enough and you'll need to buy new ones, which cost $18.
Prior to my knee issue, I had already been using my PowerDot on the massage or recovery settings for basic post-ride bodywork on my legs and lower back. It felt nice, and it seemed to loosen up my muscles.
For the knee issue, I went to the wellness menu, which focuses on joints and other problem areas. There, you have three programs to choose from for the therapy, although I couldn't quite discern which would be best. I tried them all, and they seemed to help.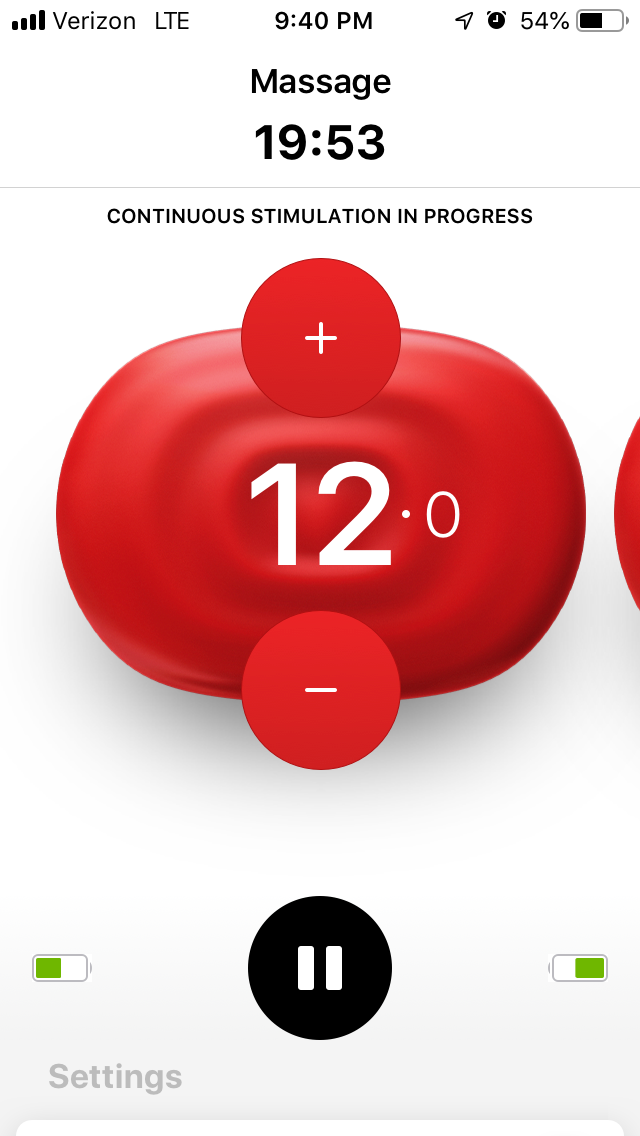 Little by little, my knee has improved, and I'm feeling more confident that I will be able to ride those 200 miles of gravel with little discomfort — at least nothing that will stop me from slogging through the long day.
PowerDot also offers workout and warm-up features that are supposed to mimic the muscle recruitment of an activity like riding and running. I didn't use those features as much. The warm-up cycle is particularly intense. If I wasn't careful to set the intensity low, I was writhing in pain.
Overall, PowerDot offers an easy-to-use and travel-friendly tool for recovery and therapy. Of course, it doesn't quite rival the attention and care you'd get from your own physical therapist or a massage therapist. But if you're looking for an easy way to manage minor aches and pains or to speed recovery after big races or travel, it's one of the products I use on a routine basis.