Rochette, Hyde finish perfect weekend at Rochester Cyclocross
Each rider won Sunday's pro races to capture their second victory in as many days.
Heading out the door? Read this article on the new Outside+ app available now on iOS devices for members! Download the app.
Maghalie Rochette and Stephen Hyde finished their weekend at Rochester Cyclocross batting 1.000 after each won their second race in as many days on Sunday.
Rochette (CX Fever-Specialized) topped Ellen Noble (Trek Factory Racing) and Kaitie Keough (Cannondale-CyclocrossWorld) in the women's race to go with her victory in Saturday's event. In the men's race, Hyde (Cannondale-Cyclocrossworld) defeated Jeremy Powers (Aspire Racing) and Kerry Werner (Kona-Maxxis-Shimano) one day after taking a win to open the weekend in New York.
Rochette's early move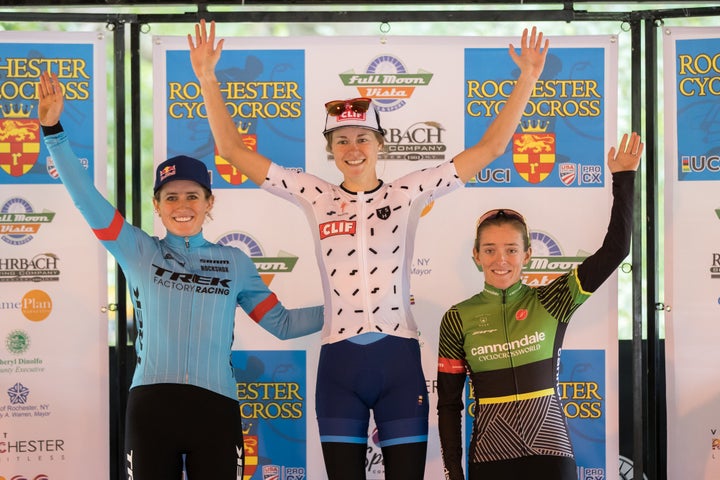 Rochette was following Noble in the race's opening lap when the latter slid out on a corner. That gave Rochette the opportunity to jump to the head of the race, where she had clean air and plenty of real estate in front of her.
By the second lap of six, Rochette began building a gap that quickly jumped up to eight seconds. She slowly increased it from there, eventually finishing 32 seconds ahead of Noble when they crossed the finish line for the last time.
"I could see [the gap] growing. For three or four laps I really pushed to open the gap," Rochette said Sunday. "Then I was conservative to make sure I kept the gap."
Rochette admitted she was satisfied with the weekend, given that she earned a pair of victories against a strong field on the second stop of the 2018 USA Cycling Pro CX calendar.
"I'm super happy about that," she said. "I was trying not to think about it too much. I try to really focus on what I can execute and what I can control, and not think about the end result too much. That is what I did this weekend. I surprised myself. I'm happy with how things went."
Hyde emerges from lead group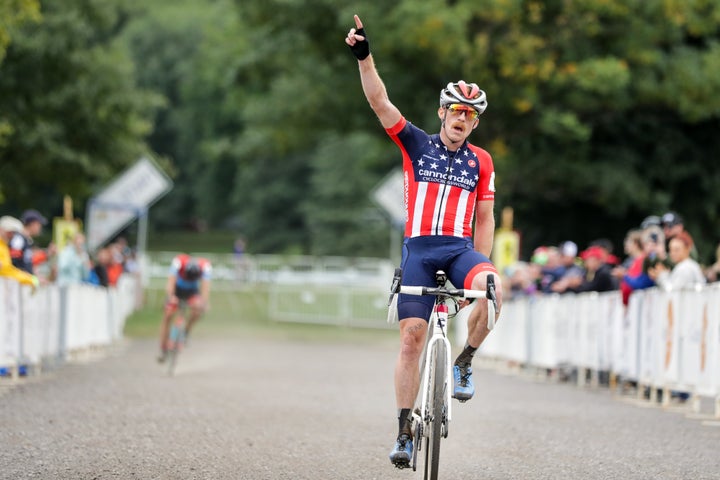 Hyde was part of a group that was in front of the men's race for all eight laps. By the midway point, he was among four riders pedaling hard at the sharp end, trying to stave off several chasers.
Hyde said the foursome kept each other motivated by pushing each other.
"It was a big group. We were changing up," Hyde said. "Guys were coming off, coming back and coming off. We never let up. I think there was some back patting, like 'come on man, let's do this, go hard.' We all needed it. It was a great kick in the pants. It just worked out."
The group led the race by 30 seconds with three laps left, but with one and a half remaining, Powers stomped on the gas — a move that left Werner and Gage Hecht (Alpha Bicycle Co.-Groove Subaru) behind. From there, it was a two-man battle in the final lap.
Hyde was able to gain a few seconds on Powers in the final section of the course and then sprinted the rest of the way to win by five ticks of the clock.
"It was nice just to be up there racing. Today was way better than yesterday," said Powers, who finished seventh on Saturday. "Yesterday, the bike just wasn't dialed, things weren't quite 100 percent. Today, I made some adjustments, rode things a little bit differently, and played my cards a little better. I'm very happy."
The USA Cycling Professional Cyclocross Calendar picks up September 15-16 at Nittany Lion Cross in Breinigsville, Pennsylvania.