RRFCX: Anthony wins in the winds while Lindine blows away the field
Mud and gale force winds greet riders on day one in Massachusetts
Heading out the door? Read this article on the new Outside+ app available now on iOS devices for members! Download the app.
The Really Rad Festival of Cyclocross, held in Falmouth, Massachusetts, made its inaugural entry on USA Cycling's Pro Cyclocross Calendar Saturday, with Crystal Anthony (Liv Cycling) taking the top step in the Elite Women's and Justin Lindine (Hyperthreads/Apex Pro Cycling) winning in dominant fashion in the Men's.
Anthony too hot to handle for Legge and Kemmerer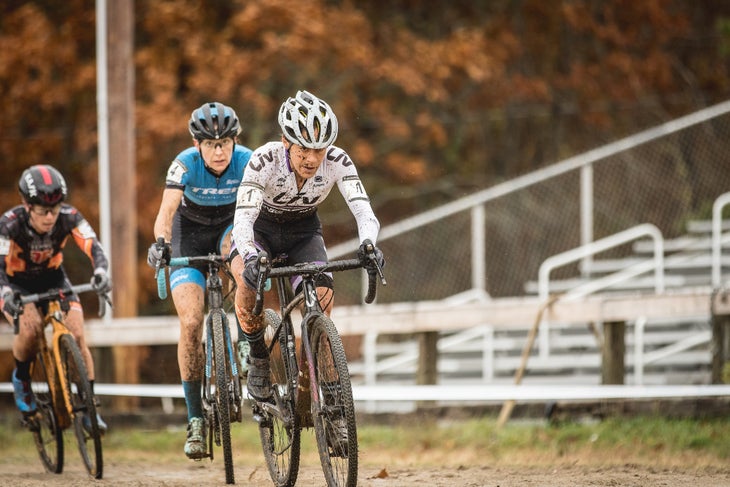 The pace was set in the early laps by Anthony, Arley Kemmerer (Palmerton, Penn./Fearless Femme Racing), and Regina Legge (Salem, N.H./Trek Cyclocross Collective), who stretched out the field on a muddy course.
With three laps to go, Legge began to fall off the pace set by Anthony and Kemmerer, and with two remaining, Anthony pulled away from Kemmerer. She would continue to push through steady winds of 24 to 30 miles per hour and gain more time on the final lap, winning in 46:09.
Kemmerer finished 14 seconds behind, while Anthony held on for third, 30 seconds behind the winner.
"There were some pretty bad lines you could take out there, and some better lines, and some impossible. It was definitely challenging," said Anthony.
"I would say that the wind was, for me, the bigger factor [than mud or lines] because a few places where you would be able to sort of chill, you couldn't," said Kemmerer.
Lindine rides seven laps solo to take top step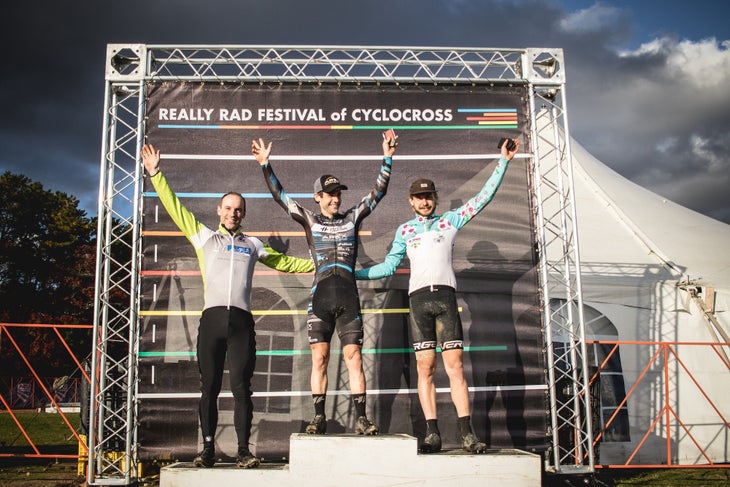 A group went clear immediately, made up of Lindine, Kevin Bradford-Parish (Setcoaching p/b FSA), Scott Smith (Dirt League), Tyler Cloutier (TCCX), and Merwin Davis (Cycle-Smart), who took the holeshot. However, Lindine wasted no time and made his move on the second of eight laps, and soon broke free from the quartet.
Bradford-Parish initially put a lot of pressure on Lindine, keeping him in close sight. However, Lindine eventually distanced him and went on to ride seven full laps solo, winning in 1:00:37.
Behind the winner, Smith caught and overtook Bradford-Parish when the latter's wheel caught something, costing him momentum as he unclipped. Smith went on to finish second, nearly 90 seconds down on Lindine. Bradford-Parish rode in for third, 42 seconds behind Smith.
"I knew with the wind and the mud, it was a day that I wanted to be in front, and maybe have a little bit of a gap," said Lindine. "It frees you up to be able to make mistakes, if you make them, and pick your own lines. From there I just tried to keep the gap."
"It was a bit of a gamble [riding out front alone]," said the winner. "It was really windy. It's kind of like a catch-22, it's nice sometimes if you can get a gap; if you are confident in your ability to pedal that hard for the hour then the wind works in your favor because nobody wants to chase in it (the wind) either."