Ruta del Sol: Tim Wellens best from break; Valverde wins fifth title
Tim Wellens won the final stage of Ruta del Sol as Alejandro Valverde held on to his narrow lead over Alberto Contador to win the overall.
Heading out the door? Read this article on the new Outside+ app available now on iOS devices for members! Download the app.
The breakaway stuck and Tim Wellens (Lotto — Soudal) came away victorious in the final stage of Ruta del Sol on Sunday, while Alejandro Valverde (Movistar) maintained his one-second lead over Alberto Contador (Trek — Segafredo) to win the stage race overall in Coín, Spain.
"I started sprinting at two hundred meters from the finish," said Wellens in a team statement. "Beforehand, I wasn't certain at all that I would win the sprint, but it was actually pretty convincing. I like it more to win this way than to finish solo. If I can choose it can be exciting."
Stage 5, top 10
1. Tim WELLENS, LOTTO SOUDAL, in 3:58:31
2. Simon CLARKE, CANNONDALE DRAPAC PROFESSIONAL CYCLING TEAM, at :00
3. Victor CAMPENAERTS, TEAM LOTTO NL – JUMBO, at :00
4. Maciej PATERSKI, CCC SPRANDI POLKOWICE, at :00
5. Domen NOVAK, BAHRAIN – MERIDA, at :00
6. Nick VAN DER LIJKE, ROOMPOT – NEDERLANDSE LOTERIJ, at :00
7. Marco MINNAARD, WANTY – GROUPE GOBERT, at 1:34
8. Hector SAEZ BENITO, CAJA RURAL – SEGUROS RGA, at 1:45
9. Ivan GARCIA CORTINA, BAHRAIN – MERIDA, at 1:45
10. Hugo Hofstetter, COFIDIS, SOLUTIONS CREDITS, at 1:45
Top-10 overall
1. Alejandro VALVERDE BELMONTE, MOVISTAR TEAM, in 17:12:23
2. Alberto CONTADOR VELASCO, TREK – SEGAFREDO, at :01
3. Thibaut PINOT, FDJ, at :06
4. Wout POELS, TEAM SKY, at :21
5. Diego ROSA, TEAM SKY, at :45
6. Mikel LANDA MEANA, TEAM SKY, at :48
7. Sébastien REICHENBACH, FDJ, at :52
8. Rigoberto URAN URAN, CANNONDALE DRAPAC PROFESSIONAL CYCLING TEAM, at 1:29
9. Ondrej CINK, BAHRAIN – MERIDA, at 1:48
10. Javier MORENO BAZAN, BAHRAIN – MERIDA, at 1:50
Wellens took advantage of a Ruta del Sol stage that didn't see much sun, jumping into an early eight-man breakaway that eventually shrunk to six by the end of the hilly 151.5km route.
"There was a lot of headwind in the beginning of the stage," Wellens added. "Everyone was attentive and nervous. Still, we could get away with eight on an uphill section. We had to ride very hard to build a sufficient lead.
The small group containing Wellens, Simon Clarke (Cannondale — Drapac), Victor Campenerts (LottoNL — Jumbo), Maciej Paterski (CCC Sprandi Polkowice), Doman Novak (Bahrain — Merida), and Nick Van Der Lijke (Roompot — Nederlandse Lotorij) still had over a minute at 4km to go, when the cat-and-mouse games began in earnest. It came down to a sprint through the wet roads of Coín, and none could come near Wellens. Clarke was second, followed by Campenaerts.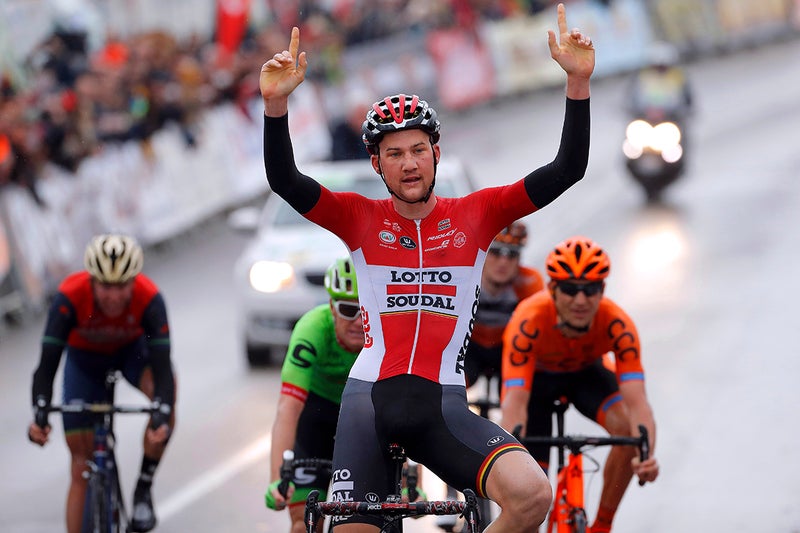 The peloton sprinted for seventh a minute later, led by Marco Minaard (Wanty — Groupe Gobert), and came across the line without any major gaps. Valverde thus held on to his narrow lead and took home his first stage race win of the season. It was also his fifth overall victory at Ruta del Sol, a race record.
"We all really suffered," Valverde said. "At the end, that struggling made difficult to see any attacks, and so we secured this fifth victory in the race, which took so much to obtain. It obviously makes me happy to be celebrating 100 victories as a professional. It's the sign of a fantastic career, one where above all I've enjoyed a lot riding my bike — and I hope I can improve those numbers in the future."
Stage 5 results
1. Tim WELLENS, LOTTO SOUDAL, in 3:58:31
2. Simon CLARKE, CANNONDALE DRAPAC PROFESSIONAL CYCLING TEAM, at :00
3. Victor CAMPENAERTS, TEAM LOTTO NL – JUMBO, at :00
4. Maciej PATERSKI, CCC SPRANDI POLKOWICE, at :00
5. Domen NOVAK, BAHRAIN – MERIDA, at :00
6. Nick VAN DER LIJKE, ROOMPOT – NEDERLANDSE LOTERIJ, at :00
7. Marco MINNAARD, WANTY – GROUPE GOBERT, at 1:34
8. Hector SAEZ BENITO, CAJA RURAL – SEGUROS RGA, at 1:45
9. Ivan GARCIA CORTINA, BAHRAIN – MERIDA, at 1:45
10. Hugo Hofstetter, COFIDIS, SOLUTIONS CREDITS, at 1:45
11. Eduard PRADES REVERTER, CAJA RURAL – SEGUROS RGA, at 1:45
12. Daniel HOELGAARD, FDJ, at 1:45
13. Fabio FELLINE, TREK – SEGAFREDO, at 1:45
14. Javier MORENO BAZAN, BAHRAIN – MERIDA, at 1:45
15. Alejandro VALVERDE BELMONTE, MOVISTAR TEAM, at 1:45
16. Daniel LOPEZ PARADA, BBH, at 1:45
17. Edward PLANCKAERT, SPORT VLAANDEREN – BALOISE, at 1:45
18. Christian KNEES, TEAM SKY, at 1:45
19. Maxime FARAZIJN, SPORT VLAANDEREN – BALOISE, at 1:45
20. Johannes FRÖHLINGER, TEAM SUNWEB, at 1:45
21. Wout POELS, TEAM SKY, at 1:45
22. José Manuel DÍAZ, ISRAEL CYCLING ACADEMY, at 1:45
23. Sindre SKJOESTAD LUNKE, TEAM SUNWEB, at 1:45
24. Stef CLEMENT, TEAM LOTTO NL – JUMBO, at 1:45
25. Alberto CONTADOR VELASCO, TREK – SEGAFREDO, at 1:45
26. Adrian GONZALEZ VELASCO, EUSKADI BASQUE COUNTRY – MURIAS, at 1:45
27. Michal SCHLEGEL, CCC SPRANDI POLKOWICE, at 1:45
28. Antwan TOLHOEK, TEAM LOTTO NL – JUMBO, at 1:45
29. Mikel LANDA MEANA, TEAM SKY, at 1:45
30. Diego ROSA, TEAM SKY, at 1:45
31. Gorka IZAGIRRE INSAUSTI, MOVISTAR TEAM, at 1:45
32. Felix GROSSSCHARTNER, CCC SPRANDI POLKOWICE, at 1:45
33. Haimar ZUBELDIA AGIRRE, TREK – SEGAFREDO, at 1:45
34. Marc SOLER GIMENEZ, MOVISTAR TEAM, at 1:45
35. Floris DE TIER, TEAM LOTTO NL – JUMBO, at 1:45
36. André CARDOSO, TREK – SEGAFREDO, at 1:45
37. Antonio MOLINA CANET, CAJA RURAL – SEGUROS RGA, at 1:45
38. Mikel NIEVE ITURRALDE, TEAM SKY, at 1:45
39. Sam OOMEN, TEAM SUNWEB, at 1:45
40. Tobias LUDVIGSSON, FDJ, at 1:45
41. Thibaut PINOT, FDJ, at 1:45
42. Kristijan KOREN, CANNONDALE DRAPAC PROFESSIONAL CYCLING TEAM, at 1:45
43. Ondrej CINK, BAHRAIN – MERIDA, at 1:45
44. Rigoberto URAN URAN, CANNONDALE DRAPAC PROFESSIONAL CYCLING TEAM, at 1:45
45. Stijn DEVOLDER, VERANDA'S WILLEMS – CRELAN, at 1:45
46. Sébastien REICHENBACH, FDJ, at 1:45
47. Andrei SOLOMENNIKOV, GAZPROM – RUSVELO, at 1:45
48. Guillaume BONNAFOND, COFIDIS, SOLUTIONS CREDITS, at 1:45
49. Tosh VAN DER SANDE, LOTTO SOUDAL, at 1:45
50. Sergey FIRSANOV, GAZPROM – RUSVELO, at 1:45
51. Ibai SALAS ZORROZUA, BBH, at 1:45
52. Pieter WEENING, ROOMPOT – NEDERLANDSE LOTERIJ, at 1:45
53. Markel IRIZAR ARANBURU, TREK – SEGAFREDO, at 1:45
54. Oscar RIESEBEEK, ROOMPOT – NEDERLANDSE LOTERIJ, at 1:45
55. Jasper DE BUYST, LOTTO SOUDAL, at 1:45
56. Florian SENECHAL, COFIDIS, SOLUTIONS CREDITS, at 1:45
57. Bart DE CLERCQ, LOTTO SOUDAL, at 1:45
58. Garikoitz BRAVO OIARBIDE, EUSKADI BASQUE COUNTRY – MURIAS, at 1:45
59. Jesus HERNANDEZ BLAZQUEZ, TREK – SEGAFREDO, at 1:45
60. Yukiya ARASHIRO, BAHRAIN – MERIDA, at 1:45
61. Steve MORABITO, FDJ, at 1:45
62. Lukasz OWSIAN, CCC SPRANDI POLKOWICE, at 1:45
63. Alexander ARANBURU DEVA, CAJA RURAL – SEGUROS RGA, at 1:45
64. Raymond KREDER, ROOMPOT – NEDERLANDSE LOTERIJ, at 1:45
65. Bram TANKINK, TEAM LOTTO NL – JUMBO, at 1:45
66. Moreno HOFLAND, LOTTO SOUDAL, at 1:45
67. Tomasz MARCZYNSKI, LOTTO SOUDAL, at 1:45
68. Jelle VANENDERT, LOTTO SOUDAL, at 1:45
69. Dennis VAN WINDEN, ISRAEL CYCLING ACADEMY, at 1:45
70. Laurens TEN DAM, TEAM SUNWEB, at 1:45
71. Nathan BROWN, CANNONDALE DRAPAC PROFESSIONAL CYCLING TEAM, at 1:45
72. Dmitriy KOZONTCHUK, GAZPROM – RUSVELO, at 1:45
73. Martijn BUDDING, ROOMPOT – NEDERLANDSE LOTERIJ, at 1:45
74. David BELDA, BBH, at 1:45
75. Hugh CARTHY, CANNONDALE DRAPAC PROFESSIONAL CYCLING TEAM, at 1:45
76. Warren BARGUIL, TEAM SUNWEB, at 1:45
77. Jan HIRT, CCC SPRANDI POLKOWICE, at 1:45
78. Angelo TULIK, DIRECT ENERGIE, at 1:45
79. Chad HAGA, TEAM SUNWEB, at 1:45
80. Georg PREIDLER, TEAM SUNWEB, at 1:45
81. David LOPEZ GARCIA, TEAM SKY, at 1:45
82. Victor DE LA PARTE GONZALEZ, MOVISTAR TEAM, at 1:45
83. Bryan COQUARD, DIRECT ENERGIE, at 1:45
84. Romain SICARD, DIRECT ENERGIE, at 1:45
85. Pim LIGTHART, ROOMPOT – NEDERLANDSE LOTERIJ, at 1:45
86. Jurgen VAN DEN BROECK, TEAM LOTTO NL – JUMBO, at 1:45
87. Mikel BIZKARRA ETXEGIBEL, EUSKADI BASQUE COUNTRY – MURIAS, at 1:45
88. Vasil KIRYIENKA, TEAM SKY, at 2:35
89. Rory SUTHERLAND, MOVISTAR TEAM, at 3:42
90. Kevin VAN MELSEN, WANTY – GROUPE GOBERT, at 6:02
91. Xandro MEURISSE, WANTY – GROUPE GOBERT, at 6:02
92. Pello OLABERRIA ARRUABARRENA, EUSKADI BASQUE COUNTRY – MURIAS, at 6:02
93. Daniel TUREK, ISRAEL CYCLING ACADEMY, at 6:02
94. Krists NEILANDS, ISRAEL CYCLING ACADEMY, at 6:02
95. Martijn KEIZER, TEAM LOTTO NL – JUMBO, at 6:02
96. Johan LE BON, FDJ, at 6:02
97. Eliot LIETAER, SPORT VLAANDEREN – BALOISE, at 6:02
98. Berden DE VRIES, ROOMPOT – NEDERLANDSE LOTERIJ, at 6:02
99. Huub DUYN, VERANDA'S WILLEMS – CRELAN, at 6:02
100. Diego RUBIO HERNANDEZ, CAJA RURAL – SEGUROS RGA, at 6:02
101. Jorge ARCAS PEÑA, MOVISTAR TEAM, at 6:02
102. Jon IRISARRI RINCON, CAJA RURAL – SEGUROS RGA, at 6:02
103. Matthias BRÄNDLE, TREK – SEGAFREDO, at 6:02
104. William BONNET, FDJ, at 6:02
105. Igor MERINO KORTAZAR, BBH, at 6:02
106. Gotzon UDONDO SANTAMARIA, EUSKADI BASQUE COUNTRY – MURIAS, at 6:02
107. Julien MORICE, DIRECT ENERGIE, at 6:02
108. Leszek PLUCINSKI, CCC SPRANDI POLKOWICE, at 6:02
109. WINNER ANDREW ANACONA GOMEZ, MOVISTAR TEAM, at 6:02
110. Antonio NIBALI, BAHRAIN – MERIDA, at 6:02
111. Aydar ZAKARIN, GAZPROM – RUSVELO, at 6:02
112. THOMAS BOUDAT, DIRECT ENERGIE, at 6:02
113. Stéphane ROSSETTO, COFIDIS, SOLUTIONS CREDITS, at 6:11
114. Yohann GENE, DIRECT ENERGIE, at 6:11
115. Pierre ROLLAND, CANNONDALE DRAPAC PROFESSIONAL CYCLING TEAM, at 6:11
116. Roman MAIKIN, GAZPROM – RUSVELO, at 6:11
117. Guy SAGIV, ISRAEL CYCLING ACADEMY, at 10:38
118. Ruben POLS, SPORT VLAANDEREN – BALOISE, at 10:38
119. Alvaro ROBREDO CRESPO, BBH, at 10:38
120. Marcin BIALOBLOCKI, CCC SPRANDI POLKOWICE, at 10:38
121. Mihkel RÄIM, ISRAEL CYCLING ACADEMY, at 10:38
122. Aitor GONZALEZ, EUSKADI BASQUE COUNTRY – MURIAS, at 10:38
123. Mark MCNALLY, WANTY – GROUPE GOBERT, at 10:38
124. Jens WALLAYS, SPORT VLAANDEREN – BALOISE, at 10:38
DNF Adrien PETIT, DIRECT ENERGIE
DNF Jérôme BAUGNIES, WANTY – GROUPE GOBERT
DNF Jerome COUSIN, COFIDIS, SOLUTIONS CREDITS
DNF Cyril LEMOINE, COFIDIS, SOLUTIONS CREDITS
DNF Kirill SVESHNIKOV, GAZPROM – RUSVELO
DNF Anton VOROBYEV, GAZPROM – RUSVELO
DNF Kevin DELTOMBE, SPORT VLAANDEREN – BALOISE
DNF Sander CORDEEL, VERANDA'S WILLEMS – CRELAN
DNF Aidis KRUOPIS, VERANDA'S WILLEMS – CRELAN
DNF Elias VAN BREUSSEGEM, VERANDA'S WILLEMS – CRELAN
DNF Otto VERGAERDE, VERANDA'S WILLEMS – CRELAN
DNF Luis Enrique DAVILA, ISRAEL CYCLING ACADEMY
DNF Jorge CUBERO GALVEZ, BBH
General classification
1. Alejandro VALVERDE BELMONTE, MOVISTAR TEAM, in 17:12:23
2. Alberto CONTADOR VELASCO, TREK – SEGAFREDO, at :01
3. Thibaut PINOT, FDJ, at :06
4. Wout POELS, TEAM SKY, at :21
5. Diego ROSA, TEAM SKY, at :45
6. Mikel LANDA MEANA, TEAM SKY, at :48
7. Sébastien REICHENBACH, FDJ, at :52
8. Rigoberto URAN URAN, CANNONDALE DRAPAC PROFESSIONAL CYCLING TEAM, at 1:29
9. Ondrej CINK, BAHRAIN – MERIDA, at 1:48
10. Javier MORENO BAZAN, BAHRAIN – MERIDA, at 1:50
11. Pieter WEENING, ROOMPOT – NEDERLANDSE LOTERIJ, at 1:57
12. Warren BARGUIL, TEAM SUNWEB, at 2:04
13. Mikel NIEVE ITURRALDE, TEAM SKY, at 2:27
14. Jelle VANENDERT, LOTTO SOUDAL, at 3:46
15. Sam OOMEN, TEAM SUNWEB, at 3:47
16. Floris DE TIER, TEAM LOTTO NL – JUMBO, at 3:53
17. Sergey FIRSANOV, GAZPROM – RUSVELO, at 4:13
18. Stef CLEMENT, TEAM LOTTO NL – JUMBO, at 4:29
19. Eduard PRADES REVERTER, CAJA RURAL – SEGUROS RGA, at 4:48
20. Bart DE CLERCQ, LOTTO SOUDAL, at 4:52
21. Laurens TEN DAM, TEAM SUNWEB, at 4:59
22. Sindre SKJOESTAD LUNKE, TEAM SUNWEB, at 4:59
23. Michal SCHLEGEL, CCC SPRANDI POLKOWICE, at 5:12
24. Oscar RIESEBEEK, ROOMPOT – NEDERLANDSE LOTERIJ, at 5:12
25. Garikoitz BRAVO OIARBIDE, EUSKADI BASQUE COUNTRY – MURIAS, at 5:25
26. André CARDOSO, TREK – SEGAFREDO, at 5:29
27. David BELDA, BBH, at 5:36
28. Marco MINNAARD, WANTY – GROUPE GOBERT, at 6:13
29. Antwan TOLHOEK, TEAM LOTTO NL – JUMBO, at 8:04
30. Mikel BIZKARRA ETXEGIBEL, EUSKADI BASQUE COUNTRY – MURIAS, at 8:19
31. Nick VAN DER LIJKE, ROOMPOT – NEDERLANDSE LOTERIJ, at 8:33
32. Guillaume BONNAFOND, COFIDIS, SOLUTIONS CREDITS, at 8:53
33. Jasper DE BUYST, LOTTO SOUDAL, at 8:56
34. Victor DE LA PARTE GONZALEZ, MOVISTAR TEAM, at 9:42
35. Jan HIRT, CCC SPRANDI POLKOWICE, at 9:56
36. Marc SOLER GIMENEZ, MOVISTAR TEAM, at 9:57
37. Hector SAEZ BENITO, CAJA RURAL – SEGUROS RGA, at 10:09
38. Fabio FELLINE, TREK – SEGAFREDO, at 10:14
39. Haimar ZUBELDIA AGIRRE, TREK – SEGAFREDO, at 10:38
40. Gorka IZAGIRRE INSAUSTI, MOVISTAR TEAM, at 11:26
41. Lukasz OWSIAN, CCC SPRANDI POLKOWICE, at 11:39
42. Hugh CARTHY, CANNONDALE DRAPAC PROFESSIONAL CYCLING TEAM, at 12:00
43. Martijn BUDDING, ROOMPOT – NEDERLANDSE LOTERIJ, at 12:29
44. Steve MORABITO, FDJ, at 13:00
45. Romain SICARD, DIRECT ENERGIE, at 13:32
46. Tomasz MARCZYNSKI, LOTTO SOUDAL, at 13:46
47. Tobias LUDVIGSSON, FDJ, at 13:57
48. David LOPEZ GARCIA, TEAM SKY, at 14:34
49. Stéphane ROSSETTO, COFIDIS, SOLUTIONS CREDITS, at 14:38
50. Alexander ARANBURU DEVA, CAJA RURAL – SEGUROS RGA, at 16:02
51. Krists NEILANDS, ISRAEL CYCLING ACADEMY, at 16:55
52. Eliot LIETAER, SPORT VLAANDEREN – BALOISE, at 16:59
53. Chad HAGA, TEAM SUNWEB, at 17:26
54. Stijn DEVOLDER, VERANDA'S WILLEMS – CRELAN, at 18:06
55. Johannes FRÖHLINGER, TEAM SUNWEB, at 18:29
56. Igor MERINO KORTAZAR, BBH, at 19:26
57. Leszek PLUCINSKI, CCC SPRANDI POLKOWICE, at 19:27
58. Simon CLARKE, CANNONDALE DRAPAC PROFESSIONAL CYCLING TEAM, at 19:36
59. Jesus HERNANDEZ BLAZQUEZ, TREK – SEGAFREDO, at 19:49
60. Jurgen VAN DEN BROECK, TEAM LOTTO NL – JUMBO, at 20:20
61. Huub DUYN, VERANDA'S WILLEMS – CRELAN, at 20:25
62. Maciej PATERSKI, CCC SPRANDI POLKOWICE, at 20:35
63. Antonio MOLINA CANET, CAJA RURAL – SEGUROS RGA, at 21:15
64. Nathan BROWN, CANNONDALE DRAPAC PROFESSIONAL CYCLING TEAM, at 21:44
65. Georg PREIDLER, TEAM SUNWEB, at 21:45
66. Kristijan KOREN, CANNONDALE DRAPAC PROFESSIONAL CYCLING TEAM, at 21:53
67. Tim WELLENS, LOTTO SOUDAL, at 22:04
68. Vasil KIRYIENKA, TEAM SKY, at 22:13
69. Domen NOVAK, BAHRAIN – MERIDA, at 22:14
70. Angelo TULIK, DIRECT ENERGIE, at 22:43
71. Jon IRISARRI RINCON, CAJA RURAL – SEGUROS RGA, at 22:52
72. Ibai SALAS ZORROZUA, BBH, at 23:11
73. Victor CAMPENAERTS, TEAM LOTTO NL – JUMBO, at 25:13
74. Maxime FARAZIJN, SPORT VLAANDEREN – BALOISE, at 25:19
75. Ivan GARCIA CORTINA, BAHRAIN – MERIDA, at 25:40
76. Bram TANKINK, TEAM LOTTO NL – JUMBO, at 25:41
77. Daniel HOELGAARD, FDJ, at 26:27
78. Pierre ROLLAND, CANNONDALE DRAPAC PROFESSIONAL CYCLING TEAM, at 26:30
79. Dennis VAN WINDEN, ISRAEL CYCLING ACADEMY, at 26:38
80. Andrei SOLOMENNIKOV, GAZPROM – RUSVELO, at 26:46
81. Dmitriy KOZONTCHUK, GAZPROM – RUSVELO, at 26:58
82. Rory SUTHERLAND, MOVISTAR TEAM, at 27:56
83. Christian KNEES, TEAM SKY, at 28:00
84. Moreno HOFLAND, LOTTO SOUDAL, at 28:07
85. Raymond KREDER, ROOMPOT – NEDERLANDSE LOTERIJ, at 28:50
86. Pim LIGTHART, ROOMPOT – NEDERLANDSE LOTERIJ, at 28:54
87. THOMAS BOUDAT, DIRECT ENERGIE, at 29:05
88. José Manuel DÍAZ, ISRAEL CYCLING ACADEMY, at 29:08
89. Florian SENECHAL, COFIDIS, SOLUTIONS CREDITS, at 29:39
90. Edward PLANCKAERT, SPORT VLAANDEREN – BALOISE, at 30:49
91. Felix GROSSSCHARTNER, CCC SPRANDI POLKOWICE, at 30:53
92. Bryan COQUARD, DIRECT ENERGIE, at 30:57
93. Kevin VAN MELSEN, WANTY – GROUPE GOBERT, at 30:59
94. William BONNET, FDJ, at 31:40
95. Tosh VAN DER SANDE, LOTTO SOUDAL, at 32:00
96. Daniel TUREK, ISRAEL CYCLING ACADEMY, at 32:34
97. Aydar ZAKARIN, GAZPROM – RUSVELO, at 33:00
98. Xandro MEURISSE, WANTY – GROUPE GOBERT, at 33:22
99. Yukiya ARASHIRO, BAHRAIN – MERIDA, at 34:00
100. Hugo Hofstetter, COFIDIS, SOLUTIONS CREDITS, at 35:00
101. Julien MORICE, DIRECT ENERGIE, at 35:02
102. Adrian GONZALEZ VELASCO, EUSKADI BASQUE COUNTRY – MURIAS, at 35:07
103. Daniel LOPEZ PARADA, BBH, at 35:48
104. Mihkel RÄIM, ISRAEL CYCLING ACADEMY, at 35:52
105. Martijn KEIZER, TEAM LOTTO NL – JUMBO, at 36:02
106. Markel IRIZAR ARANBURU, TREK – SEGAFREDO, at 37:17
107. Antonio NIBALI, BAHRAIN – MERIDA, at 37:22
108. Johan LE BON, FDJ, at 37:26
109. WINNER ANDREW ANACONA GOMEZ, MOVISTAR TEAM, at 37:53
110. Berden DE VRIES, ROOMPOT – NEDERLANDSE LOTERIJ, at 38:46
111. Yohann GENE, DIRECT ENERGIE, at 38:49
112. Jorge ARCAS PEÑA, MOVISTAR TEAM, at 38:53
113. Aitor GONZALEZ, EUSKADI BASQUE COUNTRY – MURIAS, at 39:28
114. Guy SAGIV, ISRAEL CYCLING ACADEMY, at 39:36
115. Jens WALLAYS, SPORT VLAANDEREN – BALOISE, at 39:42
116. Diego RUBIO HERNANDEZ, CAJA RURAL – SEGUROS RGA, at 39:51
117. Pello OLABERRIA ARRUABARRENA, EUSKADI BASQUE COUNTRY – MURIAS, at 42:24
118. Ruben POLS, SPORT VLAANDEREN – BALOISE, at 42:29
119. Matthias BRÄNDLE, TREK – SEGAFREDO, at 44:02
120. Mark MCNALLY, WANTY – GROUPE GOBERT, at 44:24
121. Marcin BIALOBLOCKI, CCC SPRANDI POLKOWICE, at 45:30
122. Gotzon UDONDO SANTAMARIA, EUSKADI BASQUE COUNTRY – MURIAS, at 45:55
123. Roman MAIKIN, GAZPROM – RUSVELO, at 46:21
124. Alvaro ROBREDO CRESPO, BBH, at 47:46