Rylo 360-degree Action Camera
An easy, intuitive app and a small, powerful camera that shoots 360-degree video makes for fun action shooting
---
Heading out the door? Read this article on the new Outside+ app available now on iOS devices for members! Download the app.
It is often with grand ambitions that we purchase action cameras, only to have them clutter up a junk drawer after only a few attempts at filming a "sick edit." Until recently, action camera footage looked pretty terrible: shaky, distorted, and generally uninteresting, shot from strange angles. Once the footage was shot, you were shod with the unenviable task of piecing it all together in a cumbersome video editing program. Doesn't sound like much fun after all, does it?
Basics: 360-degree video capture, 180-degree video capture, phone app integration
Pros: Quick, easy editing, an intuitive app, and 360-degree capture
Cons: Footage looks grainy and dark when shooting in low light
Fortunately, those days are largely gone, thanks in large part to image stabilization. That's now standard fare for most action cameras, so Rylo's Action Camera needed to put up more than just decent image stabilization to impress. And, it did exactly that.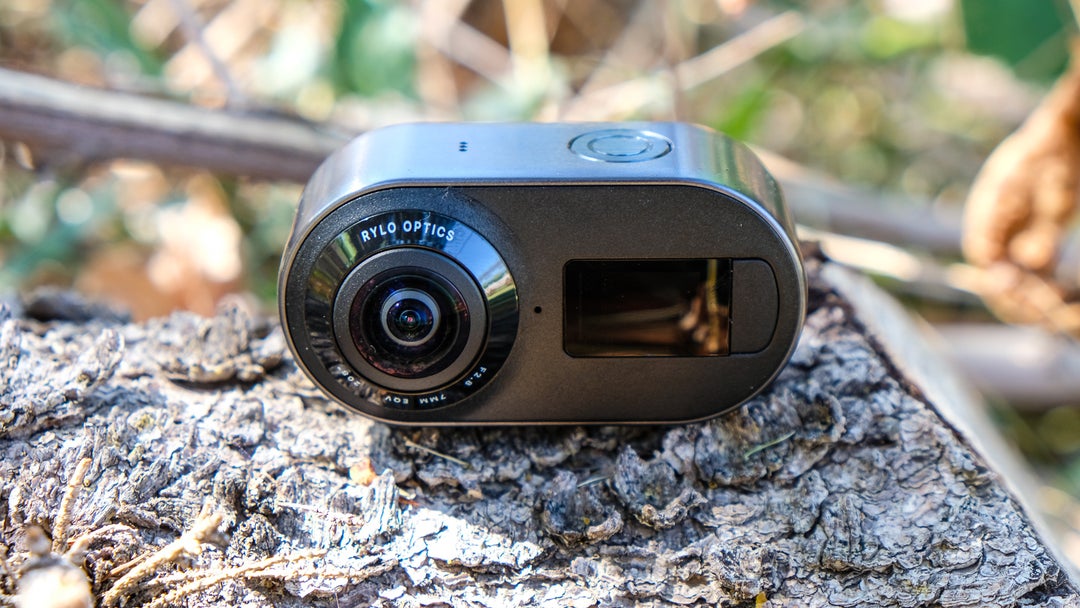 The big difference between Rylo and much of its competition is the camera's ability to shoot 360-degree video. That means you capture everything all at once. But that doesn't mean your final footage will have some strange, wide-angle or round look to it. Using the Rylo app, you're able to edit the video to track a specific object (like your face, or the bike in front of you), and even rotate to a new position within the timeline. This means you get the flexibility to see what you want to see, without having to physically move the camera while shooting.
But that's all after the fact. While you're filming, the Rylo has some distinct advantages. For starters, there's just two buttons to manage: the start/stop recording button on top, and the function button on the front. Just hold down the record button to turn the camera on and off. The camera both beeps and vibrates to indicate that it's on. Then hit it again to start recording. That means you don't have to look down to get it rolling — a nice safety feature when you're on the bike. It's quick and intuitive.
The function button on the front of the camera allows you to choose modes: 360-degree filming in 4k, 360-degree 5.8k filming, 180-degree filming, and even still shots. Scroll through, pick your mode, and be on your way. It's super simple.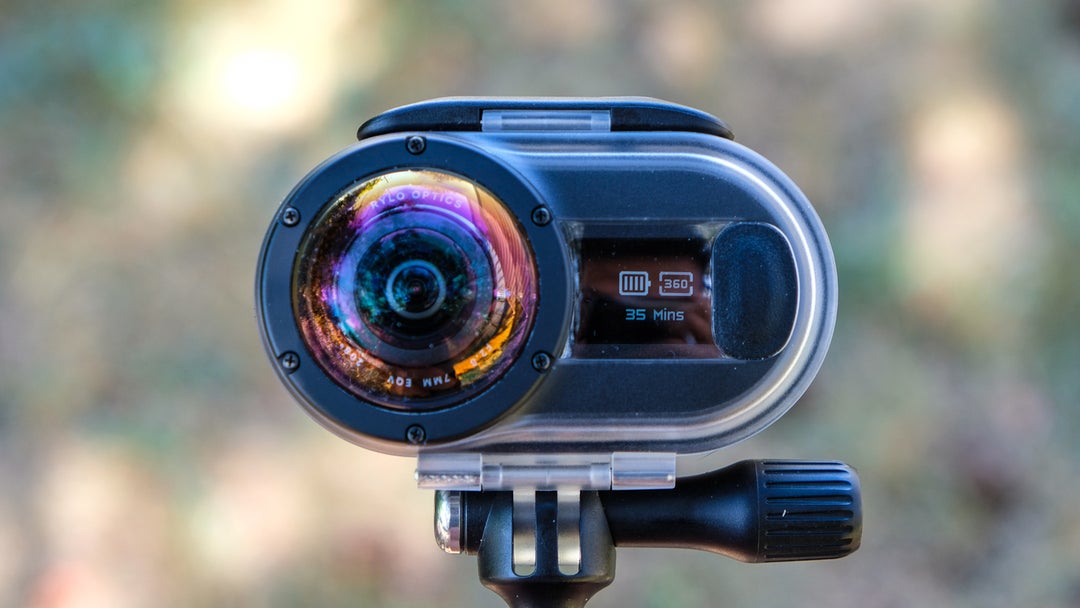 It mounts to any GoPro-style mount, too, so there's no proprietary equipment to deal with. Rylo sells plenty of accessories to complement the camera, including the must-have Adventure Case ($70) that protects the camera from damage during your rowdier excursions.
That case is necessary, however, due to the camera's design. It's not exactly a flaw, but it is something you'll have to pay close attention to. Because the camera is capturing 360-degree video, the lenses (yes, there are two of them, one in front of the camera and one in the rear) protrude quite far from the camera body. They are, therefore, quite prone to scratching. You'll need to take care, even with the adventure case, to protect the lenses and lay the camera down on the soft protective pouch (included) to keep from damaging the lenses. When I stowed the camera in my jersey pocket, I found myself grabbing the camera by the lenses unintentionally, very often. That meant fingerprints on the lens. It's a small nitpick that can be easily solved with a lint-free cloth, but it is something you'll have to manage.
The 5.8k footage itself looks quite stunning. The image stabilization works wonders; I got a little bit of shake when I was shooting on the cobbled streets of Asolo, Italy, but the footage was silky smooth most other times except on the chunkiest singletrack. In brightly lit situations, the footage looks absolutely stunning, as though you're watching a TV show shot on the kind of cameras that look daunting, heavy, and able to become sentient and conquer your town. Yet the diminutive Rylo stashes in a jersey pocket.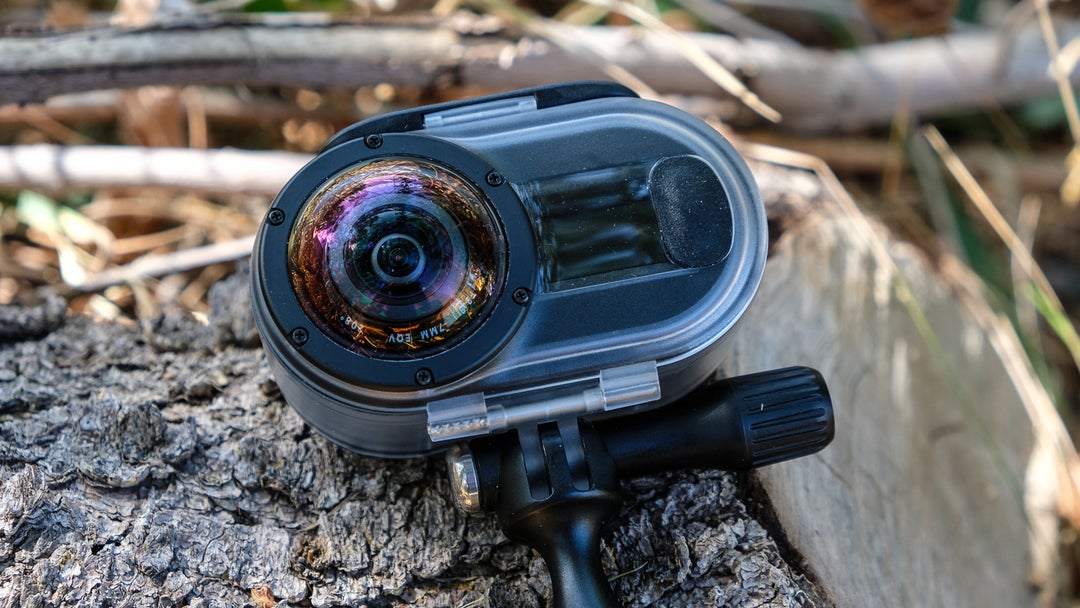 In low light, however, the footage is not as impressive. The footage gets a bit grainy, and foreground objects often lost definition or got lost completely in shadows. It's not horrible, but given how well the camera works in other conditions and other aspects of its operation, I was disappointed that the low-light performance was lacking. Fortunately, most of us will be shooting outdoors, in relatively favorable light conditions. But if you're trying to shoot epic adventures in dark spaces — cyclists, think bad weather; outdoorsmen and women, think about that quick jaunt into a cave in the backcountry, or underneath thick canopy — the Rylo may not be the ideal tool.
Once you shoot your footage, it's quick and easy to transfer it from the camera to your phone, where you'll edit it in the Rylo app. It's an easy-to-use app that offers plenty of quick-edit features so you can share your video on social media immediately. Trim your clips, track your face or another object, spin the camera around to capture a particularly stunning view. It's all quick and easy to do in the app. Once it's all edited, you can share directly to social media, or export the video so you can save it to your phone or computer. And if you're more of a desktop editor, there's a desktop app, too. You can see all your clips on a big screen before you export them.
One job I would like to see the app tackle in the future is combining multiple clips into a single edit. It's easy enough to do this in an editing program on your computer, but it would be a nifty feature to add to the app itself so you can combine clips and export right to your social media feeds without having to touch a computer at all.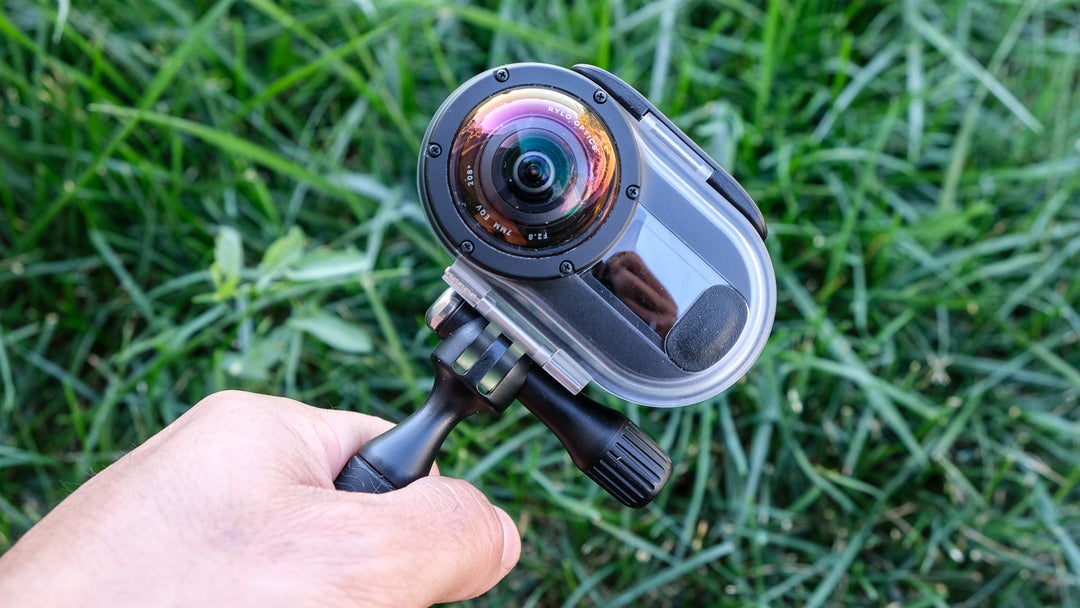 I'm not much of an action camera guy. To me it seems like just another thing to lug around, only to create videos no one wants to watch. But the Rylo shoots great video, it's easy to use, and editing the video is actually quite fun. It makes me want to carry this little camera everywhere, which I end up doing. I've shot more cool videos in the last several months with the Rylo than I have in all the rest of my time with action cameras. And the footage ends up far more watchable, more usable, and more fun to share. That's a ringing endorsement coming from a guy who'd rather not shoot anything at all.