Sin City Skinflint, day 3: Sub-$1,000 bikes and other affordable gear at Interbike
In search of the sub-$1,000 bike and the point where performance and affordability meet.
Heading out the door? Read this article on the new Outside+ app available now on iOS devices for members! Download the app.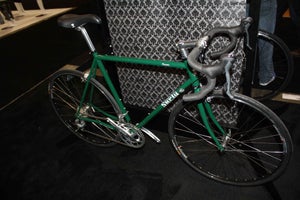 What are the minimum performance requirements for a bike that most VeloNews.com or Singletrack.com readers need?
Many of us have stories about wonderful rides on dusty bikes we've borrowed from our great aunts' garages and the like. Those are often the most important rides in our lives.
But as enthusiasts, we want bikes that are, at the least, not a notable disadvantage on a club ride or even a race, on our local terrain; one that doesn't hold us back on any kind of ride. And we want a bike capable of working for a reasonable number of miles without requiring frequent service or parts replacements. A nice riding, light bike that starts to fall apart after 5,000 miles is no bargain.
This column on Tuesday and Monday, which focused on a pair of $2,750 mountain bikes, and Zack Vestal's column Tuesday, which looked at some even more expensive bikes, set off a snit storm among readers who define 'affordable' at a much lower price.
So on Wednesday morning, the first morning of the indoor portion of Interbike, I set out to see what sub-$1,000 bikes look like (unfortunately the demo portion of the show is over, so I can't ride these bikes).
I was impressed. There are bikes for $1,000 that look sharp, have some of the latest trendy features and colors and appear capable of completing nearly any ride that most of us would attempt (excepting a gonzo downhill like some of the trails at the Outdoor Demo).
Now, whether such bikes would be a disadvantage, real or perceived, on a spirited group ride or on difficult terrain, is hard to judge. Certainly the weight difference is noticeable, and perhaps the braking, shifting and suspension performance would become a liability when riders start pushing the limits. And how they would hold up for someone who rides many hours, week after week, is another big question.
Here's a look at a couple bikes and some accessories I found Wednesday morning. I'll continue to prowl the aisles for the rest of the show, looking for the spot where affordability and performance meet.