Sportique Skin Care
Sportique has a number of balms and creams that help you fend off cold winter conditions and repair damaged skin.
Price
$10
Brand
Sportique
---
Heading out the door? Read this article on the new Outside+ app available now on iOS devices for members! Download the app.
Sportique Warming Up Cream $10
Sportique's warming up cream is packed with stimulating essential oils like capsicum, cajeput, and camphor that warm and invigorate your body before heading out for a cold ride. But the cream does more than just make you feel warm. Sportique says it physically helps accelerate local blood circulation and stimulate muscles so you feel warmed up and ready to pound on the pedals as soon as you hit the road.
The cream is made with shea butter as well as jojoba, almond, apricot, and soy oils that help protect and promote soft and healthy skin. It goes on thin and doesn't leave a sticky or greasy residue behind. And the ingredients may also offer anti-inflammatory properties so you can use it as a post-ride muscle treatment as well.
Sportique Elements Cream $20
The freezing temperatures and icy winds can wreak havoc on exposed skin like your face and neck. To protect these delicate areas against tough, wintery conditions, Sportique's Elements Cream uses a blend of oils and botanicals to shield your skin from the elements.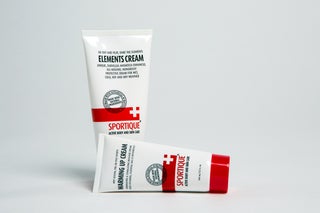 The oils act as a moisture shield that keeps your skin from drying out and cracking in the cold air. The cream also uses Durvillaea antarctica, commonly known as cochayuyo, which is a seaweed species from New Zealand and Chile that helps improve skin vitality. This particular seaweed species also produces an anti-freeze protein that Sportique says protect your skin from the cold.
The Elements Cream also protects against the sun, wind, and rain for warmer rides and helps prevent chaffing in all conditions. It's a useful cream to have on hand any time of the year, but we reach for this outdoor protective cream more and more as the winter weather moves in.
Sportique Bio Shea Butter $10
Sportique's Bio Shea Butter is a jack-of-all-trades when it comes to soothing dry and damaged skin. Made from 100 percent shea butter, this restorative salve is naturally rich in vitamin A, E, and essential fatty acids that help rejuvenate your skin and hair after riding outdoors in dry and chilly air.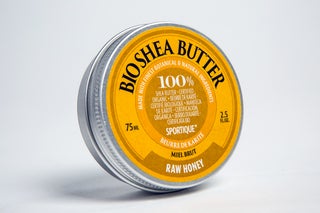 Shea Butter is a triglyceride extracted from the nut of the African shea tree. It's used across the world as an emollient to sooth skin and it has anti-inflammatory properties. We use Sportique's Bio Shea Butter on cracked or wind-burnt skin after winter rides, and it restores moisture to damaged areas. The butter is a bit thick and greasy going on, but it absorbs quickly to provide soft and healthy skin.
It is best used on problem spots that are damaged from wintery air or that have a tendency to crack in dry weather. We keep the 2.5-ounce canister on our desk as a daily reminder to care for our hands and damaged skin.