Sven Nys wins 2010 GP Rouwmoer
A mechanical derails Niels Albert's train and Sven Nys slips past for the win in Essen.
Heading out the door? Read this article on the new Outside+ app available now on iOS devices for members! Download the app.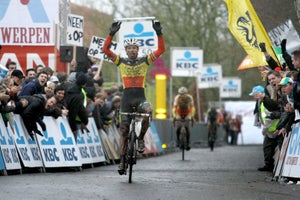 A mechanical in a mudhole derailed Niels Albert's hopes of repeating his 2009 victory at the GP Rouwmoer on Saturday, leaving the BKCP-Powerplus rider banging his bars in frustration as Landbouwkrediet's Sven Nys slipped past to snatch the victory.
Albert, Nys, Klaas Vantornout (Sunweb-Revor) and Kevin Pauwels (Fidea-Telenet) were off the front in the final lap in round four of the GvA Trofee in Essen, with the first two clearly the strongest of the four. And when Albert opened a sizable gap as he shot up and across the flyover, he appeared to have the win in the bag.
But shortly thereafter, just after slashing through a deep mud bog, Albert gesticulated angrily, pounding his handlebars — he apparently had punctured his rear tire, and as he slipped backward through the chase it was suddenly a threesome fighting it out for the win.
Nys and Vantornout traded attacks and counters, with Pauwels danging just out of contention. But when the Belgian national champion got a gap going into a long sandy stretch, then added to it in a muddy 180-degree turn leading to the paved finishing straight, Vantornout could only settle for second.
Pauwels coasted in for third, rounding out the podium, with teammate Bart Wellens fourth.
A dejected Albert crossed the line fifth.
A cornucopia of a course
There was a little something for everyone along the 2.7km circuit in Essen: grass, sand, mud, a triplet of 180-degree ups and downs, two staircases — one long, one short — plenty of little hills that were barely rideable and the usual flyover. No barriers, but they weren't necessary. The slick, sketchy circuit actually set riders afoot for a couple of descents and flats, so it did not lack for running.
Nys, a five-time winner here, got right down to business on the first lap, leading Telenet-Fidea teammates Rob Peeters and Wellens, with Vantornout lurking nearby. As they rolled through the finish and into lap two Albert was in a chase group some seven seconds down.
With six laps to go Nys had taken a slight lead over Wellens and teammate Pauwels, and as he rolled through the finish he sat up and waited for them before getting back to work. Albert was nearly a dozen seconds behind in a chase group with Rabobank-Giant teammates Bart Aernouts and Gerben de Knegt and Sven Vanthourenhout (Sunweb-Revor).
Albert chases, Vanthourenhout attacks
Albert drove the chase relentlessly, and with five to go the chasers were just five seconds behind the Nys-Wellens-Pauwels trio. Wellens was struggling a bit and the chase gobbled him up first, just before the three U-shaped climbs and descents. And before much longer it was a seven-man group up front.
Then Vanthourenhout had a go, opening some daylight going through the sand pit, and with four laps remaining Nys was leading the chase some seven seconds back, with Aernouts, De Knegt, Albert, Pauwels and Vantornout.
A lap later Vanthourenhout was still alone in the lead, but the Nys-driven chase was just 10 seconds back. Both Rabobanks had fallen out of the chase, and with Albert and Nys trading pace at the front they were slowly bringing the Sunweb rider back.
Their power cut the chase to three — Nys, Albert and Pauwels — and when Vanthourenhout pitted for a fresh bike, he suddenly found himself in fourth position and going backwards as the trio drove onward.
Albert was giving it all he had. Pauwels briefly lost the wheel, but was able to catch back on as Albert and Nys pitted, and with two laps remaining the threesome had six seconds over a fading Vanthourenhout and Vantornout. Aernouts and De Knegt were long gone, more than 20 seconds off the back and losing ground.
The pursuit connected as Albert led up the short staircase, with Nys on his wheel. But Albert wasn't interested in having company — he gave it the gas once again, and with Nys and Pauwels on his wheel they left the chasers behind once again going into the flyover. At the long staircase the leaders held a three-second advantage over Vanthourenhout with Wellens just behind.
From off the front to off the back
Going into the bell lap Albert, Nys and Vantornout were clear, with Pauwels dangling a few seconds behind. Then the BKCP-Powerplus rider really laid down the law, opening a big gap over his erstwhile companions as he shot up and over the flyover.
And then, disaster — that mudhole deflated his tire and his hopes, and Albert saw the chasers catch on and then leave him behind.
Vantornout and Nys traded attacks and counters in the finale, with Pauwels fighting to stay in contact. Nys slipped past in a windy section and gave it the gas, but Vantornout repaid him on a sketchy running section, and it was a two-man race at the flyover.
Then Nys took the lead into the sand. Vantornout was right behind, but couldn't close the gap — and as Nys powered around the U-turn leading from sand to mud to the finishing straight, he clearly had the edge and took the sprint from the front.
Vantornout hung on for second with Pauwels third, Wellens fourth and a clearly dejected Albert fifth.
Pauwels now leads the GVA Trofee series with 87 points. Nys is second with 77 while  Zdenek Stybar (Telenet-Fidea), who did not race today, sits third with 70.
Quick results
1. Sven Nys (Bel), 1:00:21
2. Klaas Vantornout (Bel), 1:00:26
3. Kevin Pauwels (Bel), 1:00:29
4. Bart Wellens (Bel), 1:00:49
5. Niels Albert (Bel), 1:01:03