Sven Nys wins round 4 of 2011 UCI World Cup in Namur
Sven Nys bounced back from Saturday's DNF to win a two-man battle with Niels Albert and take the lead in the UCI World Cup on Sunday at Namur.
Heading out the door? Read this article on the new Outside+ app available now on iOS devices for members! Download the app.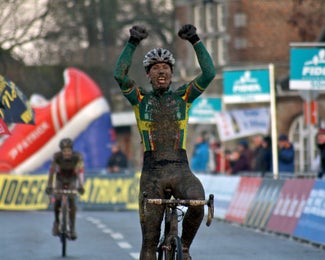 NAMUR, Belgium (VN) — Sven Nys bounced back from Saturday's DNF at the GP Rouwmoer to win a two-man battle with Niels Albert and take the lead in the UCI World Cup on Sunday at Namur.
Albert (BKCP-Powerplus) was off the front in the final lap, apparently bound for victory. But Nys (Landbouwkrediet) closed the gap and got the drop on the Belgian champion in the final corner, attacking past the pits and hitting the line first.
"It's a really special race," Nys told Belgian TV. "When you can win here, a World Cup, in these circumstances, it's really something. When you can do one acceleration in the last climb, then you can win the race. It's a good feeling."
Kevin Pauwels (Sunweb-Revor) could manage only fourth on the day and lost the World Cup lead to Nys, who has 365 points to Pauwels' 360. World champion Zdenek Stybar (Quick Step), fifth on the day, sits third with 305.
Jonathan Page (Planet Bike) was the top American in 25th place, nearly four minutes down. Tim Johnson (Cannondale-Cyclocrossworld.com) finished 39th, with Troy Wells 52nd, Mitch Hoke 54th and Jeremy Durrin 62nd.
Mourey leads the way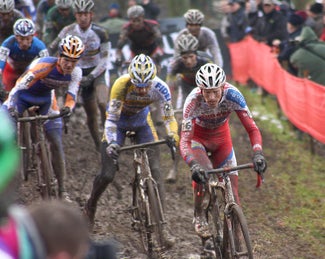 The 2.74km circuit at Namur was a monster — one very steep run-up and a couple others less demanding; fast, precipitous descents; a nasty off-camber drop that caused trouble for nearly everyone; and — after a week of heavy rain and even a little snow — plenty of mud.
Francis Mourey (FDJ) took the early lead ahead of Klaas Vantornout (Sunweb-Revor), Elia Silvestri (Italy). Tom Meeusen (Telenet-Fidea) and Bart Aernouts (Rabobank-Giant). The five-man group had a little separation racing past the pits for the first time.
Silvestri took a digger on a long, muddy, off-camber descent, and Meeusen led Vantornout and Mourey up the next running section, then the next.
At the end of the first lap Aernouts had latched on with Rad Simunek (BKCP-Powerplus). Albert and Rob Peeters (Telenet) were leading a big chase just behind. There wasn't much of a gap — and soon there was no gap at all, as a long line of 15-plus riders formed up.
Meeusen cleaned the off-camber descent next time through and Aernouts slotted into second with Vantornout third and Peeters moving forward. Meeusen punched it on a rideable climb and took a small lead that Vantornout closed with Peeters on his wheel.
With six laps to go the lead group was still huge and it was anybody's race. Mourey drove onto the first climb past the start-finish with Vantornout chasing. The FDJ rider's pace stretched the bunch out in a long, muddy line.
Vantornout replaced him up front, and then Meeusen took charge, leading the way down the off-camber.
Next time through the start-finish Aurelien Duval (UV Aube) had the point with Mourey second in an eight-man group that was getting some daylight.
Albert has a go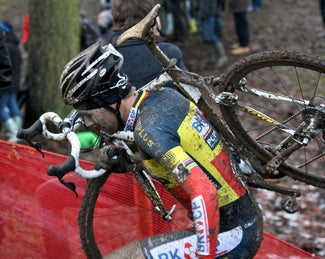 Albert attacked on the first climb and Meeusen led the chase with Vantornout, Mourey and Pauwels. Nys and Stybar were slightly off the back.
The Belgian champion's push forced the first real separation, and the second was not long in coming. Albert, Meeusen, Vantornout and Pauwels were off the front with Nys, Mourey, Stybar and Duval chasing.
Meeusen took the lead on the off-camber, which he had dialed in. Nys closed and attacked into second on the downside of the greasy slope, and coming out of it the eight-man group had reformed, though Duval was losing some steam as first Meeusen, then Nys pushed the pace.
With four laps remaining Nys led Vantornout, Meeusen, Albert, Mourey, Stybar and Pauwels. Duval was off the back and chasing.
Nys pushes pace
Nys powered up the first climb with Vantornout on his wheel. Meeusen sat third, followed by Albert, Pauwels, Stybar and Mourey.
Nys and Vantornout took a slight lead over the others as Meeusen let a gap open, and the two had perhaps four seconds as they raced onto a paved section past the pits and into a steep drop-off with a sweeping left turn at the bottom.
Stybar moved into third at the steep run-up. Nys led down the sketchy off-camber, and this time nearly everyone was off and running. Vantornout came off best, leading out of it and onto the next two runs with Nys and Stybar chasing, followed by Pauwels, Meeusen and Albert.
With three to go Vantornout, Stybar and Pauwels had a dozen seconds on Albert and Nys. The Sunweb rider drilled it on the climb, and then Stybar took over, while Pauwels sat on. Behind, Albert led Nys and Meeusen.
Stybar accelerated coming onto the paved section past the pits, taking a few bike lengths over the others, but Vantornout closed the gap at the run-up. Meanwhile, Albert, Nys and Meeusen finally caught back on.
Stybar shows himself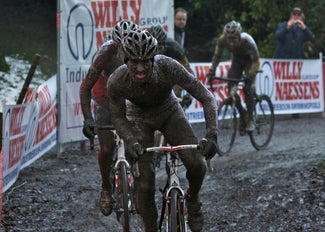 The world champion led onto the off-camber, dismounting to run, as did Vantornout. Everyone else rode it, taking the low line, and Nys vaulted into third, chasing Stybar and Vantornout. Meeusen, Albert and Pauwels followed at four seconds, and then Pauwels lost the wheel.
With two laps remaining it was a five-man lead group: Stybar, Vantornout, Nys, Albert and Meeusen. Pauwels was a handful of seconds back and fighting to regain the bunch.
Nys took the lead, and Stybar marked him. Vantornout sat third, Albert fourth and Meeusen fifth, dangling a bit.
Stybar led onto the off-camber, taking the low line. Nys went high, stuffed it into the course tape, and dismounted to run.
The gaffe left Stybar with a slight lead on the following run-up. Nys closed the gap on the next, dragging the others with him, while Pauwels followed some five seconds down.
Bell lap, and Albert attacks
Stybar, Nys and Vantornout briefly distanced Albert and the others, but the Belgian champ got back on, and as the leaders heard the bell announcing last lap he attacked on the first climb.
Vantornout and Nys responded, but Stybar was gapped and Meeusen popped. Then Stybar lost more ground on the following descent and it was a three-man race.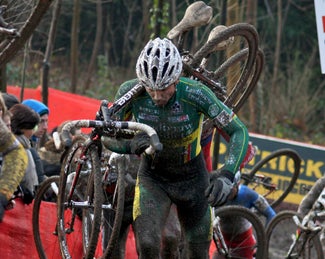 Albert gassed it on the pavement leading to the pits and took a few bike lengths. Then he added to his advantage on the off-camber, riding it as the others ran. Nys was three seconds back and couldn't quite bridge the gap. Meanwhile, Vantornout was finally running out of gas.
Nys finally fought back up to Albert, then attacked out of the final corner and took his own three-second lead over his rival. Albert couldn't match his speed in the finale and Nys took the win and the World Cup lead.
Albert hung on for second, five seconds down. Vantornout finished third at 21 seconds with Pauwels fourth at 0:26 and Stybar fifth at 0:33.
For Nys, redemption
For Nys, frustrated after Saturday's last-lap disaster, motivation was not a problem. The former Belgian champion threw his hands up emphatically on the line, clearly relieved to be back on track.
"I tried to make myself angry to try to lift myself beyond what normally would be possible," Nys said in a post-race press conference. "In training I could not have ridden like that, but yesterday I would have loved to win and had bad luck. This win doesn't necessarily make up for that, (but it helps)."
Nys added that, besides putting him in the lead in the World Cup, the win had additional significance due to difficulty of the course and depth of competition.
"The Belgian champion was here, and the world champion, UCI leader, and if all of the best in the world battle for the win, it's worth more to me than a normal win," he said. "And there was something sort of heroic about the race, because every second something could change. Days like this are why I became a cyclocross racer."
Albert pleased with podium
Runner-up Albert, meanwhile, said he was pleasantly surprised with his second podium in as many attempts after being sidelined for nearly a month, victim of a broken arm after being hit by a car while training.
"I thought maybe I could manage a couple of sixth places or something like that this weekend, not that I'd be on the podium twice," he said. "At the end I still had the ability to accelerate, and that's something I haven't always had in the past few months.
"In the end it was about details. I was able to accelerate once more, but in the end my sprint felt a little like I was standing still."
Albert looked briefly to have the race in his control before Nys surged back in the final moments of the last lap. He said that, although he felt as strong as he has in months, he simply could not match Nys' furious final charge.
"I looked back in the last lap and saw that Sven was still maybe 10 meters behind," explained Albert, "but he had a big final sprint, and I couldn't react. I was struggling a little on some of the downhills, so Sven was able to close the gap pretty easily. But you can see I haven't been sitting around the past four weeks either."
Page bounces back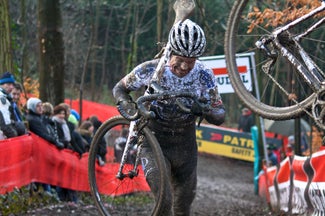 Meanwhile, Page continued his return to form, posting the best American result of the day in 25th place. The Planet Bike rider said an already poor start was aggravated by problems with his chain. So he spent much of the early laps working back through traffic in an effort to make up lost places.
Though he fell as deep as 40th at one point, Page came alive during the third lap, clawing his way forward a place at a time. He caught — and then dropped — fellow American Tim Johnson (Cannondale-Cyclocrossworld.com) during the fifth of the race's eight laps, and was closing in on 20th place when he was slowed by a flat tire that cost him several spots.
Nonetheless, Page said he was beginning to feel some real optimism after months of disappointing results.
"I wasn't quite recovered from yesterday, but I could still push. It's kind of baby steps for me right now. I wish I had gotten a little more out of myself, but I'm also happy that I got something. I was moving up consistently," he said, before adding, with a laugh, "the problem was just that I went backwards for two laps in the beginning."
Page said that he was happy to be racing once again in the kind of difficult conditions that suit him best.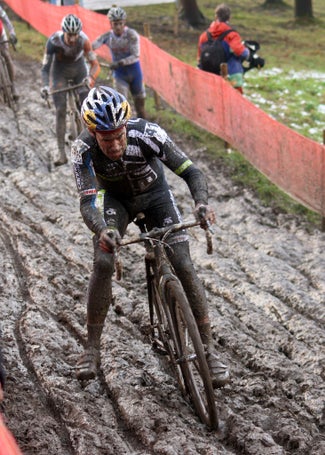 "I don't think there's any comparison to any of the other races we've done this year," he told VeloNews. "Yesterday was super muddy, but today was something else because it was muddy and super hilly. It's just a hard, hard race. You just have to hold on for dear life, keep your wheel in the groove."
Johnson, for his part, looked relatively strong early in the race, riding a bike with the disc brakes that have become something of a trademark for him. But he apparently suffered a flat tire during the race and never seemed to regain his footing, finishing a relatively distant 39th and looking perhaps a bit cold and uncomfortable. (Though, on a day when riders contended with mud, rain, snow and near freezing temperatures, he was hardly alone.)
Johnson declined a post-race interview, but later said via Twitter that he simply didn't have the legs to finish the race strong.
Online editor at large Patrick O'Grady contributed to this story.
Quick results
1. Sven Nys (BEL), Landbouwkrediet, 1:03:04
2. Niels Albert (BEL), BKCP-Powerplus, at 0:05
3. Klaas Vantornout (BEL), Sunweb-Revor, at 0:21
4. Kevin Pauwels (BEL), Sunweb-Revor, at 0:26
5. Zdenek Stybar (CZE), Quick Step Cycling Team, at 0:32