Taylor Phinney wins U.S. pro time-trial title
UPDATED: Taylor Phinney edges Levi Leipheimer for the stars-and-stripes.
Heading out the door? Read this article on the new Outside+ app available now on iOS devices for members! Download the app.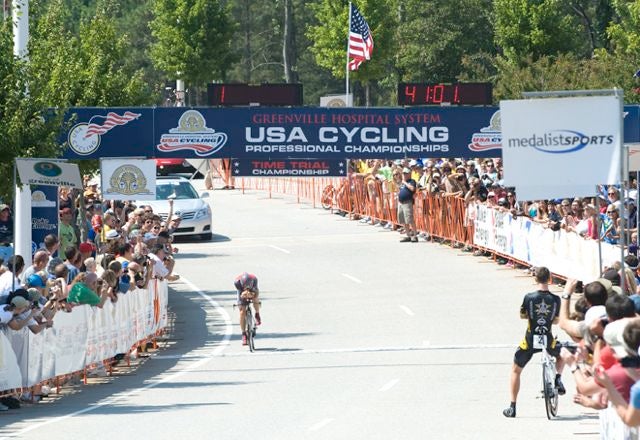 Taylor Phinney (Trek-Livestrong) squeaked out his first professional national time trial title Saturday in Greenville, South Carolina, topping Levi Leipheimer (Radioshack) by just 0.14 second. Bernard Van Ulden (Jelly Belly-Kenda) came through for bronze for the second consecutive year, 1:12 back.
With his win, Phinney secured his first professional national title — and added to his U23 invitation an automatic selection to the U.S. national team for the elite world championships.
"To be honest, I didn't think I got it when he crossed the line," Phinney said. "It was pretty amazing to have (race announcer) Dave Towle announce my name; he's got that voice, man, you can hear it from like 10 miles away."
The three-lap, 20.7-mile individual time trial kicked the championship events off at Clemson University's automotive research center Saturday at 11:30 a.m. The three-pronged circuit rolled through southeastern Greenville, delivering riders onto a gradual rise to the finish each lap. There were three tricky points on the course: a narrow right-hand turn onto Verdae Boulevard, a turnaround that shrank from one lane to two 6km from the finish and the chicane at Millenium Boulevard and Carolina Point Parkway, which riders will pass through twice per lap.
The day's first starter, Carter Jones (Jelly Belly-Kenda) set the early fast time with a 42:17. Jones knew early he was on a good ride, but each lap through the finish he questioned himself as Towle foreshadowed the likely times of the later starters. "Eventually a lot of people had come through and my time held up and I thought, 'Hmm, this could be good,'" Jones said.
Peter Stetina (Garmin-Transitions) was a medal threat when he started fifth, but overshot the Millenium chicane and crashed on his third and final lap and left the race. Team staffer Eric Fostvedt said after the race that Stetina bruised his left hip, but should be able to start Sunday's road race.
Nick Frey (Jamis-Sutter Home), Reid Mumford (Kelly Benefit Strategies) and Matthew Busche (Radioshack) each came through outside of Jones' mark. In his first race as a professional, Jones held the hot seat until teammate Van Ulden came through a half hour later in 42:14. Van Ulden, who finished third in 2009 after Tom Zirbel's result was erased due to a doping suspension, wasn't sure how his time would hold up. "Once I started looking at my intermediate splits, because I time myself, I was like, 'Well, I hope everybody's going slower because I definitely am," said Van Ulden.
Jones, who finished second in the prologue at the Redlands Classic in March, was happy. "It was one of the few TT's I actually enjoyed," he said. "I'm pretty psyched. I mean, look at the podium."
Defending silver medalist Scott Zwizanski (Kelly Benefit Strategies) followed Van Ulden and fell off the pace early. Zwizanski, a pre-race medal favorite, lost 29 seconds to Van Ulden in the opening lap and eventually slid to 12th with a 44:20.
Trek vs. Shack
Meanwhile, Phinney and Leipheimer were the final two starters and it was clear from the first split that this would be a two-man race. Phinney powered into a headwind from the start ramp at 12:09 p.m. The world pursuit champion went out hard and stopped the clock at the end of the first lap in 13:25, half a minute faster than Van Ulden. Leipheimer, who started three minutes later, came through 16 seconds down.
"I feel like I maybe went out too hard in my first lap," Phinney said. "Those last two laps I was suffering but just pushing through on the uphills and I can really gain a lot of time when it gets flat and downhill just due to my size."
Over those final two laps, Leipheimer gradually pulled even with his young rival, trailing by eight seconds after two circuits. A study in contrasts, the six-foot-four-plus Phinney focused on keeping pace up the climbs and running up the gears over the tops of short, rolling inclines dotting the frontside of the course. Leipheimer, on the other hand, settled his diesel engine into a rhythm.
"I knew that I was gaining," said Leipheimer. "I expected that; he's the world pursuit champ. He's used to starting fast, he has younger legs and can start faster. My advantage is the efficiency, the experience, pacing."
Leipheimer dug deep on the final false-flat approach to the turnaround while Phinney opened up a big gear on the gradual descent to the final 3km. Towle's voice boomed on the microphone when Phinney approached the line and fans lining the course three-deep thundered as the former junior world TT champion stopped the clock at 41:02.
Phinney came came to a stop 300 meters past the line and turned around to see the finish clock. "It was just a waiting game," he said. "Twenty of the longest seconds of my life."
Right on cue, Leipheimer came into view nearly three minutes later, powering up the gradual rise to the finish. When the former Tour de France stage winner stopped the clock at 41:02, the crowd froze and when Leipheimer's time came onto the board at 0.14 off Phinney's, the new national champion's face lit up under deafening applause.
"I gave everything I had and I'm glad I did with it so close," said Phinney. "This is probably one of the biggest wins of my career because it's an elite national championship. Any sort of under-23 race, winning that is great, but it's not a big deal. Winning this, it's a jersey I get to wear all year in my first year as a pro and I'm very excited about that."
"You could count 100 places where I lost .14 second," said silver medalist Leipheimer. "It just takes some time to get over the disappointment. Sometimes it's good to get a stinging defeat like that; sometimes you need that to kick into gear and re-motivate yourself."
Leipheimer vowed to use the motivation in the road race Sunday, where he'll chase his second road title since the championships moved to Greenville in 2006.
Van Ulden was satisfied with his third-place ride — and his chance to stand on the podium a year after he missed that opportunity. "I've been pretty upset about it since last year," he said. "For me it's something that's pretty special, to get to stand on the podium and soak that in. To get to spray the champagne this year is pretty nice. To be robbed of that is really upsetting and I've been kind of feeling grim and dark about things, but this is a really nice way to end the season, so I'm really happy about it."
Results
1. Taylor Phinney, Trek Livestrong U23 41:02.5
2. Levi Leipheimer, Team RadioShack, 41:02.7
3. Bernard Van Ulden, Jelly Belly, 42:15.0
4. Carter Jones, Jelly Belly, 42:17.2
5. Matthew Busche, Team RadioShack, 43:20.6
6. Adrian Hegyvary, UnitedHealthcare-Maxxis, 43:22.0
7. Benjamin King, Trek Livestrong U23, 43:45.2
8. David Williams, Bissell Pro Cycling, 43:54.6
9. Paul Mach, Bissell Pro Cycling, 43:55.1
10. Nicholas Frey, Jamis-Sutter Home, 44:03.3
11. Jonathan Mumford, Kelly Benefit Strategies, 44:19.8
12. Scott Zwizanski, Kelly Benefit Strategies, 44:20.7
13. Jeremy Powers, Jelly Belly, 44:57.7
14. Scott Tietzel, Mountain Khakis, 45:01.5
DNF: Peter Stetina, Garmin-Transitions