Team Movistar models Campy's electric components for 2011
Team Movistar will be rolling with Campagnolo's prototype electric drivetrain in 2011. Lennard Zinn takes a look.
Heading out the door? Read this article on the new Outside+ app available now on iOS devices for members! Download the app.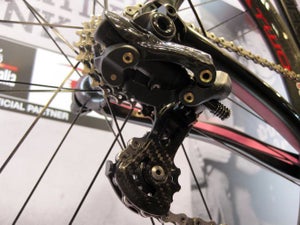 Campagnolo's electric shifting system, now updated to 11-speed, is once again seeing the light of day on a Spanish pro team. Movistar riders are getting an early Christmas, as many of the riders began training with the electronic derailleurs on their blue and green Pinarello Dogma 60.1s this week in Gorraiz and will take their new bikes home with them over the holidays.
Campy was developing its 10-speed electric system concurrently with Shimano's development and early testing on the ProTour of its Di2 system, but when the Vicenza, Italy component maker made the jump to 11-speed cogsets in 2008, it temporarily shelved the electric derailleurs. I visited the Campagnolo factory in June of 2009 and saw carbon-fiber electric derailleurs being run on automated test machines in the company test lab, but there was no plan at the time to get it out onto the road any time soon. Company press officer Lorenzo Taxis explained, "We were ready to begin production with the 10-speed electronic system, but it makes no sense for us to bring that to market, now that our top groups are all 11-speed."
Re-designing all of its groups to 11-speed, with new carbon derailleur designs, new ErgoPower internals and ergonomics, and new crank and bottom bracket platforms was already a lot for Campagnolo to bite off, which is dwarfed in size by its competitors Shimano and SRAM. So electric derailleurs took a back seat. Taking the slow approach also gave the company a chance to watch how Shimano succeeded in the market with Di2 without having to bet its own farm on a concept not guaranteed to be embraced by the market.
But now, the company has enough 11-speed electric derailleurs that have passed a thorough testing protocol to have the confidence to send them back into top-level road racing. And it has chosen the same Spanish team to be the test subjects as it has always depended upon. The Reynolds team of Pedro Delgado was always Campagnolo-equipped (and riding Pinarello bicycles) for its decade in the peloton, starting in 1980. The team then became sponsored by Banesto bank through the 1990s and was led by Miguel Indurain. Campagnolo often entrusted the team to be among the first to try new component designs. With Banesto (or iBanesto), Illes Balears, and Caisse d'Epargne as its sponsors from 2001-2010, the team continued to ride Pinarello bicycles and Campagnolo components, and during much of the decade had a number of riders on Campy electric derailleurs.
When Caisse d'Epargne, a French semi-cooperative banking group, chose to not renew its sponsorship after last season, Spanish mobile telephone company Telefónica stepped in with its Movistar mobile-telephone brand. Movistar operates in many Latin American countries (where it acquired much of its network from BellSouth) as well as in Spain, where the global reach of a top pro cycling team can enhance its marketing efforts.
Eusebio Unzué, who had been assistant manager of the team with José Miguel Echavarri Garcia since when it was the amateur Reynolds team in the 1970s, took over management of the team after the retirement of Echavarri in 2008. Unzué is pleased to be using the Campy electric group with Movistar, saying, "We have full confidence in the group. We've been working with Campagnolo for 30 years, and I doubt they would put anything out there that isn't fully ready for use. The riders will have them on their bikes this week and will begin training on them, but we will learn more once racing begins. So far, the testing that's been ongoing since last year and even before has been positive. People are very satisfied. Racing will tell us a lot, because the pressures and stress of racing on equipment is different than just in training, so we will learn more in the coming months."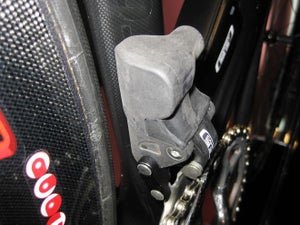 Movistar will be the only team in the professional peloton riding the new system in 2011. Each rider (and, of course, each team mechanic) was taken through the details of the system by Campagnolo technicians during the team training camp in Gorraiz, in northeastern Spain. Pablo Lastras, stage winner in the Tour, Giro, Vuelta, and Tour de Suisse during his tenure with Banesto and Caisse d'Epargne, was one of the most consistent to have the Campy 10-speed electronic system on his bikes over a number of years. He is carried forward onto the Movistar roster, so he will be a source of invaluable feedback for Campagnolo engineers.
Campagnolo claims to have no timeline for bringing the group to market or even to brand it as anything more than "Campy Tech Lab." The battery is noticeably smaller than its previous incarnation as a 10-speed system, and its junction box under the stem as well as the upper part of its front derailleur certainly look similar to the Di2 system. The ergonomics of the levers is unchanged from 11-speed Ergo Power levers. The carbon fiber of its derailleurs and levers blends with the black jersey of Pinarello founder Giovanni Pinarello, who earned the black jersey of the last-placed rider in the Giro d'Italia in 1951.
Andrew Hood and Nick Legan contributed to this report. And special thanks to Thomas Copenhaver for the photos.