Tech Podcast: What is a sinusoidal rim shape and why does it matter?
Princeton CarbonWorks makes wheels that feature a sinusoidal rim pattern. What does that mean, and what benefits do riders derive from it?
Photo: Tim de Waele/Getty Images
Heading out the door? Read this article on the new Outside+ app available now on iOS devices for members! Download the app.
Princeton Carbonworks' wavy wheels very likely aren't the first you've seen, even though they have actually been on the market longer than Zipp's more well-known 454 NSW wheels, with their sawtooth patterns. But Princeton's wheels aren't sawtooth at all; the rims are a sinusoidal shape, and the pros are taking note — Richard Carapaz tested out Princeton's Wave 6560 wheels during the second rest day at the 2020 Tour de France.
So what exactly is a sinusoidal rim shape?
Related:
This episode of the VeloNews Tech Podcast will give you the answer to that question. Princeton Carbonworks' co-founder and CEO Harrison Macris joins me to give the skinny on the science behind those wavy rims. It turns out there's more to it than just aerodynamics; the sinusoidal shape also contributes to the ride feel of the wheels, as well as the overall strength and stiffness.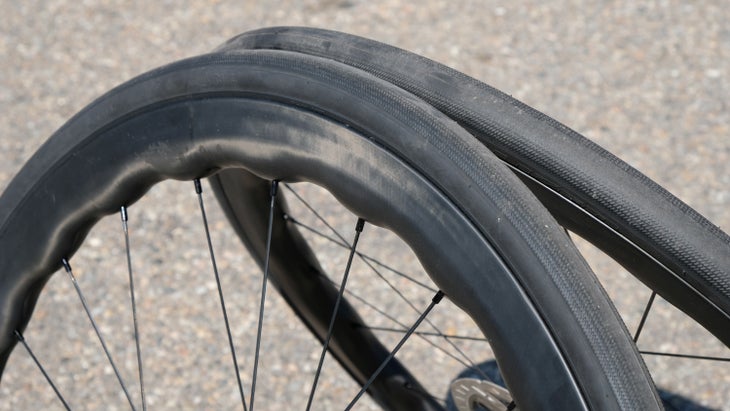 Macris also talks a bit about what makes Princeton's wheels different from Zipp's 454 NSW wheels, which look similar but actually aren't a sinusoidal pattern.
On top of that, Macris gives us a bit of history on where Princeton CarbonWorks comes from — the story starts in boats — and why the company decided it could make a better wheel in the first place. It won't come as much of a surprise to learn that Princeton values the wheel as a whole, and the ultimate goal was to create a better wheel generally, not just one that was aerodynamically more efficient. Find out what that means, and how Princeton pulled it off.
If you have questions about this episode of the VeloNews Tech Podcast, or if you have suggestions for topics you'd like us to cover on a future episode, feel free to reach out to tech editor Dan Cavallari via email, Twitter, or Instagram.