Technical FAQ: How big can I go with my Shimano rear derailleur?
Lennard Zinn runs through the cassette options available for riders who have Shimano rear derailleurs.
Heading out the door? Read this article on the new Outside+ app available now on iOS devices for members! Download the app.
Dear Lennard,
I just bought a new road bike for my wife, and it is equipped with Shimano's Tiagra 10-speed components. It's my understanding that Tiagra 10-speed shifters are actually designed with 11-speed indexing (same as 11-speed 105, Ultegra, etc.). I'm wondering if I can still use my old 10-speed wheels with 105 and Ultegra 10-speed cassettes on this bike. Are the Tiagra 10-speed cassettes the same as 11-speed ones but with only 10 cogs? Also, what is the correct replacement chain — 10- or 11-speed? Why has Shimano made this so confusing?
— Sal
Dear Sal,
That is correct; the Tiagra ST-4700 system employs an 11-speed cable stroke with only 10 click positions. The cog spacing is standard 10-speed, however, so it will work with both of your 10-speed wheels. It won't work with an 11-speed cassette. Furthermore, because of its cable-actuation ratio, which converts the 10-speed cable-pull distance it receives from the shifter into 10-speed lateral derailleur movement, the Tiagra RD-4700 rear derailleur is not compatible with any other Shimano 10-speed rear shifter.
A nice benefit your wife gains with this bike is that the RD-4700 rear derailleur can handle up to a 34T rear cog. Thus, you could put on an XT or XTR 11-34 10-speed cassette to get her some lower gears for climbing super-steep roads.
Since it's a 10-speed system, it takes a 10-speed chain.
As long as you don't try and substitute in a non-Tiagra shifter or rear derailleur, I don't see that "Shimano made this so confusing;" it's just a 10-speed drivetrain that takes standard 10-speed chains and cassettes. Had you never known that the cable stroke was different from other 10-speed Shimano drivetrains, you would have merrily slapped on your 10-speed wheels without ever questioning it. And they would have worked fine.
― Lennard
Dear Lennard,
I have a 2016 Specialized S-Works Roubaix SL4 Disc Di2 with the stock 11×28 rear cassette. I love the bike, and braking is terrific. But as I get older (60 now) I find that I'm constantly wishing for one more low gear on the steep climbs. Especially on this past weekend's Tour de Blast up Mount St. Helens.
My question is this: Is it possible to add a 32-tooth cog to my bike without major (costly) changes? I know I'll have to use a longer chain, but I don't really want to spend the $$ to replace the rear derailleur. Will the existing derailleur (I think it has a mid-size cage, but don't really know how to tell) take up the slack from a 32-tooth cassette? I want to ensure it shifts as smoothly as it does today, love that.
— Lance
Dear Lance,
Yes, you can put that cog on. I'm running an 11-32 cassette on my road travel bike with a standard short-cage Ultegra SS 11-speed rear derailleur. It works fine; the photo (with rim brakes) is of my bike to prove it (sorry for the condition; I was on a dirty ride last night).
I had to tighten the b-screw in a bit to get it to not make noise on the 32T cog. I find that it shifts as smoothly and as quickly as it did with an 11-28 cassette except is a bit slower between the two smallest cogs; that's to be expected with the b-screw pulling the upper jockey wheel further away from those small cogs.
[related title="More Technical FAQ" align="right" tag="Technical-FAQ"]
And, in case you were wondering, the cage and the derailleur geometry are the same on 11-speed Ultegra Di2 electronic rear derailleurs as on cable-actuated 11-speed Ultegra rear derailleurs. I'm still comparing apples to apples with my cable derailleur and your electronic one.
Derailleur maximum-cog clearance on any drivetrain is of course always dependent on the individual geometry of the frame's rear derailleur hanger. This is probably the reason that Shimano only rates that derailleur to 28T; if it says 28T on the spec sheets, Shimano wants to make sure that nobody with a really short or forward derailleur hanger can call and say that the derailleur doesn't handle their 28T cog. If Shimano said the capacity is 32T, there would probably be some bikes it would not work on, or the b-screw would have to be in so far that the shifting would be poor on the small cogs. That said, I'm sure that the length and angle of my derailleur hanger is consistent with that of most current road bikes; it's a Paragon DR0004 titanium dropout with a DR4102 replaceable short hanger.
Oh, and since you're not positive of your cage length, if you don't actually have the short SS ("mid") cage and instead have the GS (long) cage, you certainly can slap on a 32T cog with no issues and probably no b-screw tightening, since it is rated to 32T. In fact, if you have that derailleur, you can use a 36T cog on there with no adjustments other than a longer chain and a tighter b-screw. I know, because I run exactly that setup on my gravel road bike (11-36 rear cassette/34-50 chainrings with Ultegra Di2 GS long-cage 11-speed rear derailleur); see my orange bike (with disc brakes) in the photo (sorry, it's also dirty; I rode it in rain and mud a couple of nights ago). This one works so well (the electronic shifting is crisp, fast, and reliable) and so easily, I plan to try and put an 11-40 cassette on there just to see if it will work.
― Lennard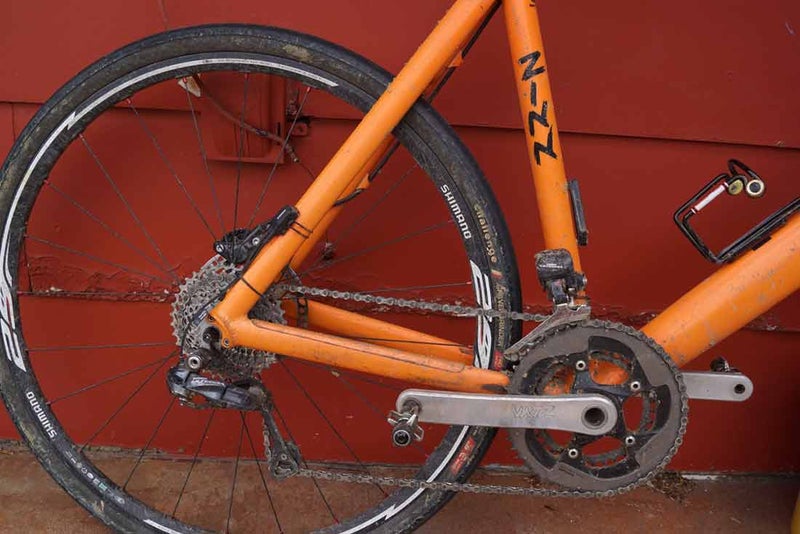 Dear Lennard,
A poor man's derailleur alignment tool is any old 10mm x 1mm rear axle, the longer the better. You can use an axle nut or cone to lock it in place, and a cheater bar if necessary for leverage. You can get the alignment surprisingly close by eyeing the hub axle from top and back, and bending the hanger to make it all parallel. Thanks for the column, it's great reading!
— Steve
Dear Steve,
That's a great idea! It never occurred to me that the thread on a 10mm axle is the same as inside a derailleur hanger.
— Lennard