Technical FAQ with Lennard Zinn: More feedback on tubulars and tubeless, pedal threads and fork fatigue
Lennard gets more feedback on tubulars v. tubeless, plus answers questions on fork fatigue, inner-tube fatigue, pedal threads and more
Heading out the door? Read this article on the new Outside+ app available now on iOS devices for members! Download the app.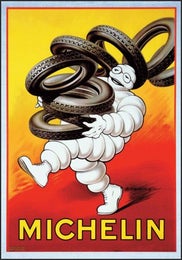 Q. Lennard,
Samuele Bressens (Vittoria) said (in your Technical FAQ of August 2 ), "These key compromises are made by no other tire industry (truck, aircraft, automotive, motorbike, industrial) using a tubeless environment; none go above 45/55psi…"
The tubeless Michelin LTX/MS2 tires (235/85-16) on my one-ton Ford Van list 80 psi as the recommended full-load pressure. I've used that pressure, and I've run them at 75 psi for years on end. The tires don't leak.
— Rob

Q. Lennard,
This year I have had the honor of being sponsored by Stan's No Tubes as an elite road cyclist. Stan's is just now starting to come to the road market as a heavy hitter and a soon-to-be very fierce competitor to the tube/tubular world. When I first heard about our sponsorship I must say that I was a little hesitant about having to run a tubeless tire set up. In years past I felt that a tubular could not be matched. The advantages I felt in a tubular was being able to run either high or low pressures, cornering capability and of course "puncture resistance." I was more than willing to spend the time and hassle of having to glue up tires for those benefits.
It only took a few races for me to fully convert all my wheels — both training and racing — to the tubeless system. Tubeless is by far superior and I would highly recommend it. I know what everyone is thinking — "he is sponsored by them, of course he's going to say to use them!" Not the case — if I wasn't truly sold on the tubeless system I would NOT be writing this email!
To date, (starting in January) our team of nine guys has had one flat. That includes both training and racing miles and that one flat was a severe cut to the tire. The tubeless system has allowed us all to run a slightly lower pressure which makes cornering feel like you're on rails and to top it off, the Hutchinson tires are on par with a Vittoria Corsa Evo. I used to only run Vittorias for racing (tubular) because they were the best. I can't say that anymore due to the maintenance free and flat free tubeless system.
There have also been a lot of questions asked as to what wheels can work as a tubeless system. More or less any clincher wheel can be made into tubeless. Our team is currently running the Stan's Alpha wheelsets with the Bead Socket Technology along with a couple other brand name wheels to prove that tubeless can run on other clinchers. I would suggest contacting Stan's to find out the proper set up of your specific wheel before just trying to throw a tubeless tire on the rim.
I hope this clears up a little controversy about the tubeless/tubular/tube debate. Trust me, I love tubulars. They corner great and have a great ride quality to them. Now take those same benefits and add in "no glue" and "no flats" and you have yourself a tubeless set up.
— Joe Whitman
Stan's No Tubes/AXA Equitable Cycling Team
Q. Lennard,
I read your comments about aging tubulars (a practice that I remember being gospel during my younger racing years) and would like to point out some of the scientific research about aging rubber by car tire manufacturers.
It seems that in the auto industry it is now accepted and legislated that tires do not improve with age. Given the research the auto industry has done versus the anecdotal evidence of bike mechanics, I am inclined to side with the auto industry. I remember it also being a given among bike racers that one should not drink more than one bottle of water during training rides to teach your body to not want water, and wearing a helmet would cause you to overheat.
— Chris

Q. Lennard,
Your tire-aging column prompts a question. Have you ever heard any recommendation on how long one might use a butyl clincher tube? I normally put in new tubes when I put on new tires. I've had tubes fail at the stem interface, and it just seems like cheap insurance. Any thoughts? I have two perfectly good, unpatched tubes from my last tire change and I'm not sure what to do with them. I'm a real believer in talc, so I don't see any friction damage.
— Steve

A. Steve,
I think that's a good practice. Risking failures on the seam or at the valve stem is not worth the money savings of reusing the tube. I have not heard of recommendations of how long to use a butyl tube. I know you can get more life out of them by using 303 Protectant on them …
— Lennard

Q. Lennard,
While helping a stranded cyclist put on a pedal yesterday, I had to wonder, why are BB and pedals reverse-threaded on one side, in a way that ensures both sides come undone if they are not tight. I could understand the reverse thread if it kept the parts on.
— Fred

A. Fred,
It's an old reason, for safety, although the premise seems funny now. From the early days of penny farthings or fixie "safety bikes" with the feet sometimes taped or strapped to the pedals, the idea was that if the bearing seized up you would unscrew the pedal (or BB) rather than flipping over the front onto your head or tearing up your legs stopping the bike.
— Lennard

Q. Lennard,
You recently had a question on carbon fork fatigue and you said that you wouldn't worry about it without there being "overload." Sounds good, but we ride out West. Cattle guards, and even cattle guards at 45 mph, are common for us. I think someone should do a test on carbon that has been subjected to this sort of repeated, rhythmic, force. Do you know of any studies on cattle guards and bikes? If so, I'd like to read about it … going down Teton Pass or La Sal Loop at 50+ mph, about all I can think about are all the cattle guards I've hit.
— Sam

Here are responses from two carbon fork makers. Bert Hull used to design Alpha Q carbon products prior to forming his own companies, and Mike Lopez used to design Reynolds carbon forks prior to doing the same with Serotta.
— Lennard

A. Lennard,
We all hate them: cattle guards, rumble strips, sewer grates, railroad crossings. Riding over these roadway features may shake up a rider, but how hard are they on your bike?
Aggressively riding a bike over cattle guards (AKA cattle grid, stock grid, vehicle pass, Texas gate) is not precisely simulated with the standardized tests (CEN, ISO, ASTM, CPSC).
The industry-standardized testing addresses impact loading and fatigue loading separately.
In the impact test (CEN 4.8.5), a weight is dropped from a height (perpendicular to the steerer axis) onto an axle in the dropouts.
In the fatigue test (CEN 4.8.6), a fully reversing load (push and pull equally in turn) is applied continuously for 100,000 cycles at an axle in the dropouts, again perpendicular to the steerer axis.
This "cattle guard" situation is a rapid succession of "small" impact loads, with an equivalent loading level similar to or smaller than the CEN fatigue test. The loading can be estimated while riding because if you look down at your dropouts you can watch your fork deflect backwards and rebound between each channel. The amount of deflection times the fork's spring rate will give you the max force applied (about 400 lb/in for carbon road bike forks). I'm pretty light, and I get about 1/4″ of rearward deflection when riding over those pesky rumble strips the D.O.T. started adding to every new rural highway paving project around here.
As far as lab tests for these types of road features (hazards?) some manufacturers do some additional tests, in order to go beyond the industry minimum standards and to more completely understand how the product will withstand real world riding conditions. As an example, one of the large OEM manufacturers I worked with has a machine with oversized drum rollers with 1/2″ bars welded to the surface and a weighted bike (simulating rider weight) rolling on top, getting a bump every time a bar would roll under the tires. That is pretty close to riding on cattle guards.
CEN is 100,000 cycles but the passing forks have to exceed that. Forks may actually last three times longer, or 10 times longer.
The cattle guard/rumble strip type loading is push-release-push-release-push… so not fully reversing (no pull).
Bert Hull
Warp9 Bikes
Uberhund Designs
A. Lennard,
I'm not familiar with anyone doing testing like this regarding forks. Perhaps a combination of the "bumpy rolling drum" test for wheels could be incorporated using a carbon fork instead of the steel plates typically used to hold the wheel …
At the speeds he's describing the loading case is probably more like a series of light impacts rather than true oscillation…
— Mike Lopez
Serotta