Technical FAQ with Lennard Zinn: Tubular tape?
The merits of tubular tape, more on the stack-and-reach concept, Mavic freehubs and more
Heading out the door? Read this article on the new Outside+ app available now on iOS devices for members! Download the app.
Q.Dear Lennard,
I am an amateur road racer, very little success, but just love the race anyway. My point is that I don't stress a bike like the fast guys, though I wish I could. Next, I have been considering tubulars (for the wait and fun of mastering a new bike tech.)
My question: given my profile, would you say that using tape instead of glue would be ok/safe for a rider like me? The gluing process is too much for me to do (and enjoy), and so I wouldn't use tubulars for this reason. But, the Extreme tape from Vittoria is so much easier to work with, and if it is safe, I would be inclined to try the tubular rims.
— Will
A.Dear Will,
It's hard to say. The smooth corners aren't usually what rolls tires; it's the unexpected things. Like hitting a drainage dip in the middle of a corner or clipping a pedal in a corner so that it lifts the rear wheel and comes slamming down on the sidewall.
Although it's by no means definitive, put the tire on with tape and try and push it off with your thumbs at various pressures. It needs to be really hard to get started to come off to be safe to stay on, in my opinion.
Sorry; it's simply not a question I can give a yes or no answer to.
— Lennard
Q.Dear Lennard,
I want to use Campagnolo with my Speed City wheels on my disc-brake equipped cyclocross bike. I bought a freewheel that I thought matched from someone over the web, but it did not work. I called Mavic to ask if the conversion could be done and they said yes, but you need 2006 or newer wheels. I bought a second pair of wheels used (I was told that they were 2008) but when my mechanic removed the freewheel, it revealed the same thing – a different system of freewheel!
So my question is: if I have a set of 2008 Speed Citys (as far as I know) is there a Campy-compatible freehub body that I can use for my 10-speed Campy? The mechanic took the rear hub apart and showed me two systems that look totally incompatible — the Speed City hub looks like maybe it is MTB specific — the hub shell flange side had a 'flower shaped' section where he pulled the Shimano freehub body off. The Campy body has a 6-sided nut and seems to be a much simpler system that, to our eyes, would not work. The mechanic said the FH body that I have was from a Ksyrium wheel and was a different beast.
— Darren
A.Dear Darren,
The easiest way to determine if a Campy-compatible Mavic freehub body can be substituted is by looking at the lock nut on the drive side end of the axle. A six-sided nut with 17mm wrench flats means the hub IS compatible with a Campy compatible Mavic freehub body. A nut with only two flats that accept a 16mm cone wrench means the hub IS NOT compatible with a Campy compatible Mavic freehub body.
The "flower shape section" signifies the older style (16mm cone wrench compatible), and the freehub assembly is a cartridge unit attached to the hub shell with a 12 mm hex key. It's attached similar to a Shimano freehub body but instead of accessing it from the drive side, knock out the non-drive hub shell bearing, and the 12mm hex key fits from that side. That early version only used the Shimano Hyperglide style of spline- one mountain and one road (road is 1.75mm longer spline than MTB – same difference as Ksyrium vs. Crossmax)
The 17mm six-sided fixing nut is the newer, current style. A Campy compatible body can be used on that hub.
— Lennard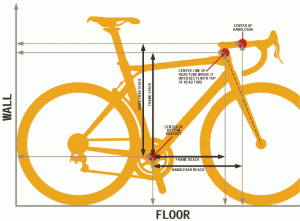 Q. Dear Lennard,
I have been thinking about the "stack and reach" concept of measuring frames in an effort to get more consistency between brands. I may be missing something, but it appears to me that the "stack and reach" method would not take into account the seat tube angle and where that puts the seatpost relative to the head-tube/top-tube intersection and handlebar centerline. This relationship (what is traditionally called the top-tube length), between seat location and bar location, has a lot to do with how a frame or setup fits a particular rider.
I did some dynamic computer modeling to make sure I am not making a mistake, and I was able to get some pretty good differences in the tope tube length by changing the seat tube angle and leaving the bottom bracket-to-head-tube/top-tube relationship the same (as if the "stack and reach" numbers would be the same between different frames). Am I not understanding a subtlety in the "stack and reach" methodology, or as in the traditional way of measuring frames we are to assume that we can adjust for these differences by using different stems, seat posts, etc?
— Augis
A.Dear Augis,
You hit the nail on the head, but with the old method you had to mess with the stem, and with the "stack and reach" method of frame sizing, you only need to mess with the seatpost. It's an improvement because the normal system of seat tube length and top tube length does not tell you where the bottom bracket is, meaning that you can have an enormous variation in the effective top tube length based on seat angle. A 56cm frame with a 56cm top tube and a 74-degree seat angle has a much longer effective top tube than does a 56cm frame with a 56cm top tube and a 72-degree seat angle.
So saying a frame is a "56cm frame with a 56cm top tube," gives the buyer insufficient information to make an educated determination of how that frame would fit him or her. But if you know (from stack and reach) where the bottom bracket is relative to the top of the head tube, you have all of the information you need to figure out if you could fit on that bike. Of course, if the seat angle is super shallow or super steep, it may require a seatpost with no setback or an extreme amount of setback in order to position the saddle properly. But that's way better than bumbling into purchasing a frame that you think will fit because it has the same top tube length as another one you did fit on, only to find that, because the seat angle is so much different than the one you did fit on, the only way to fit yourself to it is to put a super long or short stem on it. A setback or zero-setback seatpost throws off the handling of a bike a lot less than does a super long or super short stem.
In either case, with stack and reach sizing or with the old-school seat tube and top tube length sizing method, also knowing the seat angle is very useful.
— Lennard
Oops!Dear Readers,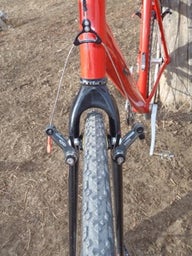 On Jan. 31, I posted this photo as part of this story along with the caption, "Set up a cantilever with a long straddle cable if you want to maximize its power." Instead, the correct version (which I later corrected it to read) is: "Set up a cantilever with a long straddle cable if you want to maximize its modulation." Sorry if the typo left you scratching your head; we caught it and changed it a day or two later. And since you saw from yesterday's front page that the top Euros are still racing cyclocross, it still has relevance.
To explain, the longer the straddle cable, the closer it is to parallel to the main brake cable and hence pulls each arm close to the same distance that the main cable moves, whereas the closer the straddle cable is to perpendicular to the main brake cable, the more it increases the mechanical advantage of the system.
To quote Sheldon Brown:
"A larger contribution to the mechanical advantage of a well-adjusted cantilever brake, especially a low-profile one, comes from the transverse cable. The mechanical advantage is strictly determined by the "yoke angle". The formula is: Mechanical Advantage = 1/sin yoke angle."
"A 90-degree yoke angle would result from an infinitely long transverse cable, such that each side of the cable was running vertically down from the cable yoke. A 0 degree yoke angle would represent the shortest possible transverse cable, running in a perfect straight line along the top of the cable yoke.
 As you can see from the table, the shorter and straighter the transverse cable, the more difference it makes. This effect is what makes it possible to make a low-profile brake with good stopping power."
| | |
| --- | --- |
| Yoke Angle (Degrees) | Mechanical Advantage |
| 90° | 1 |
| 80° | 1.015 |
| 70° | 1.063 |
| 60° | 1.15 |
| 50° | 1.31 |
| 40° | 1.55 |
| 30° | 2 |
| 20° | 2.92 |
| 10° | 5.76 |
| 5° | 11.47 |
| 0° | Infinity! |
So while you can get a tremendous amount of braking power with a horizontal straddle cable, you sacrifice tire clearance and modulation to get it. And in practice, the mechanical advantage is of course not infinite, because the instant you pull the lever a bit, the yoke angle is no longer zero.
On the other hand, running a long straddle cable gives you more modulation and tire clearance, at the expense of power. But if you have a brake as powerful as the Avid Shorty Ultimate, you have the luxury of being able to seek this greater control while still having plenty of power. I have mine set up this way as depicted in the photo because I transferred it over to my red bike from my white bike, on which the brake had been paired with an ENVE fork. The ENVE fork (see below) has a slight tendency for shudder with cantilever brakes, and running a long straddle cable and toeing in the pads reduced it to the point of nearly eliminating it.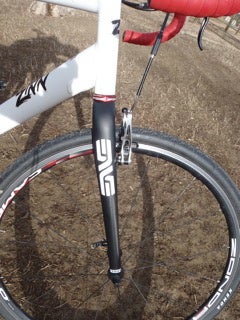 From the company formerly called Edge Composites, this is an elegantly-finished, lightweight fork molded in a single piece from the dropouts to the top of the steering tube. (Edge changed its name to ENVE to avoid conflicts in the European market with Bianchi, which owns the Edge name for Europe in the bike business.) The fork rides like a dream. It takes the edge (no pun intended) off of the rattling your hands get on a rough cyclocross course at high speed. It's plenty stiff laterally to sprint well even under a heavy rider, to rail around high-speed corners and to be nimble through tight sections. The 47mm rake strikes a good balance of stability and maneuverability with head tube angles in the 69-72-degree range.
The fork's downside is its tendency for brake shudder. Brake shudder is caused by flex primarily in the steering tube when the cable hanger is above the headset. If the fork had a hole drilled in the crown through which to bolt on a crown-mounted cable hanger, I'm sure that cantilever brake shudder would be a thing of the past. It's also exacerbated by my 175 pounds and the long steering tube my tall bike requires. Lighter riders with smaller frames likely would have no problem.
ENVE Cross 1.125 Fork
Price:
$609
Weight:
518 grams with 350mm steering tube including plug
THE SCOOP:
Full-carbon cyclocross fork including dropouts
PRO:
Lightweight, laterally stiff, nimble steering; comes with a long, 350mm steerer length
CON:
When set up on a tall bike, it has a tendency for shudder with a cantilever brake
www.envecomposites.com/forks/cross.aspx

For those with a tapered head tube, the ENVE Cross 1.5 fork has a tapered steerer (1.5-inch at the base tapering to 1.125-inch at the top). This adds considerable rigidity, costs $16 more and weighs 10 grams more. I have not tried it, but given how minor the shudder problem was with the 1.125-inch straight steerer, I would guess that the tapered-steerer fork would have no shudder.