Technical Q&A with Lennard Zinn – More about chatter
Lennard Zinn offers a few more thoughts on the subject of brake chatter on cyclocross bikes.
Heading out the door? Read this article on the new Outside+ app available now on iOS devices for members! Download the app.
Dear Lennard,
After reading your recent column on brake/fork shudder and experiencing this annoying chatter on a Moots YBB cross bike (carbon fork, old Avid Tri-Align cantis with ceramic rims), I have an idea for you to consider. How about constructing a brake cable stop that attaches to the fork brake bosses (behind the brakes) and extends just above the fork crown with a cable stop at the top of it. This way a single piece of housing cable would run between this stop and the brake? Almost all the flex would be absorbed by the cable housing above the new fangled brake stop because as the fork flexes, so will the brake cable.
Mark
Dear Mark,
That would work, using a horseshoe-shaped piece with a cable stop atop it. But you might as well put it on the front of the brakes, like a brake booster, so you don't take up space behind and end up binding the calipers when you tighten the mounting bolts.
Lennard
Dear Lennard,
Thank you for the excellent article on `cross fork flex.
Here's some food for thought, based upon my own experiences:
I ride a Redline Conquest Team with a Ritchey carbon fork. The Colorado Cyclist built the bike for me. I run Mavic clinchers and Avid cantilevers and (standard) pads. I was suffering from fork flex and brake chatter.
Alan from the 'Cyclist toed my front brakes in from the rear. Now the rear of the pads touch first. This stopped all brake chatter and reduced the fork flex. I have no problem braking with the above set up. I do still get some flex in the fork, but not near us much as before.
Erik
Dear Erik,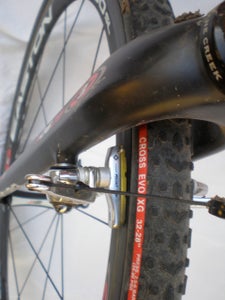 I had heard of people having success with eliminating brake shudder that way, so I did give that a try, too, after I had cut my pads down and before I switched to a V-brake. My IRD brakes had come with long pad holders with threaded posts, like on a V-brake, and they are too long and thin to toe out as is. But once I had cut my pads down as in the photo, and it did not eliminate the shudder, I tried angling them outward as you suggest.
I was stoked when it did not shudder at first, but it made an unbelievably loud squeal. There are brake squeals and howls, and then there are brake squeals that can wake the dead, and this was one of those. People on the bike path glowered at me when I touched the brakes as I came up on them; no need for a bell or air horn! I knew I would not be able to tolerate that racket for long, and the cost of having no riding buddies anymore seemed a high price to pay for shudder-free riding. However, the decision ended up being easy, because once the rear corners of the pad wore down enough to present more surface area to the rim, it began to shudder again, while still squealing. So I gave up on that.
Lennard
Dear Lennard,
Thanks for a great article on brake shudder. I have a Jamis Super Nova with the same Easton fork and have suffered with shudder too. As you did, I eliminated the shudder through using a V brake but rather than a special lever, I use a (Problem Solvers) "Travel Agent." I also found the press fit lower bearing was really loose — to the point of falling out when the fork was removed. I suspect, as you mentioned, that that would act as a loose headset making the matter worse. My inherent frustrations with cantis lead me to the right solution but now I know why it worked!
Chris
Dear Lennard,
I read your article on fork shudder with great interest as I've done battle over the past year or two with trying to eliminate the problem. I also run the Easton carbon fork, and have had some downright scary experiences with shudder. One trick not mentioned in your article that I thought was worth mentioning was running the straddle cable very high. I have the TRP Euro X brakes, and when I set them up I ran it as high as I could (hanger well above the bottom of the head tube, the supplied cable at full extension). Doing this in addition to having a good bit of toe-in, really tight headset, and running Swisstop yellows on carbon rims seems to keep the shudder at bay and still retains a good amount of power.
Doug
Follow Lennard on Twitter at www.twitter.com/lennardzinn
---
Technical writer Lennard Zinn is a frame builder (www.zinncycles.com), a former U.S. national team rider and author of numerous books on bikes and bike maintenance including the pair of successful maintenance guides "Zinn and the Art of Mountain Bike Maintenance" – now available also on DVD, and "Zinn and the Art of Road Bike Maintenance," as well as "Zinn and the Art of Triathlon Bikes" and "Zinn's Cycling Primer: Maintenance Tips and Skill Building for Cyclists."
Zinn's regular column is devoted to addressing readers' technical questions about bikes, their care and feeding and how we as riders can use them as comfortably and efficiently as possible. Readers can send brief technical questions directly to Zinn. Zinn's column appears here each Tuesday.