Tested: Eight Shades of Sunglasses
From $40 to $230, we've rounded up a eight models of shades sure to keep you covered.
Heading out the door? Read this article on the new Outside+ app available now on iOS devices for members! Download the app.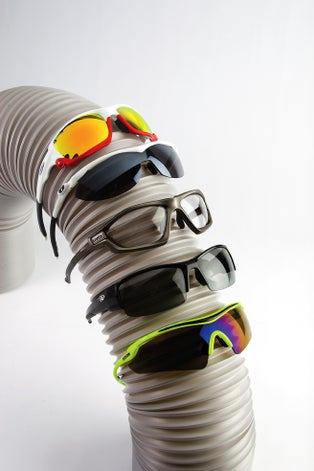 A good pair of glasses should disappear the moment they're put on. No slipping, no fogging, no uncomfortable pressure on the side of your head. Optics should be perfect, lenses should be damn near unbreakable, and frames should be light and durable.
To find shades that fit the bill, we rounded up pairs from eight manufacturers and put them through their paces on a variety of testers' faces. The glasses span a wide price range, from $40 to $230, and a range of widths – an important figure in determining whether they will fit your face. We measured all the glasses at their widest point, inside of one arm to inside of the other.
Most come in a multitude of color and lens options, too many to list here, so we encourage you to check out the listed manufacturer websites.
Rudy Project Rydon – $175
Frame Width: 132mm (small to medium faces)
Lenses: Interchangeable: ImpactX Photochromic clear
The scoop: The Rydon is an old standby for Rudy Project, and is a favorite among the company's sponsored riders. The half-frame design offers excellent range of vision while maintaining good coverage, and Rudy Project's new ImpactX lenses are exceptional. They're nearly impossible to scratch, provide excellent optics, and had an excellent light-to-dark range for the photochromic version.
The fit is highly adjustable, always a good thing. Both the nosepiece and ear stems can be adjusted (bent) by hand. Putting a small curve on the ear stems kept the Rydon's firmly in place without any unreasonable pressure. The Rydon's fit easily over helmet straps and never slipped once adjusted; it was truly a case of put them on and forget them. For smaller faces, the Rydon 2 is offered, the difference is narrower lenses.
"The optics are fantastic and the photochromic lenses work amazingly well, going from virtually clear to quite dark," our tester said. If photochromic isn't your cup of tea, the Rydon's are available with a host of interchangeable lenses as well.
Oakley Jawbone – $230
Frame Width: 136mm (medium faces)
Lenses: Interchangeable: fire Iridium (mirrored orange) prescription
The scoop: Oakley remains the gold standard in eyewear; their stuff is always top quality. The Jawbones use an innovative hinging frame to make lens swaps incredibly easy.
Our tester used the Jawbones with custom prescription lenses. Lenses and frame colors are fully customizable. He loved the full coverage and excellent ventilation, and never had any problems with fogging even in wet fall conditions. Field of vision was clear, and the Iridium lenses worked well in a wide range of light conditions. He finished off his review notes with "I can't remember a pair of glasses I liked more than the Jawbones."
Of course, the Jawbones are also the most expensive shades in our roundup, starting at $200 and only getting more expensive as custom options are added.
Ryders Seeker – $40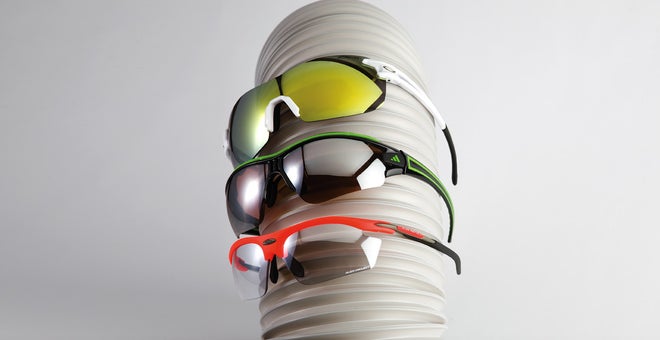 Frame Width: (large faces)
Lenses: Interchangeable: brown; light gray; clear.
The scoop: The Seekers punch far above their price, with solid protection, quality optics and exceptionally easy lens swaps. They also have anti-slip nose pads and temple tips, and stayed in place very well. Styling is aggressive, and Ryders offers plenty of lens choices for any condition.
They did, however, have some issues with fogging. "The problem was worst when stopping on cold mornings," said our tester. He didn't have any issues while on the move.
While the frames were light, the build quality felt a bit lacking compared to some of the more expensive pairs. Still, for only $40 the Seekers are a hell of a deal.
Smith Pivlock V90 Max – $139
Frame Width: 140mm (medium to large faces)
Lenses: Interchangeable: clear; igniter (gray); bronze mirror
The Scoop: The Pivlock uses a unique frame-less lens, which the arms and nosepiece snap onto.  The Max version simply a larger version of the V90. Both are packaged with three lenses, which are easily swapped.
The V90's had no fogging issues. They sit high on the face, which combined with their lack of frame makes for an excellent cycling fit. However, as our tester noted, "the high-sitting fit means the lowest periphery of vision isn't covered, although that isn't necessarily a bad thing."
While changing lenses is incredibly easy, the lack of a frame means the lenses get thoroughly smeared when swapping – don't lose the included chamois cloth.
Uvex Ultraguard Vario – $140
Frame Width: 145mm (medium to large faces)
Lenses: Interchangeable: photochromic gray; orange
The scoop: The Ultraguard Vario's use a photochromic lens, which Uvex calls Variomatic, which is coated in an anti-fog treatment. The frames themselves are designed to prevent unwanted drafts, keeping tearing to a minimum, and are easily adjusted to fit thanks to bendable arms and nose pads.
Our tester loved the Variomatic lenses, finding they adjusted well to a wide variety of light conditions. He never had any issues with fogging, and found the lenses easy to swap. The styling wasn't his favorite though, noting that the "robotic-looking frames are a bit too sci-fi." The somewhat large frame arms made for a more bulky feel, as well.
Briko Endure Pro Duo – $119
Frame Width: 136mm (medium faces)
Lenses: Interchangeable: mirrored Thrama 4000; clear
The Scoop: The Endure Pro Duo's use a classic athletically curved lens from that sweeps from temple to temple, providing excellent coverage in any condition. They're also exceptionally light at only 26 grams, and the half-rim frame provides excellent field of vision.
Our tester loved the wide lens wrap and the coverage it provided. Fogging was never an issue, and fit was easily dialed with the use of the two interchangeable nosepieces. Our tester also noted that the nosepiece seemed particularly sticky, preventing the glasses from every sliding down despite not having sticky arm tips.
The only complaint was that the lenses seemed to scratch more easily than usual, particularly with the mirrored Thrama 4000 lens. With careful handling this isn't an issue, just don't let them hit the deck.
Adidas Evil Eye Half Rim Pro L $195
Frame Width: 140mm  (medium to large faces)
Lenses: LST Active (dark) and Bright (light)
The Scoop: The Evil Eye glasses have been an Adidas mainstay for years. The Half Rim Pro L is a brand new model, though, and the first to ditch the frame below the lenses. They've been designed specifically for cycling, with excellent coverage and ventilation being paramount.
Fit is excellent, largely thanks to Adidas' Tri-Fit system, which allows the glasses to sit at three different angles on the face. The nose bridge can be moved to two different positions to further fine-tune fit. Our tester loved this feature, and found the glasses to be some of the most comfortable he's ever used. "They disappeared, I never thought about them once," he said.
The glasses also feature a sweat pad, or "artificial uni-brow" as our tester called it, across the top of the frame. We were worried that the pad, which touches the forehead, would make the glasses feel clammy, and our fears were confirmed when stopping after a hard effort. While moving, however, ventilation was great and the pad did seem to help keep sweat out of the eyes.
Tifosi Slip – $70
Frame Width: 137mm (medium faces)
Lenses: Interchangeable: Smoke (gray); red; clear
The Scoop: Tifosi has made a name for itself providing low-cost, high quality glasses to athletes; the Slip continues that trend. At only $70, they're the second cheapest in our roundup, but still provide excellent performance. They have interchangeable lenses, hydrophilic nose and earpieces, and a nice full-sweep lens design.
Our tester loved the unobstructed peripheral view and found the Slips had excellent ventilation, with no fogging issues. This particular tester has issue with his long eyelashes brushing against glasses, but he had no such problems with the Slips.
Lens swapping was described as "intuitive," though the darkest lens wasn't quite dark enough for the brightest Colorado days. Further, the nosepiece is not adjustable – though it happened to work just find for our tester.