Tested: Giro Xar Helmet
The Xar worked when it was needed most as Zach White found out the hard way
Heading out the door? Read this article on the new Outside+ app available now on iOS devices for members! Download the app.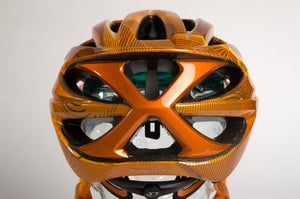 We don't usually test helmets in their ultimate, worst-case scenarios: upside down in bone-breaking, dirt-skiing sessions. But with Giro's new Xar we did.
Well, Singletrack.com test pilot Zach White did. He's just that damn dedicated.
According to ZW's GPS, he was at mach-32 mph catching up to a group after flatting on the first section of Kokopelli in Moab when he hit a bit of turbulence, went OTB and lawn-darted into the trail head-first.
Incredibly, "the only cranial damage was a slight rub mark from the retention system on my shaved head," he said. "Probably not an issue for people with hair."
Oh, and did we mention the snapped clavicle?
Zach, meanwhile, didn't lose consciousness, and had no injuries around the ears, forehead, or back of the head, even though he was rolling down through dirt and rocks for dozens of feet. Even more surprisingly, we found no obvious cracks on the Xar itself. The only noticeable damage was at the point of impact, where there was a 5mm intrusion and a bunch of scuffing.
To be honest, such a positive outcome (a rebuilt clavicle notwithstanding) from an otherwise horrific crash is far and away more important than any other testimonial. The Xar worked the way it was supposed to, when it was needed most. That should be enough, right?
Well, you still have to ride under the thing until that fateful day when you join Zach's lawn dart league. So we'll still give you our impressions of the lid under more favorable conditions.
Pros
GIRO XAR
MSRP
: $130
Sizes
: S/M/L
Pros
: vents well, RocLoc 5 adjustment, adjustable visor
Cons
: expensive, looks funky in certain colors (orange, at least)
Available
: Early 2011
Giro.com
The new Xar lid is a sleeker evolution of the popular Xen, adding better air channeling, the new RocLoc 5 retention system and a sharper aesthetic to its venerable forebear. It's intended for all-mountain riding; burly enough to take big hits like Zach's while still light and breathable enough to climb all day.
Like most of Giro's mountain bike offerings, the Xar features extended rear coverage for when things go sideways, a feature Zach certainly appreciated. Giro designed the top of the helmet with a slight flat spot for easier mounting of a helmet cam or light — a feature we love.
Giro claims that the Xar is the most breathable helmet ever designed for the dirt, and they may actually be right. At the very least, it's the airiest I've used in recent memory. Both Zach and I found the Xar to be a slight but noticeable improvement over its predecessor. The Xar's 17 large vents and internal channeling do a great job of pulling cool air in and getting the hot stuff out.
"It was also more streamlined and a touch lighter," Zach noted, "another slightly noticeable improvement to the Xen,"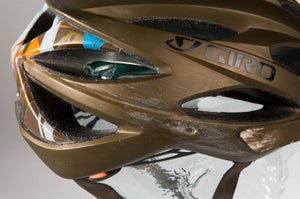 The Xar's RocLoc 5 retention system is solid, and easily adjustable with a single full-finger gloved hand. Adjustment range is excellent, easily allowing room for a hat, which I appreciated during a few colder rides this winter The adjustment intervals are small, which offers a very precise fit.
The P.O.V. visor is adjustable, and holds position very well. It didn't pop off even when Zach slammed it into the trail at full speed.
"The visor vents line up very well with the helmet vents, which most likely helps improve ventilation," Zach said.
We also dug the X-Static pads, which didn't seem to hold the usual helmet stench at all.
Strap adjustment is quick and painless, and we never had problems with them slipping out of adjustment.
Cons
There are lighter and more breathable helmets out there if you go with something designed for the road, but you simply won't get the same level of protection with one of those. For it's intended use, the Xar is tough to beat.
That said, if you're not the kind of rider that needs the extra wrap down the back of the head, or the more bulbous ear protection, then sticking with one of the lighter options on the market may be your best bet.
The $130 price tag is steep, and some may not like the styling. The fluorescent orange one I used does look a bit cheaper than the Xen, though I can't pinpoint exactly why. Perhaps it's because the styling reminds me more of the less expensive Hex than the Xen. Regardless, Zach's matte finish looks considerably more bad-ass.