Singletrack.com Bike Test: In Search of the Category Killer
Singletrack.com Bike Test: With a one-inch difference, are there four-inch XC bikes that can hang on the trail or five-inch trail rigs that can go out and race? We tested a bunch of bikes in search of a few cross-over rigs.
Heading out the door? Read this article on the new Outside+ app available now on iOS devices for members! Download the app.
By Singletrack.com Test Crew
For the first-ever Singletrack.com mountain bike test we set out not to simply ride a random flock of mountain bikes. Rather, we noted a trend and decided to test against it.
Given the proliferation of five-inch "trail" bikes that are increasingly lighter and more agile, we wondered if one of these bikes is now just as light and fast as the four-inch travel bikes typically reserved for cross-country racing. And, as suspension quality has improved in the shorter travel four-inch bikes, we wondered if there's one out there that feels as plush as — or at least acts like — its five-inch cousin.
So the Singletrack.com crew gathered four pairs of 26-inch-wheeled bikes ranging from a $2,299 alloy machine to a $4,800 carbon creation from four manufacturers — Yeti, Giant, Trek and Kona — and headed out to Fruita, Colorado to do the dirty work.
Mulit-Tasker
What were we seeking to bring back from the trails of Fruita? To get a feel for how each bike performed in relation to its brand stablemate.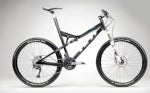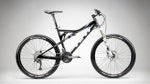 Will the four-inch Giant Anthem X1 perform at the Saturday morning XC race and then feel good on that long-planned four-hour trail ride on Sunday? Conversely, will the Giant Trance X0's five inches transfer from the trail to a high-tempo onslaught of number plates? What do you get with an extra inch of travel (or minus that extra travel), and what do you give up (or gain)?
With a difference among each brand's bikes of just one inch (20-30mm, give or take) in suspension travel, testers came away impressed at just how much the bikes varied in performance, yet the numerical differences between the bikes were subtle.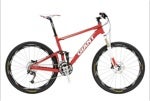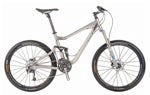 On average, head tube angles are slacker by about one degree on the five-inch bikes. Seat tube angles on the longer travel bikes are also more relaxed, by a quarter-degree. The four-inch bikes have shorter wheelbases, by about an inch on average, and the chainstays are marginally shorter. Bottom bracket heights are higher on the five-inch bikes, but not by much: on average, about half an inch.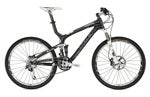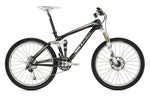 Weight differences vary significantly with component spec, but of the bikes ridden, the four-inch rigs averaged over a pound lighter. In one case, the XC bike was nearly two pounds lighter, and in another case, only a third of a pound lighter.
Of course, certain pairs of bikes have bigger (or smaller) variations in geometry. And in terms of suspension behavior, the pairs of bikes tended to exhibit similar characteristics overall.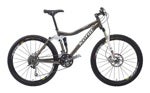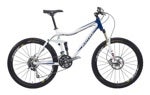 For example, the two Treks with ABP and Full Floater construction shared fantastic small bump sensitivity and "bottomless" end stroke, whereas the Maestro design on the two Giants brought more progression and an ability to punch firmly through bigger hits. Overall, those small adjustments to geometry and that extra inch of suspension travel combine to make the five-inch trail bikes handle distinctly differently compared to their little brothers.
In general, the four-inch bikes have quicker steering, more nimble trail manners and slightly less stability at higher speeds. Naturally, the shorter travel bikes are more aggressive climbers. With shorter chainstays and steeper seat angles, they tend to claw their way up challenging pitches more easily. With less suspension travel, the cross-country bikes generally don't move as much under pedal input and tend to be slightly stiffer. Pointed downhill, there's no question that bigger riders can quickly outrun the suspension's ability to absorb terrain.
On the other hand, the longer travel, five-inch bikes are slightly slower tipping in to turns, require a little more input to rip around tight corners, and tend to be more stable at speed. With longer frames and slacker angles, they position the rider slightly farther behind the bottom bracket, which makes for less aggressive climbing performance. Since there's more suspension travel overall, it's a little more inclined to move with pedaling forces. But on the upside, that little bit of extra travel makes a big difference going down. In addition to being more apt to stay on line at speed, the longer-travel bikes feel much more capable of swallowing bigger hits and small chatter alike.
Body and Bike
Picking your next mountain bike depends on how you plan to ride, how you are built and how much lighter you want to make your wallet.
We found that bigger, more aggressive riders preferred the five-inch bikes, partly because their higher speeds and stronger style more quickly overpowered the shorter travel bikes. Additionally, riders that regularly ride longer distances and rougher terrain wanted the added comfort of more suspension travel, despite the weight penalty.
Some of the five-inch bikes we checked out are perfectly raceable in terms of weight, responsiveness and climbing efficiency. But others were too heavy and comparatively sluggish, so whether or not you'll be happy doing a short cross-country race on a longer travel bike depends heavily on the bike in question.
Our lighter, smaller and less aggressive riders preferred the cross-country bikes. They liked the lighter weight and quicker handling, both on climbs and descents. Because they exert less force on the frame and suspension, these riders hardly notice the lack of an extra inch of travel on downhills. Likewise, committed cross-country racers still stick to four-inch bikes for a reason – they're built for efficiency, light weight, and outstanding climbing ability.