The Torqued Wrench: Disc brakes, coming soon to a drop bar near you
The Torqued Wrench is a new column from VeloNews.com tech writer Caley Fretz. Today's topic: disc brakes on the road.
Heading out the door? Read this article on the new Outside+ app available now on iOS devices for members! Download the app.
The Torqued Wrench is a new column from VeloNews.com tech writer Caley Fretz. Every other week he'll tackle the rumors, trends, innovations, and underpinnings of the tech world. You can submit questions to TorquedWrench@competitorgroup.com.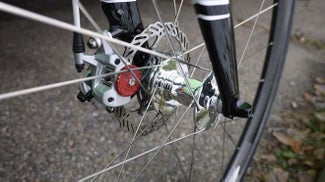 Nathan is a big fellow — a hockey player, over 6 feet and strong, with at least 60 pounds on me. I have only once felt bad about having a friend test equipment; sadly, Nate was that guy. But we needed him for his, uh … magnitude.
We took Nathan and a few other guys from the office up to the Wall on Flagstaff, the steepest section of the famous Boulder climb, to do some brake track testing on carbon clinchers. We figured the problems of heat buildup and subsequent violent, bead-shattering explosion had been solved. We were wrong.
Nathan's considerable momentum increased as he cruised down the wall. Hitting the brakes hard to make the first of two tight switchbacks built up so much heat his brake track that the air pressure inside the tire (which was also rising due to heat) was able to overcome the stiffness of the rim sidewall. The rim opened up, the tire blew off, and suddenly Nathan was cornering on a carbon rim.
I was right in front of him, and the bang nearly shocked me into the weeds. I thought I'd just killed a good friend in the name of telling rich folks which expensive wheels to buy. But somehow he kept himself upright, grinding slowly to a halt against the guardrail.
Nathan's experience was not unique, though it is becoming far less common as manufacturers improve carbon clincher technology. We haven't heard of any incidents with the latest generation. But even with improvements, such failures beg the question: Isn't there a better way to stop?
There is
Cycling technology is defined by an endless paradoxical relationship between tradition and innovation. The bicycle has remained fundamentally unchanged for the better part of a century: two triangles stuck together, driven by a chain, stopped by the friction between rim and brake pad. It is now just as it has always been.
Anything truly innovative struggles with the past, not to mention the sport's governing body. Whether this tussle is a burden on advancement or an indispensable vetting process is a matter of interpretation.
That's what makes it so incredible that one of the pillars of the traditional 700c bicycle is preparing to topple. Sorry, Luddites, disc brakes are coming to a drop bar near you. First on the 'cross course, and then on the road.
The concerns are both rhetorical and pragmatic. Is this a direction the industry should be taking? And if it is, what is the best way to go about it? What would a disc-brake-equipped road bike actually look like?
Just modulate, man
Basics first: The "my brakes are plenty powerful, I can do an nose wheelie and lock up my rear wheel" argument is complete nonsense. The issue is consistent modulation, not outright power. That's what allows for the late, hard, predictable braking that will help you corner faster and more safely.
The limiter will always be a tire's contact patch, the friction between tire and road. Even on a mountain bike with V-brakes in the rain, tire grip is the limiter. That's why absolute power is not the concern. The ideal is a brake that allows you to sit right at the edge of a tire's grip without overpowering it. This is the fundamental issue with rim brakes: Their inconsistency makes riding this fine line impossible.
It is foolish to expect good modulation from a structure oriented perpendicular to a spinning rim that uses only one small mounting bolt to attach to the frame, and functions by squishing soft rubber or cork into a flexible metal or carbon fiber surface. You may think your road brakes are great — but hop on a mountain bike with the latest XTR hydraulics and see how wrong you are.
A disc has a relatively incompressible rotor and pads, two large steel mounting bolt mounts, with tight tolerances all around. Of course rim brakes feel mushy in comparison.
The proliferation of carbon rims has been and will continue to be a major catalyst for the move to disc brakes. Slight inconsistencies in layup can cause nasty pulsation, and both clinchers and tubulars have major issues with heat buildup, as Nathan proved. Wet weather can be terrifying.
Discs have no issues with bad weather. They are eventually affected by heat, but the point of failure is well beyond that of any rim brake. And they just lightly fade, rather than explode, as carbon clinchers have done.
The argument is often made that discs are "too powerful" for road or cyclocross use; that they'll too easily overpower tire friction and lock up the wheel. There is some truth to this accusation, but only because the discs currently available are designed specifically for mountain bikes. Power can be adjusted in the development process to better match road use.
The weight issue
Disc brakes themselves are not necessarily heavier than a traditional road caliper, but hubs have to be heavier to cope with the new forces applied to them, and the rotors of course add weight. Forks and stays need to be beefed up as well. It all adds up.
However, much of that additional weight can be mitigated. Rotors can be sized down to 140mm, or even smaller if road-specific brake mount standards are developed. 120mm rotors are not beyond the realm of possibility, as Canyon proved with its Project 6.8 bike, a 6.8kg (14.9-pound) road bike with dual 120mm front discs and single 120mm rear.
Without the need for a brake track, rims can be designed lighter and stronger. Conventional brakes require that a rim simultaneously resist clamping force from a brake, spoke tension, and tire pressure — not to mention anything you hit. Take clamping force out of that equation and the design possibilities open up. Rims could be made considerably lighter, and likely more aerodynamic.
Hurdles and dreams
Research and development dollars are already being poured into road and cyclocross disc technology. SRAM will have hydraulic-ready shift/brake levers by next fall. Tim Johnson recently became the first man to win a UCI race on discs since their prohibition was overturned in 2010; he appears to have made the switch permanent, winning again on his disc-ready Cannondale prototype in the hot and dusty SoCal Cross races in early December. Plus, little birdies from all over the world are telling me that the number of disc-ready 'cross frames is set to explode for the 2012 race season.
The question is: How can the industry make the change commercially viable? It took years for discs to become ubiquitous on mountain bikes, and will likely take even longer on the road — if it ever happens at all.
Rear dropout spacing (130 or 135mm) needs to be settled, and frame mount standards may need to change to make room for smaller rotors.
Hydraulic options are needed. They are an enormous improvement over mechanical discs. SRAM is already well on their way, and Shimano should be able to throw a master cylinder inside its largely empty Di2 levers without too much difficulty.
Road frame manufacturers need to step up and add disc-compatible frames. Some smaller manufacturers are developing disc road forks, but disc-ready road frames are still scarce.
Last but certainly not least, the UCI needs to formally legalize disc brakes in road racing. Despite the fact that discs are not expressly prohibited anywhere in the rulebook, they fall victim to rule 1.3.004, which requires any innovation to be approved by the UCI before being used in competition. Yes, the rule is exceedingly vague. Yes, it's fantastically stupid. But that's the UCI for you. Road discs sit in Swiss limbo, not yet deemed legal.
Convinced yet?
Without the availability of a hydraulic road disc, this is all conjecture. There are far more hurdles to be overcome, too many for this space.
That said, with every innovation comes the inevitable "my gear is just fine" argument. Friction shifting was satisfactory, as were six-speed indexed downtube shifters. Single-pivot brakes were great in their time. Eight-speed Shimano STI was phenomenal.
We never realize what we have is inferior until its (superior) replacement becomes commonplace. Mountain bikers will never go back to rim brakes, roadies will never go back to downtube shifters. Ten years from now, perhaps we'll be wondering how anyone rode with those old dual-pivot rim brakes.
Think I'm wrong? Misguided? A little bit nuts? Let me know in the comments below, or shoot me an email. I'd love to hear from you.