Cannondale takes second USGP win as Tim Johnson soloes at Planet Bike
The national champ rides to a solo win, making it a Cannondale-Cyclocrossworld.com double in Wisconsin.
Heading out the door? Read this article on the new Outside+ app available now on iOS devices for members! Download the app.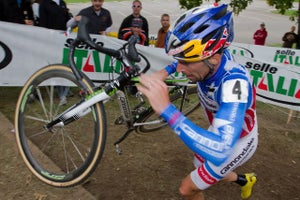 For the second day in a row, the front end of the men's elite field at the Planet Bike Cup was left collectively scratching its head Sunday after a pair of Cannondale-Cyclocrossworld.com riders each soloed away for another 1-2 team win.
On Saturday Jeremy Powers rode away from the field to win the Greenware U.S. Gran Prix of Cyclocross opener, with his teammate Tim Johnson following suit.
By the time the same scenario developed Sunday, only in reverse, with Johnson taking the win ahead of Powers, the reason behind their dominance grew clear. The twisty, technical course at the Angell Park Speedway in Sun Prairie, Wisconsin, was a definitively American-style 'cross course, and Johnson and Powers are two of the best in the world at racing that format.
Just as top European road racers are often out of their element at American criteriums, top European 'crossers such as French national champion Francis Mourey (Francaise Des Jeux) and Swiss rider Christian Huele (Champion Systems) could only watch as the Cannondale riders continually dove out of corners carrying speed unseen at World Cup cyclocross events.
With a few variations on Saturday's course, the Planet Bike Cup delivered numerous 180-degree turns around trees and through gravel and off-camber sections on the fast, dry course.
At seven laps to go the U.S. national champion quickly opened a huge gap, with Powers fighting to slow the eight- and nine-man chase group, which grew to ten riders. Johnson was the best of the day at flowing through the course's twisty lines, using every inch of grass and gravel to his advantage, nailing the run-ups and barriers and holding a steady pace lap after lap. By the time he crossed the finish line, 25 seconds ahead of Powers, Johnson had enough cushion to slap high-fives with fans lining the finishing straight.
"There are different brands of racing," Johnson said. "This kind of racing is something we deal with a lot. It's unlike anything you see in Europe. When we go over we struggle with five-minute running sections and 12-minute laps. It's more slicing and dicing over here (in the U.S.)"
At three laps to go Powers was able to get away cleanly from the chasers and move alone into second position to reverse Saturday's 1-2 finish and set up a tie in USGP series points; Johnson assumed the USGP series leader's jersey based on his more-recent win.
"I take away pride in beating the Europeans on home turf," Powers said. "I feel like there is a bit of a lack of respect when we go to Europe and struggle. There's U.S. cyclocross and there's European cyclocross. Today was definitely a legitimate race, but the difference is just in the style. And if you grow up racing this style of race, you're going to be better at it, just like if you grow up racing in the European mud, you'll be better at that.
After winning CrossVegas and last weekend's muddy Starcrossed/Rad Racing UCI double in Washington State, Mourey finished 14th on Saturday and took the bunch sprint for third ahead of a chase group of eight riders; Huele finished fourth. The French champion said Sunday's Planet Bike course was "technical, more than physical," and made passing difficult.
"I'm pretty happy to finish third considering this course doesn't suit me as well as some courses," Mourey said.
Race notes
Italian Luca Damiani (El Gato CX-Geargrinder) was awarded the SRAM Most Aggressive Rider's award for coming from a back-row start position to join the lead chase group. Damiani, who has raced the world cyclocross championships for Italy in years past and races on the road with the American Kenda continental team, finished seventh.
Saturday's SRAM Most Aggressive Rider, Tristan Schouten of Cyclocrossracing.com, improved his best-ever result against an international field of seventh by placing fifth Sunday in the bunch sprint for third.
Two-time national champion Ryan Trebon (FSA-Kona), who abandoned Saturday's race complaining of nerve issues in his left leg, trailed off the back of the front group Sunday but regained contact and finished ninth.
Brief results
1. Tim Johnson, Cannondale-Cyclocrossworld.com
2. Jeremy Powers, Cannondale-Cyclocrossworld.com
3. Francis Mourey, FdJ
4. Christian Heule, Champion System
5. Tristan Shouten, Planet Bike