Tim Johnson, Sally Innis win day 1 at the Providence Cyclo-cross Festival presented by Interbike
The national champ edges teammate Jamey Driscoll as Annis outlasts Andrea Smith.
Heading out the door? Read this article on the new Outside+ app available now on iOS devices for members! Download the app.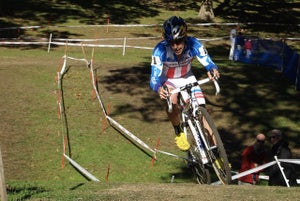 Day 1 of the Providence Cyclo-cross Festival presented by Interbike saw national champion Tim Johnson edge Cannondale-Cyclocrossworld.com teammate Jamey Driscoll at the line while Sally Annis (Cyclocrossresults.com p/b JRA Cycles) seized the day as a rival's mechanical turned the women's race into an individual pursuit.
After a fast start, Johnson shed Driscoll and Luca Damiani (Kenda p/b Geargrinder) and by the second lap he looked to be solidly on his way to yet another victory in Providence.
But Driscoll wasn't content to simply let his teammate ride away. The crowds scurried about the course as they watched the young Vermonter pull Johnson back, second by second, lap by lap.
"We were both just racing as hard as we could out there and at the end Jamey was picking it up," said Johnson. "Going into the last lap my gap was falling down a little bit faster than I was thinking."
Driscoll caught his teammate on the final lap in the technical back section. The two went to the line in a photo finish, with Johnson winning by half a wheel.
Damiani continued his strong season by holding onto third, making a show of it by bunny-hopping the barriers in front of the Harpoon beer garden and its cheering crowds.
The women's race was expected to be a pitched battle as there was no particular favorite. From the gun the race turned into a three-woman race as Annis, Meredith Miller (California Giant-Specialized) and Andrea Smith (Ladies First Racing) emerged from the first lap with a small gap.
Then Miller flatted at the top of the course, gapping Smith and giving Annis the chance she needed.
"I heard some crunch, crunch, crunchin' and then (Meredith) started running," said Annis. "I just decided that was the time to go and just tried to go as fast I could for the entire race."
Smith made a valiant effort to pull her back but was never able to shut the gap. Amy Dombroski (Luna) rode into third after a weak start, taking the final podium spot before she leaves for a spell of racing in Europe.
Quick results
Men
1. Timothy Johnson, Cannondale-Cyclocrossworld.com
2. Jamey Driscoll, Cannondale-Cyclocrossworld.com
3. Luca Damiani, Kenda p/b Geargrinder
4. Valentin Scherz, Cyfac-Champion System p/b Revolution Wheelworks
5. Nicholas Weighall, California Giant Cycling
Women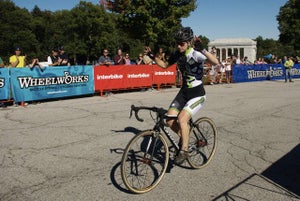 1. Sally Annis, Crossresults.com p/b JRA Cycles
2. Andrea Smith, Ladies First Racing
3. Amy Dombroski, Luna Pro Team
4. Sara Bresnick-Zocchi, Crossresults.com-Pedalpowercoaching.com
5. Ann D'Ambruoso, Ladies First Racing