'Let's not talk about seconds, make it minutes': Demi Vollering puts penalty drama behind her on Tourmalet
The SD Worx star put minutes into everybody to take the yellow jersey with one stage remaining.
Photo: AFP via Getty Images
Heading out the door? Read this article on the new Outside+ app available now on iOS devices for members! Download the app.
TOURMALET, France — Just a few days ago, Demi Vollering was worried about the 20 seconds she lost in punishment for drafting, but she had no such concerns on the Tourmalet as she put minutes into the pack.
Vollering won the queen stage of the Tour de France Femmes avec Zwift by nearly two minutes over Kasia Niewiadoma (Canyon-SRAM), with the world champion Annemiek van Vleuten (Movistar) rolling in over 30 seconds later. The victory put Vollering comfortably into yellow by 1:50 over Niewiadoma and 2:28 ahead of Van Vleuten with just the final time trial around Pau left to ride.
There wasn't just the drama about the punishment and her team manager Danny Stam was kicked off the race for dangerous driving as well as his comments to the commissaires. Of course, she would have had a more substantial lead had she not been docked those 20 seconds for drafting on stage 5, but the concerns about it having an overwhelming impact look unfounded.
"It was sometimes a bit hard, but in the end, we said in the team: ok let's not talk about seconds, make it minutes and that's what I tried to do today," Vollering said after the stage. "I tried to gain as much as possible in the time and I'm just really happy I could do it for my team.
"They kept saying to me it doesn't matter because you will make it right on the Tourmalet and I said to them that I also need to do it. It's nice that you say it, but I need to do it. It made me a little bit nervous but also it was nice that they believed in me. That gives me a lot of strength."
Also read:
Vollering went clear with just over five kilometers remaining on the Tourmalet, picking her moment as others collected some last-minute bidons. While Van Vleuten was initially able to keep her in sight, Vollering soon disappeared into the mist and the gap just ballooned.
"I was a bit nervous this morning and my team kept telling me to keep calm, and it worked out so that was very nice," Vollering said. "Not so much went through my mind. At one point, Anna [van der Breggen, team DS] said 'ok Demi, drink and make yourself ready to go' and then I felt, ok I go now because it was just the feed there and some girls had bidons in their hands. So I thought this is a good moment.
"It was so foggy there, I knew if I made a gap fast, they wouldn't see me anymore, which was also nice that they don't see you. I went full gas, never looked behind. I was surprised when Anna said now you are only two. And then I was alone and she told me to keep pushing to make the gap as big as possible, then you can go a bit more steady."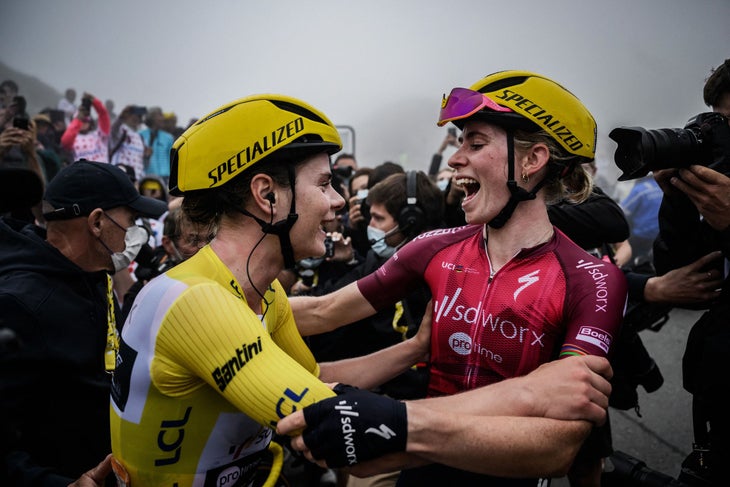 Tactical games
Vollering had made an earlier move off the front on the Col d'Aspin with Van Vleuten and Niewiadoma. Van Vleuten pushed on over the first climb of the day, and the other two latched firmly onto her wheel.
The three went over the top together but Niewiadoma built a gap on the descent, leaving the other two to figure out the chase behind. Van Vleuten and Vollering have been tipped as the top two favorites for this race since the start of the season, and many expected the tussle for yellow to only be between them. However Niewiadoma was still a very big threat, which made what followed look a little strange.
As Niewiadoma's gap grew out slowly, the Dutch duo chatted amongst themselves before sitting up and waiting for the chasing group immediately behind. The Polish rider up front soon had a 45-second lead and while it was cut to just a handful of seconds thanks to a big effort from Vollering's SD Worx teammate Marlen Reusser, it grew out again when Reusser ran out of steam and pulled off.
"In the downhill, [Van Vleuten] left a gap. Then I told her it's not up to me to ride because I also had my teammates behind," Vollering explained. "She said either we ride together, or we don't and we both lost. I said, 'ok it's fine, I'll wait for my team.' This was the conversation. Luckily my teammates came pretty fast back and Marlen started riding to close the gap a bit but in the end it became bigger again. It was not up to us to ride at that moment, because also I had Lotte behind me in this group, and I didn't want to drop her, it was up to the other girls to drop her first."
Risky as it might have been, the tactic played out next to perfectly for SD Worx with Lotte Kopecky holding on for a substantial portion of the climb. Incidentally, it was Vollering's crucial attack that distanced Kopecky, but the Belgian had been able to pace herself so far up the mountain that she kept within touching distance of the overall podium.
Vollering was comprehensively beaten by Van Vleuten in the mountains during last year's Tour de France Femmes, but she already had the momentum against her compatriot going into this year's edition. Indeed, though she didn't take the overall win, Vollering cracked Van Vleuten on the Lagos de Covadonga at the Vuelta Femenina earlier this year and in markedly similar misty conditions.
"That gave me a lot of motivation and inspiration, knowing I could do it because I could also do it there. I'm always good in bad weather, this was also on my side today and it was nice mentally," Vollering said.