'Of course I am disappointed': Annemiek van Vleuten rues demise of Tour de France Femmes dream
Defending champion steers clear of criticizing Demi Vollering after tense tactical battle on stage 7.
Heading out the door? Read this article on the new Outside+ app available now on iOS devices for members! Download the app.
It was the moment things started to unravel.
Defending Tour de France Femmes Avec Zwift champion Annemiek van Vleuten rose from the saddle, whipped the pedals around and launched a big, big attack, ratcheting up the pace with 5km left to the top of the Col d'Aspin.
She had convinced herself that she was in the right form to blitz her rivals, first softening them up and thinning them out, then applying the killer blow a little later on.
She'd done that countless times in the past and believed, in this final season of what has been a long and successful career, that she'd do so again.
Van Vleuten remained out of the saddle for a long, long time, quickly dropping many of those who had been in the same group.
But not Demi Vollering. And not Kasia Niewiadoma.
Both riders remained behind her, their faces and their riding styles a contrast to her strained appearance.
Van Vleuten continued driving onwards, face pale and shoulders rocking, but they sat and bided their time. Niewiadoma grimaced a kilometer after the initial surge, but otherwise appeared okay.
Vollering's face was a mask of concentration and focus. Then towards the summit, Niewiadoma moved to the front, looked across to Van Vleuten and appeared to maneuver her across the road.
She had a confidence about her as she did so, and also as she launched for the mountains points. The Polish Canyon-SRAM competitor let loose on the descent, gapping the other two and beginning a big push for the stage win.
Van Vleuten would not see her again until after the finish line.
Vollering too would gap the world champ, although that wouldn't occur until a little over five kilometers from the summit of the Col du Tourmalet.
And then that was it for her Tour de France hopes. She trailed in 1:34 behind Vollering at the top of the climb, and 36 seconds behind Niewiadoma. Done and dusted. Game over.
"I am of course disappointed," she said at the end of stage 7, managing a smile for the media. "I was hoping to have a better day. I didn't have my best day out there. But I was full confidence to go, that's why I went on the Aspin already. We had a good team plan, if I would have had a really good day that was the best plan to make it hard from the Aspin already.
"In the end I didn't have a good day, so I had to pay the price on the top."
The Team Movistar rider sat on her bike at the summit, pedaling away on a home trainer to ease out her muscles after a very tough stage.
She was breathing heavily while talking, the effort of turning the pedals accentuated by the high altitude.
"For me the goal to attack on the Aspin was not to drop everyone there, it was more to do a first effort," she detailed. "But maybe in the end it was not so smart. For my shape of today, it was not the best plan. But you never know that.
"I always like to race with my heart and you always need to focus on your strengths. Usually that is my capacity and my endurance, so that is why I went."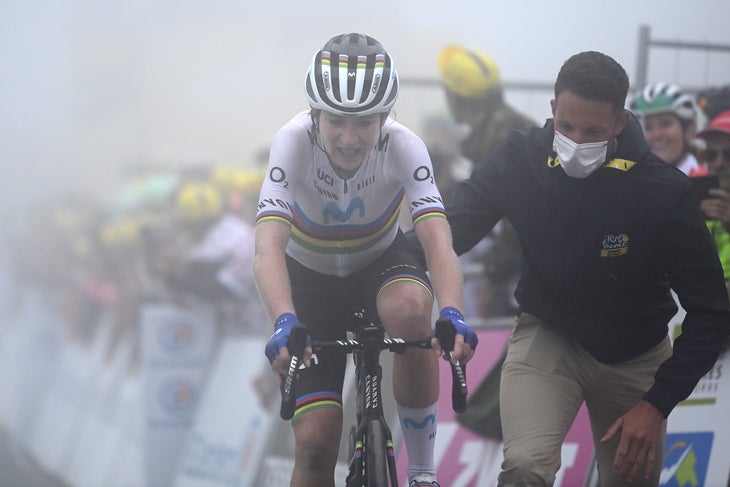 'It is obvious that Demi Vollering was on another level today'
After Niewiadoma flew the coop, Van Vleuten made an initial attempt to close. The Polish rider was descending more smoothly that the world champion, complicating the chase. Then Vollering wouldn't commit, triggering some words between the two Dutchwomen.
"She didn't want to ride," Van Vleuten would later say. "I said, 'okay, if you don't ride, I also don't ride.' She also had a point, she had two teammates behind her. So then we waited."
The group behind came up to them, bridging before the next climb kicked in, with Vollering's fellow SD Worx-Protime riders Marlen Reusser and race leader Lotte Kopecky there. Reusser moved to the front and chased hard, bringing Niewiadoma's 30-second plus advantage on the lower slopes of the Tourmalet down to just six seconds.
She then cracked, Niewiadoma moved away again and then Vollering launched. The elastic quickly snapped and, with it, Van Vleuten's chances of winning the race for a second time.
"Of course I am disappointed," she said. "But I also can accept it, because, I didn't do anything wrong. I had the best possible preparation. I am happy that I also still went for it on the Aspin. I raced like I always like to race, like go hard and focus on your strengths.
"I was believing today that I could win and that I'd be in my best possible shape. But today when I saw that my numbers were down, I didn't have a good day."
Not gapping Niewiadoma and Vollering on the Aspin must have worried her. But she said that the realization that things weren't going well really started to dawn on her on the Tourmalet.
"When I looked to the other girls, [Juliette] Labous was already setting a super high pace. I could look back the Giro and I could see that I was better [then]. So I could feel already compared to my opponents that I didn't have the best day."
After the summit Van Vleuten was very emotional. She cried on several different moments after the stage. She is in the final year of a successful pro career and while she won the Giro Donne earlier this month and also took La Vuelta Femenina in May, her big dream was to end her career as the double champion of the Tour de France Femmes.
Realizing that wouldn't happen is hard. She cried while waiting for her bike to be scanned by the UCI, hugging the team directeur sportif as the emotions welled, and she cried again when former teammate and current Eurosport commentator Iris Slappendel hugged her.
She will start Sunday's time trial 2:28 behind Vollering and 38 adrift of Niewiadoma. Can she see herself overcoming the latter gap in the TT, securing second overall?
"I will see," she said. "I am here to win the Tour de France, and if I am second or third or maybe fourth…to be honest it is super beautiful, but after winning last year you know that you only want to win.
"It is obvious that Demi Vollering was on another level today."
The two riders have had an at-times tense rivalry. That was particularly the case when Van Vleuten's Movistar team attacked on the penultimate stage of the Vuelta Femenina, hitting the jets at the same moment that Vollering was taking a toilet break.
The Team SD Worx-Protime rider lost the race lead as a result, and spoke afterwards about being 'hungry for revenge.'
She tried hard to overcome her deficit on the final stage, but was unable to do so.
Refusing to work with Van Vleuten when Niewiadoma got clear may have been connected in some ways to that, although there was indeed a tactical advantage to allowing teammates Reusser and Kopecky to rejoin.
Still, Van Vleuten wasn't going to make a controversy about the tactical standoff.
Asked by a journalist if she had 'ever had a worse breakaway companion than Demi today,' she pushed back at the suggestion.
"Ah, I think it was not so much about the cooperation there," she said. "It was not so important.
"Today was about the Aspin and the Tourmalet, and she was better."
She was better. That about sums it up.