Tour de France Femmes ticker: Kopecky defends SD Worx tactics; Longo Borghini, Balsamo abandon
Follow the latest news and headlines for the 2nd Tour de France Femmes.
Photo: AFP via Getty Images
Heading out the door? Read this article on the new Outside+ app available now on iOS devices for members! Download the app.
Lotte Kopecky defends SD Worx tactics, vows to 'ride TT of my life' in Pau
Lotte Kopecky spoke out Saturday against those that criticized her SD Worx team's tactics at the Tour de France Femmes. And she had a few words to say in response to those questioning her place on the team, too.
The Women's WorldTour dominator SD Worx was under fire through the opening stages of Le Tour.
The Dutch team was called out for not helping chase down breakaways through the middle of the week, and then found its captain Demi Vollering slammed with a 20-second time penalty for drafting behind a team car on stage 5.
"We got a lot of shit about us, sometimes not correctly, but sometimes correctly. But I'm very happy that Demi has 'put the dots on the i'. I'm glad it's not about 20 seconds," Kopecky said from atop the Tourmalet on Saturday.
Kopecky lost her maillot jaune to teammate Vollering in the summit finish Saturday, and the day before, found her chances at a sprint derailed when the breakaway stayed clear of the bunch.
The 27-year-old insisted her versatility wasn't to her detriment on a team as deep as SD Worx.
"I feel good with this team. People can say what they want. I may be tactically stuck sometimes, but I consciously choose it. I'm not the rider who wants to be the only leader. It's give and take, and I chose that," Kopecky told Sporza.
"And I'm not going to point the finger at anyone if the chase isn't started, like with that missed opportunity yesterday [Friday – stage 6, ed]. We knew this could happen. We had talked about that beforehand."
Kopecky is now fourth on GC, but just seven seconds from the podium.
However, the 22km Pau time trial Sunday offers the five-time Belgian TT champion the opportunity for a second stage-win and the potential for a third-place finish. Kopecky is also assured the final green jersey Sunday with her dominant lead in the points classification.
"The podium would be very nice, and I'm trying to ride the time trial of my life. But if it doesn't work, then it won't work," she said. "I didn't come to this Tour to finish on the podium. I won't lose my sleep, but of course, I will give the best of myself."
Elisa Longo Borghini and Elisa Balsamo abandon ahead of stage 7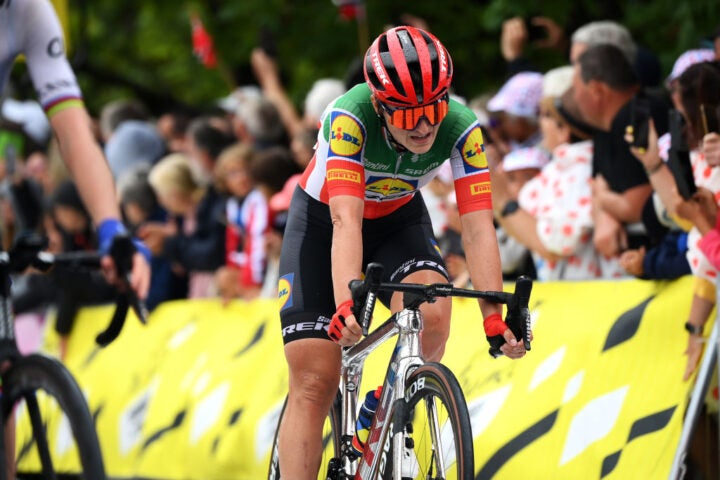 Lidl-Trek lost two of its riders Saturday morning. The team confirmed ahead of stage 7 that GC contender Elisa Longo Borghini and sprinter Elisa Balsamo would be leaving the race ahead of time.
Lidl-Trek issued the following statement Saturday morning:
"Elisa Balsamo won't start stage 7 due to fatigue. She was making her return to racing at TDFF after her crash at RideLondon Classique and so it's been decided to miss the last two stages with an eye on preparing for the world championships in Glasgow
"Unfortunately Elisa Longo Borghini has also had to withdraw from the Tour de France Femmes ahead of today's Col du Tourmalet stage, one which she was looking forward to. The Italian champion has a skin infection at the top of the left thigh, which required hospital treatment after stage 6 but is now under control. However, she is still in a considerable amount of pain and in the interest of her long-term health, the decision was made that she will not race any further."
While sprinter Balsamo's retirement was planned, the exit of Longo Borghini makes for a tough blow for the team.
Longo Borghini was at the top of the GC pack and poised to take on Demi Vollering and Annemiek van Vleuten in the crucial climbing stage Saturday. She also had to abandon the Giro d'Italia Donne last month after a horror crash.
🚨 Unfortunately @ElisaLongoB has also had to withdraw from the @LeTourFemmes ahead of today's Col du Tourmalet stage, one which she was looking forward to. The Italian champion has a skin infection at the top of the left thigh, which required hospital treatment after #TDFF2023… pic.twitter.com/EpNXnimiZp

— Lidl-Trek (@LidlTrek) July 29, 2023
Lotte Kopecky, Charlotte Kool cautioned for 'improper behavior'
Lotte Kopecky and Charlotte Kool were cautioned by the race jury after stage 6 of the Tour de France Femmes.
The post-race communique cited the two fast-finishers for "improper behavior that could cause danger." Speculation is that the punishment was dished out for when the two went shouler-to-shoulder around 4km from the finish of Friday's stage into Blagnac.
The two will not receive time penalties but could be subject to harsher punishment for any further offenses in the final two stages.
Lotta Henttala and DS Servais Knaven disqualified
Finnish rider Lotta Henttala and her AG Insurance-Soudal Quick-Step sport director Servais Knaven have been disqualified from the Tour de France Femmes avec Zwift during stage 6.
The team confirmed the news Friday afternoon but did not detail the reason behind the disqualification. Several television channels reported that it was due to Henttala holding onto the car, though this has not officially been confirmed.
Knaven is the second sport director to be disqualified from the race after SD Worx DS Danny Stam was kicked off the race prior to stage 6 as a result of an incident that had happened the previous day.
Following an incident during today's stage Lotta Henttala has been disqualified from @letourfemmes. Our DS Servais Knaven has also been disqualified.

— AG Insurance – Soudal Quick-Step Cycling Team (@agi_sou_qst) July 28, 2023
SD Worx boss Danny Stam booted from race, fined 500 Swiss francs
SD Worx sport director Danny Stam was booted from the race Friday.
The UCI acted against the Dutchman after he helped pace Demi Vollering back to the bunch on Thursday's 5th stage.
"The Commissaires' Panel's communiqué indicates that, after careful and lengthy review of the available TV footage, which clearly shows the particularly dangerous nature of Mr Stam's overtaking of other cars and riders during stage 5 of the event, and in view of the inappropriate comments made by Mr Stam to the UCI Commissaires' Panel, the Panel has imposed the following penalties on the Sport Director, based on articles 2.12.007/4.7 (last paragraph) and 2.12.007/8.2.2 (last paragraph) of the UCI Regulations: a fine of 500 Swiss francs and exclusion from the event," read a UCI statement Friday.
Vollering had dropped out of the bunch to receive a fresh wheel following a puncture Thursday. Once back on the bike, she slotted behind her team vehicle — which was being driven by Stam — and entered into the convoy of team vehicles on the left.
A motorbike commissaire could be seen waving Stam off to the right of the road from behind the car. Once Vollering had passed the vehicle, the commissaire then drove up alongside the car and remonstrated with Stam through the closed window.
Vollering was also slapped with a 20-second time penalty for her part in the action.
SD Worx will now be counting on Anna van der Breggen for sole direction through the crucial final phase of the race.
The team responded to Stam's sanction with its own statement Friday.
"We are surprised that the UCI imposes this penalty, but accept this measure. Perhaps in the first moment we reacted a little too emotionally to Demi Vollering's time penalty. Too bad this happened. With Anna van der Breggen as first sport director, we will continue the race and go back to focusing fully on the race itself as soon as possible. Our mission remains the same and that is to win the Tour de France Femmes. Everyone is more than 100 percent motivated to go for that in the coming days.
Lotte Kopecky blasts jury decision to penalize Demi Vollering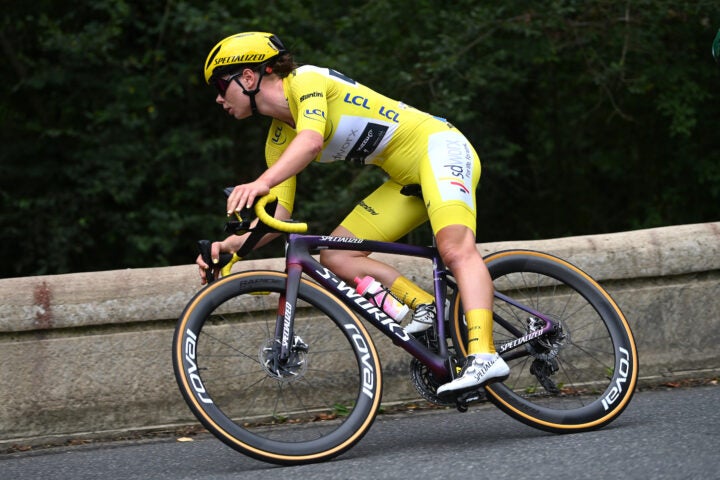 Lotte Kopecky wasn't impressed that her SD Worx teammate Demi Vollering was sanctioned on stage 5.
Voellering was docked 20 seconds by race jurors Thursday after she was spotted drafting behind a team car following an untimely puncture.
"This was not the best day for the team. Losing Lorena [Wiebes] was not the best way to start the day. And then Demi loses twenty seconds – that's a bit of bullshit, I think," Kopecky said after the stage.
"If you're dropped, then it is normal that no one is allowed to bring you back. But when you have equipment breakdowns, things like that [i.e., drafing] happens all the time. It's just stupid that she now loses twenty seconds."
SD Worx directors Danny Stam and fellow sport director Anna van der Breggen went to see the UCI jury and appeal the decision after the stage, but it was rejected.
"I think it's a ridiculous punishment for something that is not in her eyes and our eyes fair. If you look to the men's Tour de France you see this happen daily and it can be a decision who wins the Tour de France. I hope that the UCI looks in the mirror on Sunday and it's the right winner and if it was in a fair way," Stam said.
Vollering is now 12 seconds down on main rival Annemiek van Vleuten ahead of the Tour's blockbuster finale. Saturday's race to the top of the Tourmalet and Sunday's Pau time trial will determine who wins the Tour de France Femmes' second-ever yellow jersey.
Tense moments as group delayed by train, makes time cut by seconds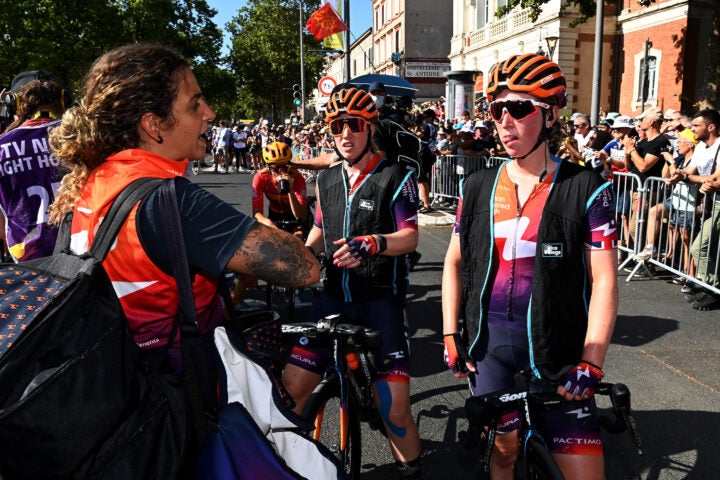 Nine riders faced a very stressful day at Le Tour de France Femmes, racing to make the time cut of 12%, being delayed by a train, missing the initial cut of 22 minutes 29 seconds after the stage winner and finally getting the green light to continue in the race by a mere 17 seconds.
The nine—former British national champion Alice Barnes, Marjolein Van 'T Geloof (both Human Powered Health), Babette van der Wolf (Lifeplus Wahoo), Jeanne Korevaar (Liv Racing TeqFind), India Grangier (Team Coop – Hitec Products), Marie-Morgane Le Deunff (Arkéa Pro Cycling), Anastasiya Kolesava (Arkéa Pro Cycling Team), Lotta Henttala (AG Insurance – Soudal QuickStep) and Maria Giulia Confalonieri (Uno-X Pro Cycling Team)—worked together to try to get to the finish in time, battling all the way.
They faced very tense moments when the train delayed them, but ultimately had that taken into account by the commissaires.
We had to stop for the train with 2km to go. They took the time of that we stopped and we had to sprint to the line. They did not pity us.

— Marjolein van't Geloof (@MGeloof) July 27, 2023
"Those arriving in a time of 3H31'42" or 1'53 beyond the deadline are fished out [allowed continue] by the jury of commissaires because they were stopped 2:10 at the level crossing, according to article 2.06.032 paragraph 2."
They will line out at the start of Friday's stage, hoping for a much more straightforward day.
Lorena Wiebes out with illness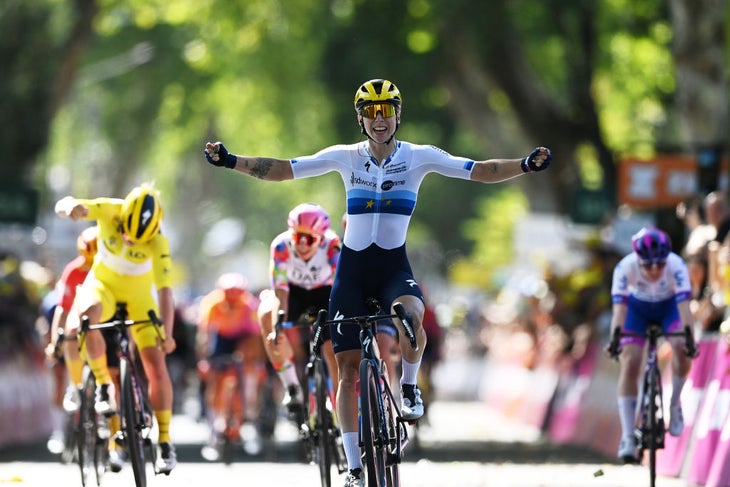 Stage 3 winner Lorena Wiebes has pulled out of the Tour de France Femmes avec Zwift with illness.
The Dutch rider didn't start stage 5 with her team citing a stomach illness as the reason behind the decision.
Lorena Wiebes is leaving @LeTourFemmes after illness. She's suffering from stomach issues & consequently can't start in Onet-Le-Château. "Of course this is a sportive loss for Team SD Worx, 'cause there were still sprint opportunities. But health always prevails," says Danny Stam pic.twitter.com/gqM1vh9AN6

— Team SD Worx (@teamsdworx) July 27, 2023
Kopecky in favor of longer stages in women's cycling, says green jersey ambitions remain unclear
Ongoing Tour de France Femmes Avec Zwift leader Lotte Kopecky has reacted to the 177.1-kilometer distance of Wednesday's stage 4 of the race, giving a thumbs up to what was a long day in the saddle.
"I don't mind that. I like to have long races like this," the SD Worx-ProTime rider said in the post-race press conference. "You can just see that we race a bit different when it is so long. The break also got a very big, big advantage at one point.
"I don't mind having long races like this. I think it's okay to have it in the stage race. I mean, it doesn't need to be every race because it's okay to have it for once."
The stage was the longest of this year's Tour de France Femmes and longer than all bar one of last year's edition.
Kopecky went on the attack on several occasions during the stage. She clarified that it was not an attempt to win a stage that ultimately was won from the day's break by the Dutchwoman Yara Kastelijn, but rather to try to help her teammate Demi Vollering. The plan was to go up the road and for Vollering to come across to her, with the two then driving hard towards the line.
Vollering was ultimately unable to shake off defending champion Annemiek van Vleuten (Movistar Team) but did gain time on her in the finish, opening a two second gap on the uphill drag to the line and taking an additional six second bonus for second place.
Kopecky goes into Thursday's mainly flat fifth stage with a 43 second advantage over Vollering. She is also leading the green jersey classification, having 128 points to the 100 amassed by teammate Lorena Wiebes.
She picked up three more points on the stage but again said that the green jersey is not a clear target for her.
"It is only three points and the next two stages are sprint stages," she explained. "If you look at the points then the winner of the sprint gains a lot of points.
"Again, day by day I will see. I think we will speak within the team what we are going to do with it."
Vittoria Guazzini on return to action after broken pelvis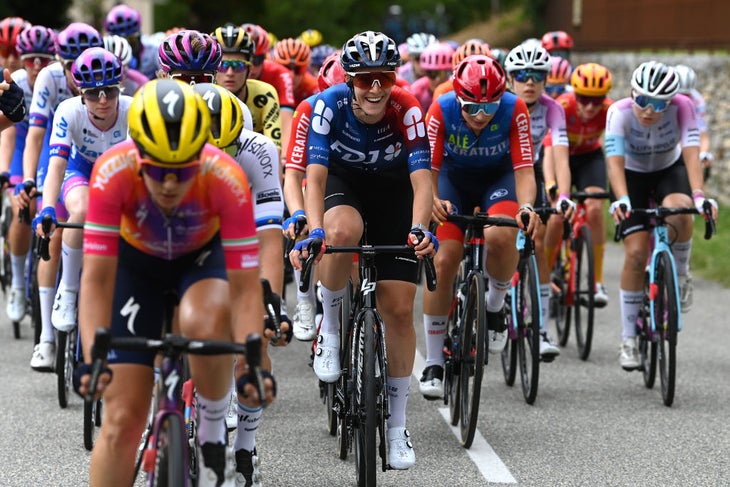 Vittoria Guazzini's road to the Tour de France Femmes avec Zwift has been a tough one.
For the Italian, who was one of the star domestiques at last year's race, the Tour is just her second event since she fractured her pelvis in April. Though she has completely recovered from the injury, the time out means she's far from the level we saw in 2022.
"It's nice to be back here. If I think about three months ago, I didn't think I would be here. I can't say I've been enjoying the racing, but yesterday was another day. I'm not in my best shape but I'm just trying to trust my body and hopefully find good feelings as the race goes on," she told Velo.
"It's quite good for the pelvis and also the knee, after the crash I had problems with the knee, and I couldn't bend my leg. It's been a tough period, there's been a lot of physio, but now I'm here and I just have normal pain in the legs from fatigue."
Guazzini fractured her pelvis in a crash while doing a recon of the Paris-Roubaix route after hitting an unsighted traffic island. It continued her fractured relationship with the race after she injured her knee in a crash on Mons-en-Pévèle in the first edition in 2021.
"I was just glad to make it through Mons-en-Pévèle but then after you never know what happens. I just want to forget about what happened and just focus on the last part of the season," she said. "It hasn't been easy but the whole team around me they trust me, they decided to bring me here and I just want to repay their trust. I hope that I can be really useful for the team.
"I'm used to coming back after injuries. The team trusts me, and I just did what I could to be here. I'm not thinking about numbers and power, because if I look at that I'm not satisfied because I just want to push as much as I can."
Had this been a normal year, Guazzini would have been a big favorite for the final time trial Sunday. She won the U23 world title in the TT last year and almost made it to the elite podium.
She's not written the stage off, but she has a lot of road to get through so that she can ride it.
"I remember when the course of the Tour came out, I was on holiday in Santo Domingo and I was already thinking about the time trial. Now, everything has changed a bit. First, I have to finish this stage and then I have to go on top of the Tourmalet and after that maybe I will think about the time trial," Guazzini said.
Marianne Vos on close call: 'Happy to contest it'
Marianne Vos always wants to win, and the Jumbo-Visma star was second in Tuesday's bunch kick.
"Yeah. It was not easy being there today. So I'm happy to at least contest it. Happy with the work. I mean the girls did a great job all day, being there attentive for breaks and still be there for the leadout in the final," Vos said. "Then of course you want to give your all. But Lorena was fastest today, and then it is something you can be satisfied with at least to try."
Vos, who won two stages last year and wore yellow for five days, said she's satisfied with how the second edition is unfolding so far.
"You only have look around and see how big it is and feel the atmosphere. It is beautiful to be part of the Tour de France, and it is amazing how the world has embraced it, actually," she said. "Every day you suffer but it is also great to be part of it."
Lotte Kopecky: 'I sprinted on flat tire'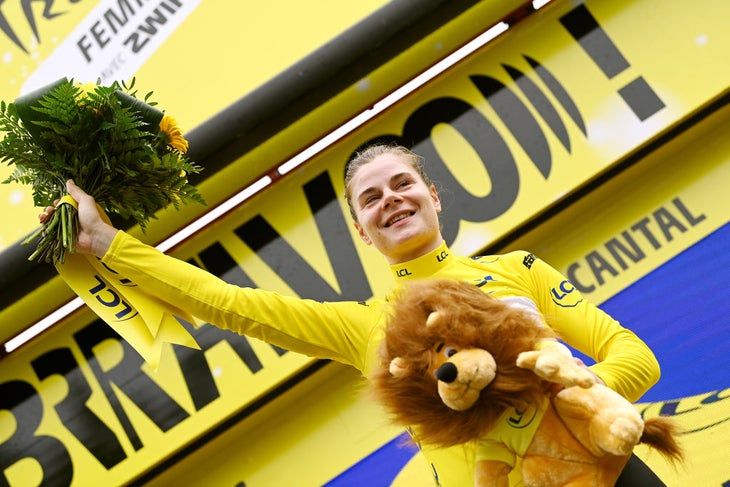 Lotte Kopecky kept her yellow jersey, but a late-race puncture might have cost her the stage win Monday.
Liane Lippert (Movistar) muscled to victory, with Kopecky crossing the line second. She later found out why.
"It was a nervous finale with the rain. And I felt there was something wrong with my bike. Demi [Vollering] started the lead out, I started my sprint, and I didn't feel much grip on my back wheel," Kopecky said. "I didn't know what it was. I sprinted to the line and then I saw I had a flat tire.
"But this finish was also very good for Liane Lippert and I think she deserves this win. I'm disappointed because I didn't finish it off after the work of my teammates but we should be really happy no one crashed and we're in a very good position in GC. Tomorrow is not as hard as today. The finale is also more flat. It really suits Lorena [Wiebes]."
Van Agt crashes out
Eva Van Agt (Jumbo-Visma) crashed out Monday after falling out of a late-stage breakaway attempt in stage 2.
Van Agt crashed hard into the guardrail barrier. Her team leaders and medical staff immediately approached the Dutch rider, and she was later taken to a local hospital.
"Luckily, we could attend to Eva quickly. She was conscious. Eva was taken to hospital by ambulance, accompanied by our team doctor and a team leader. She will be examined further there," said coach Carmen Small.
🇫🇷 #TDFF2023

💬 "Eva was taken to hospital by ambulance, accompanied by our team doctor and a team leader. She will be examined further there." – Race coach Carmen Small

Read more in our report. ✍️ ⤵️

— Team Jumbo-Visma Women (@JumboVismaWomen) July 24, 2023
Benito crashes out after less than 30km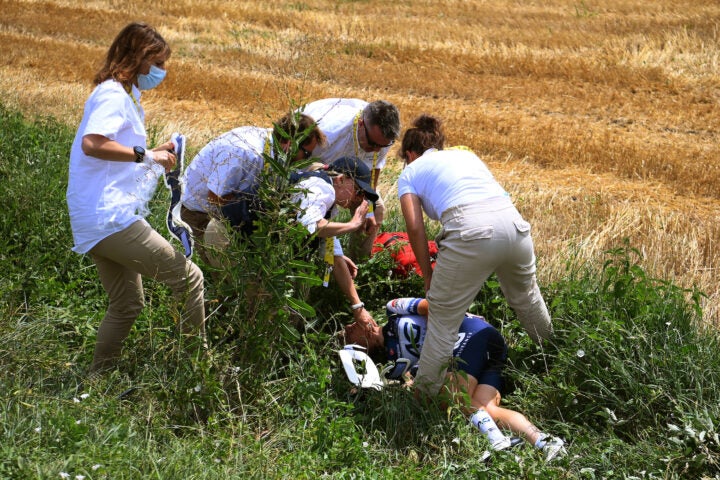 Spanish rider Mireia Benito escaped serious injury after what looked like a very serious fall soon after the start of the Tour de France Femmes Avec Zwift on Sunday.
The AG Insurance Soudal Quick-Step competitor fell less than 30km after the start, her bike suddenly drifting to the right, off the tarmac, and down a ditch.
TV images were very concerning, with Benito lying on the ground twitching and initially appearing to viewers to be unconscious. She was swiftly attended to by the race's medical staff, who carefully removed her helmet and applied a neck brace.
She was stretchered off and brought to hospital for assessment. Fortunately the news was relatively positive, with AG Insurance Soudal Quick-Step squad ruling out any fractures.
Her team later suggested that she may have hit a pothole while taking a drink.
Update on @mireiabenito: Mireia was brought to hospital after her crash today. Scans and further examination revealed a concussion, but no other serious injuries. She is in the care of the team now and will travel home for further recovery soon.

We wish her a speedy recovery! pic.twitter.com/AGHvhRzbW1

— AG Insurance – Soudal Quick-Step Cycling Team (@agi_sou_qst) July 23, 2023
Bus impact puts Megan Armitage out of Tour de France Femmes avec Zwift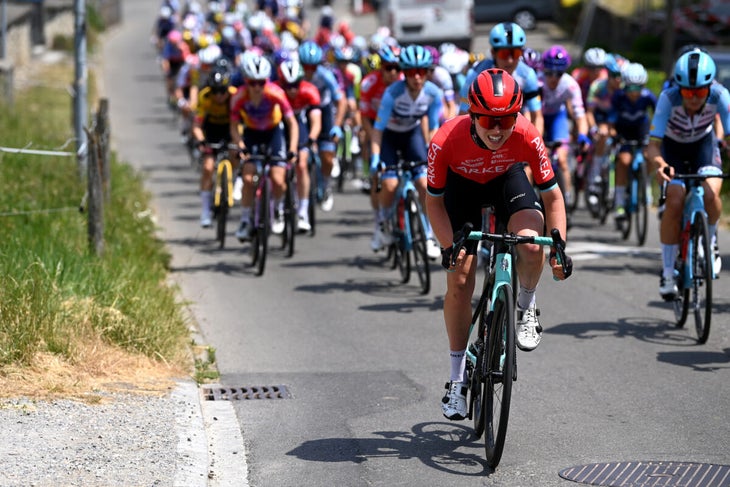 The Tour de France Femmes avec Zwift was set to be a historic debut for Megan Armitage, representing the first Irish participation in the race, but instead the Arkéa Pro Team rider is counting her blessings after a serious accident this week.
Although she will miss the race, Armitage has avoided major injury after being hit head-on by a bus while training on Thursday.
She revealed what happened in a social media post the following day, posting a photo which showed the top and down tubes of her team bike cracked and splintered by the impact.
"It's just really disappointing," she told Velo this weekend. "I still sort of think I'm racing, I was so prepared for it. I'm completely okay so I'm very lucky.
"I have nothing broken, just some cuts and bruised and stitches, but I'm completely grand [okay]. I asked them [the hospital in France] to do a concussion test but they didn't do one. They didn't really understand what I was asking. My head smashed through the windscreen so they said that I have a 'probable' concussion and said I can't race for 15 days."
Armitage has been one of the strongest competitors this year with her team, winning the final stage and the overall classification in the Vuelta Extremadura Féminas in Spain, netting fourth in the Grand Prix Féminin de Chambéry and taking a number of other fine results. Her squad had highlighted her climbing skills in its team announcement, saying the Tourmalet stage would be 'a good test for her in order to benchmark herself against the best climbers in the world.'
Missing that chance is of great frustration to her, even if she understands why it would be too risky to compete.
"I still wanted to race so was trying to get a second opinion yesterday before my flight," she said. "But the team doctor said I can't race as it's too dangerous. I did hit my head so I completely understand their reasoning. I just wanted to be on the start line so badly."
Armitage's place on the lineup has been filled by the Canadian Clara Emond.
The Irishwoman is scheduled to compete on the Irish team for the world road championships and will hope for a quick recovery.