Andreas Klöden: Tour de France enigma hanging in there
SUPER-BESSE, France (VN) ─ Andreas Klöden is RadioShack's last man standing.
Heading out the door? Read this article on the new Outside+ app available now on iOS devices for members! Download the app.
Old unanswered questions shadow Shack's lone contender
SUPER-BESSE, France (VN) ─ Andreas Klöden is RadioShack's last man standing.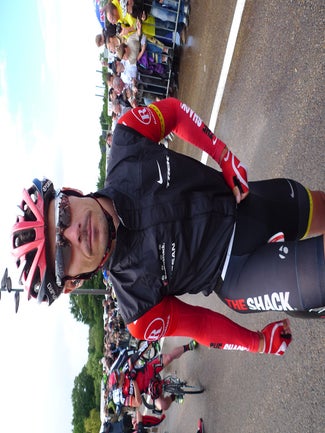 RadioShack came to the Tour de France with four options for the overall classification, but after a frenetic, crash-filled week of racing, only the 36-year-old reclusive German remains in position to make a legitimate run for the GC.
RadioShack came with "four Musketeers" ─ four riders who could mix it up in the mountains against Alberto Contador and Andy Schleck – but a ravaging series of crashes have left the U.S.-registered team in tatters even before the Tour's first major climbing stages. Jani Brajkovic, the young Slovenian who won last year's Dauphiné, crashed out in stage 3 and is now looking ahead to the Vuelta a España. Levi Leipheimer, third in 2007, has hit the deck three days in a row and slipped to 50th at 4:29 back overall after the dust settled Friday. Chris Horner, hot off victory at the Tour of California, fell hard in Friday's nerve-racking stage and lost more than 12 minutes and did not start Saturday's eighth stage.
Only Klöden ─ fourth at 10 seconds back after Saturday's battle at Super-Besse ─ remains with any realistic possibilities of reaching the podium in Paris.
"Klodi is riding really strong. He is really good at this first-week stuff. He hasn't crashed yet so far ─ knock wood," Leipheimer told VeloNews. "That's the advantage of having four guys ─ we've come out with one."
Klöden is one of this year's Tour's "runner-up club" (riders who've finished second in the Tour two times ─ others include Cadel Evans and Andy Schleck) and could be a dark horse for the podium, perhaps even more.
With all eyes on a Schleck-Contador-Evans showdown, especially with the elimination of such GC challengers as Bradley Wiggins (Sky) and Horner and Leipheimer, Klöden could float just off the radar screen of the other top teams and pop a surprise in the final time trial in Grenoble.
Klöden, however, remains elusive in his goals and in his statements to the media. In fact, Klöden refuses outright to speak to German journalists. So it was somewhat of a surprise when Klöden agreed to answer a few questions from VeloNews before the start of Friday's crash-filled stage.
"This year I come to the Tour without pressure. I am trying to stay out of trouble and then we will see how things are once we are in the mountains," Klöden said after signing in at Le Mans. "I have high ambitions for this Tour, but you cannot aim for more until you are safely into the mountains."
Leipheimer admitted that Klöden is RadioShack's de facto leader and lauded him on his ability to avoid trouble in the tense opening stages. Klöden, who safely negotiated Saturday's stage to Super-Besse, says his experience and steady hand helps him avoid the pile-ups that can derail the best-laid plans of unlucky GC contenders.
"The first week of the Tour is more dangerous than the Alps," Klöden said. "So far, I have had no problems. I've been staying out of trouble. I know the sprinters are pissed at us GC riders for trying to be at the front, but if you are not there, you can lose time. You need to really pay attention with these crosswinds and rain."
Man in the shadows
Despite his impressive palmares during a decade-long career, Klöden is reluctant to talk journalists. After VeloNews spoke with him before the start of Friday's stage, two German journalists swooped in to ask what he said, one adding, "he won't speak to us." The other said, "we haven't spoken to him in years."
Klöden has turned his back on the German media, in large part because he refuses to address doping allegations leveled against him by his connection to the scandal-plagued Telekom team and other allegations of blood doping. In a scathing report of alleged organized doping activities at Telekom as part of what was dubbed as the "Freiburg report" released in 2008, Klöden was singled out by ex-teammate Patrik Sinkewitz as receiving blood transfusions.
Klöden has never publicly commented on the allegations and refuses to address questions on the subject, but the German media has been ruthless in its pursuit of cycling's doping past. Being the right-hand man to Jan Ullrich, the fallen star of German cycling, hasn't helped either. So when a German reporter approaches, Klöden clams up and moves away.
"German media started looking at cycling and doping very close, and Andreas got very annoyed at that," said Michael Ostermann, an editor at RoadBIKE magazine in Germany. "He not just not talking to German reporters, he's avoiding us. Andreas blames the German media on the downfall of German cycling. He's very defensive. He's never commented publicly on the doping issue."
Someone who knows Klöden well is Rolf Aldag, the energetic sport director at HTC-Highroad. The pair rode together at Telekom during the team's controversial heyday in the 1990s and early 2000s. Unlike Klöden, Aldag publicly admitted he took doping products during his racing career. Aldag has since become one of the peloton's strongest advocates of clean racing and helped turn around the Telekom team as it morphed into new ownership with Bob Stapleton and the current HTC-Highroad platform.
"He's the guy that no one can figure out," Aldag told VeloNews. "He doesn't like to speak in public. He avoids most of interviews. He still has hurt feelings. He doesn't feel like he was treated fairly and he has good reason for that. That's why he says I am not entering a big fight with journalists, he knows he will lose that fight, but he doesn't worry about that. He's over that and he just races his bike. He doesn't want to be famous, or to be on the front page. He just wants to win a bike race. He brings it down to the basics."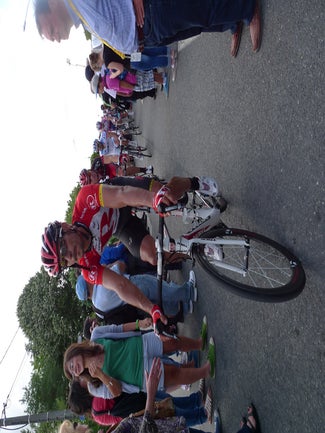 In with a shot
Despite the controversy, Klöden has been able to push through and remain at a high competitive level. He's largely off the media radar screen and has been able to race without having to face up to any tough questions about his past. That's thanks in large part from strong support from Johan Bruyneel, who looked past the doping allegations and backed him when he slotted in as manager of Astana in 2008. Bruyneel brought Klöden with him to create the RadioShack team in 2010.
RadioShack will now have to lean on Klöden to carry the team's GC interests forward following its disastrous first week. RadioShack spokesman Philippe Maertens confirmed the obvious Saturday morning: Klöden is the team's lone GC captain for the 2011 Tour.
"We started with four GC captains, now we have one," Maertens said. "We've lost three of our four captains. Klöden is going well at the moment, so of course we are going to ride for him. We will now ride 100 percent to protect him."
Klöden has twice finished second in the Tour – in 2004 behind Lance Armstrong and 2006 behind Oscar Pereiro. A steady climber, Klöden can hang close to the mountain goats and take it back in the time trials. That's the theory, at least.
"We know that Alberto will have to attack, because he needs to take back time on Andy," Klöden said. "Those two guys are very strong. I won't try to go with Alberto if he is riding as strong as he was in the Giro. I have no chance to follow him. I have to make my own race. I will try to ride at my own pace and ride with guys like Vandenbroucke or Evans."
Klöden could well be this year's outsider. He's had his most successful spring ever, winning the overall at the Tour of the Basque Country, time trial stages at the Giro del Trentino and Criterium International as well as second and a road stage at Paris-Nice.
Aldag said riders like Contador and Schleck will need to shed Klöden before heading into the final TT at Grenoble, or they could be in for a rude surprise.
"Klöden is not super-super explosive, but he's also a guy who can really time trial," Aldag said. "That's also an advantage for him. He can say, 'I don't have to attack you, but if you don't drop me guys, I can show you something in Grenoble.'"
For right now, Klöden is happy to be racing his bike and avoiding the sensitive questions. "I love the Tour," Klöden said. "It's the hardest race, it's the best race. It's the race I prepare for all the year."
That might suddenly change if he's catapulted back into the spotlight if he captures the yellow jersey. Those old unanswered questions are sure to be asked. German journalists have already said they will be in the front row if Klöden takes yellow or wins a stage.
Maybe second place might not be such a bad spot in this Tour after all.