Cobblestoned: The overall standings at the Tour de France shuffled after rumble over pavé
The pavé created some fractures in the GC. What was surprising were the names of those who were caught out.
Heading out the door? Read this article on the new Outside+ app available now on iOS devices for members! Download the app.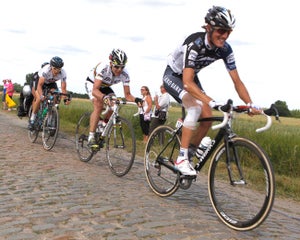 As expected, the seven sectors of pavé in Tuesday's highly anticipated third stage created some fractures in the GC. What was surprising were the names of those who were caught out.
The biggest winners were Andy Schleck and Cadel Evans, who finished in the winning, six-man group, while some riders with bad luck included Lance Armstrong, who suffered an ill-timed puncture with 16km left to go that foiled his chances, and Frank Schleck, whose crash created havoc with 27km to go.
Here are some reactions from some of the major players in Tuesday's action:
Cadel Evans (BMC): Third on the stage, moving from 19th in the overall standings (G.C) to third at 0:39.
The world champion was one of the big winners, avoiding the Schleck crash and riding the vapors of the Cancellara/Hushovd train. Third in the stage, the man inside the rainbow jersey seems to finally have luck on his side – so far.
"As a GC rider, I just wanted to get through it without losing any time. That's all I wanted. It's easier said than done. I knew that Cancellara and Hushovd weren't going to let me go anywhere, and they're built for the cobbles. I am not bad on the cobbles, but I am not built for them. There wasn't any chance for big heroics, not for a guy who goes uphill, anyway."
Andy Schleck (Saxo Bank): Fifth on the stage, moving from 85th on G.C. to sixth at 1:09.
Time losses in stage 3 by the GC favorites
Cadel Evans (BMC), 00:00
Andy Schleck (Saxo Bank), 00:00
Bradley Wiggins (Team Sky), 00:53
Alexander Vinokourov (Astana), 00:53
Dennis Menchov (Rabobank), 00:53
Alberto Contador (Astana), 01:13
Roman Kreuziger (Liquigas), 01:46
Lance Armstrong (RadioShack), 02:08
Chris Horner (RadioShack), 02:25
Ivan Basso (Liquigas), 02:25
Carlos Sastre (Cérvelo TestTeam), 02:25
Levi Leipheimer (RadioShack), 02:25
Andreas Kloden (RadioShack), 02:25
One of the biggest winners on the day, and also one of the biggest losers. The younger of the Schleck brothers was phenomenal on the cobblestones and bounced back from a horrific crash in Monday's stage. The downside is that older brother Frank is out with a broken clavicle. He'll miss his brother in more ways than one; more than just a teammate who could provide a second option for Saxo Bank and help in the mountains, Frank is Andy's confidante, friend and partner in battle.
"It was a bad day because I lost Frank. I am content that it sounds like he's only broken his clavicle. I had a few bad days to start this Tour, bad in the prologue and then I crashed twice yesterday. The first bike I lost into a ravine, then I took the bike of Breschel, that was too big and then I crashed 300 meters later. Today I didn't crash or get a puncture. I stayed on the wheel of Cancellara. We gained back some time today. We're content, but sad to see Frank go home."
Lance Armstrong (RadioShack): Finished 32nd on the stage, 2:08 back and dropping from fourth on G.C. to 18th, now at 2:30.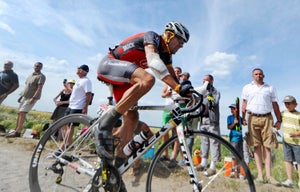 The seven-time Tour champ saw his chances for an eighth crown deflate when he punctured his front tire with 16km to go. He lost contact with his group and chased in vain with the help of RadioShack teammate Yaroslav Popovych, but ceded time on a day when he hoped to blow apart the race.
"Our chances took a knock today. It's very frustrating. I'm not going to make any excuses; I got the flat at the wrong moment. It's very difficult to come back in a moment like that. It's dog-eat-dog out there. That's just the nature of the sport. Some days you're the hammer, some days you're the nail. Today I was the nail, but there were plenty of days that I was the hammer. There was a crash with Schleck and that split up the bunch. I was in good position in a chase group, and I got that front flat. A 45-second wheel change didn't help – they were gone. Bad luck was with me today. I have to accept that and try to do my best in the next two weeks."
Fabian Cancellara (Saxo Bank): Sixth on the stage, regaining the yellow jersey, moving from second back into first place.
Cancellara roared back into yellow a day after letting it ride away with Chavanel by insisting that the pack wait for crashing riders in Monday's controversial stage. The two-time Paris-Roubaix winner didn't disappoint, and rolled out the red carpet for Andy Schleck. Secure with yellow, he did not contest Hushovd (who was very upset by Monday's call to brake the pack) for the stage victory.
"I am happy to be back in yellow, because it was a difficult decision yesterday to let the jersey go away when we stopped the peloton. It was the right thing to do. A lot of riders came up to me today and said thank you for what you did. Today we lost Frank, but we made a big move with Andy. These opening stages have been very nervous. I hope tomorrow is a little more relaxed."
Denis Menchov (Rabobank): Finished 11th on the stage at 0:53 and moving from 54th on G.C. to 19th, now at 1:49.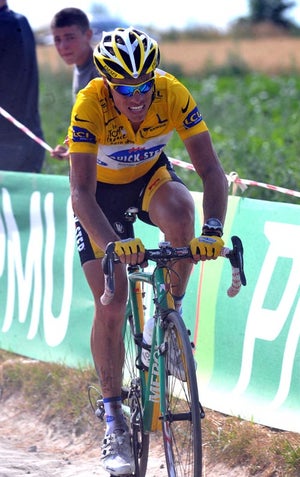 The Giro-Vuelta winner snuck into the first chase group featuring some good company, like Contador, Wiggins and Van den Broeck.
"I am very happy about today. I had a good feeling before the start of the stage, I don't know why, but I did. I didn't crash or have any major problems. I told myself, 'just ride, just race my bike.'"
Sylvain Chavanel (QuickStep): Finished the stage in 95th place at 3:58 and dropped from first to fifth at 1:01.
The Frenchman fell back to earth when he suffered two punctures in the final 15km. Just a day after claiming both the yellow and green jerseys, he gave them up 24 hours later. Perhaps in a weird twist of poetic justice, Chavanel won Monday's controversial stage by 3:58 — when the pack agreed to stop attacking behind him, a decision which allowed him to win the stage uncontested — the exact amount of time he forfeited today.
Carlos Sastre (Cervélo TestTeam): Finished the stage in 54th at 2:25 and moved up slightly on G.C. from 51st to 48th and is now 3:19 back.
The 2008 Tour champ avoided crashes so far in the 2010 Tour, until the final kilometers of the stage. He was tucked in nicely with the Contador group when he went down. Luckily, he was not seriously injured and was able to finish with the Leipheimer group.
"I was up in front the whole time until the penultimate stretch where a rider fell in front of me in one of the few bends in the cobblestoned area and I just couldn't dodge him. I had pretty bad luck as both my wheels broke but luckily my teammate Lancaster was with me and lent me his wheels so that I could get back into it. In that stretch, a large group that had been riding behind caught up with me, and I reached the finish line with them, losing as little time as possible."