Crashes KO Brajkovic; Contador, Leipheimer, Gesink all hit deck
CAP FREHEL, France (VN) - The official medical communique of Wednesday's sixth stage at the Tour de France only lists eight names, but the pain and suffering went much deeper than that.
Heading out the door? Read this article on the new Outside+ app available now on iOS devices for members! Download the app.
CAP FREHEL, France (VN) – The official medical communique of Wednesday's sixth stage at the Tour de France only lists eight names, but the pain and suffering went much deeper than that.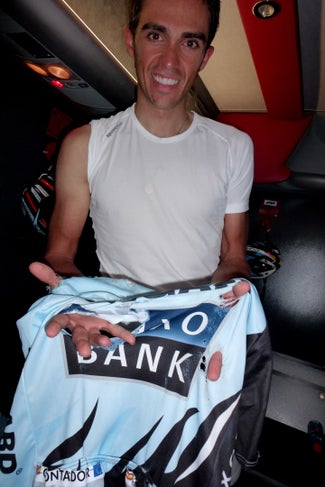 Scores of riders hit the deck in a tense, nervous, windy and high-speed run across the green hills of Brittany. Alberto Contador (Saxo Bank-Sungard) crashed twice while Levi Leipheimer (RadioShack) and Robert Gesink (Rabobank) also crashed, but at least they were able to finish the race. One of RadioShack's "four musketeers," Janez Brajkovic, was sent packing to a French hospital with stitches to the head.
The team later announced that Brajkovic had a concussion and a broken collarbone.
"I don't remember anything of the crash," Brajkovic said. "I remember the moment I was about to crash and then the next thing I remember was our team doctor asking me if I thought I could continue. But I wasn't aware of where I was and which race I was in. Nothing.  So it was clear that I had to go to the hospital."
The team lost one of its four potential GC leaders, RadioShack manager Johan Bruyneel told VeloNews. "It's bad for us, but on the other hand, if you start with one leader and he's out, you have nothing left," he said. "It's the danger of the first week of the Tour. It's always like this. There are 198 riders and the road is only so wide and everyone wants to be at the front. The mathematics say there will be crashes."
Leipheimer and Yaroslav Popovych each crossed the line with cuts and scrapes, but they didn't make the official communique, either.
The team said the pair each bruised his wrist — Leipheimer his left, Popovych his right. The team had Popovych's wrist X-rayed but found no fracture.
Gusts up to 50kph meant that teams were anxiously trying to muscle their GC candidates and sprinters near the front of the peloton to keep them out of the worse of the danger. Garmin-Cervélo's Christian Vande Velde said the team had to keep fighting to keep its riders at the nose of the peloton in order to protect Thor Hushovd's yellow jersey.
"We were in the front and no one wanted us to have the front. Everyone was so panicked, I think if everyone just let us control the race, things would have been OK, but it was panic stations at all times. It just created crashes over and over again," Vande Velde told VeloNews. "I know everyone has a different agenda, everyone has a different radio in their ear, it's just a pity that it's so stressed out. We were on the front, but we did our best when we heard the crashes behind, we would slow down to let everyone take care of business and get back on the bike."
Contador survived a close call by avoiding serious injury or other mishaps after crashing twice. After losing 1:20 in the opening day, Contador was fighting to be at the front of the peloton to avoid a crash.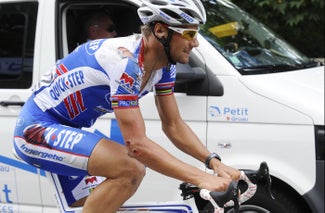 "It was a day of maximum tension, with wind and a lot of curves and hills. In the first fall, I was more or less in 20th position. The fall was ahead of me, just before the intermediate sprint, I got right back up, but I had to change the bike," Contador said. "I was pretty upset when I crashed a second time because I had just avoided falling with Gesink two kilometers earlier. I have a few scrapes, with the right side the most effected, from the shoulder to the knee, but nothing serious. I knew today was an important stage and to be attentive all the time, because you can lose the stage race on these kinds of stages and they can be more dangerous than a mountain stage."
Contador's teammate Nicki Sorensen was knocked off his bike by a photographer's motorcycle from Getty Images. The Danish national road champion toppled into a ditch, but his bike was hooked onto the motorbike's handlebars and dragged along the road for 200 meters. Race officials quickly revoked the driver's permit and excluded him from the race.
"Luckily, I am not seriously injured and I am to ride again tomorrow," Sorensen said. "I was riding safely on the side of the road and a motorbike knocked me off the bike. He was going so close that my bike was drawn after his motorbike for 200 meters."
It was even worse over at the Rabobank bus, where seven of its nine riders hit the deck. Gesink rolled up to the team bus with both knees and both elbows bleeding and quickly stepped inside without speaking to reporters.
Big crowds just added to the tension. Rabid Bretagne racing fans turned out in masses. One French reporter who drove the entire route said the crowds lining the day's lone rated climb, at the Cat. 4 Cote de Gurunhuel at 45.5km, looked like the "Tourmalet, they were 10-deep."
Bradley Wiggins (Sky) was another yellow jersey candidate who dodged a bullet,but he was able to bounce back and finish with the leaders.
"It was mad — the worst stage so far and I'm relieved it's over now," Wiggins said. "It was a really, really horrible stage. I didn't really crash that hard; I sort of crashed behind the crash and just bent my handlebars and brakes and things like that."
Quick Step also saw both of its team captains crashing, with Sylvain Chavanel going down in a fall at 57km while Tom Boonen and Geert Steegmans, both former Tour stage winners looking to recapture some Tour glory, hit the deck at 108km.
Boonen was left alone without teammates as he lay on the ground in the wake of his crash. Doctors confirmed there were no serious injuries and teammate Addy Engels finally rolled back to make sure he made the time cut. The pair crossed the line last at 13:08 back.
"To avoid the riders ahead of me I braked but my front wheel touched another athlete's back wheel" Boonen said. "I flew over my bike in an endo and I fell, hitting my head and the right side of my body. My helmet busted on impact."
In the fall Boonen suffered a series of abrasions to his shoulder, elbow and right gluteus, the team said.
"After the first few minutes of shock I got back on my bike and I wanted to finish the stage" Boonen said. "I have to thank Engels for his support. Alone I would have risked ending up outside of the maximum time. Now all I only want to recover some energy from tomorrow."
Ivan Velasco (Euskaltel-Euskadi) crashed hard into the barriers on the right side of the road at 155km and after the finish was transferred to a hospital in Saint-Malo with a likely fractured clavicle. Incredibly, he finished the stage at 12:43 back.
Even for riders who made it to the finish line in one piece, the wear and tear of the nerves, speed and tension caused some damage. Garmin-Cervélo was hoping to set up Tyler Farrar for the win on a rising finish ideally suited for his characteristics, but with seven kilometers to go, Farrar knew he didn't have the win in his legs and told yellow jersey Thor Hushovd to go for the win.
"It was pretty stressful day with the wind. It ended up being much harder than it looked like it was on paper. It was just chaos. Every team had to ride like crazy all day and hold position to stay out of trouble. When it's like that, every team was blown up by the end of the race. It was a really stressful day. It was a day when you could never really relax," Farrar said. "Originally, the idea was to ride for me, but toward the end I was really suffering, so I told Thor, don't even think about me, because I couldn't be there in the end. With 7-8km to go, I knew I didn't have the legs."
On Thursday the peloton can expect more of the same, with another stage of rolling hills, strong winds and rain.