Fabian Cancellara wins 2010 Tour de France prologue in Rotterdam, takes yellow jersey
The World TT champ outpaces Tony Martin and Millar. Armstrong takes a few seconds from Contador.
Heading out the door? Read this article on the new Outside+ app available now on iOS devices for members! Download the app.
World time trial champion Fabian Cancellara (Saxo Bank) donned the first yellow jersey of the 2010 Tour de France after easily winning a rain-soaked 8.9km prologue in Rotterdam on Saturday.
Tony Martin (HTC-Columbia) had set the early best time of 10 minutes, 10 seconds, and spent much of the afternoon waiting for a challenger who never materialized. But then Cancellara came rocketing through to smash his time by 10 seconds and slip into the maillot jaune. David Millar (Garmin-Transitions) took third on the day at 20 seconds back.
"It's great to have the maillot jaune again. I was the favorite and I was able to win again," said Cancellara. "It was not easy, because Martin had set a very good time. It was difficult with the conditions. To win the prologue like this means a lot."
Defending champion Alberto Contador (Astana) turned in a respectable ride, crossing sixth. But he conceded five seconds to rival Lance Armstrong (Team RadioShack), who finished just off the podium in fourth, 22 seconds slower than Cancellara.
The first prologue since 2007
It was the Tour's first prologue since 2007, when Cancellara won a 7.9km kickoff in London. The opening 3km included the 60-foot "climb" over the 802-meter-long Erasmus Bridge, which crosses the Maas River in the center of Rotterdam. Then came the trickiest part of the circuit, with eight turns in 2km and a short, steep little climb over a second bridge. The final 3km back to the finish outside the Ahoy stadium and expo center were fast and flat.
One rider found himself out of the 97th Tour before it even started — Cervélo dropped Xavier Florencio from its roster after he was said to have used an ephedrine-laced product to treat saddle sores. The team was not permitted to replace him and started the Tour a man short.
The day began with rain and wind, and showers were expected later in the afternoon, which sparked some reshuffling of start times as team directors tried to figure out when their guys might be able to squeeze the fastest, safest ride out of the P-shaped course.
However, as is traditional, defending champion Contador started last. And despite the weather, the Dutch spectators turned out in force to watch a third consecutive grand tour start in Holland — last year's Vuelta a España kicked off in Assen, while this year's Giro d'Italia began in Amsterdam.
Tony Martin sets early fastest time
Martin enjoyed comparatively dry conditions for his start and set the early best times at the 4.2km checkpoint (4:37) and at the finish (10:10). American Brent Bookwalter (BMC Racing Team) held second briefly before getting the boot from Edvald Boassen Hagen (Team Sky). Then Tyler Farrar (Garmin-Transitions) returned the favor, bumping Boassen Hagen into third.
Next Levi Leipheimer (Team RadioShack) finished just a fraction of a second faster than his countryman, only to be displaced by Geraint Thomas (Sky), who took over the runner-up spot just 13 seconds behind Martin.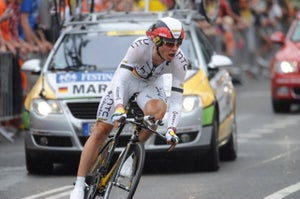 But with the rain falling and the heavily striped roads wet, it seemed that nobody would take the risks required to displace Martin atop the leader board. Millar hit the checkpoint just three seconds slower than the HTC-Columbia rider, but lost time over the second half and slotted into second, 10 seconds slower than Martin.
"I knew it would be hard to beat Martin, but I thought I'd give a shot," said Millar. "I am pretty good in the rain, and it wasn't as slippery out there as some of the people were saying. We have two leaders this year, with Farrar in the sprints and Christian (Vande Velde) for GC. I will help out when I can. I have good legs and I think we'll have a strong Tour this year."
As the number of riders yet to start dwindled, so did the rain, and while the roads remained damp, the final starters would enjoy slightly better conditions than their predecessors. Still, perhaps thinking of his finish three weeks from now — or perhaps suffering the ill effects of <a title=">a training-ride crash — last year's overall runner-up Andy Schleck (Saxo Bank) rode tentatively to finish 122nd at 1:09. So, too, did Sky's Bradley Wiggins, fourth overall last year, who crossed 77th at 56 seconds.
"The prologue is so insignificant in the three weeks," said Wiggins afterward. "it's seconds here and it's going to be minutes in three weeks' time."
Cancellara's Tour prologues:
2004 prologue – 1st, held yellow jersey through stage 1
2007 prologue – 1st, held yellow jersey through stage 7
2009 stage 1 (ITT) – 1st, held yellow jersey through stage 6
2010 prologue – 1st
Cadel Evans (BMC), also looking further down the road, admitted taking a conservative approach to the prologue.
"I certainly took less risks than I would have intended to in the dry," he said after finishing 23rd at 39 seconds.
Armstrong, by contrast, turned in a strong ride, hitting the checkpoint just five seconds slower than Martin and finishing in 10:22, good enough for third at the moment. But it was only a moment — Cancellara blazed through the checkpoint next in 4:31, posting the fastest split of the day, and hit the finish in 10 minutes flat, finally knocking Martin out of the hot seat and pushing Armstrong off the podium.
Defending champ Contador crossed in 10:27, good enough for sixth place — but conceding five seconds to his rival Armstrong.
Race notes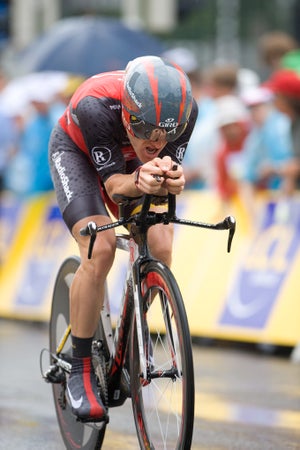 As did the Amgen Tour of California, the 97th Tour de France started under a cloud of allegations from Floyd Landis via The Wall Street Journal. In addition to reiterating his charges that Lance Armstrong and others used banned performance-enhancers, Landis charged that team director Johan Bruyneel sold team bikes to finance a doping program. Through his publicist, Armstrong rejected the charges as "more of the same old news from Floyd Landis, a person with zero credibility and an established pattern of recanting tomorrow what he swears to today."
Speaking of rumors and innuendo, UCI gave Cancellara's bike the once-over for unauthorized go-fast gear — like, say, a battery-powered electric motor. "After the race, they scanned my bike, and I said to them, 'You better scan me, because I am the motor,'" Cancellara said. "This is a beautiful victory for me and I want everyone to know that I am the motor, not my bike." Added Saxo team manager Bjarne Riis: "It was a champion who won out there today."
Manuel Cardoso (Footon-Servetto) and Mathias Frank (BMC) both crashed on the wet Rotterdam course. Both also managed to finish, bloodied but unbowed.
Up next:
Crashes, massive crowds and strong crosswinds are virtually guaranteed on Sunday's long opening road stage of the Tour, particularly given the narrow Dutch roads that wind away from the North Sea coast before riders cross the boarder into Belgium.
The end of stage 1 is routed across Flanders and through Eddy Merckx's hometown of Meise to mark his 65th birthday. The finish long on a long straightaway near the King Baudouin soccer stadium. More on stage 1.
Complete results
Quick results:
Stage
1. Fabian Cancellara, Team Saxo Bank, 8.9km in 10:00
2. Tony Martin, Team HTC-Columbia, at 0:10
3. David Millar, Garmin-Transitions, at 0:20
4. Lance Armstrong, Team RadioShack, at 0:22
5. Geraint Thomas, Team Sky, at 0:23
Overall standings
1. Fabian Cancellara, Team Saxo Bank, 10:00
2. Tony Martin, Team HTC-Columbia, at 0:10
3. David Millar, Garmin-Transitions, at 0:20
4. Lance Armstrong, Team Radioshack, at 0:22
5. Geraint Thomas, Team Sky, at 0:23