Four weeks, two races, lots of wrist braces: Can Tadej Pogačar hit top form for Tour de France?
'Maybe the wrist won't be 100 percent, but the legs can be': Pogačar choses training over stage racing ahead of yellow jersey bout with Vingegaard.
Photo: Gruber Images / Velo
Heading out the door? Read this article on the new Outside+ app available now on iOS devices for members! Download the app.
Two races and a collection of wrist braces paint the picture of Tadej Pogačar's four-week quest to find Tour de France form.
Pogačar is in a race against the clock to rebuild a fractured wrist and find his yellow jersey legs ahead of his hotly anticipated yellow jersey bout with Jonas Vingegaard next month.
UAE Emirates' all-conquering ace returned to the road this week for the first time since he crashed out of Liège-Bastogne-Liège. He's now booked in for a month-long boot camp that he's optimistic will track him from the indoor trainer toward the Tour's Basque départ on July 1.
"Hopefully I will be 100 percent for the Tour. Maybe the wrist will not be at 100 percent, but I think the legs can be – you don't need wrists to train the legs," Pogačar told the press in a call Friday.
Also read:
Pogačar, who already bulldozed through Paris-Nice, Tour of Flanders, and Amstel Gold Race this season, raised eyebrows when he sketched out his Tour de France roadmap to a mob of expectant reporters.
His usual jaunt through Tour of Slovenia has been scrapped in favor of extra time training atop Sierra Nevada and the Alpine ski resort of Sestriere.
Four weeks of high-altitude gains will only be disrupted by trips to sea level to recon a handful of Tour de France stages and rev his race legs at the Slovenian TT and road nationals.
"I lost some training and couldn't do much on the road in the last four weeks. So I need to focus more on the intervals and long training sessions outside," Pogačar said Friday.
"I've been training quite well on the home trainer and running," he continued. "The shape is not as bad as I thought it was going to be after training on the rollers, and the wrist is getting better every day. And now I'll try to get as much as possible out of this camp here."
'You can adapt training so it's similar to racing, so I'm not worried'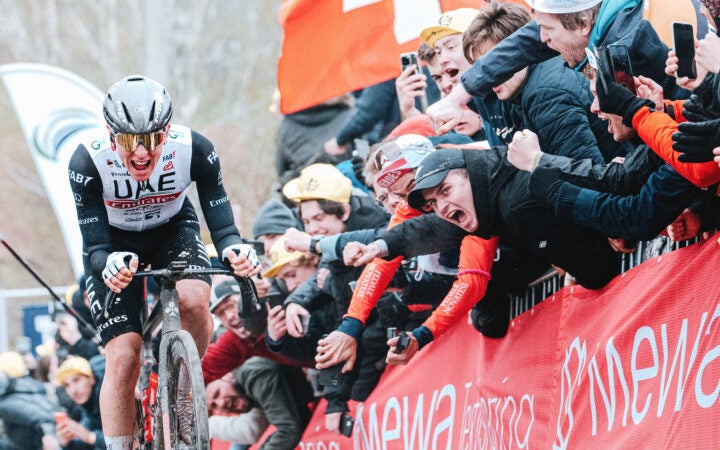 Pogačar and his team's decision to switch the stimulus of racing for controlled pedaling under watch of a power meter is a symptom of the pro peloton's move away from "training races."
Leading WorldTour squads like UAE Emirates, Jumbo-Visma, Ineos Grenadiers, and Soudal Quick-Step are mastering the art of altitude training and increasingly put their grand tour leaders onto stripped-back race schedules.
It's been proven to work, but is unknown territory for Pogačar and his "race it all" outlook.
He rolled into all three of his Tour de France starts so far with legs made sharp by recent stage racing.
"Normally, I really like to have a race before an important race. But a grand tour is 21 stages, and sometimes it's good to be a little bit fresher," Pogačar said Friday.
Remco Evenepeol saw just one race day in the month before his pre-COVID blitz of the Giro d'Italia last month. Primož Roglič, who regularly parachutes straight into races out of altitude camps, didn't race for six full weeks before he rolled out of the Abruzzo en route to the maglia rosa.
Pogačar was optimistic the "train more, race less" mentality will see him fit for his push at a third Tour de France title.
"You can always do some good training behind a moto and stuff like this to simulate a race," he said. "You can adapt training so it's similar to races, so I'm not so worried this year."
The first setback in a steamrollering career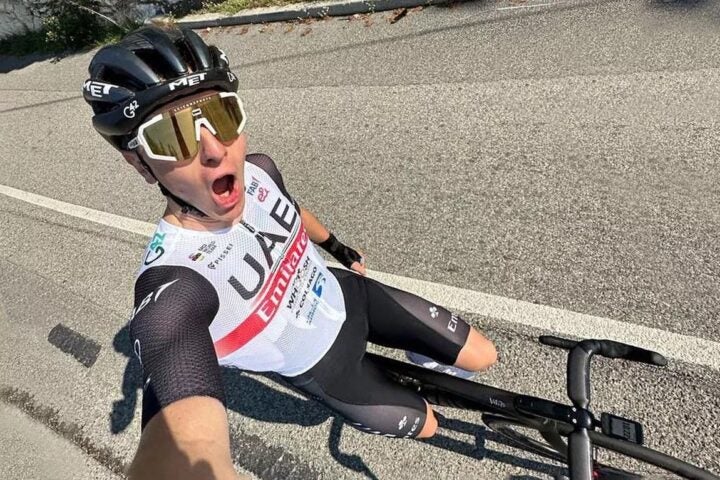 Pogačar floated through every season since he booted down the door on pro cycling.
He dodged serious crashes, evaded illness, and only saw his schedule seriously impacted when he skipped his Liège-Bastogne-Liège defense in 2022 to prioritize a loss in his partner's family.
Four weeks of disrupted training and a still-healing scaphoid bone are the first true hurdle Pogačar has been forced to vault in his five-year blitz of the WorldTour.
Does he have the mental resilience to rebound from adversity?
Pogačar was cool as ever when speaking to scores of expectant media Friday. And the Cannibalesque hunger that characterized his career so far has likely been heightened after he missed his chance at completing the so-called "Ardennes triple" this spring.
"I could train almost, not normally, but I could do some great hours [on the rollers]," he said. "I wouldn't call it a real setback, but just an unlucky situation. But I think I can pull a lot out of this."
UAE Emirates head of performance Jeroen Swart told Velo last week the team is confident Pogačar will be good as ever given his unparalleled capacity to soak up and recover from training.
Pogačar did however suggest he's not still fully functional when speaking Friday.
He's still using an array of different wrist braces for different situations and continues to train with a cast while his bones heal.
Pogačar also implied he'd not been able to load his wrist with out-of-the-saddle sprint efforts, and said there's every chance he'll be wearing a protective brace when he lines out in Bilbao on July 1.
Further medical checks next week will indicate how Pogačar's smashed scaphoid is shaping up. But right now, the 24-year-old is as boyishly buoyant as ever.
"Luckily because we have osteopath and physio here, I get better every day without any pain," he said Friday. "The wrist is getting better every day. I have more and more mobility."
Pogačar and his race to the Basque départ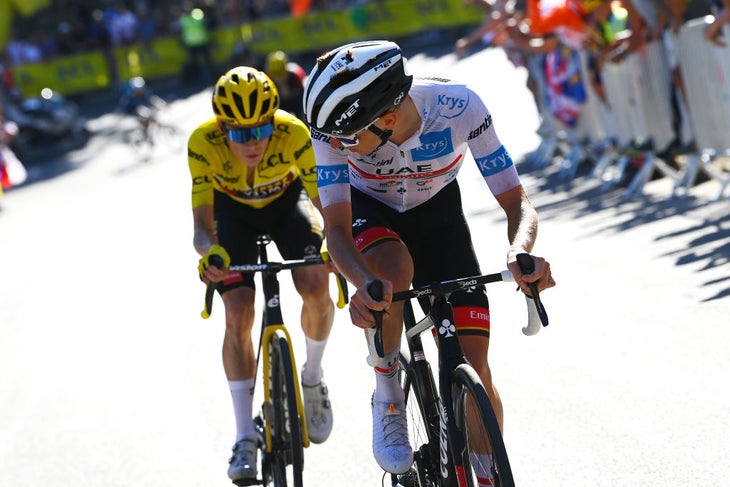 Pogačar's Tour de France foe Vingegaard clicks into his race cleats at Critérium du Dauphiné on Sunday, and the world expects big things from the defending Danish champion.
What to expect from Pogačar next month when he squares-off with Vingegaard in the Spanish Basque Country?
UAE Emirates will spare no expense or resource in having Pogačar arrive at the grand départ red hot. It sent him to the leading surgeon in Genk in the aftermath of his Liège crash and won't stop spending there.
And of course, Pogačar has scores to settle after he bonked out of his title defense in last year's Tour de France.
There's every chance Pogačar will hit the "100 percent" he's hoping for in the next four weeks. But even if he doesn't, his hunger will no doubt be high as ever.