Inside Cycling with John Wilcockson: Why ASO is favoring French teams for the 2011 Tour de France
ASO's Christian Prudhomme in Lavelanet, soon after Saunier Duval withdrew from the 2008 Tour de France. The news that the four wild-card slots for this year's Tour de France have been reserved for four French teams is not a huge shock. Unless, that is, your…
Heading out the door? Read this article on the new Outside+ app available now on iOS devices for members! Download the app.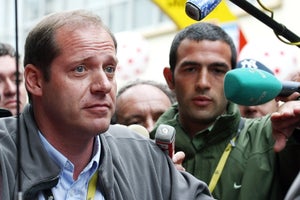 The news that the four wild-card slots for this year's Tour de France have been reserved for four French teams is not a huge shock. Unless, that is, your name is Denis Menchov, twice a podium finisher at the Tour, or Carlos Sastre, the 2008 winner. But the two leaders of the Geox-TMC squad shouldn't be surprised given the history of the Tour organizers' methods for choosing teams for their race.
We only have to look back three years when the Astana team, including defending champion Alberto Contador, received a similar rebuff as Geox-TMC has now been given. Astana was excluded not because of the team's sporting value that year (2008) but because of previous misdemeanors.
Astana had embarrassed Tour owner Amaury Sport Organisation in 2007 when its team leader Alexander Vinokourov tested positive for homologous blood doping after winning stage 13, an individual time trial at Albi. When Vinokourov's positive came to light three days later in Pau, race director Christian Prudhomme was apoplectic.
He immediately asked the complete Astana squad to leave the race (it did) and in an emotional press conference, when he was asked if he had regrets for having invited Astana to that 2007 Tour as a wild-card team, Prudhomme said: "We have to careful of the reputations within a team … Yes, I regret inviting them. I regret being cheated."
ASO and Prudhomme's revenge was to dis-invite Astana from the 2008 Tour event even though new general manager Johan Bruyneel had completely revamped the staff and signed new team leaders in Contador and Levi Leipheimer. There were echoes of that situation in Prudhomme's announcement Thursday that only French teams will join the 18 UCI ProTeams at the start of this year's Tour on July 2.
Geox is the latest in a series of title sponsors for the Spanish-registered, Italian-based team run by former Swiss pro Mauro Gianetti. Its most recent incarnations were Footon-Servetto, Fuji-Servetto and Scott-American Beef after Saunier Duval pulled its sponsorship following the team's exclusion from the 2008 Tour.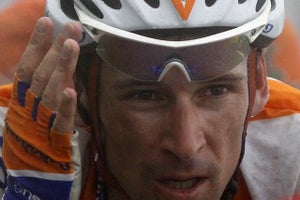 Prudhomme was furious that year in the small Pyrenean town of Lavelanet where, right before stage 12, French police arrived at the start to apprehend Saunier Duval team leader Riccardo Riccò. The police came because they had just learned that the young Italian climber, who had won two stages of the Tour, had tested positive for a "new" drug, EPO-Cera, and they wanted to question him and his teammates and search their belongings for doping paraphernalia.
Although Gianetti fired Riccò and his veteran teammate Leonardo Piepoli, who also tested positive for Cera, his team only gained admission to the race last year because of a three-year-old contract that ASO had signed with ProTour teams in the midst of its battle with the UCI in early 2008.
So when Geox (an Italian shoe manufacturer) did not make ProTeam status this past fall and had to seek a wild-card slot for the Tour, Prudhomme had the opening he needed. But when asked by Agence France Presse on Thursday why he had shown Geox the door, Prudhomme didn't really answer the question. He simply said, "It's the consequence of our desire to help French cycling. It's now up to the French riders to show that we were right in giving them our confidence."
Maybe a Frenchman or two will finish in the top 20 this year, but none of the French teams that will start the 2011 Tour has a true contender for a top-10 placing. So when ASO and Prudhomme decided not to ask back Menchov, last year's third-place finisher, and Sastre, the exemplary Tour champion of three years ago, the reason goes far deeper than wanting to help their compatriots. As with Astana in 2008, Prudhomme is getting his organization's vengeance on Gianetti's team in 2011.
The French official didn't want to face even the remotest chance of having to repeat the words he had to utter at that press conference in Pau three-and-a-half years ago: "Yes, I regret inviting them. I regret being cheated."