Inside the Tour de France with John Wilcockson: Prologue is often key indicator of overall success
Prologue time differences may be small, but they are a good indicator of overall success at the Tour..
Heading out the door? Read this article on the new Outside+ app available now on iOS devices for members! Download the app.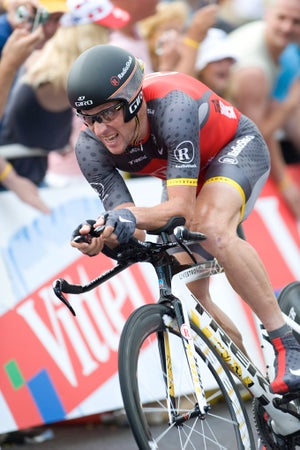 It has been said before and will surely be repeated again and again: The prologue at the Tour de France is a good indicator of what the result will look like in Paris. In years past, riders who end up in a the yellow jersey usually do well in the prologue in comparison with the other GC candidates.
Obviously much will happen in the next 22 days of this 97th Tour, but the result in Rotterdam on Saturday night bears close examination. After just 8.9km of individual racing, here are the relative positions of the pre-race favorites:
1. Armstrong
2. Contador, at 0:05;
3. Leipheimer, at 0:06;
4. Brajkovic, at 0:13;
5. Rogers, s.t.;
6. Klöden, at 0:14;
7. Vinokourov, at 0:16;
8. Kreuziger, s.t.;
9. Evans, at 0:17;
10. Gesink, at 0:29;
11. Sastre, at 0:32;
12. Basso, at 0:33;
13. Menchov, at 0:34;
14. S. Sanchez, s.t.;
15. Wiggins, s.t.;
16. F. Schleck, at 0:35;
17. Vande Velde, at 0:38;
18. A. Schleck, at 0:47.
That list makes interesting reading when one considers that Tours de France have been won by as little as eight seconds (LeMond over Fignon in 1989) or 23 seconds (Contador over Evans in 2007). Lance Armstrong was obviously pleased with his effort ("I felt good all day," he said), but it was his RadioShack team manager Johan Bruyneel who put it in perspective.
"Doing a good time trial is important," Bruyneel told VeloNews, "and then the differences between the favorites in a mental war can also be important. I think Lance will feel pretty good tonight. He looked good; everything looked good."
Indeed, Bruyneel's team put four of its riders into the top 20 on the stage and leads the team classification by one second over HTC-Columbia, two seconds over Garmin-Transitions and 16 seconds over Team Sky. Three U.S. squads and a British one: the new power players of pro cycling.
Armstrong's performance (good enough for fourth on the stage behind Saxo Bank's Fabian Cancellara, HTC's Tony Martin and Garmin's David Millar) sent shudders through his GC rivals. Alberto Contador said he was satisfied with his ride, but to concede five seconds to Armstrong was not what he was expecting.
As for last year's runner-up, Andy Schleck of Saxo Bank, the 47 seconds he conceded to Armstrong in such a short time trial was staggering. No wonder the newly crowned Luxembourg time trial champion tweeted: "Happy this is over!!! … I admit I had a real shit day."
Armstrong, too, could have expected to have a less-than-glorious day when it started with his having to issue a statement on the latest Floyd Landis allegations, which claimed that he, Bruyneel and other former U.S. Postal Service team members took part in organized doping during Armstrong's glory years.
But the seven-time Tour champion said it had the opposite effect. "I have never been so motivated," he told VeloNews Saturday morning. "Nothing close." That drive and motivation showed in his time trial — it was the best he has done since returning to the sport 18 months ago.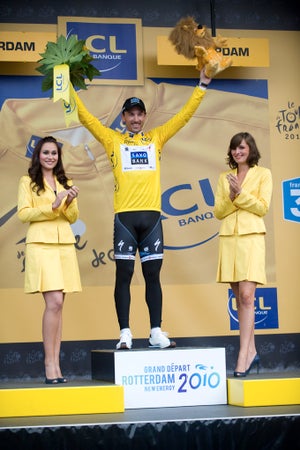 As for the 2009 Tour's fourth-place finisher (behind Contador, Schleck and Armstrong), Team Sky's Brad Wiggins took a conservative view of the 34 seconds he gave up to the Texan, even though he was tipped as a potential winner of the prologue. He said, "I didn't want to risk my whole Tour in such wet conditions."
Other team leaders expressed similar views. One was Garmin's Christian Vande Velde, who arrived at the Tour with two cracked ribs after a crash in the recent Tour of Switzerland, following a broken collarbone that ended his Giro d'Italia early.
"With the crashes I've had this year, I was taking no chances whatsoever," he said. "I'm through it, no crashes and I'm happy. For me, with how much damage I've done to my body, it's not worth (taking risks)."
When his teammate, U.S. national TT champ Dave Zabriskie, was asked how tricky was the course, he replied, "The rain's not my biggest strength, so it was tricky for me." And when pressed to judge his performance, he said, "Corners, I would give myself a zero, straightaway speed 8.5 … but I think for Fabian (Cancellara) in the rain, it doesn't really matter. It's an advantage for him."
In the end, Zabriskie would lose 40 seconds to the extraordinary Cancellara and 30 seconds to runner-up Martin. All three were among the 14 riders who had their bikes tagged before the start for later examination by UCI "scanners" in the effort to prove that riders are not using battery-powered motors in their bikes.
When Zabriskie was asked why his was one of the tagged bikes, he said, "I guess my bike's going to the hospital." As for Cancellara, he said, "I told my teammates this morning that my battery is good for 10 minutes."
His time? Exactly 10 minutes, at an average speed of 53.4 kph. Remarkable riding on an out-and-back course that contained some tricky turns, puddles and unpredictable winds. He now has the yellow jersey, and he'll likely keep it for several days.
As for his one day being among the GC contenders and wearing yellow in Paris, the big Swiss said: "That's a dream. But many people in the world have dreams. For now, I have different goals."