Pate, Van Garderen take different roads to this year's Tour
MUR-DE-BRETAGNE, France (VN) — Americans Tejay Van Garderen and Danny Pate earned hard-fought slots on HTC-Highroad's competitive Tour de France selections, but both came via very different routes.
Heading out the door? Read this article on the new Outside+ app available now on iOS devices for members! Download the app.
MUR-DE-BRETAGNE, France ─ Tejay Van Garderen and Danny Pate earned hard-fought slots on HTC-Highroad's competitive Tour de France selections, but both came via very different trajectories.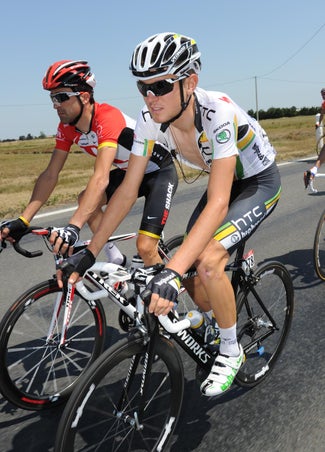 Pate brings experience and toughness while Van Garderen comes in full of youthful enthusiasm in his Tour debut at the front end of his career with years of promise ahead of him. Pate has been close to winning a stage, riding to third in stage 15 in Garmin's debut in 2008, while Van Garderen is quietly building a base to perhaps one day challenge for the yellow jersey.
Both come to this year's Tour with very clear marching orders: work for the team.
HTC-Highroad team manager Rolf Aldag said it was easy to decide on Pate, who is back for his third Tour start after riding for two editions with Garmin in 2008-2009, but missing out on selection last year.
"Danny always does a great job no matter what race he goes to. He does everything we ever ask of him. He's a great teammate," Aldag told VeloNews. "We have guys who win the races and we have guys who work. They do the work behind the scenes and we really rely on them. Danny is one of those guys."
Pate, 32, switched to HTC for 2011 and Aldag said he's more than lived up to expectations. There were more than a dozen riders who were bucking for a Tour spot, but Aldag said the team needed someone as multi-faceted and hard-working as Pate. HTC-Highroad brings a mixed squad, with Mark Cavendish and Matt Goss for the sprints and Tony Martin and Peter Velits in the GC, so versatility was a big plus in Pate's favor when it came crunch time to select the Tour nine.
"He can pull in the sprints, he can work in the mountains, maybe get up the first climb and maybe the second climb," Aldag said. "He can do it all."
Van Garderen, meanwhile, was on the bubble. HTC wanted to bring the second-year pro, but Aldag wanted to make sure that Van Garderen clearly understood what his role would be during the Tour. Many Tour rookies come to the race with dreams of making a big splash in their debut, but Aldag said the team had long discussions with him to assure there was no misunderstanding of what they expected from him.
"It took us awhile to decide to bring him to the Tour this year," Aldag said. "We really had to talk to him a lot to make sure that he understands that he can come to this Tour to learn, to work for the team, that he cannot have a free role on the team. We bring a squad with Mark Cavendish, Tony Martin, Matt Goss, Peter Velits, these are the riders who will be winning the races for us in this Tour."
Aldag said Van Garderen, 22, who was impressive in his rookie year with third overall at the Dauphiné, has the potential to develop into a three-week contender, but cautioned that both the team and Van Garderen need to be patient and give him space to progress and mature as a rider without pushing too much pressure too early on his shoulders.
"He's a GC-type rider and you cannot throw him into a race as hard as the Tour too early," Aldag said. "The first time you come to a Tour is to learn. He will be getting some good experience that will help him in the future. Sometimes young riders come to their first Tour with too much emotion. It can be a great experience for them, but sometimes it can be too much. I remember when Cavendish went to his first Tour in 2007, when it started in London, he crashed four times in three days because he was over-motivated, but it laid the groundwork for the future. For his own future, Tejay shouldn't come out of this shell-shocked. He should see the race in a positive way."
It looks like Van Garderen is taking the advice to heart. VeloNews spoke to him at the finish line of stage 3, where he calmly was putting in some post-stage liquids after his first run through as part of HTC's set-up train. "I have no real ambitions here myself. I am here to work for the team and learn."
Aldag and Co. are hoping that attitude will pay off with dividends over the next couple of seasons.