Tour de France ticker: Security ramps up ahead of possible protests, Sagan apologizes after DUI charge
Follow all the Tour de France hype ahead of the Bilbao 'grand départ' on July 1.
Photo: Chris Auld/VeloNews
Heading out the door? Read this article on the new Outside+ app available now on iOS devices for members! Download the app.
Tour de France ramps up security ahead of possible disturbances, protests
Tour de France officials are ramping up security ahead of possible protests and disturbances when the race returns to French roads Monday.
Reuters reported that the French police will position two additional motorcycle officers just ahead of the peloton in a bid to fend off would-be protesters.
"Two motorbikes will work as a duo. Our goal is to be able to bring an immediate response and avoid the race being stopped," gendarmerie captain Jean-Francois Prunet told sporting directors, according to Reuters.
Last year, climate protesters disrupted stage 10 and others were foiled in other attempts to block the race.
Tour director Christian Prudhomme also said they're "watching closely" developments in France as disturbances continue to rock France following the shooting death of a teen in Paris on Tuesday.
Some say officials could declare a stage of emergency to quell growing violence, but it's uncertain how that might affect the Tour.
Cavendish Tour de France stage win documentary Never Enough announced by Netflix
Mark Cavendish's appearance in his final Tour de France, plus a bid to become the outright stage win record holder, are part of the compelling narrative of this year's race and, so it seems, of a new Netflix documentary. The new feature has been announced on the eve of the race, with Mark Cavendish: Never Enough to debut globally on August 2nd.
Made by Pitch Productions, an announcement about the documentary bills it as one that will have 'exclusive access to Cavendish, his wife Peta, his team-mates, and his coaches,' saying that 'the film charts the rise, fall, and resurrection of a sporting great.'
The released clip shows Cavendish during his Team Dimension Data days, struggling to match his previous level in the sprints. He was four stages off equalling the record of 34 victories held by Eddy Merckx and struggling to compete with the sport's quickest riders.
On the eve of his last ever Tour de France, we're excited to announce new documentary MARK CAVENDISH: NEVER ENOUGH.

The film charts the rise, fall and resurrection of a genuine sporting great as he attempts to prove the doubters wrong and make cycling history. Coming 2 August. pic.twitter.com/DmGeqKu3HF

— Netflix UK & Ireland (@NetflixUK) June 30, 2023
Cavendish later said that he was struggling with the Epstein Barr virus plus a long period of depression. He bounced back in 2021, winning four stages in that year's Tour de France and drawing level with Merckx's mark.
His target in his final Tour is to notch up at least one stage win, moving him past the Belgian great in the all-time stage winners' list.
"Mark and I developed a fantastic rapport across the last year," the documentary's director Alex Kiehl said. "We talked at length about the biggest highs and deepest lows of his life and it was a privilege to tell his story. I was blown away by how open and genuine both Mark and his wife Peta were in their interviews. Their contributions allowed us to make a truly gripping and emotional film."
Pitch Productions previously worked on three projects with Netflix, producing Pelé, and The Figo Affair: The Transfer that Changed Football, and co-producing Neymar: The Perfect Chaos.
Pitch's COO Jonathan Rogers said that the documentary was originally angled as a reflective one, but became something different. "When Mark first approached us about telling his story in 2020 he was emerging from one of the most difficult periods of his life. Back then, he was looking to remind the public of his glory days, not realizing the best was yet to come.
"It's an honor to be able to repay the trust Mark showed in us, to have a roadside seat for one of the most uplifting sporting stories of modern times, and to continue to work with Netflix to bring stories like this to the screen."
Netflix recently released the first series of its Tour de France documentary. A second season is in production and will draw from this year's race.
Team race radio conversations to be broadcast on TV
17 of the 22 teams competing in the 2023 Tour de France have given the go ahead to allow TV broadcast of race radio conversations during this year's race.
Listening in to conversation between directeur sportifs and riders, spectators watching remotely will likely get an insight into race tactics and relevant information, similar to Formula 1. The conversations will be moderated by a small team at the finish line and can be broadcast a few minutes later.
A two-year deal was signed between the teams and race organiser ASO, with each squad being given €5,000. The five who said non, merci to the proposal? Alpecin-Deceuninck, Cofidis, Groupama-FDJ, Jayco-Alula and Movistar.
"I don't want to reveal moments of tension. That doesn't interest me. We have the right to a bit of privacy," Groupama-FDJ boss Marc Madiot told L'Equipe.
Romain Bardet eyes GC challenge and stage wins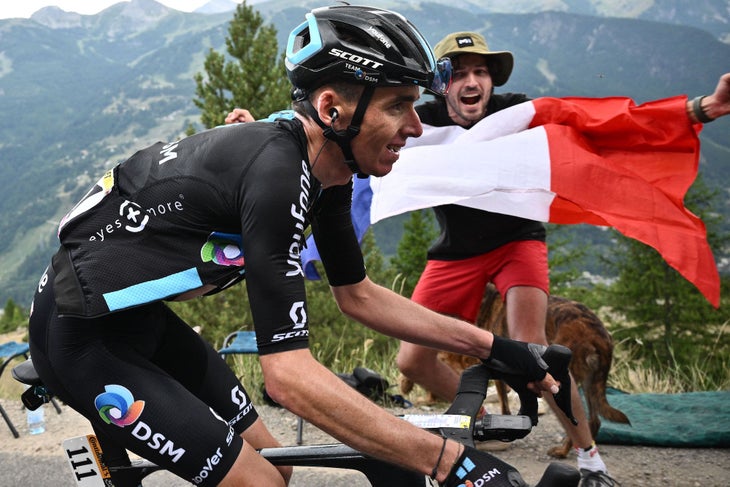 Sixth overall in last year's Tour de France, Team DSM-Firmenich leader Romain Bardet returns to the 2023 race looking to go even better.
"I think my preparation was better this year [than last]. I've been able to do everything to be ready for the Tour de France," he said. "In any case, the goal is to do the best possible general classification position."
"We'll take the same approach as last year. We're really on a day-by-day race, I won't hold back from full engagement on certain days … that's not saying I'll lose time pointlessly, but I want to keep opportunities open to shine on stages."
A three-time stage winner, Bardet finished second overall in 2016 and won the King of the Mountains title in 2019. "I've been very consistent in the race. I know a little bit the ingredients needed, physically but also managing the three weeks and the unique environment of the Tour de France," he said.
Pre-race, many observers anticipate a duel for victory between Tadej Pogačar and defending champion Jonas Vingegaard with an abundance possible contenders for the final step of the podium, 32-year-old Bardet among them.
"The biggest mistake we can make would be just to focus on other guys. For me, there won't be two races in one," he said.
Peter Sagan apologizes after DUI charge
Peter Sagan has issued an apology after he was found guilty of driving a scooter while under the influence of alcohol.
Sagan was handed a three-month suspended prison sentence after he failed a breathalyzer, which showed his alcohol level to be 1.46 mg/l.
"I'm reaching out to tell you that I'm deeply sorry for screwing up during a moment of weakness. I would like to apologize to my family, my friends, my team, our sponsors and everybody that has supported me. I'm committed to learn from this mistake and become a better person in the future," Sagan said in a video he posted on his Instagram.
Lotto-Dstny keeps DS Allan Davis at home amid allegations
Lotto-Dstny sport director Allan Davis will not be at the Tour de France after his team decided to keep him at home following allegations that he sent unsolicited topless pictures of himself to a woman on social media.
The Belgian team didn't name Davis and tried to distance itself from the matter by saying it was a "personal case" but said that the unnamed DS would not be traveling to the Tour.
Earlier this week, a Twitter user published screen grabs that she said had been sent to her by Davis. In the screen grabs, there are two pictures of Davis posing topless as well as several exchanges, including ones that threaten to launch legal action.
"Lotto Dstny has taken notice of the allegations of transgressive behavior, expressed towards a sports director of the team and published by a person on Twitter. "Please note that this is a personal case", emphasizes the team, "and this has nothing to do with the team." In order to keep the peace, it has been decided, by mutual agreement, to keep the sports director out of the Tour de France. The team will not make additional comments on this case and asks to respect the privacy of those involved," the team statement said.
Lidl-Trek unveils new jersey ahead of Tour de France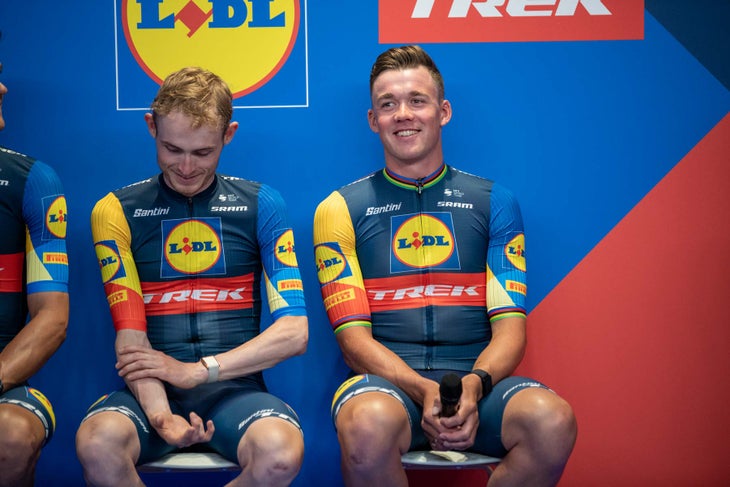 Lidl-Trek, previously Trek-Segafredo, unveiled a new team kit Wednesday ahead of the Tour de France to reflect the new title sponsor. 
The jersey has navy blue down the center with a Lidl logo across the chest and a red stripe with the Trek logo across the stomach. There is a splash more color than the team's previous kits with yellow and light blue on the arms. 
New U.S. road race national champion Quinn Simmons also unveiled his stars and stripes jersey that he will race in at the Tour.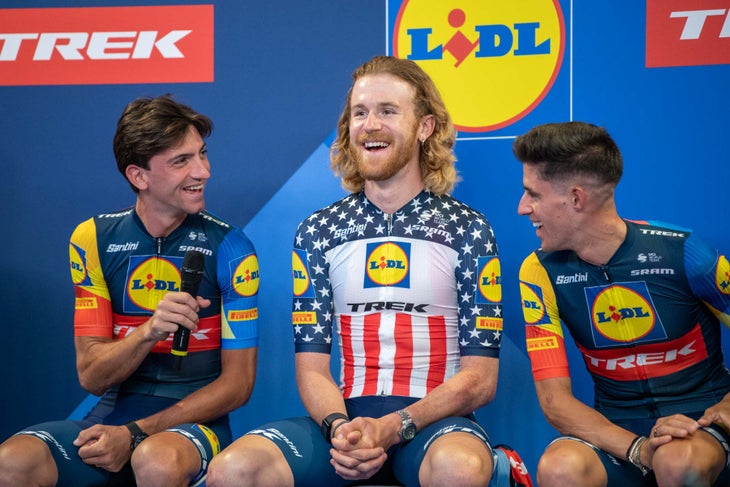 Lidl is a European grocery store chain, so fittingly the press conference where the Tour de France squad showed off the new kit was inside one of its locations in Bilbao, Spain, the host of stage 1 on Saturday. 
Tom Pidcock, Egan Bernal racing with different goals
Tom Pidcock and Egan Bernal might have very different goals during this Tour de France, but both are keen to leave their mark.
Pidcock is back for his second big loop, and hopes to "step up" in his ongoing GC quest, while Bernal considers being at the Tour start line a victory of sorts barely 18 months following his horrific crash.
"It's very emotional to be here," Bernal said. "I was planning to be on vacation this month, but the training went well, and here I am. It's been a hard few years, and I am thankful to be alive and thankful to be here."
For his goals, Bernal said he's going to literally take it day by day, and use this Tour as a trampoline back to what he hopes will be a return to his pre-crash best.
"It's not only about this Tour, but also the Vuelta, and the future," Bernal said. "Every day has been a fight to return to my best.I would love to be back in my best level. I would love to race again in the Tour, and to see how I would be with these big names now in the peloton, I would like to compare myself with them … that's why I still want to be. I wake up every day working and thinking about that."
Pidcock, too, has one eye on the future in this Tour. His immediate goal is to try to win in the opening two stages, and then try to lock horns with the best of the GC deep into the race.
"I want to win stages, but I want to win out of the lead group, and not out of the breakaway," Pidcock said. "And if I do that, that would mean my GC is going well. I want to make another step forward, that's where I can see myself improving. I am a light rider, and that should suit my characteristics. The mountains are where I hope to make the biggest step in the GC."
UCI reconfirms COVID-19 protocols ahead of race
The UCI has reconfirmed its COVID-19 protocols ahead of the Tour de France, which starts Saturday.
Since the coronavirus pandemic began in 2020, the UCI's rules around managing the virus at races have evolved. In a statement released Wednesday, the UCI said that instances of the virus were relatively low in France at this moment and the current restrictions in place for the Tour de France were suitable.
Teams are free to test riders and staff prior to the event, but are no longer required to do so. Access to certain areas of the race will be limited and some will require a mask to enter.
Should there be a positive test within a team, it is the collective call of the team doctor, the event COVID-19 coordinator, and the UCI's medical director. Riders have been allowed to continue racing if their viral load is deemed to be sufficiently low.
Greg Van Avermaet rails at Ag2r-Citröen snub as team builds around Ben O'Connor
There's no room for burly Belgian Greg Van Avermaet on Ag2r-Citröen's Tour de France team of whippety climbers.
The French squad is going all-in with GC candidate Ben O'Connor for this year's Tour. The team revealed a climber-centric eight to support the Aussie's ambitions Monday, and the retiring Van Avermaet wasn't on it.
"I wonder why I have trained so hard in the past few weeks. I really hoped they would take me with them, if only because it would be my last time, my 10th Tour too. Besides, I wasn't going badly either, I thought," Van Avermaet told Het Nieuwsblad.
Van Avermaet, 38, retires at the end of this season. Though best known for his prowess on the pavé, he also counts two Tour de France stage wins on his palmarès and rode in yellow for eight days in the 2018 edition.
"I didn't expect my name to be the first on paper, but those three last names that had to be filled in, I had hoped to be there. The Tour selection used to be obvious, but since last year I realize that this is no longer the case," Van Avermaet told HNB. "I don't hide that this is a sour pill to swallow. I had hoped for more respect for what I did in the Tour."
Van Avermaet explained that a poor performance in the mountains at the recent Critérium du Dauphiné didn't help his cause, but felt his power on the flat stages would have been invaluable to O'Connor.
"The Tour was still a big goal and that is now gone. Dealing with disappointments is part of the life of a top athlete, but this one is very hard. I'm still too ambitious to get this news. I'm not the type to blow off," he said.
"I want to finish my career as best as possible and would therefore have liked to have ridden the Tour."
🇫🇷 @LeTour

Vincent Lavenu présente l'effectif et les objectifs ici : https://t.co/FzYVMK0zLf

Vincent Lavenu sets the goals and explains the selection here: https://t.co/FzYVMK0zLf#AG2RCITROËNTEAM #RoulonsAutrement #RideDIfferently #TDF2023 pic.twitter.com/3Rq07KxCDa

— AG2R CITROËN TEAM (@AG2RCITROENTEAM) June 26, 2023
In Van Avermaet's absence, O'Connor will see support from top domestiques like Felix Gall, Benoit Cosnefroy and Aurélien Paret-Peitre as he looks to go better than his fourth-place finish of 2021.
U.S. rider Larry Warbasse is not part of Ag2r's Tour eight.
"We will take the start of the Tour de France in Bilbao with great ambitions for our leader Ben O'Connor," team boss Vincent Laveneau said. "His third place on the Critérium du Dauphiné confirms that he is one of the best climbers in the world. With him, we want to achieve the best possible overall ranking. Ben has already finished fourth in the Tour de France in 2021 and we know that he is able to play the leading roles again."
Julian Alaphilippe 'in good shape' and ready for Tour return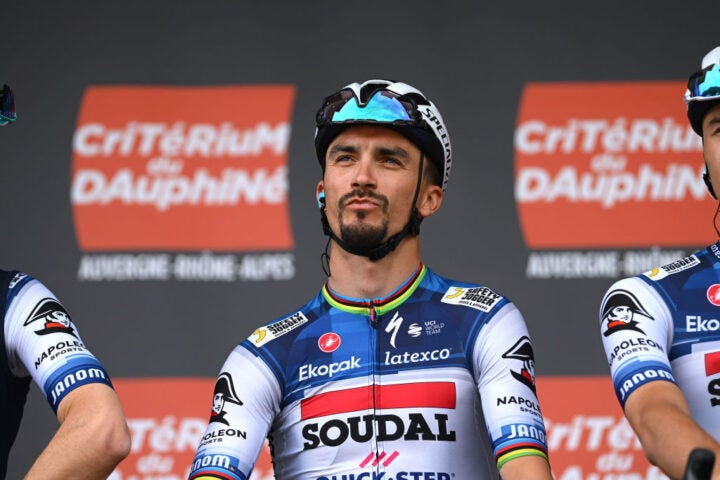 Julian Alaphilippe and Fabio Jakobsen lead Soudal Quick-Step on its quest to add more Tour de France victories to its current count of 49.
All eyes will be on Alaphilippe after he missed the Tour last year. The French ace refound form through the spring and is looking to turn a page on 18 months lost to crashes, injuries and illnesses.
"I'm looking forward to the Tour de France, it's always an exciting period of the year. I went on a recon of the start in Bilbao, and I can tell you it will be a beautiful and hard weekend," Alaphilippe said.
"At the beginning of the month I did a solid Dauphiné, where I felt in good shape, got a win and took pleasure in riding, and the preparations went well. The Tour is a truly huge adventure, every day you have to fight together with the team, and has a really special atmosphere, with all the people along the roads. I'm ready for Le Tour."
Sprint supremo Jakobsen won a stage on debut last year and will see elite leadout support from Michael Mørkøv, who led Sam Bennett and Mark Cavendish to green jerseys in recent editions of the Tour.
Other top names that made the selection include Kasper Asgreen, Yves Lampaert, and Tim Declerq.
"Julian and Fabio are our two leaders. Julian will try to go for a stage win, as he has some nice opportunities over the three weeks of the race, while Fabio will rely on Michael to guide him in the sprints, but also on the likes of Kasper and Yves, who can keep the speed high in the bunch finishes," said sports director Tom Steels.
Soudal Quick-Step to 2023 Tour de France
Julian Alaphilippe (FRA)
Kasper Asgreen (DEN)
Rémi Cavagna (FRA)
Tim Declercq (BEL)
Dries Devenyns (BEL)
Fabio Jakobsen (NED)
Yves Lampaert (BEL)
Michael Mørkøv (DEN)
Neilson Powless back with EF Education-EasyPost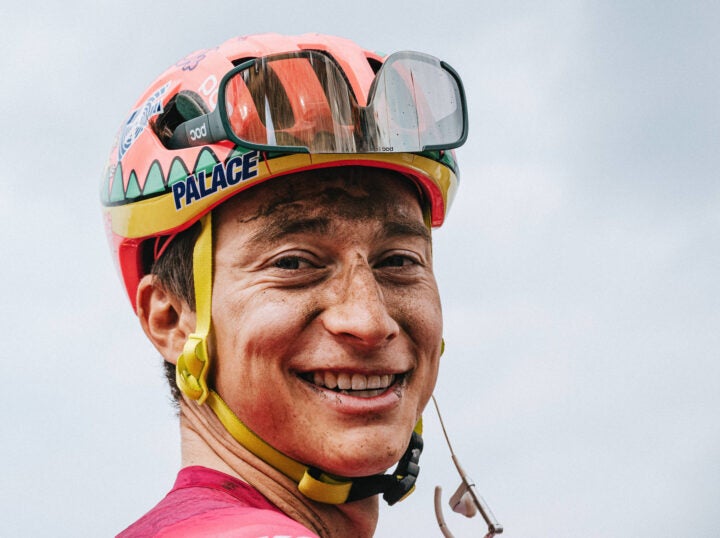 Neilson Powless is back for his fourth straight Tour de France as part of an ambitious EF Education-EasyPost.
GC man Richard Carapaz is joined by Rigoberto Urán, Alberto Bettiol, Magnus Cort, and Esteban Chaves are the other big names on the deep and varied squad.
"I'm excited about the team we're sending because it's so dynamic and flexible," said Jonathan Vaughters, team CEO. "Richard, we know what he's capable of, and we also know he's great at reading a race and reacting. He's tremendously exciting for us. We will support him in his exploits, and we're also keeping our options open when it comes to attacking the race.
"Powless — he rode more kilometers than anyone in the breaks last year I think, and we hope he takes the next step this year. Magnus is a stage winner. Rigo, also a stage winner… on a single speed, no less. On paper, this is a great team. I'm excited to see how the race takes shape and how the whole team, riders and staff, come together to meet the challenge of the Tour."
Powless says he's ready to be a team player.
"Obviously if I could win a stage, that would be incredible. That would be my Tour made if that happens, but if we have Richie or Rigo up in GC and we can get someone on the podium that would be incredible as well," Powless said. "I am going to have to be pretty fluid with it, with what my goals are going to be, because depending on what position we are going to be in with the team it is going to change. If we have someone going for GC, I could have a really satisfying Tour helping to get them on the podium but if it looks like we have a bit more freedom, winning a stage would be incredible."
EF Education-EasyPost for Tour de France
Richard Carapaz
Rigoberto Urán
Neilson Powless
Alberto Bettiol
Magnus Cort
James Shaw
Andrey Amador
Esteban Chaves
Cavendish sees support in hunt to better Merckx mark
Mark Cavendish will see Cees Bol, Luis León Sánchez, Gianni Moscon, and Yevgeniy Fedorov in his Astana-Qazaqstan leadout train as he hunts stage win number 35 in his final Tour de France.
The Kazakh crew will also work at a top GC placing with Alexey Lutsenko and top climber domestique David de la Cruz.
There's no space for U.S. rider Joe Dombrowski in Astana's Tour eight after he worked pulling Cavendish through the mountains of the Giro d'Italia earlier this season.
Cavendish and Astana-Qazaqstan will also be boosted at the Tour de France by the presence of Cavendish's long-time leadout man Mark Renshaw in the team car. The retired Aussie joins the team for the race as sprint consultant.
Cavendish will race through France in his team-issue jersey after he chose not to defend his British national title at the weekend.
Here's the full Astana-Qazaqstan line-up for the 2023 Tour:
Alexey Lutsenko (KAZ)
Mark Cavendish (GBR)
Cees Bol (NED)
Yevgeniy Fedorov (KAZ)
David De La Cruz (ESP)
Gianni Moscon (ITA)
Luis Leon Sanchez (ESP)
Harold Tejada (COL)
Jonas Vingegaard and Tadej Pogačar support named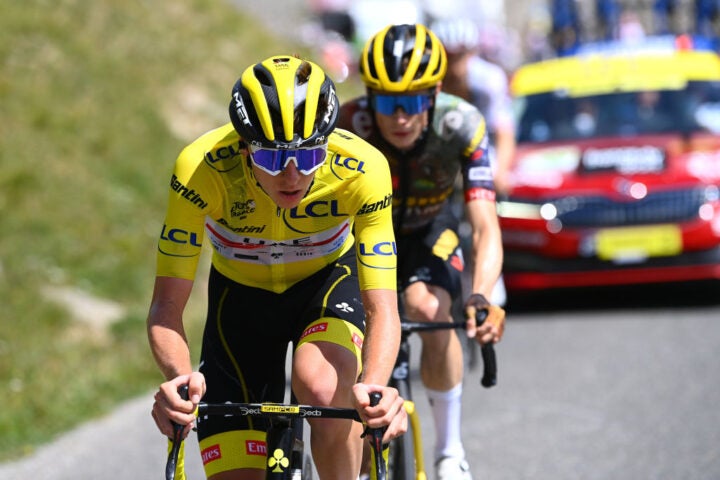 Following the national championships at the weekend, there has been a flurry of Tour de France rosters revealed.
GC favorites Jonas Vingegaard and Tadej Pogačar now know who will be fighting in their corner this summer as they aim to win the yellow jersey.
Defending champion Vingegaard will once again have U.S. rider Sepp Kuss guiding him through the mountains with Wilco Kelderman on board to help on the uphill terrain, too.
Wout van Aert will be a man for all terrains for Vingegaard with new Dutch national champion Dylan van Baarle, Tiesj Benoot, Christophe Laport, and Nathan Van Hooydonck added to the Dane's armory.
Pogačar is looking to get back his title as the Tour de France king after losing it last year.
Picking his support team has been far more clear-cut, as has his form. The Slovenian has been out since his Liège-Bastogne-Liège crash but he returned at the national championships to show he had been working hard in that time, taking time trial and road race wins.
There will be no Brandon McNulty after the American rode the Giro d'Italia last month.
Instead, the team will be made up of Mikkel Bjerg, Felix Großschartner, Rafal Majka, Mark Soler, Matteo Trentin, and Adam Yates. One surprise omission is Tim Wellens, who had hoped to make the cut, but he failed to hit the mark at the Tour of Slovenia, his first race since he was wiped out at the Tour of Flanders.
Here we go 🇫🇷! We're excited to reveal our lineup for @LeTour #TDF2023:

🇩🇰 @mikkelbbjerg
🇦🇹 @gro_felix
🇳🇴 @VSLaengen
🇵🇱 @majkaformal
🇸🇮 @TamauPogi 🏆🏆
🇪🇸 @solermarc93
🇮🇹 @MATTEOTRENTIN
🇬🇧 @AdamYates7 #UAETeamEmirates #WeAreUAE pic.twitter.com/NpTSTNn5Ot

— @UAE-TeamEmirates (@TeamEmiratesUAE) June 26, 2023
Lidl-Trek confirms Tour de France line-up
Tour de Suisse winner Mattias Skjelmose, Mads Pedersen, and former Giro d'Italia white jersey winner Juanpe López headline Lidl-Trek's line-up for the Tour de France. Newly crowned U.S. national champion Quinn Simmons is also set to ride for the team after making his Tour debut last year.
The team has rebranded this week after securing sponsorship from the supermarket giant and will soon be showing off a new kit.
Also making the Tour squad are Jasper Stuyven, Alex Kirsch, Giulio Ciccone, and Tony Gallopin.
Don't forget your receipt! 🧾

We're taking some excellent international produce @LeTour and @giro_donne 🍎 pic.twitter.com/AycdGVQuim

— Lidl-Trek (@LidlTrek) June 26, 2023
Mikel Landa dreams of podium
He's been within 1 second of the final podium in Paris. Now Mikel Landa is determined to hit the top-3.
Bahrain Victorious confirmed its Tour squad, with Landa at the center of the team's GC ambitions.
"The key stages start in the Basque country with two hard opening stages, and it will be crucial to be ready, as there could be some gaps already at the finish line," Landa said. "Looking at my ambitions, I'd love to finish close to the podium in the GC and also look to win a stage, which is also a dream. This year the team and all of us have been impacted by the loss of our friend and teammate, Gino [Mäder]. We need to look at this for extra motivation and to be at our best every day and try and race for him and honor him."
The team will race with the #rideforGino banner across the race.
Bahrain Victorious for the Tour de France
Mikel Landa
Nikias Arndt
Phil Bauhaus
Jack Haig
Matej Mohorič
Wout Poels
Fred Wright
Peter Sagan hopes 'stars align' for stage-win, doesn't rule out green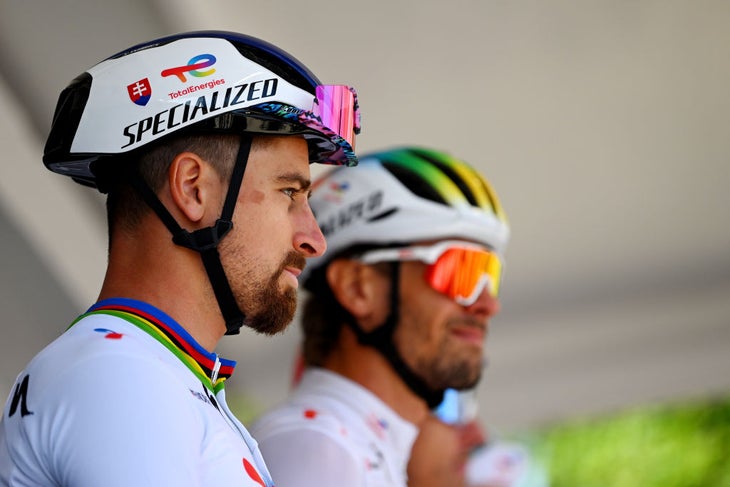 Peter Sagan admitted "the stars will have to align" for him to win a stage at the Tour de France, but he isn't ruling himself out either.
The 33-year-old will chase one last stage victory, and maybe even an eighth green jersey, in what will be his swansong Tour this summer. Yet after not winning a race in 12 months, TotalEnergies' team captain knows everything will need to go right for him in his 12th and final lap of France.
"I don't have to be the best to win, but I need luck and I need to be able to stay out of trouble," Sagan told Het Nieuwsblad.
"Maybe I can still compete in the points classification. An eighth green jersey is not impossible, but with this new generation of riders, it will certainly not be easy. I'll look at it day by day and after a dozen stages will see if it's worth fighting for."
Sagan will face-off against riders of the caliber of Wout van Aert, Christophe Laporte, and Jasper Philipsen in the chase for the maillot vert.
The bunch sprints will be equally competitive with speedsters like Fabio Jakobsen, Dylan Groenewegen, Mark Cavendish, and Caleb Ewan all slated to start.
Not that Sagan seems too concerned with who will be at the Basque départ next weekend.
"I don't even know who's racing," he said. "I like Jakobsen, Philipsen too. Who else? Is Cavendish coming? Caleb [Ewan] is also good. In the Tour, there's always one that has just a little more momentum than the rest. Sometimes it is not even the sprinter's fault, but the lead-out man is more important. Someone like that can change your whole Tour."
Biniam Girmay makes Tour debut with Intermarché-Circus-Wanty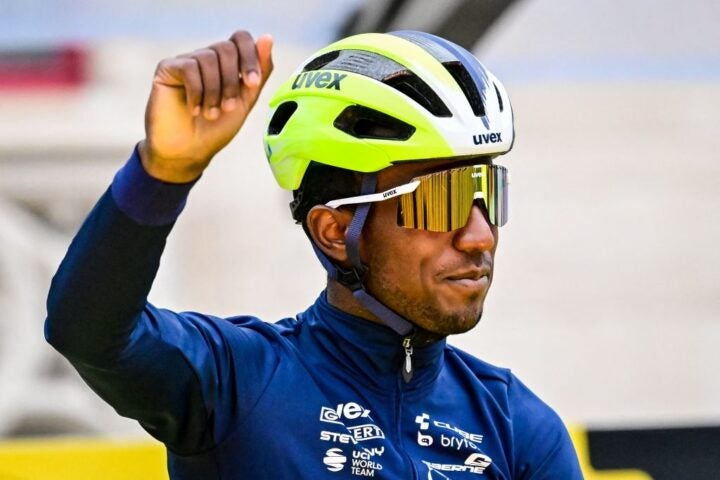 Biniam Girmay will race his first Tour de France with Intermarché-Circus-Wanty this summer. The Eritrean has been selected to lead the Belgian team alongside GC veteran Louis Meintjes, who rode to seventh overall last year.
Rui Costa, Mike Teunissen, and Lilian Calmejane also feature in a selection designed to be competitive in the mountains and the flat finishes.
"Our ambition for the Tour 2023 is to take our very first stage win and to finish in the top ten of the final classification. To achieve this, last winter we built a strong and experienced group around our leaders Biniam Girmay and Louis Meintjes," said team performance manager Aike Visbeek.
"This group raced often together and this from our first races of the season on Majorca. In May, our preselection started a specific preparation with a collective altitude camp and two parallel race programs. A larger selection benefited from this preparation, which enabled us to fill in the absences of Kobe Goossens and Rune Herregodts. We can head to Bilbao with confidence."
To make History of the Tour de France.

🇫🇷 Lilian Calmejane
🇵🇹 Rui Costa
🇪🇷 Biniam Girmay
🇿🇦 Louis Meintjes
🇫🇷 Adrien Petit
🇳🇿 Dion Smith
🇳🇱 Mike Teunissen
🇩🇪 Georg Zimmermann

🖼 Marie Pirard Illustration pic.twitter.com/ZAKcG9RPAT

— Intermarché-Circus-Wanty (@IntermarcheCW) June 23, 2023
Girmay raced 10 days and won a stage on his grand tour debut at last year's Giro d'Italia. The 23-year-old rides into the Tour with a tailwind after he recenty won a stage at the Tour de Suisse.
Girmay will be supported by a leadout unit he's partnered with for much of the year.
"The mission of Biniam Girmay is to win a stage in the sprint. To increase our chances, we did the recon of several stages the past couple of months. We organized training sessions with the sprint train. It is also a priority for the long term development of Biniam Girmay to finish a race of three weeks for the first time in his career," Visbeek said.
Lawson Craddock back with Jayco-AlUla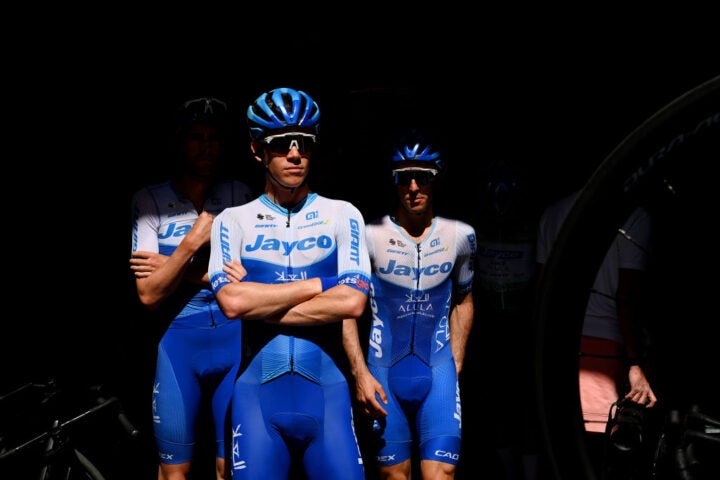 Lawson Craddock returns to the Tour de France with Jayco-AlUla. Simon Yates and Dylan Groenewegen headline the team, with the Texan playing a support role.
Craddock is the second U.S. rider to be confirmed, along with Kevin Vermaerke at Team DSM.
Five-time stage winner Groenewegen and former white jersey and two-time stage winner Simon Yates will lead the Australian outfit's dual approach, as the squad targets both the sprint and mountainous stages.
"On paper it looks really good and a course that suits me quite well, so I'm really looking forward to this year's edition," said Yates, who skipped the Giro d'Italia for the first time in six years.
"We have a well-built team and clear objectives, for me of course the goals are in the mountains. I had a different build up to the Tour this year with less racing and more training and I have good sensations, so we will see. As we'll be targeting sprint stages with Dylan, it will be full on for us with a dual approach and everyone is very excited to get started. It's the Tour, everyone wants to be a part of it, and every edition I start is a real privilege."
"I am really looking forward to taking this team on the road at the TDF," said sport director Mat Hayman. "Our two leaders, Simon Yates and Dylan Groenewegen, have both been very successful at the TDF in the past. To support them we have Chris Harper, who is new to the team this year and is lining up for his debut TDF, and will be there for Simon in the mountains. Dylan's trusted lead-out man in Luka Mezgec and fellow Dutch rider Elmar Reinders.
"We then have some seasoned professionals and guys that have real experience and really know how to get through a workload at the TDF, both on the flat for supporting Dylan, and in the mountains to a certain extent supporting Simon. These are Lawson Craddock, Luke Durbridge and Chris Juul-Jensen, these kind of guys you need in a three-week tour, they're very handy on all fronts. It is a great and well-balanced team and we're ready to get started in the Basque Country."
Team Jayco AlUla at the 2023 TDF:
Lawson Craddock – (USA) 3rd appearance
Luke Durbridge – (AUS) 9th appearance
Dylan Groenewegen – (NED) 6th appearance
Chris Harper – (AUS) Debut appearance
Chris Juul-Jensen – (DEN) 6th appearance
Luka Mezgec – (SLO) 4th appearance
Elmar Reinders – (NED) Debut appearance
Simon Yates – (GBR) 6th appearance
New look for Astana Qazaqstan in Tour de France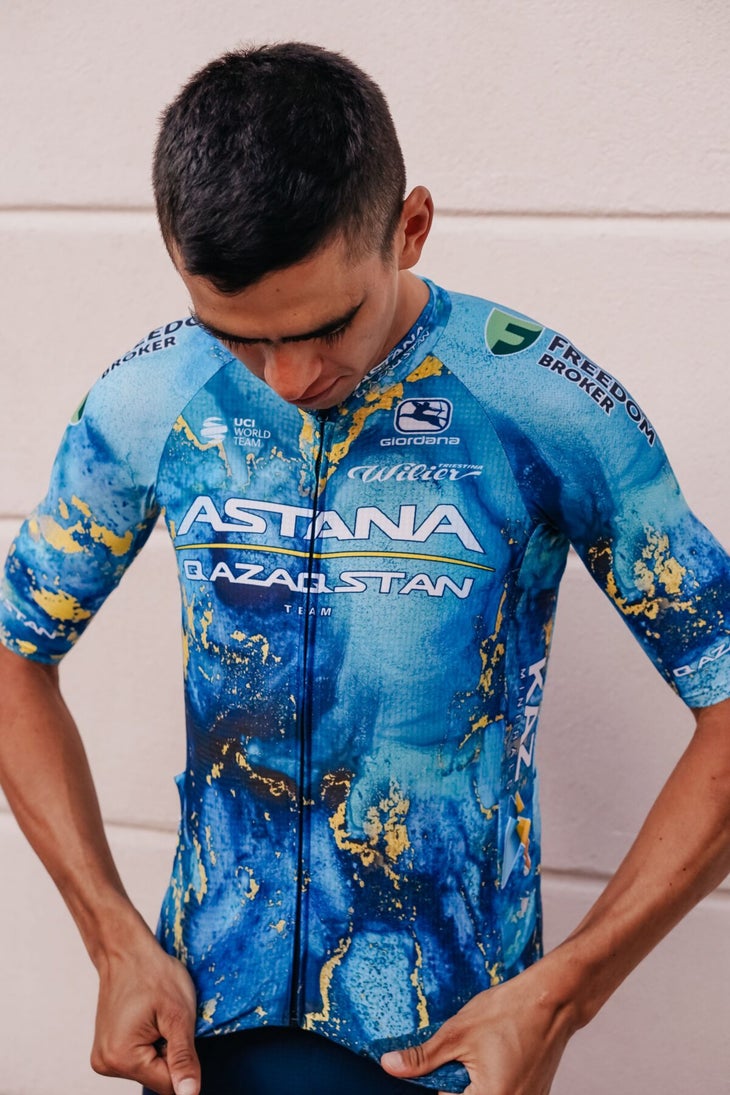 Astana Qazaqstan is the latest team to roll out a new kit for the Tour de France.
The jersey combines two new backers, with a PR statement reading: "The jersey which the Astana Qazaqstan Team riders will wear at the Tour de France, on the one hand, allows to emphasize the natural resources that Kazakhstan is famous for, and on the other, to celebrate the conclusion of a new partnership with KAZ Minerals and Freedom Broker, two leaders of the Kazakh economy in their fields."
No Tour de France for Sam Bennett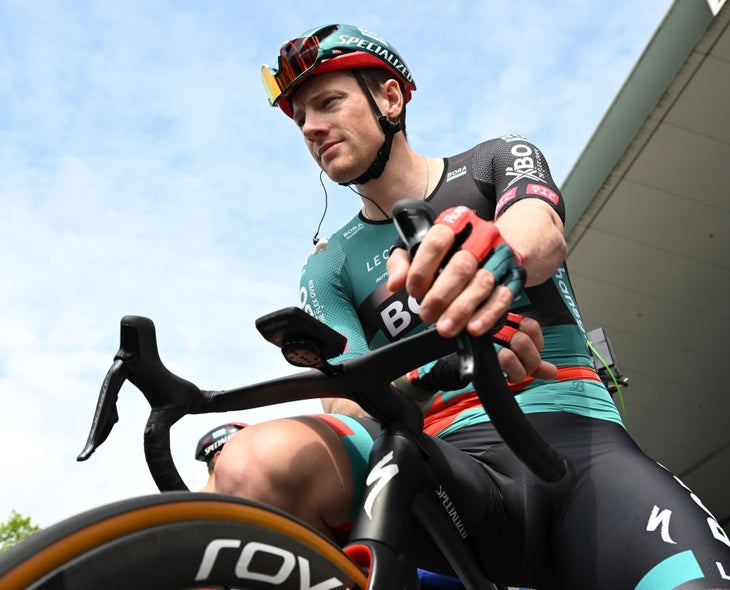 The 2020 green jersey winner Sam Bennett will once again miss this year's Tour, with Bora-hansgrohe leaving the sprinter out of its selection for the event.
The German squad released the names of seven of its eight Tour riders on Thursday, saying that Jai Hindley, Emanuel Buchmann, Marco Haller, Bob Jungels, Jordi Meeus, Nils Politt and Danny Van Poppel will ride. It said the eighth rider will be decided at the weekend and will be a climber.
Meeus will take Bennett's place as the designated sprinter.
The Irishman will be disappointed by the news, not least because he hasn't competed in the Tour since winning two stages and taking the green jersey three years ago. He missed the 2021 edition due to a knee injury and didn't get back to his same win rate prior to last year's Tour, leading to him being overlooked by Bora.
Bennett responded by winning two stages in the Vuelta a España, but had to leave the race due to COVID-19. He has been slightly under par this year, taking one win, four second places and two third places, as well as three other top ten finishes.
He was second across the line on stage three of the Critérium du Dauphiné, but then relegated after changing course during the sprint. At the time team head of performance Dan Lorang said that Bennett looked set to ride the Tour, but team management have now decided otherwise.
Mark Renshaw tapped to help Mark Cavendish in sprint for Tour history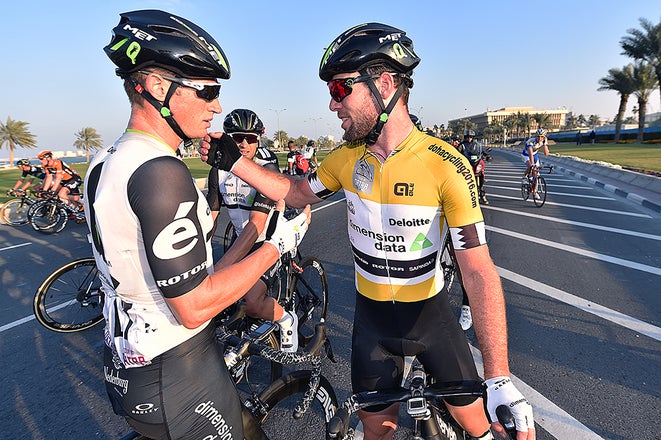 Mark Renshaw will join Astana Qazaqstan during the Tour de France to help Mark Cavendish chase a record-making stage win.
The 40-year-old Australian will help the team's leadout efforts and assist Cavendish in his quest to win a 35th stage victory.
"I am really thrilled to return to the Tour de France with Astana Qazaqstan Team and Mark Cavendish as a sprint and leadout consultant," Renshaw said. "I am really looking forward to bringing my skillset to help the team chase success. Our goal is to secure victories in the sprint stages, and I am eager to share my knowledge and experience gained as a leadout rider and teammate of Mark Cavendish."
Renshaw once rode as Cavendish's top leadout man, and will try to help push him into the record books ahead of Eddy Merckx, who both share 34 stage victories.
"Mark's recent victory in the Tour of Italy is proof that he still possesses the speed, power, and determination needed to win grand tour stages," Renshaw said. "With the support of Astana Qazaqstan and the talented riders selected for the race, I am confident that he has what it takes to win in this year's Tour de France.
"Mark's career is already a big success, but I am excited to have the opportunity to help Mark finish his career on an absolute high and chase his 35th victory in the Grand Boucle."
Basque fans will receive 60,000 free flags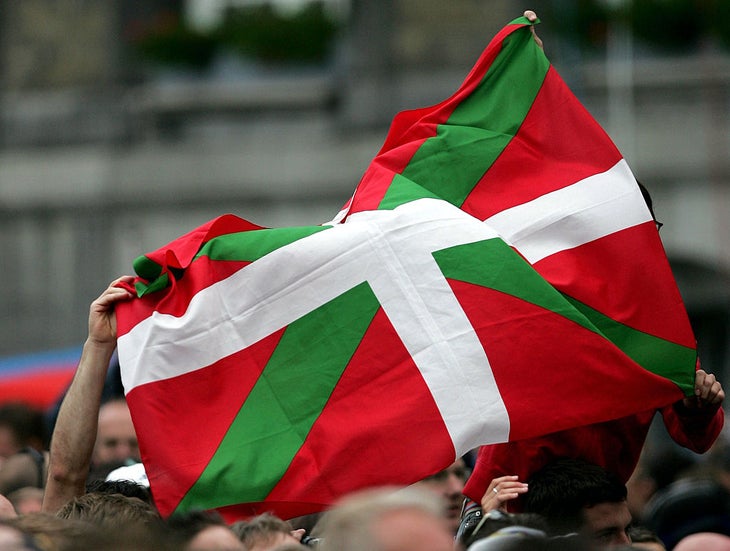 The famous Basque "sea of orange" is expected to be out in force for the opening three stages of the Tour de France.
The cycling-crazed fans are renowned for their passion and their attendance at the Tour's highest passes, typically in the nearby Pyrénées during the Tour. Two signatures make them stand out — the orange T-shirts of the Euskaltel-Euskadi team, and the distinctive Basque flag.
Officials say they will hand out 60,000 flags, called ikurriñas, during next weekend's cycling fiesta.
The free flags are part of a campaign to promote the region during the high-profile Tour visit.
Caleb Ewan headlines Lotto-Dstny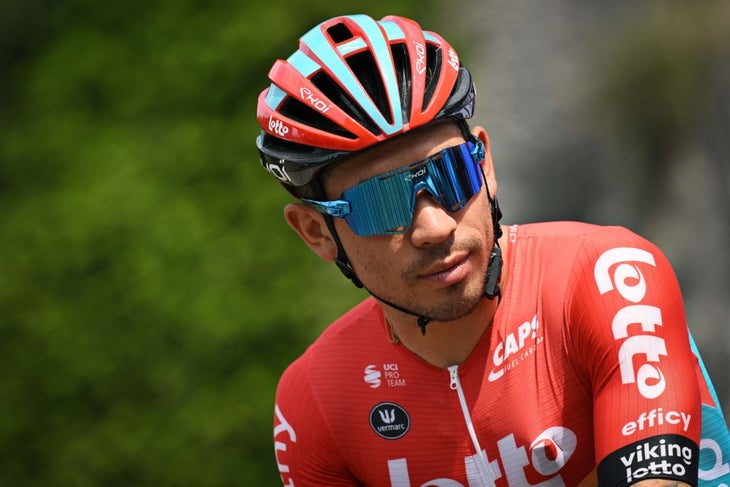 Caleb Ewan headlines Lotto-Dstny in the team's bid for another stage win in at the Tour de France. The Australian speedster is hoping to rebound from a slow start to 2023 to win when it really counts.
He will be supported by Jasper De Buyst, Jacopo Guarnieri, Florian Vermeersch, and Frederik Frison to create a strong sprint unit.
The Belgian ProTeam also includes some attacking riders to its Tour squad, Victor Campenaerts, Pascal Eenkhoorn, and Maxim Van Gils, the closing pair who make their debut at the French stage race.
"With these eight riders, we send a strong selection to the Tour", says sports manager Kurt Van de Wouwer. "Caleb Ewan has already won five stages in the Tour de France and wants to add one or more in the coming edition.
"The past two years, he has had his share of bad luck at the Tour and also the past months haven't been going perfectly but he still remains one of the fastest riders of the bunch," he said. "He is our biggest chance to take a stage win. That is why we have surrounded him really well with Jasper De Buyst, who has shown his excellent shape the past weeks and Jacopo Guarnieri as important elements in the sprint train. [For] Florian and Frederik, their task is to launch that train in a good position, they will also get the chance to go on the attack in the other stages as well."
Groupama-FDJ backs Gaudu in Pinot 'adieu'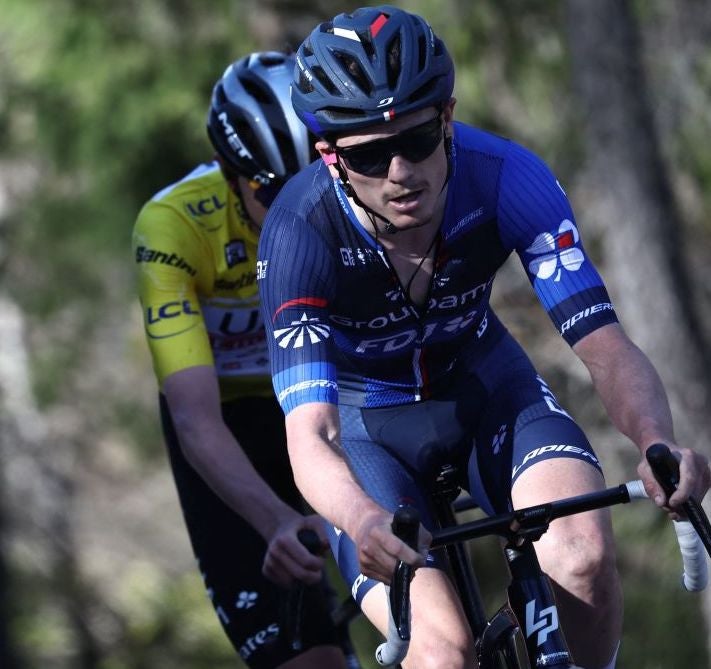 French squad Groupama-FDJ is backing David Gaudu in a podium bid, with Thibaut Pinot having freedom in his first "big loop."
Left off the Tour squad is sprinter Arnaud Démare, with Valentin Madouas, Stefan Küng, Kevin Geniets, Olivier Le Gac, Quentin Pacher, and Lars Van der Berg all getting nods.
Last year, Gaudu was the best of the rest with a career-best fourth overall. After a strong spring, Gaudu wasn't looking great at the Dauphiné, but it's July that counts.
Pinot will be swinging for the fences for a stage win to bid "adieu" to the Tour. Madouas, 10th overall last year, will be the team's second GC option. With Démare kept on the sidelines, a stage-win and a podium are the team's top goals.
Uno-X names debut Tour de France roster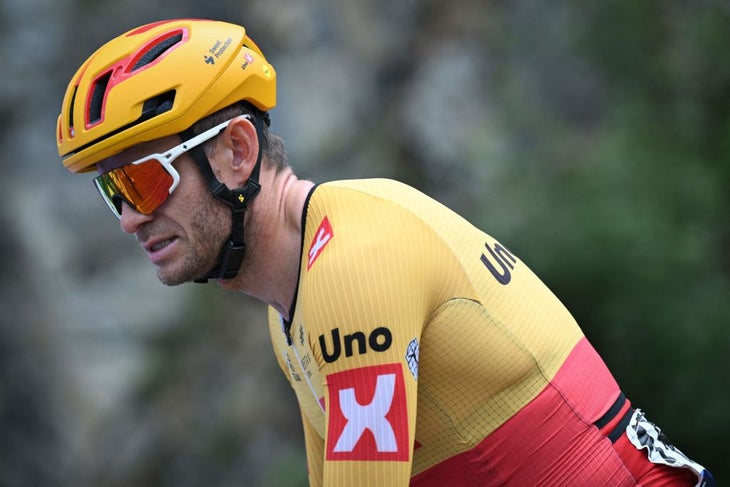 Uno-X, the upstart Scandinavian team, confirmed its roster for its debut Tour de France.
Tour stage-winner Alexander Kristoff headlines the squad packed with young, ambitious riders with the goal of winning a stage in its Tour debut.
Six of the eight starters are from Norway, with two more from Denmark. Tobias H. Johannessen and Torstein Træen will be on the march in the mountains, and the team will also have freedom to chase breakaways. Kristoff will lead in the sprints.
Træen's presence is significant after he was successfully treated for testicular cancer in 2022.
Uno-X for 2023 Tour de France
Alexander Kristoff (NOR)
Jonas Gregaard W. (DEN)
Rasmus F. Tiller (NOR)
Tobias H. Johannessen (NOR)
Torstein Træen (NOR)
Jonas Abrahamsen (NOR)
Anthon Charmig (DEN)
Søren Wærenskjold (NOR)
Primož Roglič confirms no Tour de France or world championships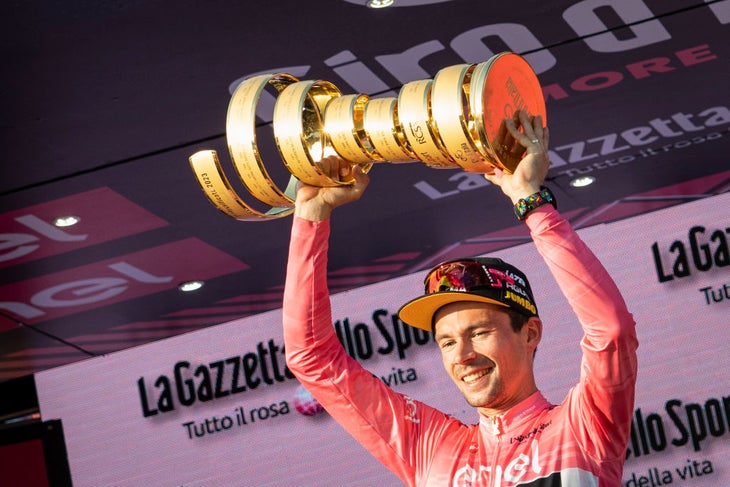 Primož Roglič, celebrating his Giro d'Italia victory in front of home fans in Slovenia, confirmed will not race the Tour de France or the road cycling world championships.
"No, the Tour is not scheduled," he said. "I'm not going to ride the national championships [this weekend] either."
Roglič confirmed he will race the Vuelta a España, and said the world championships, set for early August in Scotland, do not fit into his preparation
"That does not fit into my plans for the Vuelta," the Slovenian said. "I can't start in Spain without proper preparation, because then I can't enjoy racing."
Movistar wears change-out kit designed to raise awareness of climate emergency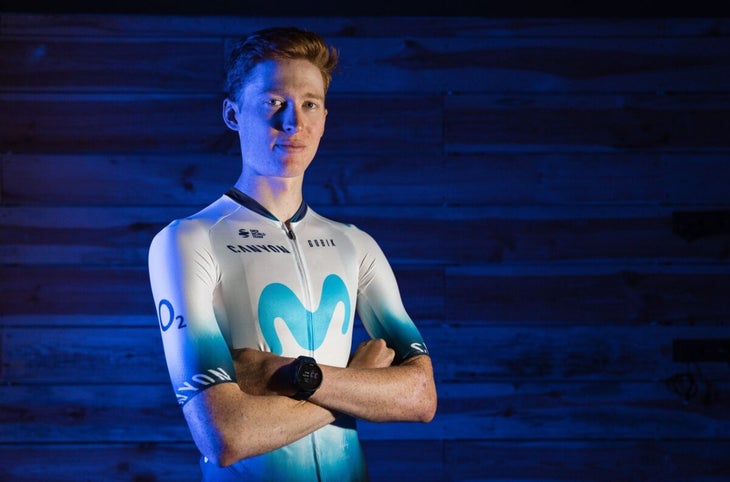 Movistar men's and women's teams will wear 'Iceberg'-design jerseys at the Tour de France and Tour de France Femmes.
The white and ice-blue kits are designed to raise social awareness of the climate emergency and its impact on the oceans. The fabrics used are produced from at least 60 percent recycled plastics and are claimed to be the most sustainable kits ever worn by a team in the Tour.
The clothing will be signed and put up for auction after the races, and monies raised will be donated to international funds and programs taking care of the oceans.
"The 'Iceberg' kit pursues four major goals: improvement of technical performance with new clothing technologies; sustainability of production through new materials and processes; presenting the Movistar Team with an innovative, differentiating design in the biggest showcase of the 2023 season; and social awareness, looking to protect the oceans," read a team press release.
Mathieu van der Poel feels 'very strong' after dominant ride at Baloise Belgium Tour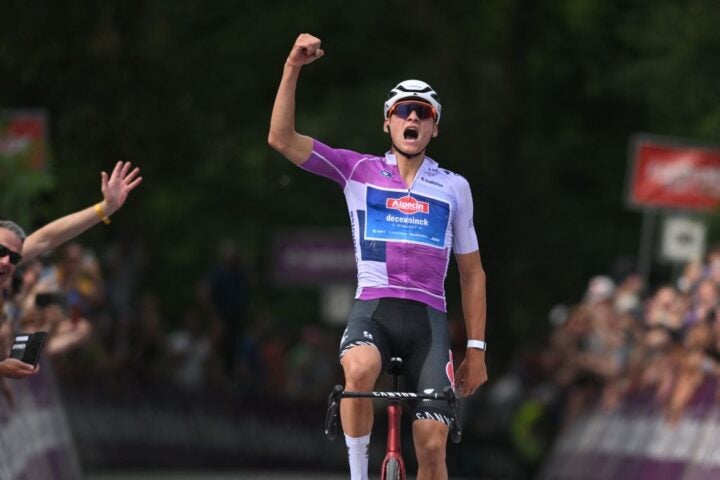 Mathieu van der Poel carries momentum and confidence into his third Tour de France.
The Dutch ace got busy doing lead-outs, scored an impressive solo stage-win, and claimed overall victory last week in his tune-up ride at the Baloise Belgium Tour and thinks he's still got his best to come.
"I feel very strong. This was one of my better performances as a pros, also when I look at my power numbers," Van der Poel told HLN after the Belgian tour.
"The past teaches me that I typically get better from these racing efforts. With the Tour in mind, I can't do much better than this – the work is done. I now mainly have to rest and improve a bit thanks to the altitude training last month. I am on schedule."
Van der Poel will headline Alpecin-Deceuninck's Tour de France team alongside sprinter Jasper Philipsen.
Démare dismayed at Tour snub
Groupama-FDJ manager Marc Madiot unveiled his squad for the Tour de France with the soon-to-be-retired Thibaut Pinot selected for his final Grand Boucle alongside David Gaudu.
Gaudu finished fourth in last year's race and will be keen to go at least one better this year and make it to the podium. Meanwhile, Pinot seems intent on getting a farewell stage win before he hangs up his racing wheels at the end of the season.
One glaring omission from the selection is sprinter Arnaud Démare, who hasn't raced the Tour de France since 2021 when he missed the time cut on the mountainous stage 9 and left the race early. The 31-year-old has expressed dismay at his non-selection, describing it to French sport newspaper L'Équipe as a "heavy blow."
"This is a second heavy blow after I was told earlier that my employment at Groupama-FDJ will come to an end. It was not literally said that way, but the message was clear," Démare told L'Équipe.
"Madiot came to me and said, we can't keep you. That was it. Did I want to stay? I would have liked to have the choice. I felt that there was less and less ambition within the team to invest in a sprint train, but I've been here for so long. I thought I meant more to this team. I also really thought I would go to the Tour. My family had already booked a holiday for the Tour, my wife already had a hotel for the rest days."
DSM teams becomes DSM-Firmenich for Giro Donne, Tour de France
The men's and women's DSM teams will race as Team DSM-Firmenich from the Giro Donne (June 30) and Tour de France (July 1) onward.
The name change comes after the finalization of the merger and launch of DSM-Firmenich, which the brand claims brings together one of the largest innovation and creation communities in nutrition, health, and beauty.
The teams' liveries will change accordingly, though the colors and two-stripe design remain similar to before.
"We are really proud that we will soon carry the new company and brand with its inspiring purpose, emblazoned over our fleet, kits, social channels, and more. The merger between two leading companies is a big milestone for this new major force in health, nutrition, and beauty," said team CEO Iwan Spekenbrink.
"As a cycling team, we also have the goal of bringing progress to life through our people on and off the bike. It will be inspiring to continue doing this as Team DSM-Firmenich."
The team confirmed it will be led by Juliette Labous at the Giro Donne and Romain Bardet at the Tour de France.
Wout van Aert confirms no green jersey ambition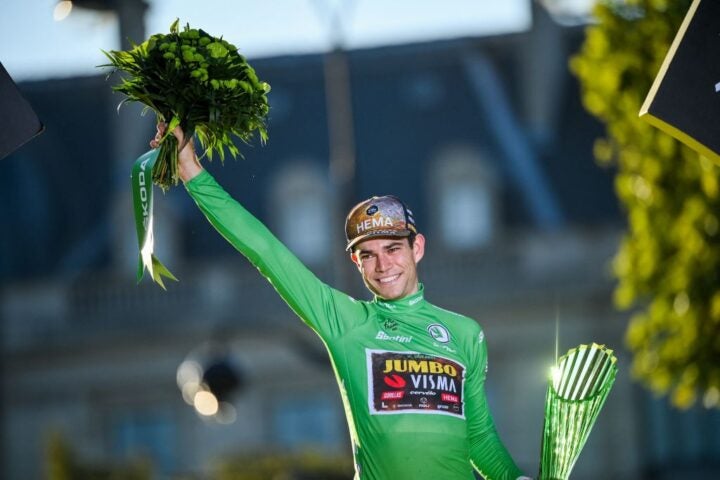 Wout van Aert won't be hunting for a second maillot vert at this year's Tour de France.
Jumbo-Visma's all-terrain wrecking ball said he plans to target stages rather than go through the grueling process of amassing points for the green jersey competition.
Last year, Van Aert lit up the Tour de France by winning three stages and the maillot vert, all while playing "MVP" in Jonas Vingegaard's ride to the top of the podium.
"Winning green was nice and important to me, but the best thing in this sport is to cross the finish line first. The points classification sometimes gets in the way of stage victories," Van Aert told Sporza. "I don't want to have to focus on the intermediate sprints from the start of the Tour."
Van Aert hopes the strategy will ensure he still has matches left for the road world championships, which this year start just weeks after the Tour rolls into Paris.
"I plan to continue racing after the Tour," he continued. "That will also make a big difference compared to last year."
Trek-Segafredo to become Lidl-Trek ahead of Giro Donne, Tour de France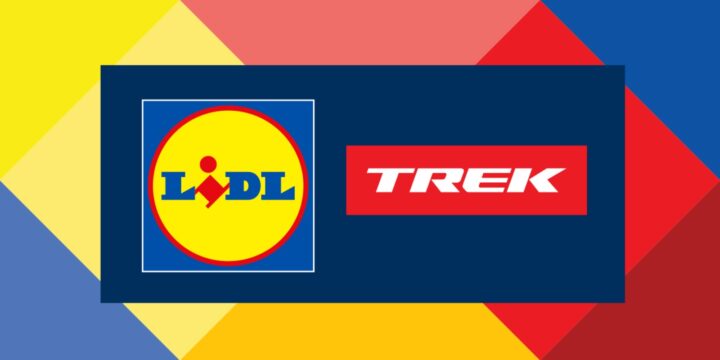 Trek-Segafredo men's and women's teams will welcome a new title backer ahead of the Giro d'Italia Donne (starting June 30) and men's Tour de France.
Long-term sponsor Segafredo is out, and the Germany-based superstore giant Lidl is in. Segafredo had co-backed the teams of Lizzie Deignan, Mads Pedersen, Elisa Longo Borghini, and Jasper Stuyven since 2016.
Lidl has grown to 12,000 stores across 31 countries during its 50-year lifespan. It has had several smaller stakes in cycling already, including a sponsor role with the Quick-Step team and ties with the Flanders Classics organization that hosts spring classics and cyclocross races.
"We are excited to work with a team that is committed not only to excellence in cycling, but also to the sustainable development of athletes in a family team culture," said Lidl divisional board member Jeroen Bal.
"We are convinced that healthy nutrition and an active lifestyle – shaped by sports and exercise – strengthen people's well-being. Just as our Lidl products are accessible to everyone, cycling is a sport for everyone and suitable for anyone who wants to be more active in everyday life. We want to share this message with as many people as possible."
The team is yet to confirm how the new sponsor will impact its current white, blue, and red liveries.
Bahrain Victorious switches kits to 'Pearl of the Gulf' design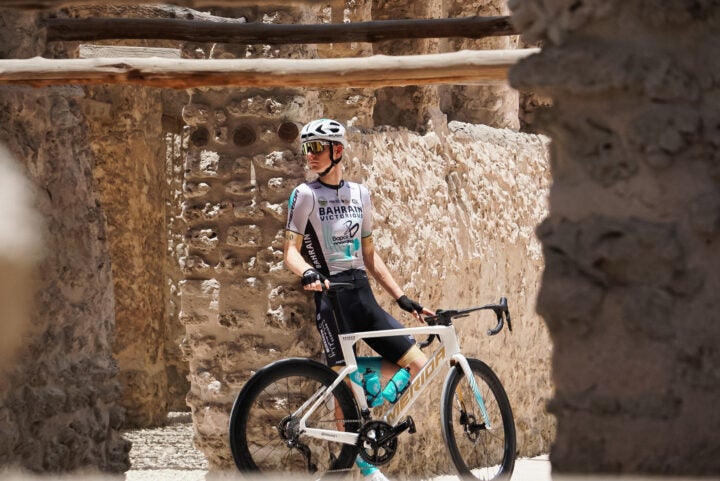 Bahrain-Victorious will ride the Tour de France with a special "Pearl of the Gulf" color scheme.
The team revealed a white and teal switchout livery said to pay homage to Bahrain's rich pearling history. Known as the "Pearl of the Gulf," Bahrain has a heritage rooted in the thriving pearling industry that flourished in the region.
The new design, which is a far throw from the team's typical reds, yellows, and blues, will feature across the bikes, kits, and helmets.
Bahrain-Victorious said its Tour de France look "captures these precious gems' natural beauty and elegance, with teal accents symbolizing the waters of the Arabian Gulf and subtle gold touches representing the shimmering glow of pearls."