Tour de France Tech: Trick tidbits from the Tour prologue TT
A look at some of the time trial goodies on display at Saturday's prologue
Heading out the door? Read this article on the new Outside+ app available now on iOS devices for members! Download the app.
The Tour's time trials always bring out the best in power-saving and wind-cheating technology. This year's prologue was no different. We didn't see much in the way of brand new bicycles. But Contador sported some slick aero covers on his LOOK pedals, Lance Armstrong rode a new Giro TT helmet, several bikes spun on Berner derailleur pulleys, and Garmin's Dave Millar and David Zabriskie wore interesting outfits.
Here are the photos and info, with a few additional TT tech highlights dropped in.
Contador's LOOK Kéo Blade pedals
It's well known that Contador favors LOOK's lightweight pedals with the carbon fiber spring. But his mechanic invented an aerodynamic modification to the underside of the pedal body, and LOOK built the part to his spec for the Astana team leader (and for wingman Alexander Vinokourov). LOOK's Arthur Espos said that the Astana mechanics had performed similar modifications previously, but that LOOK built this newer one to be even sleeker and cleaner in appearance.
Contador (like prologue winner Fabian Cancellara) used Berner oversized derailleur pulleys on the SRAM Red derailleur bolted to his Specialized Shiv time trial bike. Look for a photo gallery of Contador's TT bike in the days to come.
Lance Armstrong's Giro LAX helmet, and bike details
Armstrong's was just one of several unique time trial helmets seen on Saturday's prologue course. His happened to be custom made by Giro. According to a press release, the company is calling it the LAX, and it's the result of extensive R&D. Giro has no plans to sell the helmet at retail, but certain aspects of the technology will likely trickle down to future production models.
"The LAX was the first major project for our new Advanced Concepts Group and the challenge pushed our team to use new technology and methods in the hope that we could help Lance win his eighth Tour de France," said Giro's Senior Sports Marketing Manager Chuck Platt, in a press release.
In order to create a helmet best suited to Armstrong's body shape, Giro made laser scans of his head, arms, and torso in the time trial position, and used the data to create a precision life-sized model of him. This model weathered multiple trips to several wind tunnels as Giro tested around 100 prototypes. The model also saved Armstrong from having to attend every test in person. The helmet shape ultimately created is meant to reduce drag regardless of whether the rider is in a perfect tuck or not. It also conforms to the gap behind Armstrong's neck and shoulders, therefore smoothing airflow and reducing drag.
According to a story on Wired Magazine's web site, the helmet cost $15,000 to develop.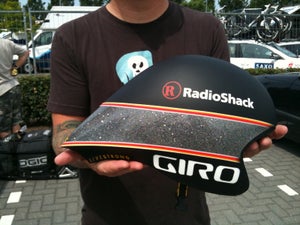 At that price, you might expect the company to make more than one, and unless our eyes lie, it appears that Alberto Contador got a similar chrono lid to play with. Giro says it's not the same, but he used a strikingly similar helmet. His had an integrated sunglass/wind screen. The profile of the lower edge where it meets his shoulders and upper back is different, but the overall shape and tail look quite similar.
In other Armstrong tech news, his Trek Speed Concept TT bike is now in production and available at Trek dealers. So are the Zipp VukaShift aero extensions and Vuka R2C shifters (although not with the Texas state graphic). But chances are you'd be hard pressed to acquire the Berner derailleur pulleys and carbon fiber derailleur cage fairing he used. The fairing looks unlike anything we've seen so far and appeared to completely enclose his derailleur jockey wheels. It has a tapered trailing edge, presumably purely for aero benefit.
Dave Zabriskie's Giro helmet and Pearl Izumi shoe covers
Stubby, rounded TT helmets seem to be gaining popularity. Bradley Wiggins's Team Sky uses a Kask Chrono TT that doesn't appear to be available to the public yet.  We're digging for more on Wiggo's setup, so check back soon.
Garmin-Transitions riders Dave Zabriskie and David Millar both rode similarly short helmets, with Giro decals. The team's media relations manager Marya Pongrace said only, "It's a Giro that we modified the back of." The front half looks like the Giro and Bell TT lids that debuted last year.
Wiggins warms up indoors
Team Sky is known for eagerly adopting technology, and doesn't stop with the bikes. The mechanics have a truck with side panels that expand outward like the walls of an RV to create an indoor workspace.
At the prologue when the rain was coming down, Wiggins and his teammates warmed up inside the truck, protected from both the weather and the curious eyes of onlookers. But Team Sky was kind enough to provide a video feed of the truck's interior so spectators could keep tabs on each rider's warmup.
In addition to these bits and pieces, we also saw new Reynolds wheels, new Vision wheels, and photochromatic Oakley lenses in action. We're out of space for now, but look for more in the next few days.