Van Garderen wary of fresh rivals as Ventoux looms
Tejay van Garderen isn't too concerned about time lost in the Tour's stage 9. He expects to move up in the coming weeks.
Heading out the door? Read this article on the new Outside+ app available now on iOS devices for members! Download the app.
ANDORRA LA VELLA, Andorra (VN) — With the Pyrénées passed the next challenge looms: Mont Ventoux, and a chance for one of the overall contenders to leave a stamp on the 2016 Tour de France. It's not an opportunity that will be missed, said BMC's Tejay van Garderen.
"I think the two frontrunners, Froome and Quintana, were holding back [on Arcalis]," he said. But on Ventoux, "I don't think you're going to see Froome sitting behind his Sky train. I think you're going to see him going up the road."
The race remains tight as it exits the Pyrénées, a factor that van Garderen believes will inspire aggressive riding in the leading duo.
"I think it means that Froome might not be so defensive. He might go on the attack, especially on Ventoux," van Garderen said. "I think a lot of people are waiting for Ventoux. I think that's such an iconic climb, and it's one of the only real iconic climbs in the finishes of this year's Tour. So the guy who wants to win the Tour — all the favorites — wants to win that stage."
[related title="More on Tejay van Garderen" align="right" tag="Tejay-van-Garderen"]
It must be a frightening prospect, knowing that the race's best climbers haven't yet given it their all. Even more frightening given that the Tour de France's first mountaintop finish sent van Garderen just off the back of his main rivals. Yet the American seemed largely untroubled a day later.
"I'm confident that I'll be moving up these next two weeks," he said, sitting on a stool in his rest day hotel's lobby. "Everything is still to play for. Everything is still within a minute," he said. "That's pretty incredible considering all the mountains we've already climbed."
Van Garderen's current 11th-place overall may feel like a downgrade from his long run inside the top three last year. But that race was different; the first real mountaintop finish came later. This year, an entire mountain range is already behind us.
The American's performance thus far suggests even better form than 2015. Last year, he lost 2:30 to Chris Froome on La Pierre-Saint-Martin, the day after the first rest day. It was the first real mountaintop finish of the race. This year's equivalent stage was the climb to Arcalis, a ski resort high above the Pyrenean principality of Andorra, a stage that saw Garderen lose only 38 seconds to the front of the GC group. He now sits 1:01 back from the yellow jersey.
"It's not a big surprise that I lost a little bit yesterday," he said. "I tend to keep my consistency, and I think a lot of these guys are still a little fresh. Once the fatigue starts to set in I think I can knock a few of those guys off ahead of me."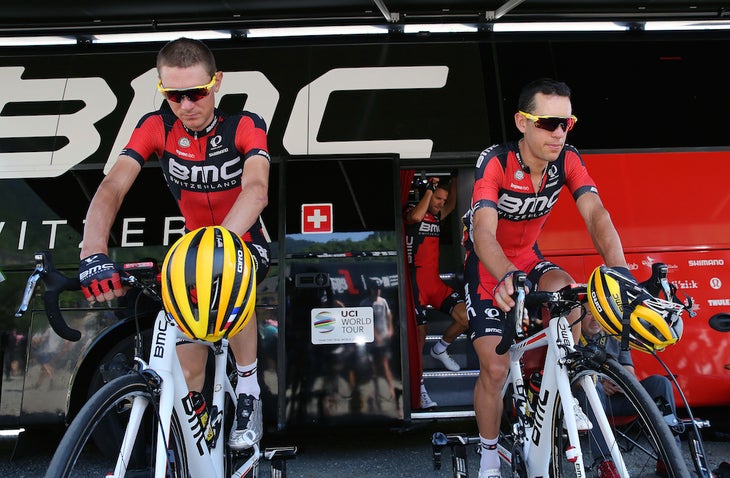 Van Garderen's teammate Richie Porte finished with the Froome/Quintana group on Sunday, but remains 2:10 behind Froome in the overall, time lost due to an untimely flat in the first week.
Porte attacked on the Arcalis climb, but was unable to gain separation. He continued to pull at the front of the group after attacking. On Monday, both Porte and van Garderen pushed back on criticisms of the team's tactics.
"Richie is free to attack and free to follow moves," van Garderen said. "If we get the opportunity to work together when we're both feeling good, that would be a good scenario to have. But I think right now it's more like doubling down on having a GC guy. If one of us ends up losing 30 minutes, we have another one."
And if the roles reverse in the coming days, and it's van Garderen who has the good legs, would Porte afford him the same freedom?
"Yeah, for sure," van Garderen said. "If I have the legs to go with Froome one day, I'm going to go."