Vogondy takes stage at Critérium du Dauphiné, RadioShack's Janez Brajkovic keeps lead
Vogondy takes stage at Dauphiné, Brajkovic keeps lead
Heading out the door? Read this article on the new Outside+ app available now on iOS devices for members! Download the app.
Local officials hope that the twisting, 12.8km climb to the Risoul ski area in the French Alps could someday host a Tour de France stage.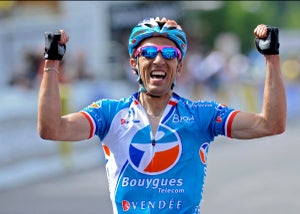 If Thursday's attack-laden 210km fourth stage at the Critérium du Dauphiné is any indication, the Risoul climb seems Tour-worthy.
Nicolas Vogondy (BBox Bouygues) surged out of an elite dozen with less than 2km to go to claim the stage victory while Janez Brajkovic (RadioShack) fended off attacks from Denis Menchov (Rabobank) and Alberto Contador (Astana) to defend his leader's jersey.
"My sport director said to attack with 2km to go, you have nothing to lose," said Vogondy, who overcame arrhythmia to return to racing this spring. "I looked back and I had a nice gap. Perhaps the others were watching each other."
Tejay Van Garderen (HTC-Columbia) didn't quite have the spring to follow when the late-stage attacks came, but limited his losses to cross the line 15th at 40 seconds back. David Millar (Garmin-Transitions) dipped to fourth, so Van Garderen climbed into second overall at 1:15 back, ceding only 25 seconds to Brajkovic.
"I didn't have the legs to follow the attacks. I just wanted to go at my own rhythm and lose as little time as possible," Van Garderen told VeloNews. "With the headwind all day and the uphill, it was over six hours, it was just brutal. Maybe tomorrow the snap will come back in my legs. Maybe I was a little blocked after the TT. Instead of just motoring along, hopefully tomorrow I can find a little snap in my legs and I can follow the moves."
Danny Pate (Garmin-Transitions) featured in the day's main breakaway, joining Austrian climber Stephan Denifl (Cervélo) to try their luck.
The pair battled gamely against strong headwinds, but Pate knew that the numbers were stacked against them. Despite opening a gap of 10 minutes, the pair hit the base of the Risoul climb with just under three minutes on the main pack.
With the big guns attacking from behind, Pate knew that wouldn't be enough. Denifl hung on until 2.5km to go, but Pate gave up the chase early, crossing the line 94th at 10:29 back.
"Everyone wants to have someone in the break. There were a couple of groups of 15 going early, so it was important to be there. Then I just ended up with one guy. No one anticipated that much headwind, there was headwind all day, so it was pretty hard for just two guys," Pate told VeloNews. "We were both pretty far down on GC, and with three hard days ahead of us, so we had that going for us. It was too much for two guys to do."
Pate in escape
Garmin-Transitions was intent on putting a man into a breakaway. Johan Van Sumeren went early before Pate jumped at about 30km, with Denifl hitching a ride. The pair quickly built up a big, 10-minute gap before RadioShack put a few men on the front to tighten the leash.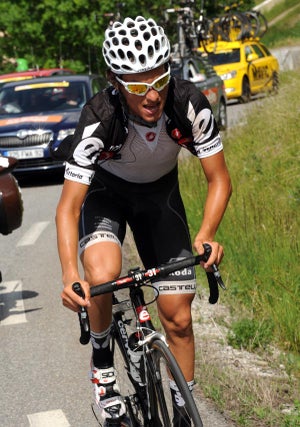 The pair made steady progress against gusty headwinds blowing down the Durance valley. They passed through Gap and Embrun, with a five-minute gap with 30km to go, but Pate knew the numbers were stacked against them.
Pate and Denifl hit the base of the 12.8km climb with just under a three-minute gap on the hard-chasing bunch. Rabobank and Liquigas helped RadioShack reduce the difference and then Sky's John Augustyn went to the front on the lower reaches of the climb.
Pate lost the Denifl's wheel and the lean Austrian played his chances for a stage victory with a two-minute gap with 10km to go.
"We both knew that we needed a lot of time coming into it, so we rode really hard to the bottom of the climb. We didn't have that much time (about three minutes). He was a little better than I was, he had a good ride," he said. "Rabobank and Liquigas were interested there in there, so it might not have mattered how many guys were there."
Up the Risoul
The attacks from stage-hunters came fast and hard out of the main group as the GC men eyed each other on the lower flanks. Laurent Lefevere (BBox Bouygues), Ivan Santaromita (Liquigas) and Branislau Samoilau (Quick Step) bolted out of the GC group as RadioShack's Chris Horner set tempo on the climb.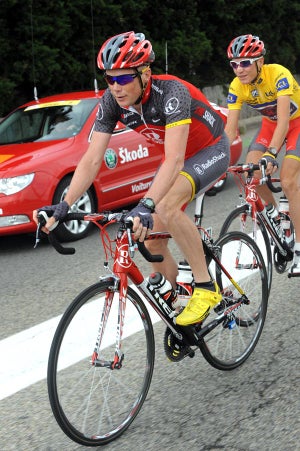 Riding with his jersey completely unzipped, Horner set a steady tempo up the lower part of long, twisting climb to the Risoul ski area, perched high overlooking the Durance valley.
Horner's pace kept a lid on the aggression until Christophe LeMevel (FDJeux) tried his luck with about 8km to go, scooting past Santaromita and making progress toward Denifl.
"We are very happy with the work that Horner and Lequatre did today," said RadioShack sport director Alain Gallopin. "Jani was able to stay with Contador today, and that's never an easy thing to do, so we are very content. We know this will be a very difficult race to win. We shall see what develops tomorrow."
Egoi Martínez (Euskaltel-Euskadi) shot out with about 7.5km, quickly catching Le Mevel and the fading Pate, while Horner kept setting a high pace to neutralize the earlier attacks. Lefevere was working about 1min behind Denifl.
Just as Martínez was caught with about 5km to go, his Euskaltel teammate Ivan Velasco shot clear.
Menchov (who started 8th at 2:49 back) paid back his Rabobank teammate's work with a strong acceleration with 4.5km. Horner's work was done and Astana surged to the front of the quickly reducing GC group. Brakjovic was holding on, but things were quickly tightening.
Denifl finally succumbed to the Menchov surge with 2.3km to just as Contador spring to life with 2.2km to go, a move that put Millar and Van Garderen into trouble. Brajkovic was able to follow as a group of 12 riders regrouped with 2km to go.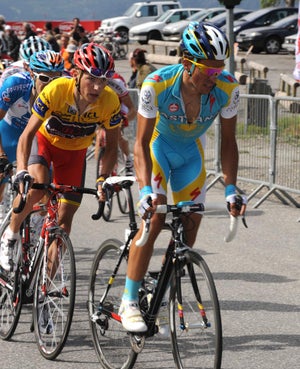 "I was expecting some attacks, but no one went, so I finally decided to go. I attacked to make a test, but the plan here remains the same. It was a hard stage, with a lot of wind, heat and six hours in the saddle," Contador said. "I'm going to see what happens tomorrow and see how it goes. If I am good, OK, if I am not, then that's OK, too. The objective remains the same – to be ready for the Tour de France."
Vogondy jumped with about 1.5km to go, followed by Basque sensation Romain Sicard (Euskaltel-Euskadi). Vogondy hung on to win, 12 seconds ahead of Sicard, who notched his best result of the season for the Tour de l'Avenir champion.
Brajkovic crossed the line third at 15 seconds back, just ahead of Contador, and widened his lead to 1:15, with Van Garderen slotting into second. Contador climbed to third at 1:41 back and Millar dipped to fourth at 1:56 back.
Friday's stage
The 62nd Dauphiné continues Friday with the short, but potentially explosive 143.5km fifth stage from Serre-Chevalier to Grenoble.
The route opens with the Cat. 2 Col du Lautaret at 15.5km before a long descent to Le Bourg d'Oisans. After passing through Vizille, the course turns onto the HC Chamrousse climb (17.5km at 7.5%). The climb tops out with 31km to go, from there, it's all downhill to the finish in downtown Grenoble.
Race notes
Contador content: Alberto Contador is taking a philosophical approach to this Dauphiné. For the two-time Tour winner, the road to July goes through the Dauphiné, but the finish line he's most worried about comes on the Champs-Élysées. Contador said he was pleased to see Astana teammates Paolo Tiralongo, Jésus Hernández and Dani Navarro pulling near the end of the Risoul climb: "I am satisfied with how the team worked today, especially on the final climb. We have to get the mentality of the Tour in our heads. There's not better way than to make a test like today," Contador said. "The team was very motivated. They could have pulled even harder, but I told them not to."
Five less: Jean-Christophe Peraud (Omega Pharma-Lotto), who crashed in Wednesday's TT, did not start. Bert Grabsch (HTC-Columbia), Joaquin Novoa (Cervélo) and Thomas Fothen and Markus Eichler (both Milram) did not finish. Former Tour de France KOM winner Mauricio Soler (Caisse d'Epargne) also pulled out of Thursday's stage and he's hoping to save his Tour de France hopes by seeking treatment for a knee injury he sustained earlier in the week. 161 riders remain in the race.
Stetina 24th: Peter Stetina (Garmin-Transitions) rode well up the Risoul summit, crossing the line 24th at 1:01 back. The Coloradan is 28th overall at 5:58 back, and will be moving up the GC ladder if he continues climbing well with three hard stages to go.
Quick results:
Stage:
1. Nicolas Vogondy Bbox Bouygues Telecom in 6:03:25
2. Romain Sicard Euskaltel – Euskadi, at 0:06
3. Janez Brajkovic Team Radioshack, at 00:15
4. Alberto Contador Astana, at 00:15
5. Reine Taaramae Cofidis Le Credit En Ligne, at 00:18
…
15. Tejay Van Garderen Team HTC – Columbia, at 00:40
GC:
1. Janez Brajkovic Team RadioShack in 16:25:44
2. Tejay Van Garderen Team HTC-Columbia, at 1:15
3. Alberto Contador Astana, at 01:41
4. David Millar Garmin – Transitions, at 01:56
5. Nicolas Vogondy Bbox Bouygues Telecom, at 02:43