Denis Menchov likes his chances at the 2010 Vuelta a Espana
Two-time Vuelta winner Denis Menchov goes into this year's race as a five-star favorite.
Heading out the door? Read this article on the new Outside+ app available now on iOS devices for members! Download the app.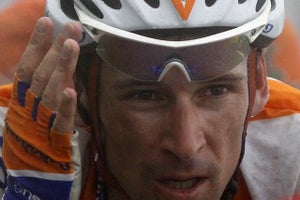 Denis Menchov has already won two Vueltas a España and will be lining up for Saturday's start as one of the pre-race favorites to win a third.
Hot off third overall at the Tour de France, the Russian says he will fight for overall victory when the Vuelta ends Sept. 19 in Madrid.
"I took a good beating at the Tour and I have to confront (the Vuelta) with reserves. I haven't promised anything, to my team or even to myself," Menchov told the Spanish daily AS. "The most important thing is that I am motivated. I am not worn out psychologically and physically I am good. I start with the idea of winning, but it's never easy."
Menchov has also won one Giro d'Italia, but did not defend his Italian title this year so he could make a run at the Tour. He was solid throughout the Tour, but lost options for victory on the Tourmalet, yet became the first Russian to finish on the Tour podium.
He's still hoping of becoming the first Russian to win the Tour.
"I finished the Tour pretty content. I believe I confirmed that I am a good rider for these types of racing, that I have made steady progress," he continued. "I started believing I could win this year. I wasn't too far off. I made a big bet on the final time trial. I wanted to start the final TT within reach of winning it all. I faltered on the Tourmalet and lost my options there. But overall, I have to be happy with how things went."
For the Vuelta, Menchov said he's trained consistently for the past three weeks and hopes to be in good condition in the opening week. A difficult climb on the Cat. 1 Puerto de León in stage 3 could prove critical for anyone who gets dropped there.
"You have to start this Vuelta off in good shape because there are complicated stages right from the start. You have to be attentive to not lose options," Menchov continued. "I think the final will decide everything, with the stage to Andorra, the block of stages in Asturias and the time trial. That's where you need to be strong."
The Russian won the Vuelta in 2005 following the disqualification of Roberto Heras and came back to win it outright in 2007.
If he's motivated, Menchov will be a five-star favorite for overall victory. Joining him on Rabobank will be three-time world champion Oscar Freire, who be looking to hone his form going into the world championships in Australian in October. Freire was not much of a factor during the Tour, but can be counted on to be active in sprint stages and look for a stage victory. Rounding out the team are stage-hunters Mauricio Ardila, Juanma Garate and promising rider Laurens ten Dam.