Disruptors, collaborators, red jersey contenders? UAE Emirates can still shake the Vuelta a España
Evenepoel hinted at partnership with Soler, Almeida, Ayuso – but UAE Emirates could prove just as much an enemy as a friend.
Photo: Alexander Hassenstein/Getty Images
Heading out the door? Read this article on the new Outside+ app available now on iOS devices for members! Download the app.
UAE Emirates may not be scooping the big headlines like #GCKuss or Remco Evenepoel, but the team of Marc Soler, Juan Ayuso, and João Almeida still could shake the classification of this Vuelta a España upside down.
Evenepoel is hinting at an alliance with the Emirati team in a mission to take down Jumbo-Visma.
Ayuso is possibly the most self-assured 20-year-old ever seen in pro cycling.
And heck, Soler – the rider best known for intra-team spats and teen tantrums – might even ride away with the most meme-worthy grand tour victory in a decade.
Soler delivered the TT of his career Tuesday to push his way to 26 seconds back on maillot rojo Sepp Kuss.
Pre-race podium contenders Almeida and Ayuso are 2:16 and 2:25 back respectively, but little more than one-minute down on red jersey reference-points Evenepoel and Primož Roglič.
Also read:
At this stage in the race, the Vuelta a España has the most tightly-dotted GC of any grand tour this season.
And UAE Emirates is woven into that thread.
Ayuso and his podium quest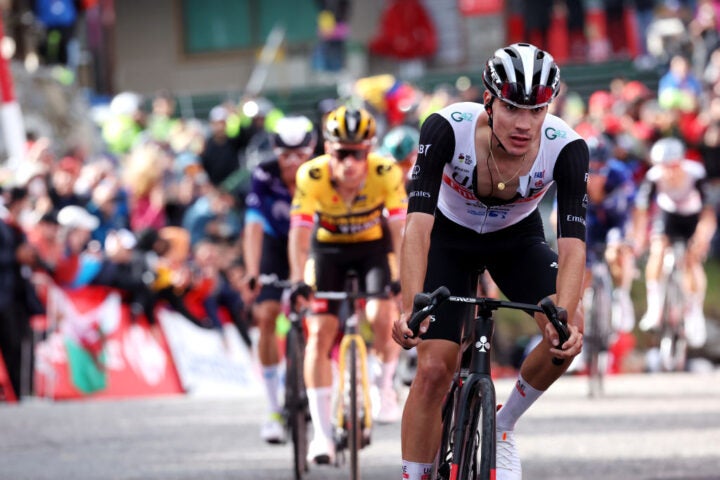 Could UAE Emirates usurp the Evenepoel-Jumbo Visma prizefight?
This coming weekend through the Pyrénées will deliver the answer.
Soler is his team's version of Kuss. He's UAE's own superdomestique-turned-unexpecting GC star. Yet unfortunately for him, he's no high-mountain man like Kuss.
Team management is already talking of the explosive Spaniard as a pawn in the game.
Instead, it's grand tour podium-finishers Almeida and Ayuso that are UAE's best bets as the Vuelta rumbles into a crucial weekend in the mountains.
"This situation has arisen and we have to take advantage of it," Soler this week told Marca. "I'll fight hard, but I've never seen myself in a similar situation. I want to take advantage of the opportunity and enjoy it. If I enjoy it, maybe it could even happen.
"The important thing is to get the best result for the team. Maybe I can have a bad day and Almeida and Ayuso are there. What we want is to win, it doesn't matter with whom."
Does UAE Emirates have a realistic hope of wrangling red away from Jumbo-Visma?
Almeida and Ayuso don't have the power to bend a race to their will in the way of their teammate Tadej Pogačar, and few will be betting on UAE Emirates to top the podium in Madrid next weekend.
But in a GC as tightly tangled as this, UAE's "triple threat" can totally disrupt the narrative to come.
Jumbo-Visma and Soudal Quick-Step risk becoming preoccupied with one another and leaving the door wide open for one of Almeida or Ayuso to tear into the frame.
All eyes – particularly in Spain – are on Ayuso to live up to the hype heaped onto his shoulders before La Vuelta.
The 20-year-old was nipping at Evenepoel, Kuss, and Roglič through the first half of the race.
Even after a sup-par TT and neutral-zone tumble, Spain's great hope will be swinging all the way to Madrid in his quest to go better than his third-place finish of last year.
Remco's friends, Remco's foes?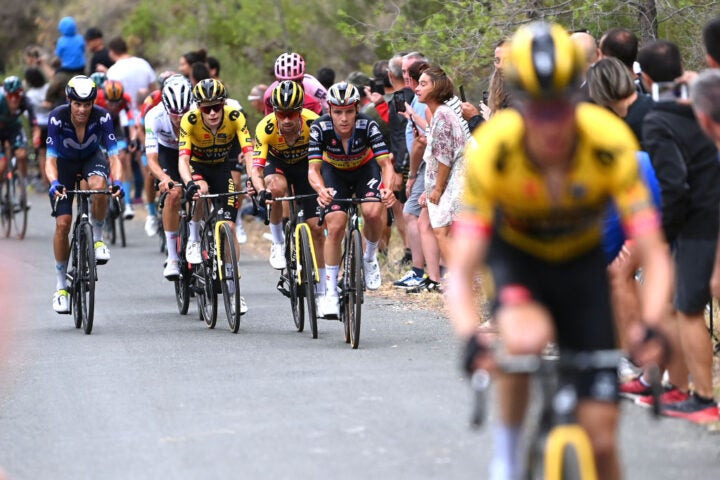 Evenepoel hinted through the Vuelta's second week that he and UAE Emirates might find fortune in working together to crack Jumbo-Visma's three-tower fortress.
But the Belgian might need to keep any potential friends just as close as his enemies.
UAE Emirates doesn't have the ridiculous depth of Jumbo-Visma, but even after the loss of Jay Vine, it's still got more horsepower than the seven-rider Quick-Step.
"We [Evenepoel and UAE Emirates] have the same goals," Ayuso said on the rest day. "If I get into a situation where I can pressure Jumbo-Visma along with Remco, then of course, I will. But that also applies to the situation if I'm away with Roglič or Vingegaard and we've dropped Evenepoel."
If Evenepoel cracks under Jumbo-Visma pressure through the 12,000m of ascent loaded into the three stages to come, there are six riders – three from each of Jumbo-Visma and UAE Emirates – poised to punish him.
"Everyone wants to ride their best possible race and sometimes you join forces," Ayuso said. "But in the end, we are all rivals of each other."
Evenepoel and Jumbo-Visma will likely be throwing the biggest haymakers in the final phase of this Vuelta a España.
But don't be surprised to see UAE Emirates making some crucial jabs along the way.