Everybody loves Sepp! The peloton celebrates the new Vuelta a España champion: 'No one deserves it more than him'
Reactions from Geraint Thomas, Juan Ayuso, Jumbo-Visma staffers and teammates on Kuss and his historic win: 'Everyone is super happy to see him win.'
Photo: Chris Auld Photography Ltd
Heading out the door? Read this article on the new Outside+ app available now on iOS devices for members! Download the app.
The warmth and positive reaction in the wake of Sepp Kuss and his historic Vuelta a España victory is nearly universal.
From the Spanish racing fans to his opponents and his teammates, it seems everyone is a fan of the newly minted grand tour winner from Colorado.
"This is like a fairytale," Kuss said Sunday. "With Primož winning in Italy and Jonas winning in France earlier this year, I wanted to be part of this team chasing the overall victory in the Vuelta. Standing here as the overall winner is something I could never have imagined in my wildest dreams."
Also read: Kuss ends decade-long US grand tour drought
Throughout the Vuelta, Kuss and his fighting spirit connected with a larger global audience.
In interviews, he switched between Spanish and English, and gave an emotional winner's speech from the podium in Madrid in both languages.
Here are the top reactions from the finish line after Sunday's big finale:
Sepp Kuss (Jumbo-Visma), 1st overall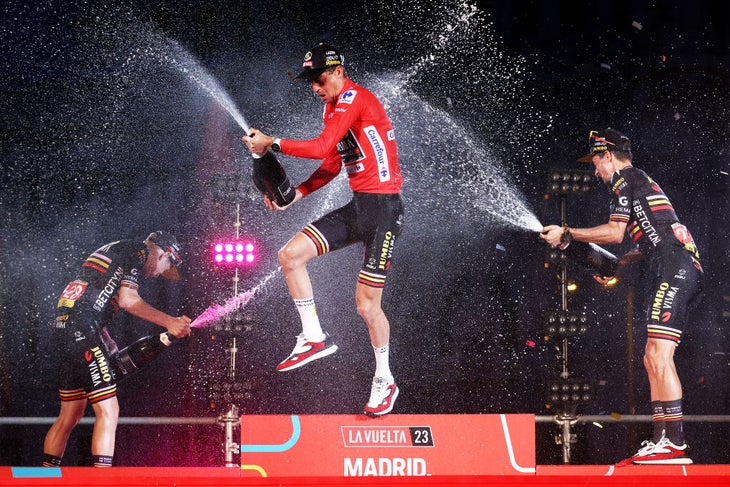 I have a lot of feelings right now. For me it's still pretty overwhelming, I am not used to all this attention. I realize how special this is, it's incredible, and I have to remember this moment, and take advantage of everything that I have experienced and enjoyed.
It's incredible. I think today was the stage I was suffering the most in the whole race. I am just glad it's over. I had a feeling it would be a fast stage when I saw all those guys getting ready to attack. I suffered more today than I did on the Angliru.
Why he enjoys racing in Spain:
Ever since I raced the Vuelta, it was my first grand tour in 2018, I always felt a special connection with it, not only because I moved to Spain, but the Spanish people are so respectful to every racer. They would cheer on everyone in the race, no matter what team, what nationality, and they always gave the racers space. In Spain it's a big sport, and they know what it's like to ride a bike, to suffer up the mountains, and the different roles in the team.
As I progressed through cycling, and now living in Andorra, being more connected to the culture, to the geography of Spain, and the people, I really feel something special for this race. This is the one race I will never miss.
Plans for 2024:
I really want to come back next year and have the No. 1 on my back, and no matter what happens next year, I will be happy to be the defending champion. That's something only a few people can say. That would be very special.
Marc Reef, sport director Jumbo-Visma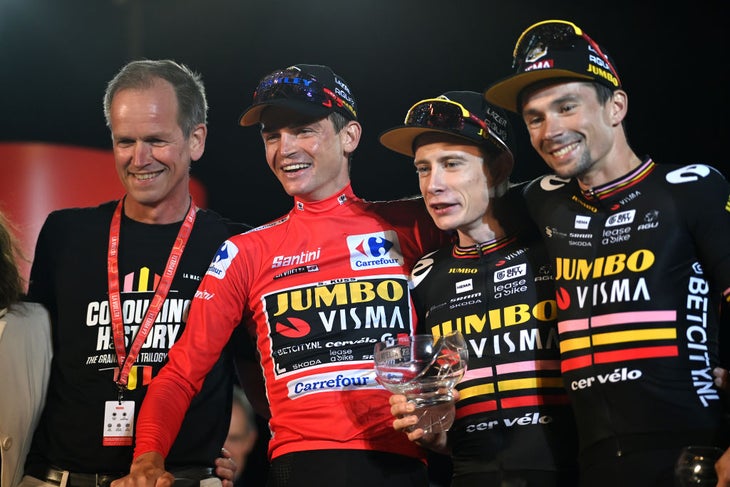 Quite a lot of emotions, but most of all proud of the way we did it as a team. It was shown with the guys who are here, and also the staff that are here, but there are so many more persons who made this possible in this team. It is too bad that not everybody can be here, but this is really a victory from the whole team. Not only this one, but also all the races that we won already this year, and with this race the third grand tour. So it's a big achievement, super proud and also super happy.
On what makes Sepp Kuss so special:
He is just himself all the time. He also mentioned this morning in the bus that this victory means as much as also the victories of Jonas in the Tour this year, and also of Primož earlier in May in the Giro. I think that says already everything, that the win for himself means as much as when another guy is winning that he was part of.
It is really special as a rider that he did all the three grand tours, and so far he was there will all the grand tours that we won. He was always an important guy in the victories and the achievements that we had, and as a person everybody likes him. He is always there for the team. He gives everything for the team.
Like I said, it's something when he says that this means as much as the victories of the others, I think that says enough.
On how the team will try to improve:
I think that we first of all need to really enjoy this. It is a big achievement, it was a big goal that we started with. Sometimes you have to dream big also to achieve those kinds of things. In the winter time we are going to look again how we can do it better, what we can do better. For sure there are things again that we can do better, because when we say, 'this is what we can do,' then also our opponents get closer to us. We also want to keep the distance to the rest. So that's the next challenge we are having.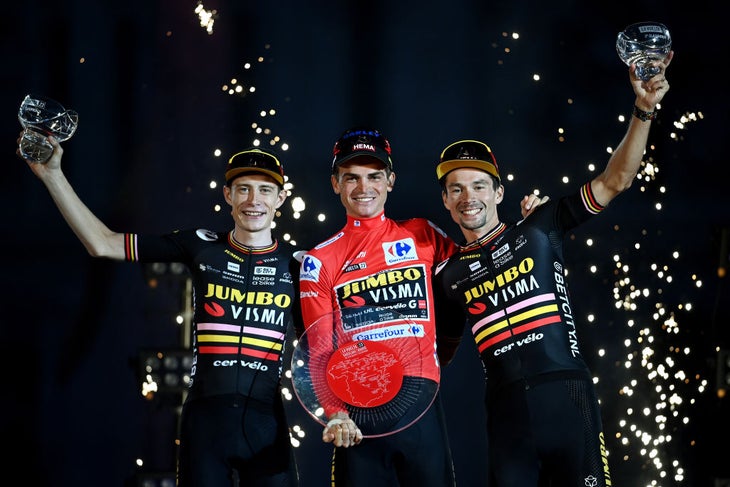 Jonas Vingegaard (Jumbo-Visma), 2nd overall, two-time Tour de France winner:
I'm obviously super happy for Sepp and he deserves it so much. Obviously if he wants to, he will get the chances in the future for sure. I hope for Sepp he will want to, because he is so good that he deserves all the chances. Obviously then I will lose a super great helper in the mountains but Sepp deserves all the chances he will get.
Primož Roglič (Jumbo-Visma), 3rd overall, three-time winner
He really deserve it. He was always there and it was a pleasure to do it. I said the guys around me for sure know Sepp. He is nice.
Of course I am also happy that not all the media then jump on me and I can escape a bit and let him enjoy. He really deserves it. He was always there and it was a pleasure to do it.
Juan Ayuso (UAE Team Emirates), 4th overall, best young rider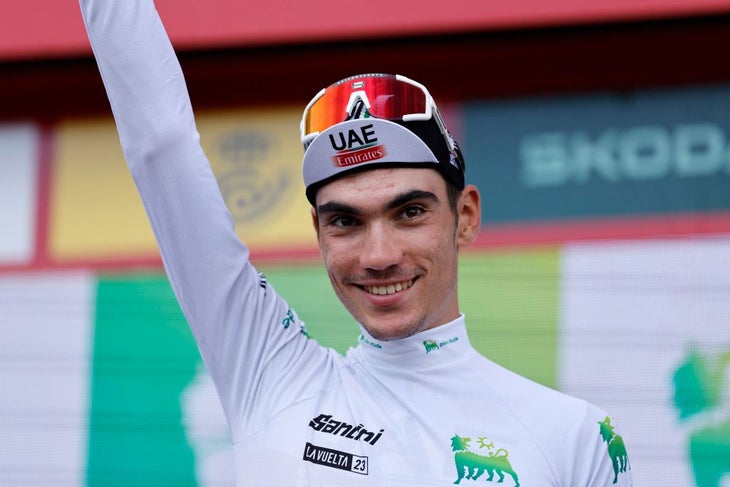 A 'gregario' didn't win this Vuelta, the strongest in the Vuelta won. When he rode into that breakaway, I thought, watch out, and then he surprised everyone in the time trial. He was the strongest and he demonstrated it across the race, sometimes without the help from this teammates, so no one deserves it more than him.
Sean Quinn (EF Education-EasyPost), after finishing first grand tour:
Sepp Kuss winning La Vuelta is amazing for the U.S. and especially I'm just really happy for him. He's such a great guy and someone I think all young American cyclists should and do look up to. The way he carries himself off the bike as well is really, really nice.
Geraint Thomas (Ineos Grenadiers), 2018 Tour de France winner: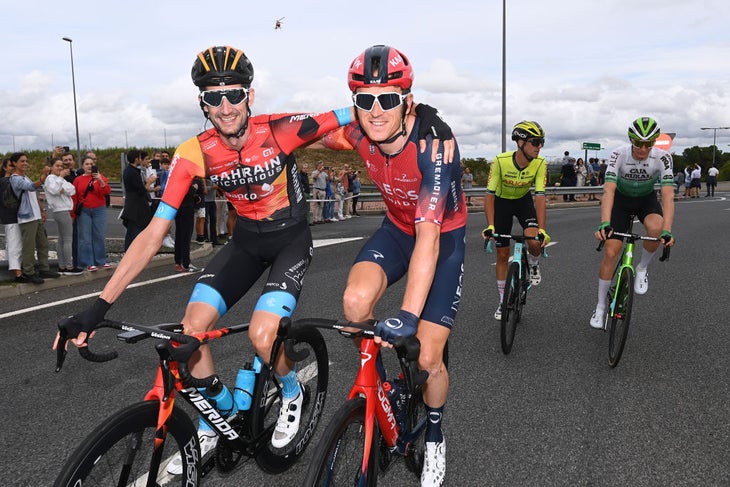 Kuss is a super nice guy. Especially the fact that he is always helping and riding so well for others, it is just really nice to see him get some of his own glory.
Especially for the English speaking native countries, the Brits, the Aussies, the Americans, and all that, everyone is super happy to see him win. But then also obviously he has been around a while as well, so it is not just those boys, but the whole peloton has a lot of respect for someone like Sepp.
It is unbelievable, what he's done this year as well. With the Giro, and then the Tour and then winning this. I said at the start, 'oh, no chance, he will crack,' but he definitely proved me wrong. And great to see. And yeah, obviously someone who is always working so hard for others, it is nice to see him get some of that personal glory.
On Kuss always working for others:
It is hard to explain to anyone else from a different sport how it works. I remember my wife's nan always says, 'yeah, but you were leading with 300 meters to go. Why did you stop, why did you let Cavendish come past you? I said, 'well, that's not how it works,' not that I'd win a sprint anyway, do you know what I mean?
But it's massively such a team sport, but it's also so individual as well. It is unique in that respect and that's what makes it special as well.