Geraint Thomas out of hope at Vuelta a España as grand tour future remains uncertain
Welsh veteran may be facing a difficult end to his GC career at Spanish tour as Ineos Grenadiers tilts toward a new era.
Heading out the door? Read this article on the new Outside+ app available now on iOS devices for members! Download the app.
Even Geraint Thomas struggled to put an upbeat tone on his Vuelta a España chances.
The Welshman all-but conceded defeat in a bleak team-recorded voice note sent around the media on La Vuelta's first rest day.
"We're gonna have to just take every day as it comes," Thomas said Monday. "You never say GC is totally over because one breakaway and you can be back in the mix. But I'd say that the podium is a hell of a long way off now."
Thomas' 12-minute deficit spells the end of his Vuelta a España GC hopes in what is potentially his last race as a classification captain at Ineos Grenadiers.
Thomas is keen to continue racing into 2024 and possibly beyond. But the 37-year-old's classification days are dwindling, and his team's vision for his future is uncertain as it tilts toward a fresh new era.
Also read:
After an opening week characterized by crashes and calamities, Thomas is now left searching for scraps in what could be a pivotal grand tour for his long career.
"The first week was up and down, mainly down, and on the floor as much as anything else as well," he said.
"It's been a tough week for the team, and me personally as well. Losing two of our climbers it's certainly not ideal with the terrain we've had and still got to come to come. It's one to put behind us and try and be positive and move on."
Thomas rode into the Vuelta uncertain how he'd handle chasing GC twice in one season.
He went deep riding at the top of the classification of the Giro d'Italia this May and suffered the agony of losing the maglia rosa on the final day of GC racing.
Thomas couldn't sound much more dejected Monday while he reflected on a second grand tour disappointment in four months.
"There are still a lot of chances. And, you know, we've still got a good team, we still potentially can do something good," he said. "It's just keeping morale up now and just staying positive."
So what next for Thomas heading into 2024?
That morale he referred to may play just as much a factor as the decisions that get made above his head.
One more Tour?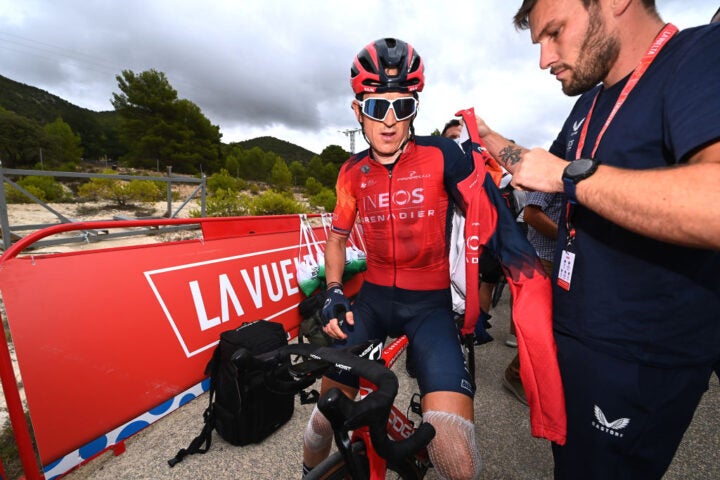 Thomas is reportedly set to stay at Ineos Grenadiers at least one more year.
He's not done with racing yet, and still hungry as ever.
"It's easy to commit now I know I'm at the end of my career," Thomas said ahead of the Vuelta. "I might as well commit to this and see what I can do. Then I've got the rest of my life to chill and drink cocktails."
Since his Tour de France victory in 2018 he's hit three grand tour podiums and has repeatedly proven he can hang with riders more than a decade his younger.
Yet Thomas' standing at Ineos Grenadiers remains unclear.
Thomas was blunt about how his team wrote off his chances before he finished third on the podium of the 2022 Tour de France, and his boss Rod Ellingworth recently suggested to Cycling Weekly the Welshman's future may lie in mentoring the team as much as in leading its chances.
Thomas has long balanced family priorities with the monastic life of a grand tour leader.
It seems even he doesn't yet know which direction 2024 might take him as he mulls his 19th pro season.
"When it comes to the Tour de France next year, I just want to get these three weeks done and see what happens," he said before the Vuelta. "I would love to go back to the Tour, but as a leader and targeting it? We will see."
Thomas at the pivot of a team in transition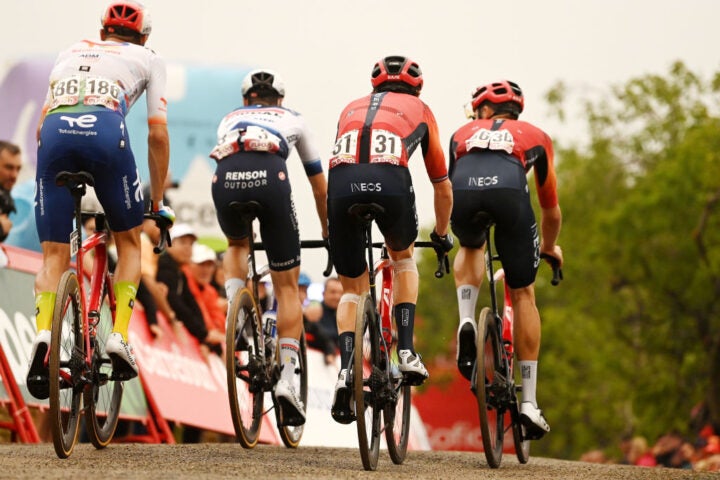 Whether Thomas races another grand tour as GC leader is unknown.
If this Vuelta does prove his last push at a three-week podium, it will mark the start of a new chapter for Ineos Grenadiers as it increasingly looks to Gen-Z.
Thomas is the only rider from the original Team Sky of 2010 to have remained at the squad without spending time with other teams. Ben Swift was there at the start but spent two years at UAE Emirates.
Luke Rowe joined in 2012 and is another of the team's old timers yet, like his long-time training buddy Thomas, faces an uncertain future. The 33-year-old was a cornerstone of five of the team's Tour de France victories yet missed selection for any of this season's grand tours.
Meanwhile, Ineos Grenadiers waves goodbye to long-signed riders Tao Geoghegan Hart and Pavel Sivakov next season in part of a crippling climber exodus. Mountain-men Dani Martínez and Ben Tulett also leave in 2024.
No "replacements" have yet been revealed as the team remains conspicuously absent from the transfer market.
This former powerhouse of the peloton has not yet confirmed new names for 2024 and seen a handful of rumored transfers shut down.
The 22-year-old talent Carlos Rodríguez is now more crucial than ever to Ineos Grenadiers' short-term GC ambition while top brass waits on Egan Bernal and Tom Pidcock to come good.
Thomas will most likely see more grand tour racing with this new iteration of his team.
Yet after a difficult start to 2023 and the torment of two grand tours gone awry, he may be playing the mentor rather than the main man.