How Vuelta a España leader Sepp Kuss rode three grand tours, and got faster along the way
Jumbo-Visma coach reveals how Kuss balanced recovery and rebuild to blaze through Giro, Tour, Vuelta in one season.
Heading out the door? Read this article on the new Outside+ app available now on iOS devices for members! Download the app.
Few riders race all three of the Giro d'Italia, Tour de France, and Vuelta a España in one season.
Those that do are nearly buckled by the end of it all.
But not Sepp Kuss.
Jumbo-Visma's mega-mountain superdomestique guided Primož Roglič to victory at the Giro, piloted Jonas Vingegaard to the yellow jersey of the Tour, and might well win his first three-week title this weekend at the Vuelta.
So did Kuss maintain, and even improve, his form through five months of grand tour racing?
Also read:
Kuss' head coach Mathieu Heijboer told Velo how basic benchmarking tools and a "happy rider is a healthy rider" philosophy brought the 28-year-old Coloradan through his potentially unprecedented season.
Try it and see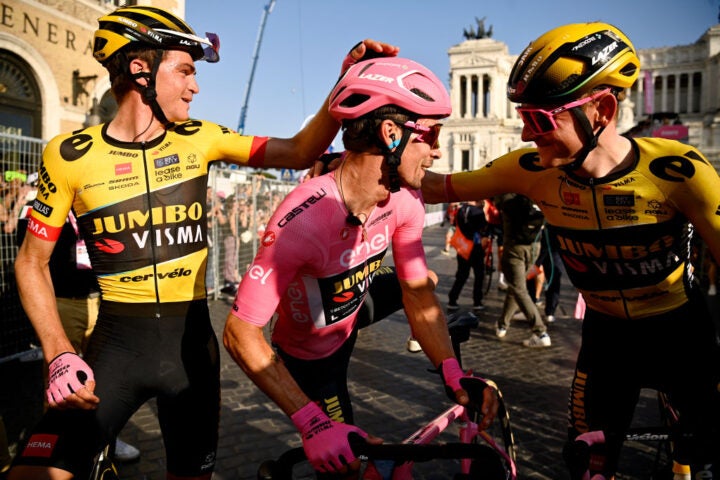 Heijboer is Jumbo-Visma's head of performance and Kuss' lead trainer.
The 41-year-old pro-turned-staffer has been around long enough to know that dogma dictates a grand tour triple can be too big a stress on a rider's physiology and psyche to bring success.
But sometimes, you've got to just try things and see what happens.
"I wanted to wait to draw a conclusion whether three grand tours is 'too much,'" Heijboer told Velo in a call last week.
"If we could approach Sepp's training so he feels good and rested after each goal, and have a proper system to check his recovery, then why should we decide before the Giro in May that he cannot do the Vuelta in August?"
Kuss and Heijboer were forced to gamble this spring when Jumbo-Visma's top climber Wilco Kelderman had to pull out of the Giro d'Italia.
"We felt it had to be Sepp to replace Wilco, and he [Kuss] wanted to race," Heijboer said. "But given his schedule we knew he might end up doing three grand tours. We needed him for our ambitions at the Tour de France and he wanted to race the Vuelta as it's his favorite race.
"We knew it was a risk. So we agreed with Sepp to keep him on the roster for the Vuelta, but monitor his fatigue and his feeling through the Giro and Tour before making the final decision."
With Kuss now poised to become the first U.S. rider to win the Vuelta in a decade, it's a gamble that might deliver a blockbuster payload.
Keep it simple, stupid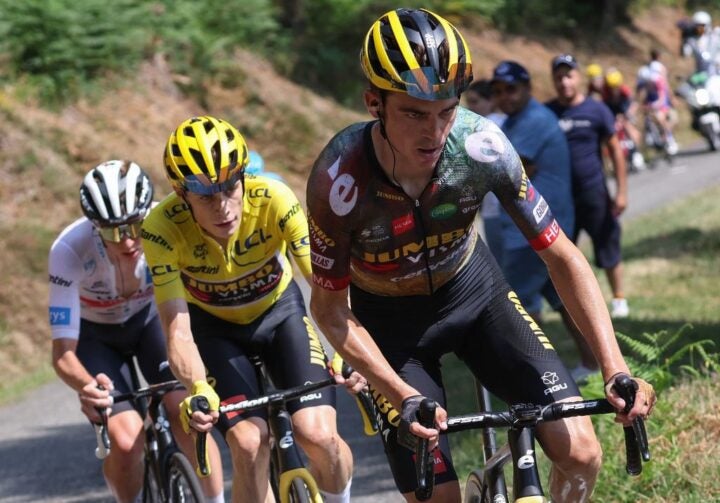 Heijboer and his team's method to monitoring Kuss' fitness and freshness seems almost stupidly straightforward in a peloton driven by rocket-science thinking.
"The main thing we monitored was his level at the end of a grand tour. If Sepp couldn't hit his usual level in the third week, it would be a sure sign of excess fatigue," Heijboer said.
"And then afterward, we were checking he could hit all the usual intensities in training. We wanted to keep it simple."
Heijboer swerved potentially muddying metrics from heart rate variability trackers, strain gauges, or blood tests to assess Kuss' recovery between each of his three grand tours.
Instead, the Dutch trainer was scouring Kuss' power and heart rate files through the final week of the Giro and the Tour and from key sessions in the weeks afterward.
If the Vuelta a España leader-in-waiting was still hitting numbers within his typical physiological zones, he got the green light to go to his next race.
"There were never signs of Sepp being too fatigued or digging into his reserves," Heijboer said. "It even looked as though he was getting better toward the end of the Tour, before his crash."
Heijboer also kept watch of Kuss' ever-cool demeanour for signs of a slump.
Overtraining and under-recovery can manifest mentally just as much as physically. Subjective feedback was as crucial to Heijboer as the strict science of beats-per-minute or watts-per-kilo.
"He kept on saying he felt good, he felt fresh," Heijboer said.
"And the good thing with Sepp is we can trust his feelings. He has so much grand tour experience that he can distinguish excessive fatigue from the normal fatigue of three weeks of racing."
A happy rider is a healthy rider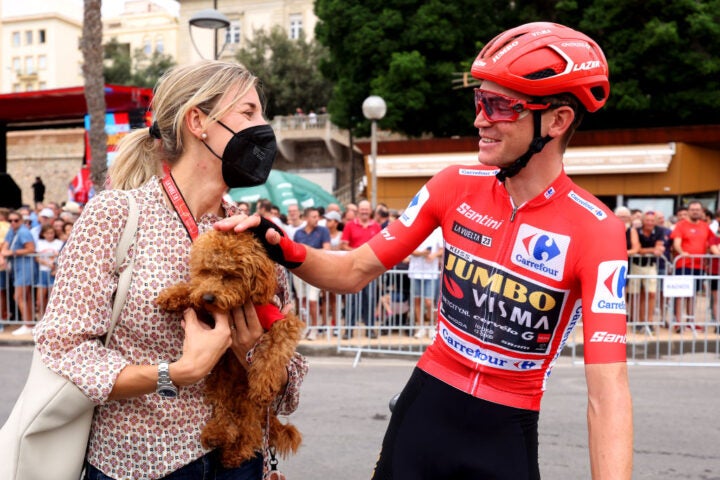 Racing three grand tours is about a lot more than just the nine weeks of racing. It's a daily demand that encompasses half a calendar year.
The travel and time away of training camps add another layer of burden to an already fraught period of the season.
"For Sepp to do all three grand tours we had to make sure he was relaxed and happy between each," Heijboer said. "We needed him to be 100 percent in his comfort zone to race his best."
When Roglič, Vingegaard, Remco Evenepoel, and Tadej Pogačar were camped in high-altitude hotels on Tignes or Sierra Nevada through June and early August, Kuss was recovering and rebuilding back home.
Although he joined his teammates in Jumbo-Visma's winter and pre-Giro camps, Kuss spent the rest of his training time with his wife and pup in the thin air of his Andorran home-from-home.
"We discussed how to approach those building periods with Sepp to see how he would be happiest. He felt it was too much stress to go to altitude, so he stayed home the whole time before the Tour and the Vuelta," Heijboer said.
"He felt best there, and we think that's important to performance."
High training capacity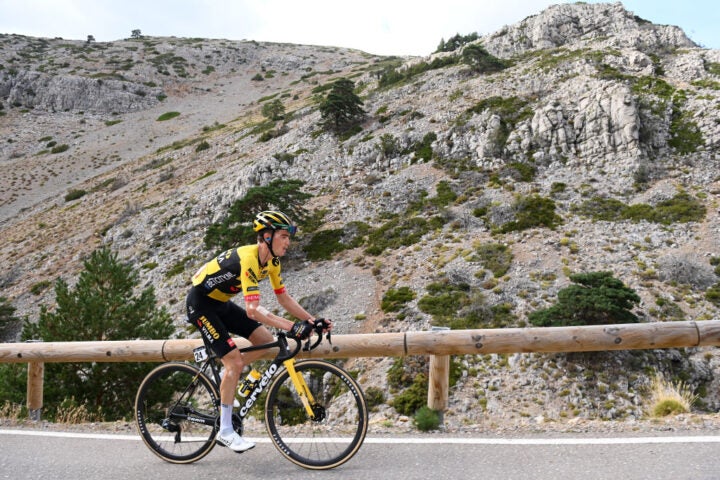 Kuss wasn't just cruising at home while his teammates rode through their Tour and Vuelta tune-up camps. The Coloradan's high tolerance for training meant he was hitting workloads comparable to his comrades.
Strava shows Kuss recorded 25+ hour training weeks comparable to those that Dylan van Baarle, Wout Van Aert, and Robert Gesink logged during their weeks atop isolated mountain retreats.
"The Vuelta is one of Sepp's favorite races so he didn't find it hard to get motivated to prepare for it. And the thing with Sepp in general is that he just loves riding. For him, training isn't difficult," Heijboer said.

Kuss' six-week pathway between the Giro and Tour followed a similar template to his five-week turnaround between the Tour and Vuelta.
A first week of hard recovery had Kuss on the bike for as few as 90 minutes before a second week of benchmarking workouts and easy aerobic tapping.
By the third and fourth week, Kuss was logging 25+ hours of training.
Around 750km of riding over some 18,000m of uphill per week kept Kuss' high-capacity engine humming.
"One of the key things we found out pretty early with Sepp is that he needs to do a lot of training," said Heijboer, who worked with Kuss since he joined the team from Rally Cycling in 2018.
"For him to be ready for his role in the team, we discovered he responds best to a lot of volume and also quite a lot of intensity."
'I'm getting better'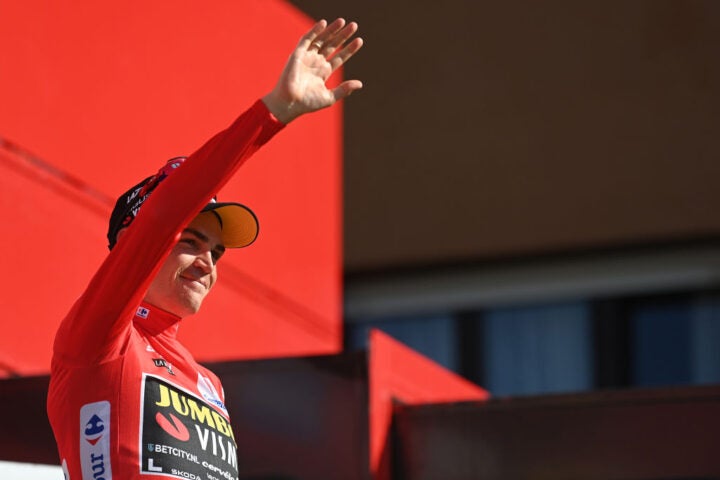 Heijboer and Kuss' gamble to try racing all three grand tours is paying off in the best way possible.
Even though Kuss raced at least 10 days more so far this season than most of his Jumbo-Visma teammates, he's gotten better with every passing month.
Kuss' unique physiology and its positive response to load came good with what Heijboer said was the Coloradan's best-ever performance on a TT bike in the Vuelta's Valladolid time trial, and some P.B.-level outputs on the stage 8 wall of Xorret de Cati.
And Kuss thinks there's even more to come as the Vuelta tips into its decisive third week.
"I came into the second week with better feelings, and I'm feeling better than in the first week, so I'm getting better," Kuss told the press Sunday after stage 15.
Heijboer and Kuss know that the red jersey isn't assured until the Coloradan makes it to Madrid.
But if Kuss rides into red Sunday, he might find himself racing three grand tours a season for several years to come.