Jumbo-Visma's iron grip on grand tours poses big problems for others
There will be a lot of bruised egos after Jumbo-Visma won all three grand tours in 2023 and now the other teams must figure out how to beat them.
Photo: Alberto Gardin/SOPA Images/LightRocket via Getty Images
Heading out the door? Read this article on the new Outside+ app available now on iOS devices for members! Download the app.
Even Team Sky at its most dominant could hardly have dreamed of taking a clean sweep of grand tours in a single season, let alone doing it with three different riders.
Jumbo-Visma set an extremely high watermark this weekend as Sepp Kuss rode to the team's third consecutive three-week title, making it the first modern team to do so in a single calendar year.
Add to that the fact that the Dutch squad secured all three spots on the podium in Madrid with Jonas Vingegaard and Primož Roglič filling out the remaining places on the rostrum behind Sepp Kuss. The team has been unmatched in its dominance of the men's side if the sport, with perhaps only the women's SD Worx squad comparable in its achievements.
"This is phenomenal. The fact that we are also first, second and third on the podium makes it truly exceptional," Jumbo-Visma team boss Richard Plugge said. "We came here to achieve our big goal of winning all three Grand Tours in one season. We won this race as a team. The way we did it makes it even better. Sepp's success over two super champions like Jonas and Primož demonstrates our values. Winning together is not only our slogan but also our trademark."
Also read:
Winning together is something that the team seems to have perfected this year with so many of their riders looking capable of winning major races. Nowhere was that more evident at this year's Vuelta a España, where the first non-Jumbo-Visma rider in the GC was over two minutes behind the podium and three minutes behind the winner.
Between its three leaders, the team also racked up five stage wins, a stat matched by no other team at the Spanish race this year. Across the season, they've won some seven grand tour stages.
At the peak of its powers, Team Sky had one shot at doing the clean sweep, but it didn't even get close to achieving it – not that it seemed as though it wanted to get it. Jumbo-Visma's complete lock-out of the three grand tours is a dominance that has rarely been seen and to have done it with three different riders will send shivers down the spines of their rivals.
One constant through Jumbo-Visma's success has been Kuss. He guided both Roglič and Vingegaard to their titles and was prepared to do it all again for a third three-week race, while the other two sat at least one out.
It's hard to define just how much of an impact the American has had on his teammate's chances of success but it's not a coincidence that he has been around for all three victories. Kuss' value will have gone through the roof with this victory at the Vuelta and Jumbo-Visma will have a fight on its hands to keep him.
"It is really special as a rider that he did all the three grand tours, and he was there will all the grand tours that we won. He was always an important guy in the victories and the achievements that we had, and as a person everybody likes him. He is always there for the team. He gives everything for the team," team sport director Peter Reef said.
"He is just himself all the time. He also mentioned this morning in the bus that this victory means as much as the victories of Jonas in the Tour this year, and also of Primož earlier in May in the Giro. I think that says already everything, that the win for himself means as much as when another guy is winning that he was part of."
Maintaining momentum in grand tours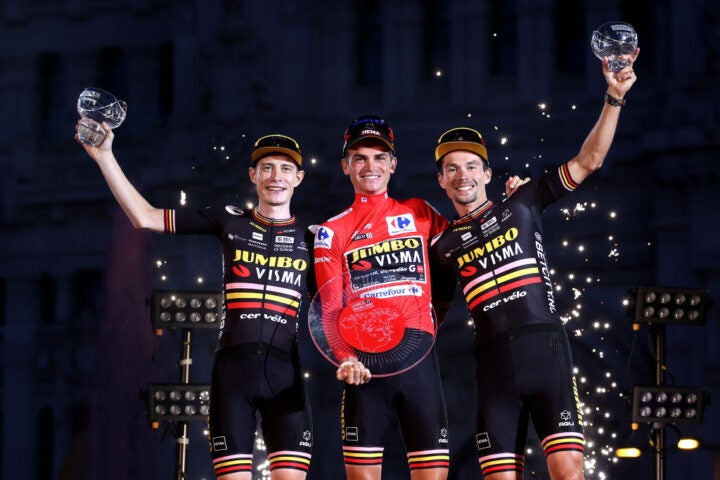 No sporting dominance can last forever, even the New York Yacht Club's 126-year lockout out of the America's cup had to come to an end. We're unlikely to see Jumbo-Visma's hold on grand tour racing lasting quite that long, but the question will be, how long will it last?
Nobody knows the answer to that but the team is hoping to ensure it goes on for as long as possible.
"Winning the three grand tours with three different riders in the same year is the crowning achievement of the last ten years. It is a milestone written in golden letters in the history book that Team Jumbo-Visma is writing," Plugge said.
"Even after this triumph, we will continue to evaluate and see what could be even better. There is no time to sit still in top sports. The competition is getting stronger and stronger, so we cannot let up or become complacent. It is not that we are saturated now. We are doing something unique. I have to pinch myself to realise that this is really true. We are going to enjoy it with the whole team. We have managed to do it together again."
One thing is for certain, there will be plenty of teams in the peloton going into the off-season with their tails between their legs after being denied a chance of winning a grand tour in 2023. Yes, Jumbo-Visma has pumped money into its project but there are others that have invested similar quantities and more and their backers will be wondering where the return is.
That frustration can turn into motivation and will power many riders through the hard miles of winter training and Jumbo-Visma won't be able to rest on its laurels.
"It is a big achievement, it was a big goal that we started with. Sometimes you have to dream big also to achieve those kinds of things," Reef said. "In the winter time we are going to look again how we can do it better, what we can do better. For sure there are things again that we can do better, because when we say, 'this is what we can do,' then also our opponents get closer to us. We also want to keep the distance to the rest. So that's the next challenge we are having. But like I said, we first of all really enjoy this. It is really special and we are very happy about it."