King and the prince: Sepp Kuss finds GC mentor in Jonas Vingegaard: 'I try to help him as much as possible'
The American climber picked up useful lessons from Vingegaard and Roglič that he is applying to his historic Vuelta bid.
Photo: Tim de Waele/Getty Images
Heading out the door? Read this article on the new Outside+ app available now on iOS devices for members! Download the app.
LARRA BELAGUA, Spain (Velo) — Sepp Kuss learned a few things helping teammates Primož Roglič and Jonas Vingegaard win six grand tours over the past few years.
Now he's applying those lessons in his own bid to become the first American male in a decade to win the Vuelta a España.
"I've been lucky to be on many winning teams and I've learned that you need to take responsibility, and you need to know when to be there in those critical moments," Kuss said Saturday. "On where to save energy, just being around the best riders in the world, and seeing how they approach it."
Kuss, 28, cruised through his seventh day in the red leader's jersey at the Vuelta in Saturday's potentially explosive stage across the Pyrénées.
Also read:
Remco Evenepoel roared cleared to take revenge on his GC debacle from Friday, and that took all the pressure out of the group.
Kuss and Co. could mark the wheels of their direct rivals, and Jumbo-Visma sailed across the line with their dominance atop the leaderboard fully intact.
One rider who is helping to pay back Kuss is two-time Tour de France winner Vingegaard.
Kuss was an essential ally in both of the Dane's yellow jerseys, and now Vingegaard is committed to help guide the American climber toward Madrid.
"I think Sepp is doing pretty well," Vingegaard told Velo at the line. "He is still in the jersey. It was a good day for us. We are still one, two, three on GC, so it was a good stage."
The entire Jumbo-Visma squad is rallying around Kuss, and Vingegaard even fetched water bottles for the red jersey in Thursday's transition stage to Zaragoza.
"I am telling him to always keep believing in it. Even on the flat stages, that it's super important to be at the front, and I try to tell him to follow the wheels," Vingegaard said. "I try to help him as much as possible."
When Velo asked if Kuss can win this Vuelta, Vingegaard replied, "Yes, for sure."
Jumbo-Visma is applying its accumulated GC acumen to support Kuss, and teammate Attila Valter said the team is hoping Kuss is the one who can deliver red.
"Sepp seems one of the strongest," Valter said at the line. "His lead is deserved. It's not like it's a present. We saw what he did on the Tourmalet.
"It's up to Primož and Jonas, but there's no reason to attack him," he said. "Everyone likes Sepp. He is a good guy. There is no need to attack him. I would be happy if any of these three guys wins."
Kuss: 'Still a lot can change'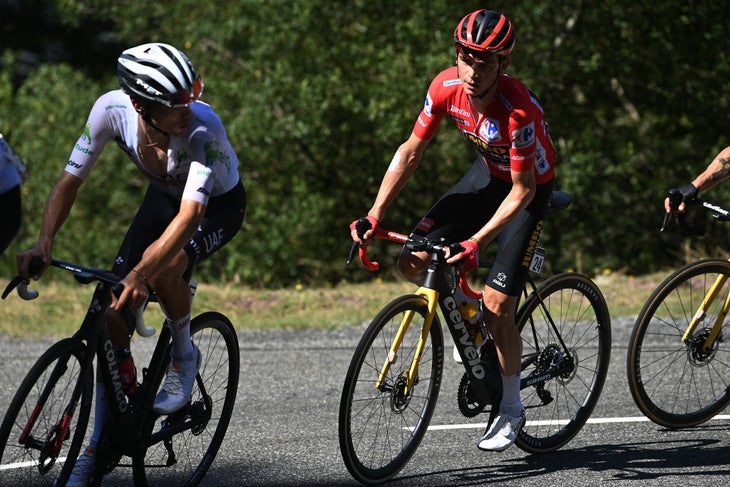 Kuss is growing more confident by the day, and knows that the Vuelta is his to lose.
Sunday's tricky finale could be well-suited for a breakaway, and then there's the Angliru and more treacherous stages looming in the final week in Asturias.
What Jumbo-Visma doesn't want to do is risk losing this Vuelta.
The team is backing Kuss for now, but even he admitted that if he's struggling in a key moment, the others will have freedom to defend the team's interests.
"It's hard to say, some of the hardest stages potentially are coming up in the third week. Still a lot can change," Kuss said. "We have to be flexible. If one of us has a bad day, or a bad moment, we can't wait with the other two on the really steep climbs."
Kuss is closer to Madrid, but there are still a lot of climbs and kilometers of potential traps standing between him and victory.
As Evenepoel reminded everyone Friday, the Vuelta can turn on its head at any moment.