Larry Warbasse at the Vuelta a España: Chasing the grand tour dream, with his future secure
Like many in his generation, the former US champ laments the domestic racing scene: 'I'd like to see a comeback of some of those races.'
Photo: Gonzalo Arroyo Moreno/Getty Images
Heading out the door? Read this article on the new Outside+ app available now on iOS devices for members! Download the app.
VALLADOLID, Spain (Velo) — Larry Warbasse is halfway through the Vuelta a España, and he is still holding out hope to find that magical breakaway that can deliver him a grand tour stage win.
The veteran American is part of a team of opportunists at Ag2r-Citroén, and he's biding his time for the chance to sneak into the right move.
"If I could get a grand tour stage win during my career that would be huge," Warbasse told Velo.  "That is an objective of mine, and I will be trying for that in this Vuelta, and every grand tour I do."
The Michigan native raced the Giro d'Italia this season, and returned at road worlds and the Vuelta a Burgos to hone his form for his second grand tour of 2023.
"I am in good form, I am happy to be here, I love the Vuelta," Warbasse said. "It's been a few years since I have done the Vuelta, and I always enjoy racing here, so hopefully I can get something out of it."
Also read:
This Vuelta is loaded with GC stars and world-class stage-hunters, so it's never easy to find the right move that sticks, and then have the legs to finish it off.
Having the GC unsettled still could help the breakaways going into the Vuelta's second week.
"I think it can help the breakaway because there are so many guys going for the GC, they're not so worried about the breakaways," Warbasse said. "Maybe in the last week, there could be some guys who might have lost hope for the overall, and then there are some pretty high-caliber riders chasing stage wins."
Warbasse is back for his fifth Vuelta start, but his first since 2017. That year he earned the monicker of "Capitán America" as he raced in the U.S. national champion's jersey.
"I need to get the jersey again because it's a nice one," Warbasse said.
Future secure, but lamenting US road scene: 'It's sad to see 'HPH' close shop'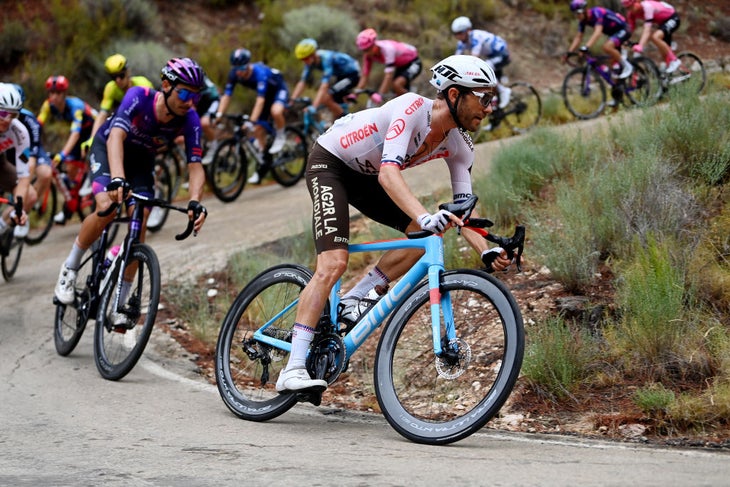 Warbasse, 33, revealed to Velo that he has confirmed his racing future with a team for 2024.
"I am but I cannot announce anything yet, but I will be a pro next year, so that's good," he said.
The former American champion joined Ag2r-Citroën in 2019, and is racing the Vuelta in his fifth straight season at the WorldTour level.
Like many of this generation of American pros, Warbasse worked his way through the U.S. domestic ranks before making the leap to Europe.
With the recent news that Human Powered Health will fold its men's team at the end of 2023, many are seeing the long-running team's closure with a mix of sadness and resignation. 
"It's really sad to see Rally [Human Powered Health] closing shop, but that's the way it's been going in the last few years with American cycling lately." Warbasse told Velo.
Also read:
"It's kind of sad. When I was growing up racing in the U.S., we had a really good domestic race with the NRC circuit, with Cascade, Redlands, Joe Martin, Nature Valley, you had a lot of cool races, and there was a really good circuit there." Warbasse said. " It gave guys a chance if they didn't make it to Europe they could show themselves. There were so many races to do, and they've all disappeared.
"And after losing California, Utah, and Colorado, unless you come to Europe, there's no way to get noticed," Warbasse said. "The criterium scene is healthy, but for road racing, it's pretty sad. I'd like to see a comeback of some of those races."
Warbasse, who now lives along the French Riviera, says it's harder for younger riders trying to follow his footsteps to Europe.
"You could have raced pro in the U.S., and there were quite a few guys making a living doing that," he said. "It's sad to see that's totally disappeared."