Sepp Kuss and his Vuelta a España journey from helper to champion: 'I had a bit of the imposter syndrome'
How the popular American climber earned the looming victory: 'Sometimes you have to stand up for yourself.'
Photo: OSCAR DEL POZO/AFP via Getty Images
Heading out the door? Read this article on the new Outside+ app available now on iOS devices for members! Download the app.
LA BAÑEZA, Spain (Velo) — Sepp Kuss needed to overcome his reputation as one of the nicest riders in the sometimes brutal peloton to take control of the Vuelta a España.
If Kuss survives two more stages in red, the Colorado climber will become the first U.S. male in a decade to win a grand tour.
It didn't come easy. The 29-year-old needed to sharpen his elbows and harden his resolve.
"Every day I've gained more confidence," Kuss said Friday at the start. "I started to believe in myself more, and that I completely deserved to be in this jersey and have the support of the team."
Also read:
Climbing mountains proved easier to handle for the affable American than the internal intrigue, head games, ego clashes, and team politics that played out across this Vuelta.
After snatching red in stage 8, not only did the American climber need to prove he deserved leadership at Jumbo-Visma on the road by defending in the time trial and across the Pyrénées, he had to impose his wishes on reluctant and ambitious teammates who also wanted the victory.
Long comfortable in the helper's role, Kuss was seeing a crash course of what it takes to be a GC leader in the sometimes Machiavellian world of grand tour racing.
"I had a bit of an imposter's syndrome," Kuss said. "I never went into this season or this race ever thinking about or wanting any leadership. I was perfectly content in my role. As we know, halfway through this race, things changed a lot for me."
Kuss and his transformation from "gregario" and super-domestique into grand tour heir apparent saw him race more consistently than he's ever done, and withstand the pressure of the uncommon and sometimes uncomfortable reality that his most dangerous direct GC rivals were his own teammates.
Primož Roglič and Jonas Vingegaard share six grand tour victories between them, thanks in part to support from Kuss, and are considered the best contemporary grand tour riders in the world.
Both came to this Vuelta to win, and no one expected Kuss would hang on as long as he did.
Things reached a boiling point Tuesday and Wednesday, when Roglič and Vingegaard were attacking across the unforgiving mountains of northern Spain, and dropping the team's red jersey in a high-stakes bid to win the Vuelta.
Kuss was forced to race to defend his red leader's jersey from rivals within.
With tensions boiling over inside the bus, Kuss leaned on the support of his wife, his family, and close friends to help him discover the steely determination needed to not crack under the pressure.
"I never expected to be in this situation, and I am not a winner in the sense that I have to win no matter what," he told the Spanish media. "The majority of champions have a bit of 'sangre fría' to win, and I am not like that. Sometimes you have to stand up for yourself and say what needs to be said."
Things came to a head in a post-stage meeting Wednesday night after the Angliru stage after Kuss narrowly hung on to the leader's jersey.
Roglič and Vingegaard finally ceded their ambitions to win the Vuelta, and pledged their support for Kuss to carry team colors to Madrid in what will be an historic grand tour sweep for Jumbo-Visma.
"We make agreements and tactical plans within the team. We discuss them on the bus, and they stay there. I don't feel like talking to the media about that," Jumbo-Visma sport director Grischa Niermann told NOS. "It's a complicated situation. Everyone wants to win the Vuelta."
Roglič stands behind Kuss: 'Everybody has their opinions'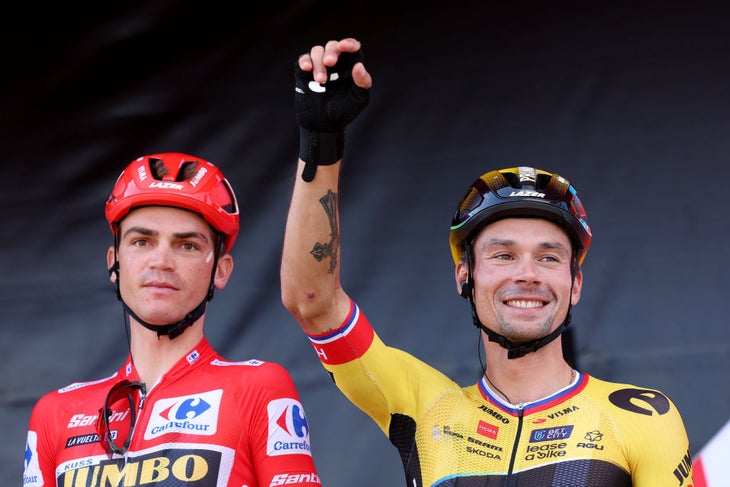 Two-time Tour de France champion Vingegaard seemed ready to back Kuss for the win, and said as much at the finish line on the Angliru on Wednesday.
It appears Roglič still believed he had "more to give" in the race, which was what the team agreed all three captains could race for in the final week.
Comments at the finish line Thursday suggested Roglič wasn't fully convinced of the team truce to back Kuss to Madrid.
"I respect Primož as a person and as a rider, and everyone has their right to have an opinion on things like tactics and how to do the race," Kuss said Friday. "I understand that perfectly. But there are also the wishes of the teams, of the other teammates, and mine as well."
Roglič, speaking to FloBikes at the start Friday, downplayed any rift in the closing days as he looks to finish third in the Jumbo-Visma podium sweep.
"Everybody has their own opinions, and everybody has the ability to do their own things, but I support Sepp, and I hope we can finish it off," Roglič told FloBikes. "Everybody should do their own things. I am happy, huh?
"Sepp is a super-nice person," he said. "He is one of my close friends, and we give everything to finish it off."
Also read: Jumbo-Visma truce clears way for Kuss to win Vuelta
Jumbo-Visma helper Attila Valter also downplayed headlines, and said that the top three — Kuss, Vingegaard and Roglič — all agreed that the right thing to do was to race it out over the final week.
"There are no hard feelings at all. We are sticking together really well during this Vuelta," Valter said. "There are different opinions about how we raced and what we did, but I am proud about what we did during this Vuelta.
"If you look at Twitter, it's getting quite annoying. I wish I hadn't done it. There are too many opinions. Everyone is a [sport] director, and it's so easy to judge from the outside," Valter said at the line Friday. "We did what we thought was the best. The team gave the freedom to race for the victory, and that's what they did. But you saw yesterday, everyone wants 'Seppy' to win.
"If you are a big champion like Primož, of course you want to race for the win," Valter said. "Until you are not empty, you want to keep pushing. It's a big dilemma, and you can understand both sides."
Robert Gesink, one of Kuss's closest friends and allies on the team, cautioned that the race is not yet over. Saturday's rollercoaster stage could deliver some unpleasant surprises.
"We've won five stages so far and I think the team is doing a really good job at winning. We still have two more stages," Gesink said Friday. "We're really happy to see Sepp still in red."
Following a tense and drama-filled week, Kuss can breath easier now that his teammates are rallying behind him.
On Friday morning, the mood was light as Jumbo-Visma riders sensed that the historic third straight grand tour is within their grasp.
"I am getting more used to it," Kuss said Friday of all the attention. "I am feeling good. We have a few stages to get through, but we are closer. It feels good."
Kuss, 29, could become the first American male to win a grand tour in a decade if he endures Saturday's classics-style stage to carry red into the Madrid urban circuit course to close out the race.
Kuss steered clear of a late-race crash Friday, and finished the stage with his 17-second lead to Vingegaard fully intact.
"We will take on Saturday with confidence. We have a team full of machines," Kuss said. "I am going to sleep well. It was a day full of tension, but a bit more quiet than the past few stages."
One step closer to glory for Sepp Kuss 🏆
__________________
🇪🇸 #LaVuelta23 pic.twitter.com/GGJVwItrnT

— Velon CC (@VelonCC) September 15, 2023